Not Your Everyday Decking Company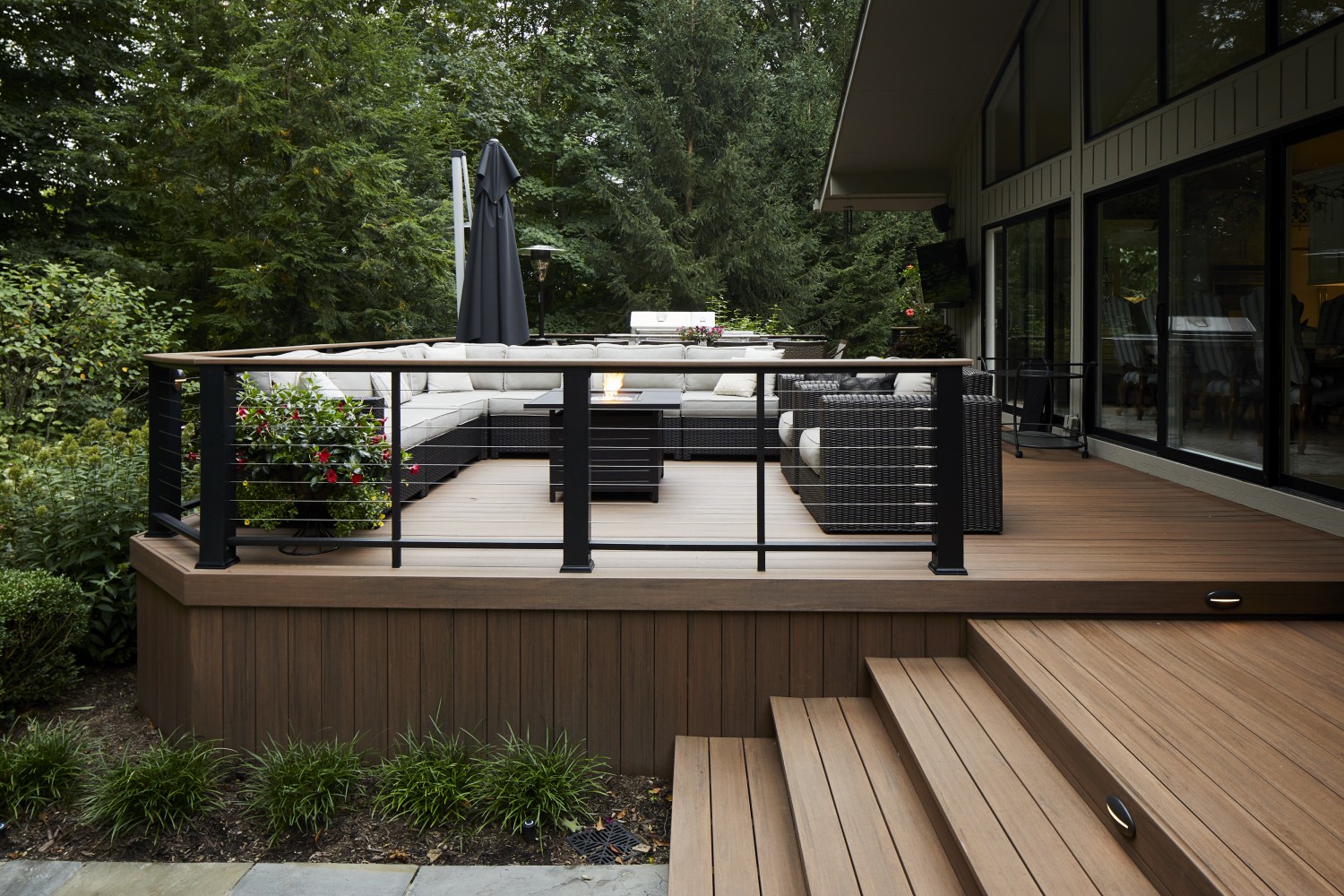 Joe Oakes, president of First State Building & Design (FSBD) still gets excited about his work.
Since 2006, Oakes and his team have been drawing on their collective passion for expertly bringing homeowners' visions to life, and look forward to doing so every day.
"I love bringing custom creations to life," says Oakes. "The build-and-design part of me loves when our salesman, designers and skilled craftsman can bring together an exterior project that's completely original. We love mixing in different features that can be incorporated like unique soft curves, special angles or utilizing different materials to do something that's really custom to someone's home."
A bona-fide full-service design and build company, FSBD designs, remodels, builds and installs it all: exterior basic decks, full-blown outdoor living spaces, hardscaping, porches, entrance porticos and interior kitchens, bathrooms, basements and other interior living spaces.
"Ever since becoming both a design and build company that helps people from the start to bring their vision together straight through to completion of their project, we strive to create a great experience with our clients. We alleviate the burden and hassle by taking care of and managing all details all the way through the entire process. People come to us because we save them time and a lot of headaches."
"We are one-stop shopping for people."
It all started with decks.
While decks and porches are still the meat and potatoes of FSBD, what makes the company stand apart is not only its long-cultivated masterful execution of aesthetically pleasing specialty designs but also its commitment to providing quality workmanship along with creating a great customer experience.
"We take pride in our work. Our workmanship matters and our customers matter."
In addition to masterfully executing those specialty designs, FSBD can also deliver the range of popular trends homeowners gravitate to, like the ever-popular coverings and overhangs that extend the seasonal usage of outdoor-living spaces. They're also tuned into construction elements people are clamoring for, like mixing rustic and modern materials or utilizing metals and reclaimed lumber.
"The options are endless. What can really take your outdoor project to the next level are incorporating options to enhance the overall ambiance like lighting, fire features, outdoor heating elements, which people really like right now. Then there's cutting-edge products like Phantom motorized screens that operate with a simple press of the button or Sunspace sunrooms that can transform your space to maximize its usability and enhance that outdoor/indoor feel to give you the best of both worlds."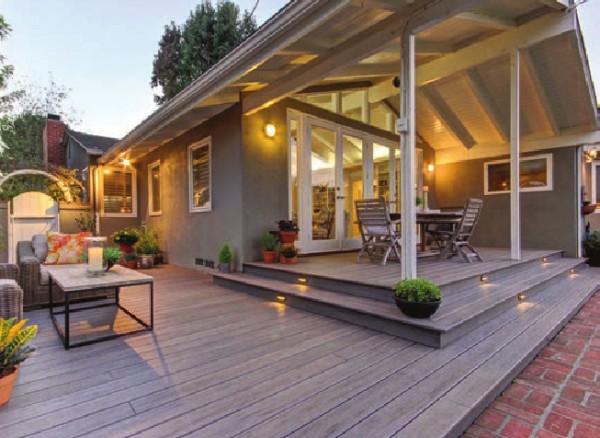 No matter the project, every job begins with FSBD's dedicated designers lending their expertise to clients who know they want a change but can't quite articulate the specifics.
That communication continues as the project progresses. FSBD prides itself in staying in contact with its clients with multiple communication touch points throughout their project so there's no jarring surprises along the way. Clients are introduced to, in touch with and work alongside FSBD's expert team including sales, design, production coordinator, project manager and crew members. After all, client satisfaction is always the most important factor in every job FSBD puts its name on.
"We're not just looking to build another 'pretty' deck," says Oakes. "You can have a nice deck but if your experience was terrible, then that's what you'll remember. So in addition to our quality workmanship, what we really strive to do is to give our clients a quality experience by being highly responsive and providing a great customer service experience from start to finish."
For some extra inspiration and an opportunity to see all their options up close, FSBD has two showrooms they're always happy to invite people to see.
"We just completed our brand-new exterior, 1,300-square-foot showcase display, where you'll be able to see almost every feature that could go into your renovation. We also have a 4,500-square-foot indoor showroom with both our exterior and interior products. We want to give people the ability to see and feel our products and materials. We want them to really get a sense of how they function and see how they actually work. We love showing what we have to offer, offering guidance, while helping people make the best design choices for their home-renovation project."
With the industry still facing some constraints and demand still high as people continue to spend more time at home and wanting to refresh their outdoor and indoor spaces, it's important to get started now with renovation projects. This goes for everything from standard "cookie-cutter" decks that typically come together in a matter of weeks to a more elevator, intricately planned renovation that might take a few months to complete.
"There's also a lot of details that go into a project with several steps that need to be completed along the way from site visits, consultations, material selections, structural drawings, permits and materials delivery coordination. It's extremely important for clients to start their research five to six months before they anticipate starting a more elaborate backyard renovation."
After all, it takes time to complete a job that both meets FSBD's high standards and ensures that every client is happy and satisfied with the final result.
"A lot of the work we do is repeat work and word-of-mouth recommendations. When we receive great reviews, we share them with everyone because it was a team effort where each person played some role in its success. We know that doing good work can yield more work. It always feels good to know a client has confidence and trusts us, that we created something they're really happy with and they're really happy with the experience they had with us. That's why we're really focused on not only our quality craftmanship but also being very customer-service oriented. We want to build great projects and build great relationships with people."
"We want to change how people feel about contractors!"
If you're thinking about starting an exterior or interior home renovation project, then you just might want to get started now by going to see FSBD's newly built showrooms and meet Oakes and the team including the "top dog" Barrett.
With spring and summer just around the corner, stop in or give them a call to learn more about their products and services.
First State Building & Design
258 Wilmington Pike, Chadds Ford, Pa.
(302) 246-7063 | info@fsbd.co
www.FSBD.co
Published (and copyrighted) in House & Home, Volume 22, Issue 6 (March 2022). 
For more info on House & Home magazine, click here. 
To subscribe to House & Home magazine, click here. 
To advertise in House & Home magazine, call 610-272-3120.