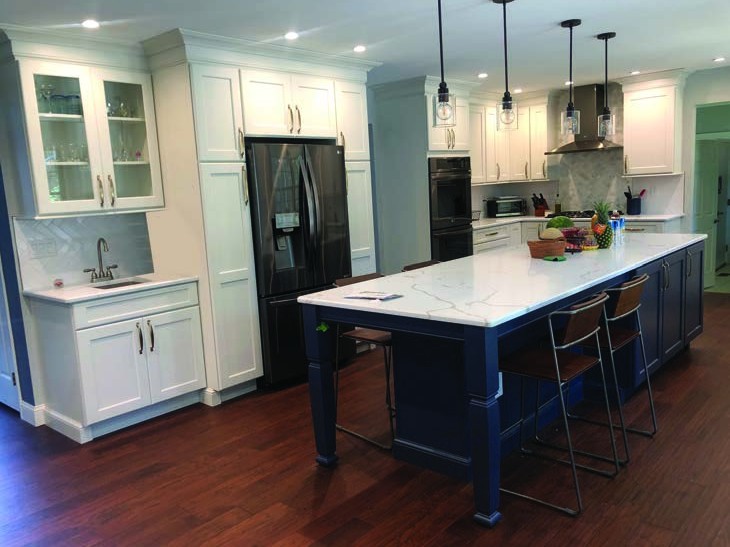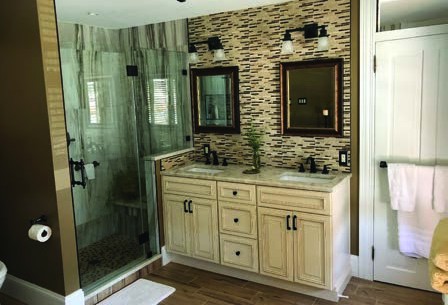 With just about everyone spending most of their day at home due to the current pandemic, you may start thinking about making changes to your kitchen and bath. Adding an island to make sure every kid fits in the kitchen as they go to school remotely or adding a second sink in the bathroom are some examples of extending your space, updating things you have been putting off and most importantly, adding functionality.
Look no further than F+S Kitchen and Bath Design Studio to make sense of your space or for a complete makeover. Kitchen and bath are in its name and it's what the company specializes in, but F+S Kitchen and Bath Design Studio extends beyond kitchens and baths.
 "We offer so much more than that," says owner Guy Henri. "We do anything else interior, such as flooring, painting and custom trimwork, and we do recreational rooms, basements and bars. We create rooms and we can turn one room into anything."
What makes F+S Kitchen and Bath Design Studio stand out is they have every professional under one roof—contractors, electricians, carpenters and plumbers—which means you have less  to worry about dealing with many trade professionals.
 "We cover everything and you are not running from one store to another. You don't have to run between 10 contractors and you can feel comfortable knowing everyone is on the same page," Henri says.
F+S Kitchen and Bath has a 1,500-square-foot  showroom filled with everything from tile, backsplashes and flooring, to sinks, cabinets and vanities in a broad selection of styles—traditional,  classic or modern to name a few— and materials from many different manufacturers. Henri and his team are able to put together anything in the showroom to show clients the possibilities that await them for their new space.
Henri says with homeowners spending more time at home, they discover what they were missing to make their homes loveable and cozy.
 "I'm currently redoing a client's kitchen and his hobby is woodworking. He told me he'd like to have a small desk in the kitchen where he can create designs for his woodwork projects, so we are designing his kitchen that incorporates the island with a desk and it's completely functional," he says.
Functionality carries into the bathroom as well. "One of the biggest complaints I get from customers is they never have enough drawers to put away or hide things," he says. "Many of them want more drawers installed. Having double sinks and adding a linen closet to store towels and other products are other popular requests, and it's partly because everyone is home more now."
When it comes to color, Henri says it's all about the color schemes, and the current trend he's seeing is whites, grays and blues. With the market changing over the years, manufacturers have made more choices available in every color and style.
 "Manufacturers have been able to attach the old with the new and make something out of it," he says. "Ten to 20 years ago it was difficult to find the specific look one wanted. Now, the market is seen as very competitive as far as offering specific things. For example, if you want gray, you have many varieties of gray to choose from these days. If you want a darker color, there are many options such as walnuts, chestnuts and mahogany used for modern look items."
A current trend in flooring is full-body porcelain and luxury vinyl plank, especially for those who have pets. "It's pet-friendly, the floor won't scratch and is very durable," Henri says.
Henri prides himself on providing not just the best materials on the market, but the highest quality of care and building trusting relationships with his customers.
 "With us, you get honesty from the beginning. We work with you from start to finish and put a budget and design plan together, and there's no pressure. We pay attention to what customers want," he says. "We are not just there to get a buck back, we put the customers' interests first, that's one thing that is very important. We build trusting relationships with all our clients.
 "We make customers aware of the process if they aren't prepared and educate them. We give them professional advice and guide them through every step of the way so they can proceed with confidence in their decision-making."
Henri's passion for building and remodeling comes through with every project and customers can see his care, craftsmanship and attention to detail. Helping homeowners achieve their dream house is his main goal.
 "I like to do these projects for other people and see them enjoy it. I am passionate about kitchens and baths and every project I do, and my customers see it, too," he says. "When you build for people, it's a joy. I love having the opportunity to help people and see their dream come true.
 "We start out as contractors, but leave as family."
F+S Kitchen and Bath Design Studio
200 Haddonfield-Berlin Road | Voorhees
(856) 428-3800 | FSKitchenandBath.com
Published (and copyrighted) in House & Home, Volume 21, Issue 3 (October 2020). 
For more info on House & Home magazine, click here. 
To subscribe to House & Home magazine, click here. 
To advertise in House & Home magazine, call 610-272-3120.