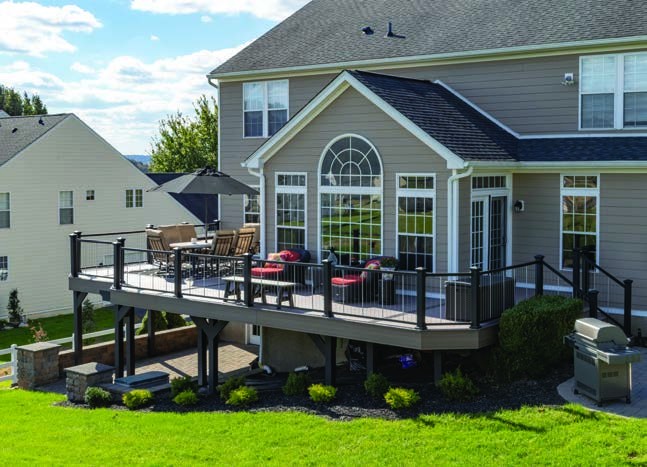 "Stay safe, stay home," is a phrase we have all become too familiar with over the last few months during the COVID-19 pandemic. Being stuck in our houses has certainly created a unique set of challenges, but it also comes with interesting possibilities. Perhaps that home improvement project or dream addition you've long been planning may finally come to fruition.
A prime example is a brand-new, maintenance-free deck to spruce up your backyard. With the guidance of a proven company like Deck Craft Plus—which has been providing magnificent outdoor spaces for its clients for decades—you can soon have an expanded living area that will not only make the quarantine days more pleasant, but will entertain your family for years to come.
 "Instead of everybody having to be cooped up inside the house, it's great to have a nice deck to sit on," says Omar Stoltzfus, director of sales and marketing. "On the beautiful days that we're having now, why would you not go outside? Kids can take their homework on the deck while mom and dad are trying to work, or the kids can stay inside and mom and dad can go outside while they're remotely working. It definitely gives you more options to expand your living space and to stay sane while you're locked up at home."
With experienced designers and builders committed to the finest craftsmanship, Deck Craft Plus has earned a reputation for reliability. It has longstanding relationships with the top manufacturers in the industry  and specializes in composite decking that has the look of real wood with none of the hassles.
Now that construction regulations are starting to be lifted, Deck Craft Plus is looking forward to serving its clients in Pennsylvania, New Jersey and Delaware.
 "Since it was announced that construction is allowed to continue, it seems to have broken the dam," Stoltzfus says. "Everybody now wants to get their deck done. The first couple of weeks nobody was sure what was happening with the coronavirus and how bad it was going to get, but at this point we've flattened the curve and hopefully things are leveling out."
Deck Craft Plus has utilized tools like Zoom and FaceTime for virtual consultations and will continue to do so at the customer's request, but will also follow social distancing at in-home visits. Nothing beats meeting face to face, giving designers the lay of the land so they can understand what the client is visualizing for the space and then bring it to life.
Each project is different and can include a number of amenities to fit the homeowner's lifestyle.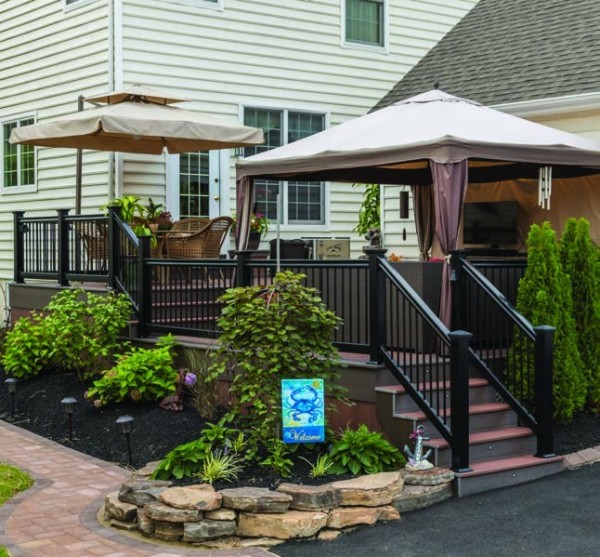 "Your deck area, more and more, is an extension of the house," Stoltzfus says. "It's a place to host parties, to hang out with family and friends, to grill on a nice day. In to- day's market, the only limit is your imagination."
One feature that most homeowners  desire is some kind of shade structure, whether that is a pergola, a roof or even a screened-in porch.  
 "I would say they all have pros and cons and it comes down to individual need and individual budget," Stoltzfus says. "If you're looking for shade, a pergola with a canopy is a good option. If you want protection from the rain, then you should get  a roof. If you want protection from the bugs, you should get a screened-in porch, which can even be an all-season room with heaters to en- joy the cool spring and fall days."
Another popular amenity is an outdoor kitchen, which allows the hosts to be present with their guests while they are preparing food.
 "I personally love to grill, so my dream deck would have a huge outdoor kitchen with a couple of different  grills on it," Stoltzfus says. "Some people just want one grill and a little bit of counter space; other people want a sink, cabinet space or a refrigerator. There are so many options and it's not a one-size-fits-all design  when it comes to outdoor kitchens."
In fact, that is the overall goal for Deck Craft Plus on every project— to ensure that the deck is custom built to the customers' needs. This is a company that pours its heart and soul into every job, leading to happy and satisfied clients.
 "Quality is definitely one of the key characteristics about us; quality in products and quality in service," Stoltzfus says. "The other focus  is catering to a homeowner's needs and building a deck that is unique to the individual. Every deck is unique, and you can add an unlimited amount of details to make your deck stand out."
Deck Craft Plus
Honey Brook, Pa.
(610) 273-3317
DeckCraftPlus.com
Published (and copyrighted) in House & Home, Volume 20, Issue 10 (April/May 2020). 
For more info on House & Home magazine, click here. 
To subscribe to House & Home magazine, click here. 
To advertise in House & Home magazine, call 610-272-3120.