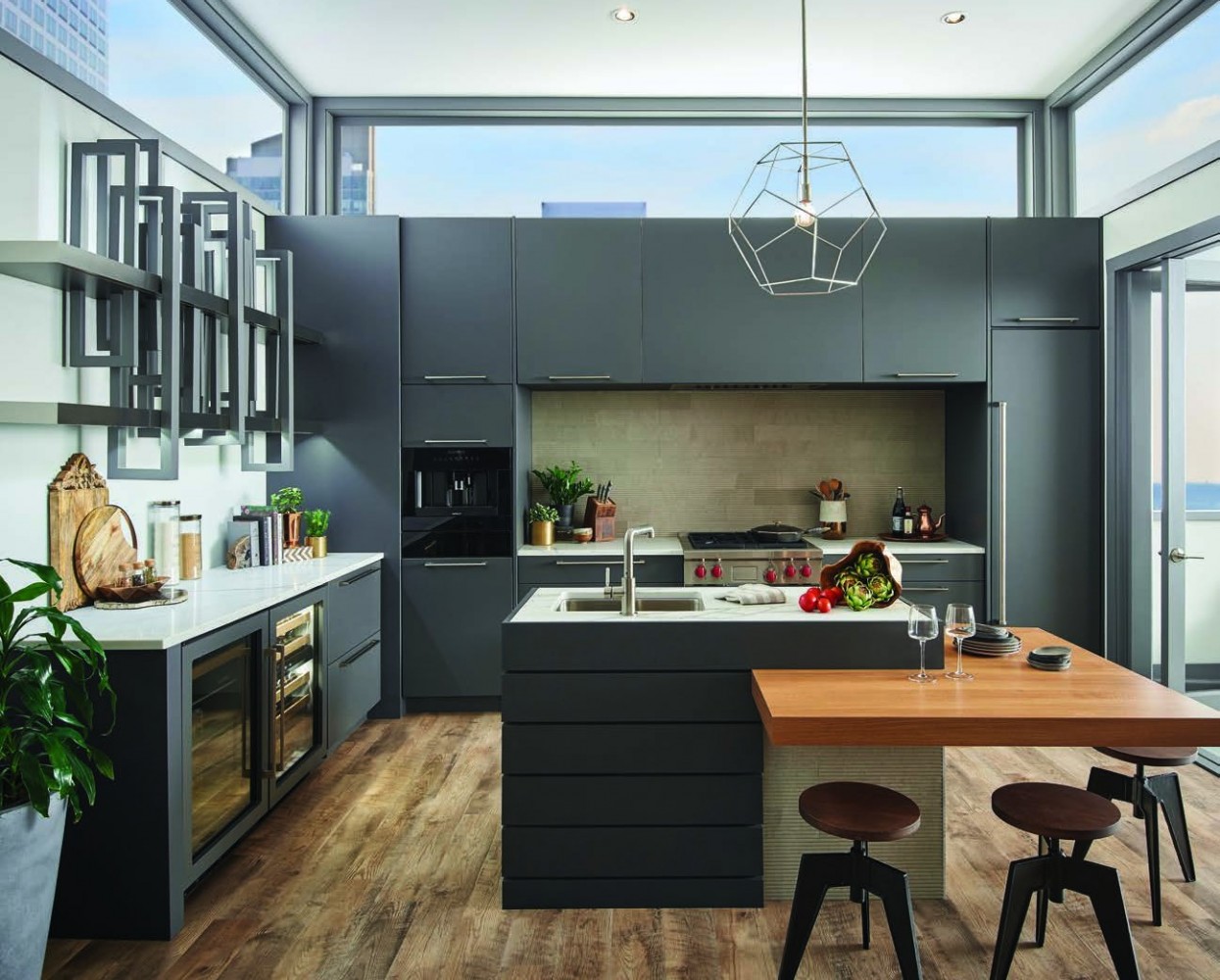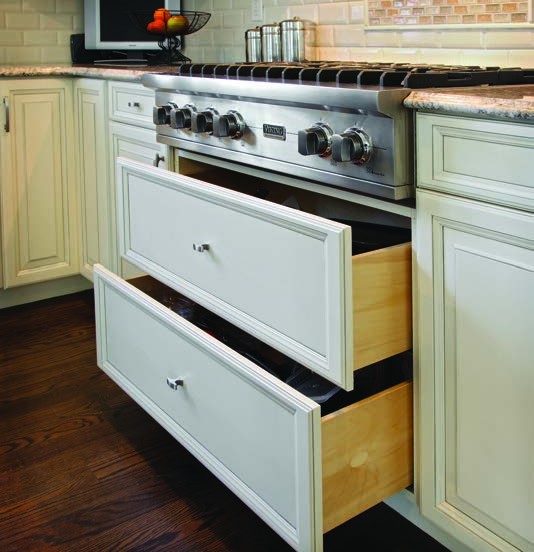 The coronavirus pandemic has affected nearly every aspect of our lives and while much of it has been negative, an unexpected boost has been seen in the area of home improvements.  
"We have been working more during the pandemic than we have in years," says Steve Matteo of Matteo Family Kitchens and Flooring. "Clients who have been working from home and possibly canceled vacations or trips … have focused on creating  a new, up-to-date space in their homes." Projects he's been creating estimates for include everything from full kitchen and bathroom remodels to countertop and backsplashes and flooring. "Contractors are scheduled out for weeks at this point," Matteo continues.
For those who haven't yet taken action to upgrade their kitchens, local design experts offered their perspective on the minor or major ways to give this space— often seen as the heart of the home—a new look.
SMALL UPDATES, BIG DIFFERENCE
You don't always have to gut your kitchen to get a new look. "That's one of the biggest misconceptions," says Mike Werner of AAA Hellenic. "Just by changing the countertops and fixtures, you can get a fresh look and feel in the kitchen with easy things like that."
Perhaps cost is limiting you to only one or two things to be done. Matteo says to decide which option is in the most need and also if other changes down the road are coming, will it be affected? "For instance, if we upgrade  the countertops and in a few years you want to change the kitchen cabinets you will be locked into keeping the same exact floor plan and there will be increased costs in removing the new countertop to install new cabinets," he says. "I always love the look a new floor can make in a kitchen remodel. The options are limitless with styles and colors and should not be a problem to work around if a new kitchen is done at a later date."
For kitchen surfaces such as countertops or backsplashes, Werner recommends doing these together. "A lot of times when you want to change your countertop but leave the existing backsplash, we can run into issues of height  and gaps. It's nice to be able to demo the countertop and backsplash in one shot."
This also ensures the colors and tones come together as imagined.  Marble and quartzite are becoming more popular as people look for the beauty of natural stone, Werner says. "Everyone is leaning toward cool colors—blue, gray, and sometimes a rusty gold—in 2020." And that goes for backsplashes too, which are being toned down in white and soft grays.
 "Patterns are also being simplified in smaller mosaics of herringbone or chevron to create interest in the grout joints. Less is more as far as tile,"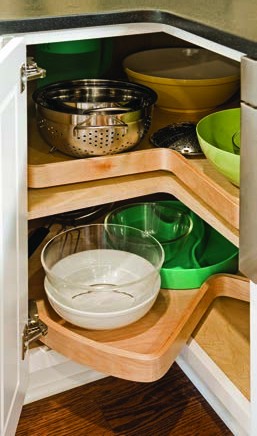 he continues.
If you're changing the countertop, it's an ideal time to change your  sink as well, Matteo adds, and the most commonly requested are farm sinks. "Joanna Gaines has inspired a nation that a farm sink is the only way to go. We are asked to install these sinks in new kitchen designs and also while replacing the countertops alone."
Cabinets are the most critical when it comes to both functionality and looks. If the other elements around them are updated, they can become shabby, says David Cerami, CKBR (certified kitchen and bath remodeler), of HomeTech Renovations and sister company Let's Face It, a cabinet refacing business.
 "You might love the design of your kitchen, and upgrading the cabinets through refacing is smart economically," Cerami says. "Clients can choose any door in any color, any finish; add interior organization with roll-outs or pull-outs—little things that are still an investment without the blowout of a remodel."
Linda Fennessy of Kitchen Magic says cabinet refacing entails laminating the existing cabinet  box frames and replacing the doors, drawers and hardware.  "By using the existing cabinet boxes by overlaying a  veneer on the frames in the new color and style … you've renewed the cabinets. It's the doors and drawers that typically take a beating, so by replacing those components, the cabinets look brand new."
According to Fennessy, 70 percent of homeowners are getting some form of white cabinet, but gray, stone and greige are also serious contenders. "Woods are still popular, but less busy grains like creamy maples versus busy oaks that are out of date. Cherry and dark woods have fallen down on the list as homeowners are looking to brighten their cabinets and use flat colors. Barnwood is a favorite for those looking for that rustic or farmhouse look."
Refacing saves time, stress and money. "The remodel is complete  in under five days," she says. "The savings is significant too. … Many homeowners re-invest their savings into new countertops, backsplash or appliances."  And, refacing rarely requires permits, she adds.
Refacing companies can also take care of other kitchen design details, such as under-cabinet lighting, crown moldings, floating shelves and adding islands. "The kitchen island is replacing the kitchen table these days. It adds more storage and allows for a second sink or stove top, display shelves, wine fridge, a microwave nook, an extra prep space and seating for two or more," Fennessy says.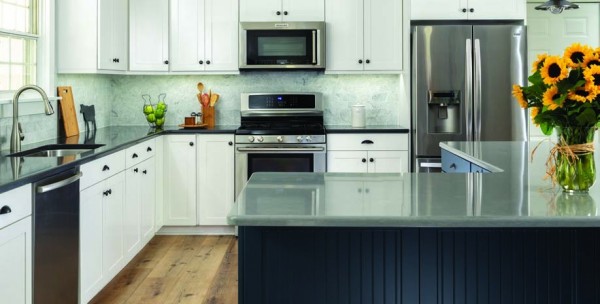 WHEN REMODELING FEELS RIGHT
Although smaller updates do bring big changes, sometimes the ideas or look a homeowner wants require a complete remodel. "Most of what we get calls for are full-scale  remodels," says Dan Dilworth,  president of Dilworth's Custom Design. "While we still do smaller jobs, we try to educate the client to make sure if they are trying to just do a partial job it may not end up meeting their dream expectations. ... If someone likes the current layout of their kitchen, does it make sense to do a full remodel, or how can you help them make updates without gutting? Sometimes when trying to do just a part of the job we need to disturb too many surrounding  things that it makes sense to go all the way."
Although Cerami's company, Let's Face It, handles refacing, HomeTech Renovations is a full-service remodeling firm. "Refacing could be a good option if you're selling your home in a year, but if  you're going to be there for the next 50, you might want to go with the full monty, floor-to-ceiling  remodel," he says. "At HomeTech, a complete new kitchen is like rebuilding an engine. You're replacing everything for another lifetime, not putting patches on it."
This is where a certified designer comes into play. "A major kitchen remodel is not a straight A  to B path. You need a plan and someone who can integrate everything into a fluid design and help you personalize it," Cerami says.
HomeTech offers its own custom  line of cabinets that are locally made and sourced, which are more economically priced, but costs do go up with custom cabinets in general due to the labor. "We do not see glazes that were popular years ago; antiquing is gone in favor of cleaner lines. Rather than highly ornate details, they want transitional, modified shaker style," he says.
 "In a lot of projects, most clients are going with white, off-white  and shades of gray, and often the island might be a different color than the main kitchen cabinets.  ... It depends on the age and comfort level of the customer," Cerami says.
Even with the big picture mapped out, Cerami says it takes a qualified designer to identify the hinges, countertops, faucets and appliances to get the full price.
RESOURCES
AAA Hellenic
West Chester, Pa.
(610) 344-7700
AAAMarble.com
Dilworth's Custom Design
Phoenixville, Pa.
(610) 917-9119
DilworthsCustomDesign.com
HomeTech Renovations, Inc.
Spring House, Pa.
(215) 646-7477
HTRenovations.com
Kitchen Magic
Nazareth, Pa.
(800) 510-4710
KitchenMagic.com
Matteo Family Kitchens and Flooring, Inc.
Woodstown, N.J.
(856) 769-2490
MatteoKitchens.com
Published (and copyrighted) in House & Home, Volume 21, Issue 1 (Fall 2020). 
For more info on House & Home magazine, click here. 
To subscribe to House & Home magazine, click here. 
To advertise in House & Home magazine, call 610-272-3120.