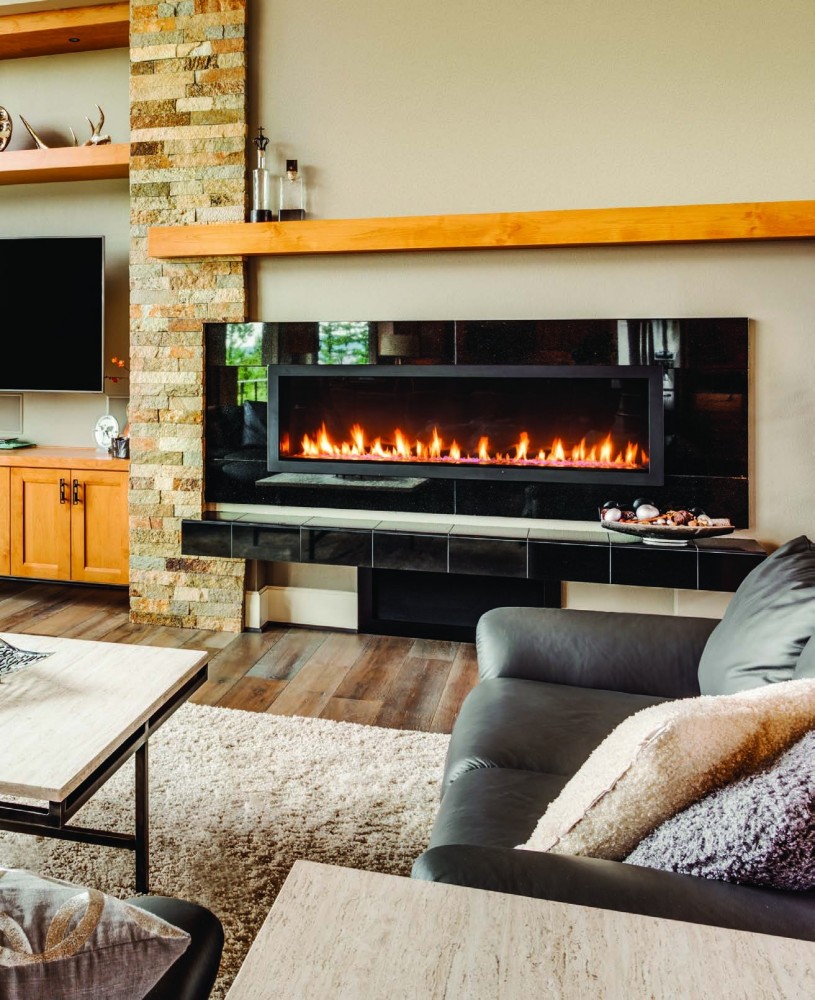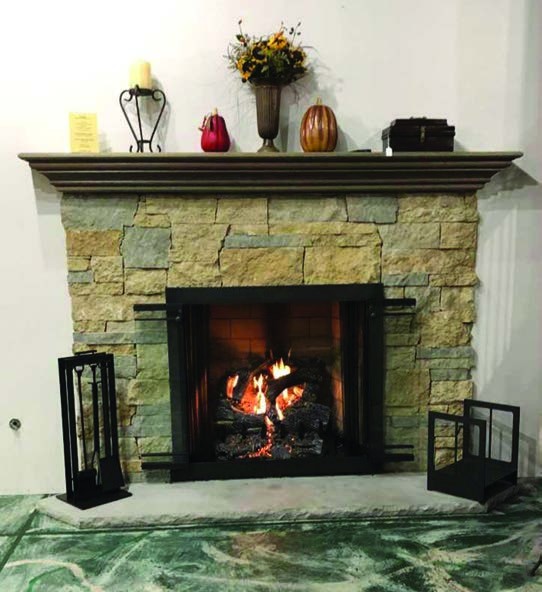 This month, many homeowners will be turning their attention to indoor projects to set the space up for the months when we tend to go into hibernation mode. With more time spent indoors, we want everything to be functioning properly and looking its best, and that may even mean a bit of remodeling. One area often considered at this time of year is the hearth. Whether yours needs some routine maintenance, a facelift or even if you want to install one completely new—there are plenty of questions to ask before beginning a fireplace project. House & Home spoke with some of the area's leading fireplace companies to pick their brains about some of the most frequently asked questions.
Does a fireplace add value to a home?
A fireplace will always add value to a home as most new homeowners regard that as a must-have on their wish list when looking. The design options available now allow numerous choices in the chosen decor of any home. The most important plus is that 95 percent of the fireplaces sold today offer a heat source for the homeowner.
Jody Miller, manager, Alber's Fireplaces
What maintenance is required on an existing fireplace and why are inspections beneficial?
When it comes to wood-burning fireplaces, the National Fire Protection Association recommends having it cleaned and inspected every year. Most manufacturers of gas fireplaces recommend annual maintenance and inspections. People are more likely to neglect gas fireplace inspections, but we tell people, just like your furnace or AC system, this needs routine maintenance too.
Inspections tell you a lot about what's going on and homeowners don't realize it takes a trained eye to spot corrosion. We might spot a bit of white corrosion built up by the pilot which could be a bigger problem, or if we notice water leaking, we need to figure out where it's coming from. Everything is interconnected.
Ed Gaynor, owner, Newtown Fireplace Shop
Why is chimney repair an important component of maintenance?
Chimneys should be swept yearly. Creosote can cause a chimney fire. Chimneys are also impacted by the freeze and thaw of winters, and may require brick pointing or crown repair, which if ignored could lead to costly damage and a potential rebuild.
Chris Tor, owner, 3C Home & Hearth
For homes with wood-burning fireplaces, do you see the homeowners opting to transition that to gas or a gas insert?
We absolutely see people wanting to convert from inefficient wood-burning to gas—it's a majority of what we do. There are some misconceptions about the terminology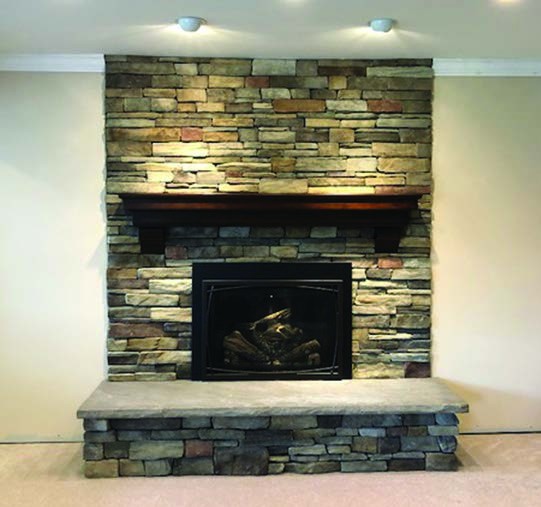 within the industry and it can sometimes be confusing to understand all of the options out there, so we recommend a trip to a showroom to discuss and make recommendations.
Ed Gaynor
What are the advantages to fireplace inserts and do they make switching easier?
Direct vent inserts provide high efficiency along with thermostatic temperature control and ease of use with most being remote controlled. A gas or wood insert takes the old, brick, very inefficient fireplace and turns it into a sealed combustion, high-efficiency fireplace.
When converting from wood to gas it is recommended that a Class II inspection be performed to check the integrity of the chimney and to see which type of appliance is appropriate. Once you've completed the Class II you should then contact a licensed plumber to see how difficult the gas run will be to get gas into the fireplace. Once those two things are complete it's pretty simple to select what's right for your home, be it a simple, vented gas log or a high-efficiency unit that will adequately heat the room.
Dave Rettinger Sr., co-owner, Rettinger Fireplace Systems
What are the differences in vent styles?
A direct vent fireplace is an enclosed chamber that pulls the cold air in from the outside and expels all of the combustion gas back outside, without the need for a chimney. For vented gas units, the home must have a traditional chimney fireplace to expel the exhaust. If someone in the home has asthma, I would not recommend going this route.
Chris Tor
How has electric fireplace technology evolved?
The changes in electric fireplaces have been a game-changer—opening up the option for a fireplace where people can't put a chimney or vent, such as basements and bathrooms. Electric is not going to be a large source of heat, maxing out at 10,000 BTU, but they are a nice option for areas of a home you wouldn't have thought to have a fireplace.
Jay Stong, owner, Salter's Fireplace Patio Grill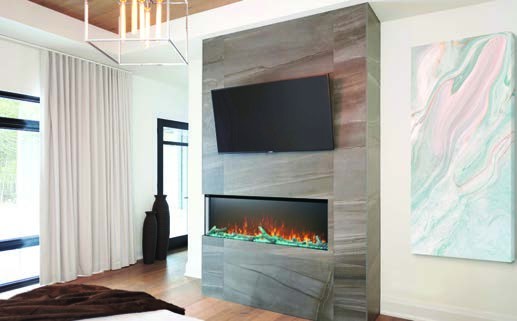 What are some new or trending styles of fireplaces you would recommend?
The linear gas fireplace has become very popular as many homeowners look to install a television above their fireplace. The manufacturers have made advances in the options which can be added to ensure the safety of heat damage to TVs. Another very popular product that is available to install into existing fireplaces are direct vent gas inserts. These are heat sources that can provide 900-1,200 square feet of additional heat to the home.
Jody Miller
What remodeling options are there to update the look of an existing fireplace?
Fireplace remodeling has become our niche. Many people have builders-grade fireplaces and mantels that look outdated. We can remodel it with custom stone work or tiles, a new gas unit or wood-burning insert and bring it up to the times and give it a "wow" factor.
Chris Tor
How are mantel designs changing?
Shiplap is very popular right now and we're actually seeing not just your traditional white shiplap look, but painted different colors like gray and even navy blue at the beach. Another popular trend popping up is metal walls and mantels which lend themselves to the industrial or farmhouse look.
Alexis Rettinger, co-owner, Rettinger Fireplace Systems
What are some safety considerations for mantels?
It's very important to find a contractor who knows what they are doing and knows what is allowable for every fireplace and the mantel. I'm a firefighter, so we don't mess around. Some mantels pose a problem, like shiplap you sometimes can't have it for safety reasons. Manufacturers are getting sharp to the fact that homeowners want to place their TV over the fireplace, so they are making products that redirect the heat. We try to discuss what's allowable with every client because it's all specific to that fireplace.
Ed Gaynor
What other features are worth noting about modern fireplaces?
In the last few years, gas fireplace manufacturers have added accent lights to bring attention to the fireplace even if it's not on. The lights make it look like something is going on and it's entertaining, making it a focal point any time of the year.
Jay Stong
What else should homeowners know before beginning a fireplace project?
This industry is largely unregulated, but it's increasing in education requirements. I strongly suggest readers do their homework, reading online reviews, checking someone's certifications and accreditations to make sure they are following the best practices of the industry. Hire someone who is licensed, insured, qualified and screened—this is not a project for an amateur.
Ed Gaynor
Resources
3C Home & Hearth
Doylestown, Pa.
(267) 261-6886
3CHomeAndHearth.com
Alber's Fireplaces
(732) 629-7444
AlbersFireplaces.com
Newtown Fireplace Shop
Newtown, Pa.
(215) 968-3981
NewtownFireplaceShop.com
Rettinger Fireplace Systems
Voorhees, N.J.
(855) GET-RETT
RettingerFireplace.com 
Salter's Fireplace Patio Grill
Eagleville, Pa.
(610) 631-9372
Hatfield, Pa.
(215) 362-2443
SaltersFireplace.com
Select images courtesy of Salter's Fireplace Patio Grill and 3C Home & Hearth.
Published (and copyrighted) in House & Home, Volume 20, Issue 3 (September 2019). 
For more info on House & Home magazine, click here. 
To subscribe to House & Home magazine, click here. 
To advertise in House & Home magazine, call 610-272-3120.