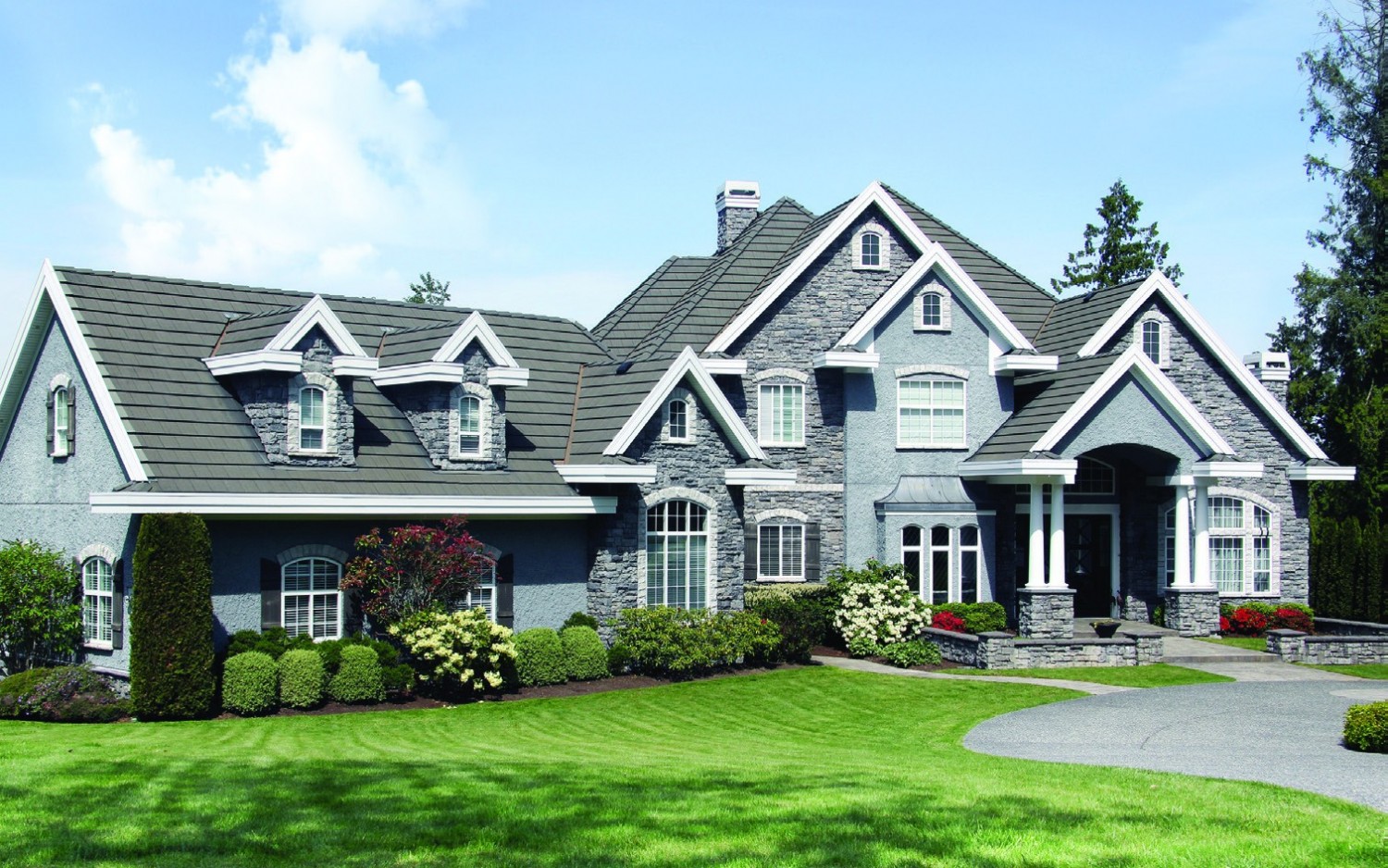 Winter's dreary weather—high winds, ice, snow and hail— can cause serious damage to a home's exterior, causing shingles to fly off, roofs to leak, gutters to split and so much more. And while this past winter was relatively mild in our region, it's still important to ensure your home's exterior is equipped to handle spring's elements.
House & Home spoke with local experts on ways homeowners can detect and repair areas of their home's exterior just in time for the spring season.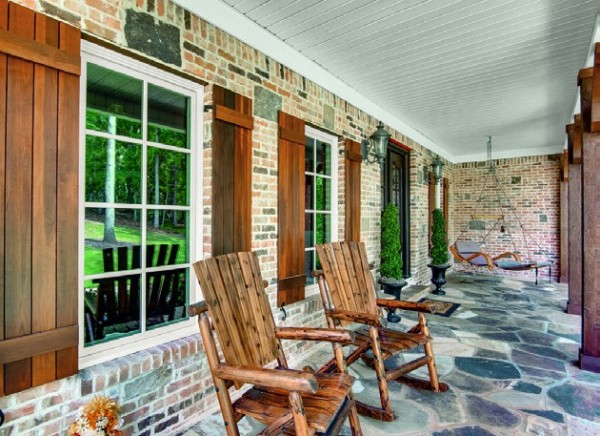 CHECK THE EXTERIOR
As the weather begins to warm up, the first thing a homeowner can do is go outside and inspect their home. Check the roof, the siding, the gutters, the windows and the doors to see any signs of damage.
"If you walk around your house and you see missing granules, that is a tell-tale sign of when your roof needs to be replaced," says Dave Lyons, owner of DNA Roofing & Siding. "See if you have missing shingle pads—sometimes you can see them in your yard if they blew off."
A lingering moisture issue or obvious leaking in the attic or upstairs are other signs of a roof gone bad, but could also be caused by damage to the siding rather than the roof.
 "The most important thing is to check for any winter weather damage," Adam Parnes, vice president of marketing at Global Home Improvement, says. "Ice can destroy gutters and melting snow can cause leaks to your roof or get behind your siding."
Gutters can be tricky because ice can build up behind the downspouts causing them to separate, which will eventually fold the gutter off the home entirely, allowing water to get behind the siding and cause a leak.
If there are no obvious signs of damage, a homeowner should consider freshening up the exterior anyway. After months of built-up ice and snow, the siding will look faded behind a layer of dirt and grime.
 "One of the big things you can do is to power wash your home on the outside because dirt can build up throughout the winter and then in the summer months, that's where you get mold," says Jaime Fiel, production director at Renewal by Andersen of Philadelphia and South Jersey. "Check your shutters and the weather stripping on your windows. Everything should have a thorough cleaning every spring for sure."
DO YOU NEED ROOFING OR SIDING REPAIRS?
When it comes to exterior repairs, the two major projects are replacing the siding and the roof. Although the roof may not be leaking, there are signs to look out for that could cause problems later down the road.
 "Roofing should always be replaced before you have serious leaks," Parnes says. "Some signs to look for are curling shingles or shingles that are missing granules. You can also take a peek in your attic to see if the plywood has any signs of water damage."
If there are any signs of damage the best thing to do is have a professional inspect it and either replace or repair it. A reliable roofing contractor would ensure all layers of the roof are inspected before installing new shingles.
 "What we would do is go in and tear off the old roof down to the wood deck. Then we would inspect your existing wood sheeting and see if any of that needs to be replaced," Lyons says. "We always do ice and water shields to the eaves and valleys to see if there's any roof penetration and check around chimneys. Then we use some type of synthetic felt or regular felt depending on what kind of price point you are looking at for your roof. We make sure all the flashings are right, replace flashings as needed, new pipe collars, the chimney, and then start installing the roof. We always install to the manufacturer's specifications depending on which shingle you're purchasing."
When it's time to replace the roof, a homeowner should think about what type of shingle they want, whether they are only interested in the most cost efficient, if they want a certain aesthetic or simply the shingle that will live up to its lifespan. The three most popular shingles and roof styles are asphalt, wood shake and a metal slate roof.
 "We replace roofs with either asphalt for a more economical option or metal slate roofing if you want that wow factor for your roof," says Parnes. "Metal is the best material because it has three times the life expectancy of asphalt, doesn't stain or discolor and looks great too."
But there is more to consider than just the shingles during a roof replacement. Everything underneath the shingle needs to be installed correctly and made of the best materials to allow the shingle to withstand its lifespan.
 "We install all our jobs with GAF Deck Armor, an underlayment that goes under shingles. It's the most premium stuff. It's moisture proof, UV proof and breathable," offers Mike Iannelli, owner of M&J Roofing. "It's important to have not only the shingles but the important accessories of the roof—the premium materials such as underlayments, ice and water shield and the drip edge."
With siding however, the best time to replace it is when it is no longer functioning the way the homeowner wants, if it is fading, has been damaged, if it is dated, or even if it has asbestos shingles.
 "[Asbestos shingles] should definitely be replaced with high-quality vinyl or fiber cement siding depending on your aesthetic goals and price range," James Russo, owner of Lawrenceville Home Improvement, says. "Older vinyl or aluminum siding can also suffer from fading or wear and tear, which also makes a siding project something to consider. Siding technology has really advanced over the past 20 years and homeowners can take advantage of the energy efficiency attainable through insulated siding."
ARE THE WINDOWS AND DOORS INTACT?
One of the biggest tell-tale signs that a home is in need of new windows or doors is if there is a noticeable draft throughout the home or if the glass begins to fog. If a window is over 15 years old and has a frame made of either vinyl or wood, then it is definitely time for a replacement.
 "Drafty or noticeably leaky windows are easy [to identify]. Fogged window units can be a sign of further issues, rotten wood or sills, and any kind of poor performance with hardware—latches, balances, tilting, etc.," says Ben Weaver, general manager of Alderfer Glass.
If a window is no longer functioning the way it is made to, then it is time to replace it before further damages ensue.
 "You want to make sure your windows work the way they're supposed to, that they slide up and down and the locks work properly," Lyons says. "And if the window is fogging up, it's no longer a Low-E window—it's not energy efficient anymore."
Low-E windows are made to reflect heat, either by reflecting the heat back outside during the summer months or keeping it indoors during winter. But there are other options that could be more suitable for homeowners' needs.
 "[Andersen] developed a product called Fiber-x. It's a composite material that stands up to all kinds of different types of climate," says Fiel. "It's almost indestructible and they created it to be part of the original windows and doors."
When it comes time to replace the window frames, there are numerous aspects to consider such as the material used—wood, aluminum, fiberglass—the type of style, the function, how easily it can be installed and so forth.
 "Our Marvin Signature line, with wood interior and aluminum-clad exterior offers the largest number of options for colors, styles and functions," Brian Finley, owner and president of SpringHouse Window and Door, says. "Marvin's Elevate line is constructed of high-quality fiberglass with wood interior to give the look, feel and warmth of a traditional wood window at a lower price point. If you're looking for a vinyl window, Sunrise Windows are the best that we've found."
 "We offer wood, vinyl, and fiberglass replacement windows. Of the three materials, fiberglass is clearly the strongest, most energy efficient and most sustainable," offers Russo. "Once you replace your windows with fiberglass, you will never need to replace your windows again."
Doors can be analyzed the same way that windows can, by making sure they are functioning properly, they are not creating any drafts and that they are not outdated.
 "One of your key things to look at is when you close the door, look in the bottom corner and the top corner to see if you see any daylight. If you do, there's a good chance that the panel is warped and moved," Lyons says. "Check the weather stripping and see if it is cracking, check the lamination on the panel, see if it is coming apart. If it's a sliding door, check how it's rolling; if it's not rolling nicely anymore then it's time to replace it."
ASK ABOUT WARRANTIES
Whenever a home is about to undergo major repairs, the homeowner should consider what types of warranties are offered so they are best protected in the future.
 "We offer the full lifetime warranty on the whole project, so you never have to worry if there's any issues or anything that goes on with the window that's in your home. As long as you're there, we take care of it," says Fiel. "We do offer a lifetime warranty on the installation. The product warranty is 20 years on the glass and the frame. Anything that goes wrong with the product itself for 20 years, it's taken care of at no charge."
Although not every contractor may offer their own warranties, each manufacturer will carry them for the individual product. Not only should they consider the types of warranties that are offered but whether or not that company will be easily reached in times of need. They should look for a contractor who is reliable and lives up to their word.
 "If there is ever an issue or problem related to the installation, we will fix it free of charge as long as you own the house," Finley says. "If a window or door ever needs attention for a warranty issue, we will handle it for you. If you ever forget how to tilt your windows out for cleaning, we'll be happy to stop by and show you."
RESOURCES
Alderfer Glass
Servicing Pa.
(215) 723-1192
AlderferGlass.com
DNA Roofing & Siding
Newark, Del.
(302) 455-2180
DNARoofingSiding.com
Global Home Improvement
Servicing Pa. and N.J.
(866) 735-1121
GlobalHomeInc.com
Lawrenceville Home Improvement
Lawrenceville, N.J.
(609) 882-6709
LawrencevilleHomeImp.com
M&J Roofing
Turnersville, N.J.
(856) 431-5244
MJRoofingLLC.com
Renewal by Andersen of Philadelphia and South Jersey
Servicing Pa. and N.J.
(856) 336-8911
SouthJerseyWindow.com
Spring House Window & Door
Spring House, Pa.
(215) 653-0929
SHWDInc.com
Select imagery courtesy of Global Home Improvement.
Published (and copyrighted) in House & Home, Volume 20, Issue 9 (March 2020). 
For more info on House & Home magazine, click here. 
To subscribe to House & Home magazine, click here. 
To advertise in House & Home magazine, call 610-272-3120.