An Outside View of Things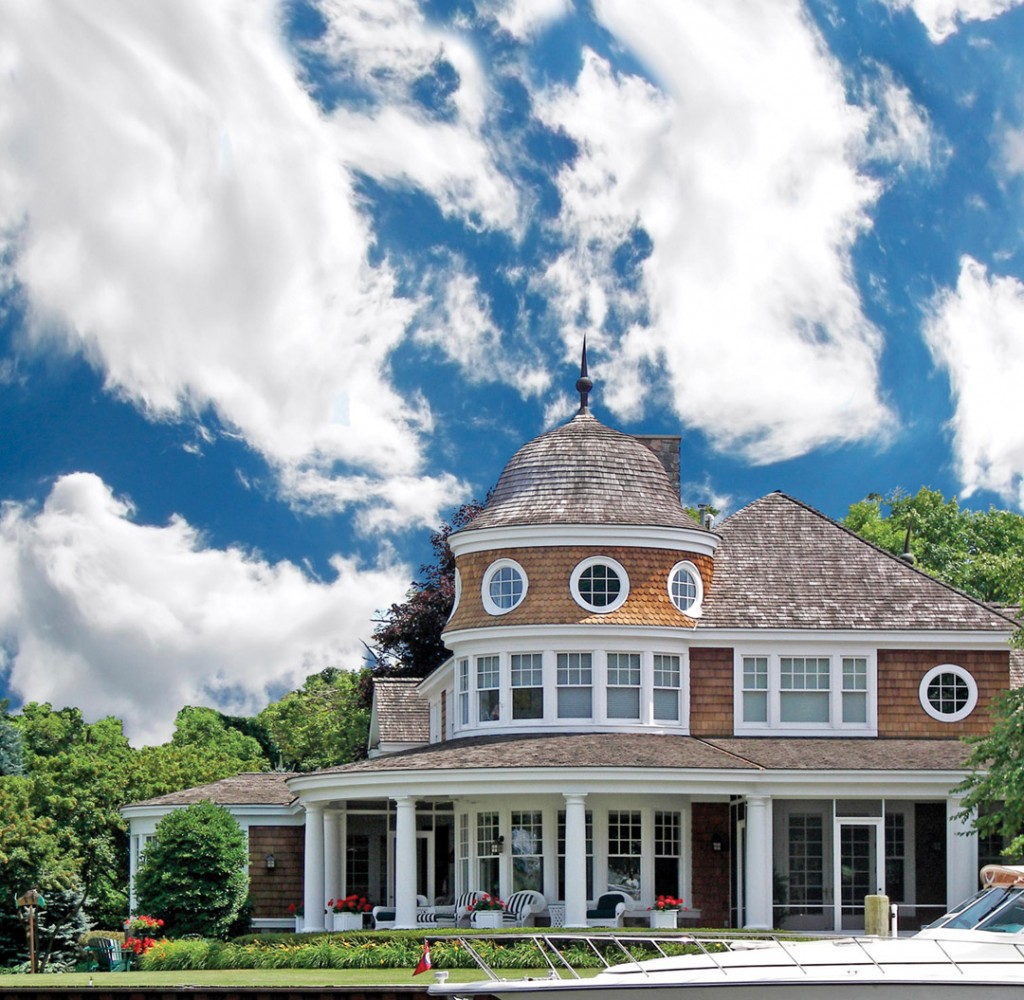 For many folks, the Shore is their home away from home. A place to escape from the doldrums of everyday life and enjoy time with their loved ones as they dip their toes in the sand and soak up the sun. And with folks spending more and more time at their favorite seaside retreat, it's become increasingly important to bring all the comforts of home along with them.
But while homeowners may have recently installed new kitchens, laid down new flooring or added touches of décor to enhance the inside of the house, it's equally important to be mindful of the outside of the home as well. After all, being exposed to the Shore's elements—from the salt air to heavy winds and driving rains—can take its toll and so protecting your property's exterior is of the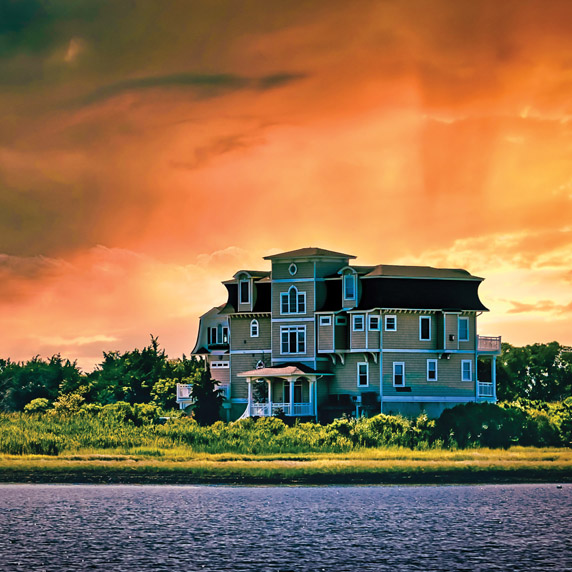 utmost importance.
These days, with the Shore's landscape lined with decades-old rancher homes sitting alongside sprawling, modern multi-story properties, there's no singular way to combat the elements as every home has different needs. But one thing that is clear is that without the proper planning, homeowners could be left to deal with the damage and quickly find themselves faced with several costly repairs.
"With all the different construction methods used over the years, there is not a one-size-fits-all solution to the challenges many homeowners face down at the Shore with trying to protect their investment," says Chuck Rood, construction operations manager with Seashore Construction. "It's critical that they are working together with their contractor of choice and that price should never be the sole determination of that process."
Steve Hauck, president of SJ Hauck Construction, says a good place to start is by choosing the right materials. While folks may gravitate toward certain looks or products, the truth is the Shore's environment may not be conducive to their longevity.
"When talking about exteriors, you want to try and avoid wood products. Instead, you want to use a low-maintenance material," Hauck says. "[For instance,] when you talk about soffits, you'll see people will use actual mahogany wood; the weather at the Shore is really going to put a hurting on that quickly. Instead, there's a material called Versatex; it's a vinyl product that looks exactly like mahogany wood."
Hauck also advises against things like steel garage doors as the metal will rust over time. That also goes for nails used in projects elsewhere along the perimeter of the home, from the porch to the back deck. "Anything steel needs to be stainless steel or at a minimum it needs to be galvanized," he adds.
Up on the Roof
Perhaps the most important exterior protection one can focus on is the roof. And there's much more involved than just choosing the color you think gives your home greater curb appeal. Everything from a high-quality, protective underlayment to the proper trim can be just as important.
But when it comes to the cosmetic side of choosing a new roof, there are options. Adam Parnes, vice president of marketing with Global Home Improvement, says the ideal approach for any homeowner is to match aesthetics with performance.
"The goal is to have a durable exterior that also adds to the home's curb appeal and summer vibe. Due to high winds, asphalt roofs may require additional maintenance. We recommend metal roofing for the longest lasting, maintenance-free solution," says Parnes.
While standard seam metal roofing has grown in popularity in the last 10-15 years, asphalt shingles remain the most prevalent choice due to their affordability and long-standing benefits. Jeff Kay, president and CEO of East Coast Roofing, Siding and Windows, is quick to point out that not all shingles are created equal.
"When it comes to roofing specifically, the challenges in that environment are the wind and the rain. What happens if you don't install a proper roofing system is that you're almost guaranteed to run into leaks and have problems," says Kay. "It depends on what type of asphalt shingles you use and how they are installed. And the reason that matters is the wind. The wind takes a toll on anything, but if you use a low-quality asphalt shingle, it will not last down the Shore."
As more folks look to replace their old three-tab shingles with new architectural shingles, Kay recommends installing products made by GAF, North America's largest shingle manufacturer, which come with a 50-year warranty and are considered the industry standard today.
And for those looking to combine the look of both metal and shingle roofing, there are options according to Rood. "Using the metal on smaller, decorative areas, such as entryways and porches, can definitely add a nice look to the exterior for a reasonable cost vs. installing on a whole roof."
A Clearer View
Another key area to pay attention to when considering a Shore home's exterior are the windows. Cheaper, builder-grade windows may be friendlier on the wallet, but you will lose things like energy efficiency and increased functionality. You'll also want to look for specially rated windows that will stand up to the elements now and well into the future.
"Windows are pretty important and something to consider is the DP rating. Standard windows come with a DP rating of 30, the ones we sell are 50—they are hurricane rated. When you have the wind and those extreme elements, you want something that is rated to deal with that stuff," Kay says, adding that the installation and insulation of the windows, as well as the flashing details are other key areas to pay attention to.
With so many options available, it's best to do a little homework to get a better understanding at what's out there and know that while cost is certainly worth considering, it shouldn't be the overriding factor in helping you make your decision.
"A good quality manufacturer of the products is the key here," Rood says. "While you may be tempted to get a cheaper big box product that has a similar style, the construction of the products are usually much different."
Examining the Rest of the Exterior
Elsewhere on the exterior home, there have been great improvements over the years in vinyl siding and its ability to withstand extreme weather conditions. And some homeowners are getting creative, adding accents and different facets to make their property stand out. This could mean using cedar shake on the dormer of a house or maybe using board and batten where strips of wood molding are placed over the seams of wide boards.
"It's more about the design and the textures than it is about the colors right now," Kay says. "Homeowners will typically contrast the roof and the siding, there's a lot of designing that goes into it."
Bold color choices may seem appealing for your Shore home, but Parnes feels it's best to strike a balance between wanting something that pops and something that is practical.
"You have to be careful when choosing dark, vibrant colors because the salt air can cause fading over time. Pastels are great options for standing out and blending in at the same time," Parnes says.
Rood has noticed a trend of folks going with different, accenting styles of siding in more conservative colors to give a home a timeless look.
"Highlighting certain areas of a house's architectural design elements adds to the character of the home without using bold, loud colors. I think that adds more value and curb appeal at the end of the day," he says.
Gutter systems are also crucial in helping protect one's home. Because roofs are not waterproof, gutters play the role of catching the water that runs down the shingles and directing it. If the water were to pour directly onto the ground below due to faulty gutters, over the course of time the ground surrounding the foundation would get soft and start to sink.
"You'll see cracks in the foundation, basements get wet and then you get a bug infestation. It's a slippery slope and the longer you go without proper gutters, the worse it is," says Kay.
A Higher Ground
One of the more common problems homeowners at the Shore are faced with is flooding. Ever since Hurricane Sandy, there has been a large increase of homes along the coast being raised up higher in an effort to avoid water penetrating the home and causing significant damage.
Home elevation has been a major part of Hauck's business for years and he says the current demand is high as folks look to raise older homes or are tearing down properties to build a newer residence that will sit up higher off the ground.
"Home elevation protects against flooding, but also the wind because it's put on a stronger foundation, one that can handle hydrostatic and hydrodynamic pressure," says Hauck.
With that being said, it's apparent there are lots of things to consider when looking to protect your Shore home against extreme conditions. But with the right planning and the guidance of a trusted contractor, you can increase safeguards while also improving both the appearance and functionality.
"Most homeowners need to be educated and aware of how the home's exterior envelope—roofing, siding, windows, doors, gutters, etc.—must work together as a system so that they are all in concert with each other," says Rood.
Resources:
East Coast Roofing, Siding & Windows
Mays Landing, N.J.
(609) 237-0372
EastCoastRoofing.com
Global Home Improvement
Serving Pa./N.J./Del.
(866) 735-1121
GlobalHomeInc.com
Seashore Construction Group
Egg Harbor Township, N.J.
(609) 645-2192
SeashoreConstruction.net
SJ Hauck Construction
Absecon
(609) 927-6700
SJHauckConstruction.com
Published (and copyrighted) in House & Home, Volume 23, Issue 10 (August 2023).
For more info on House & Home magazine, click here.
To subscribe to House & Home magazine, click here.
To advertise in House & Home magazine, call 610-272-3120.