A New Deck by Next Summer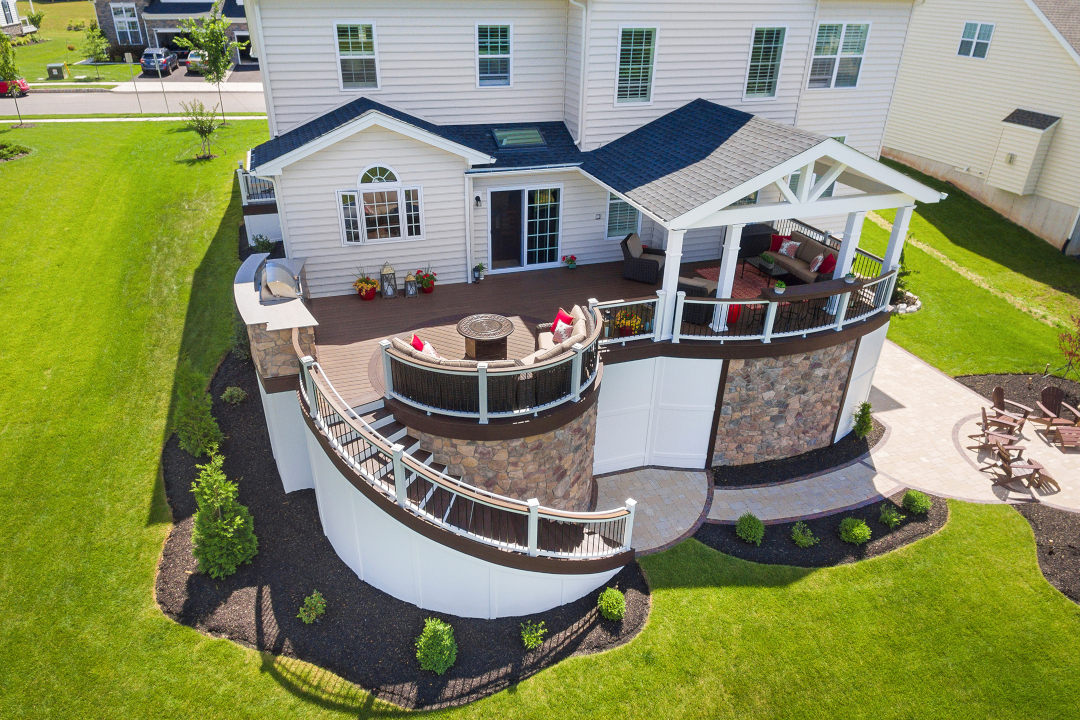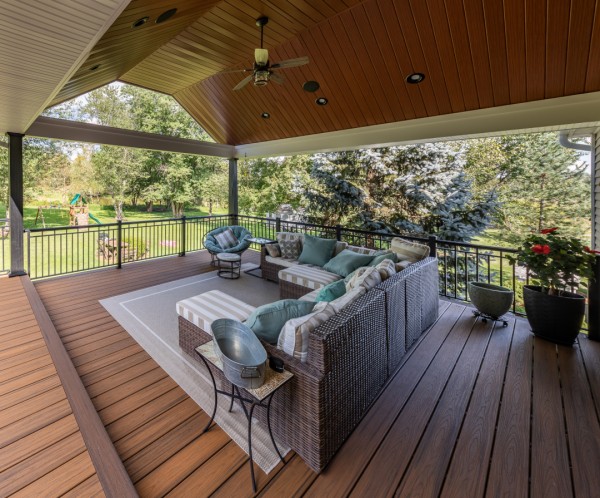 Summer is high season for outdoor decks, what with all the warm weather, barbecues and backyard parties. But while the sunny season is perfect for enjoying a deck, it's not the only time of year to be thinking about how to enhance your backyard.
In fact, local deck builders are predominantly booked until later this year, and they recommend homeowners contact them now to make plans for next year's deck project.
"This time of year, things are not as rushed," says Omar Stoltzfus of Deck Craft Plus. "You know the deck won't be built this summer so there is more time for the homeowner to work with the contractor and focus on the perfect deck design."
Joe Oakes, general manager for First State Building & Design, agrees.
"At this point, the timeframe has passed to try and fit in a backyard remodel project for this summer," he says, adding that people who contact a deck build-er now can be scheduled in advance—giving you plenty of time before next year's high season.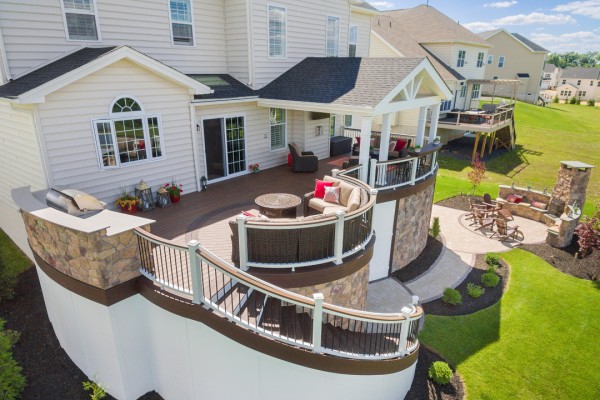 Repairing an Old Deck
In some cases, you may have an existing deck that has seen better years and refurbishing may be an option. The first step to see if you are a candidate for re-decking is the evaluation.
"The structural elements under the deck have to be assessed to make sure that we're not putting a large investment on top of a rotting understructure," says Juan Cardona, owner of Archadeck of Chester County. "The structures under the deck are reusable even 20 to 30 years later, as long as they were properly built to begin with."
In general, getting a deck redone is less costly than a complete new build but it's not always a sure investment.
"Once a deck gets to a certain age, over 20 years, the material is just to the point to the end of its life," says Joseph Kalnas, general manager for My Deck. "And a lot of times we are recommending to the clients to just take it down and start fresh, because you're spending a lot of money on maintenance-free [materials]. So, it's good to have a foundation that is as new."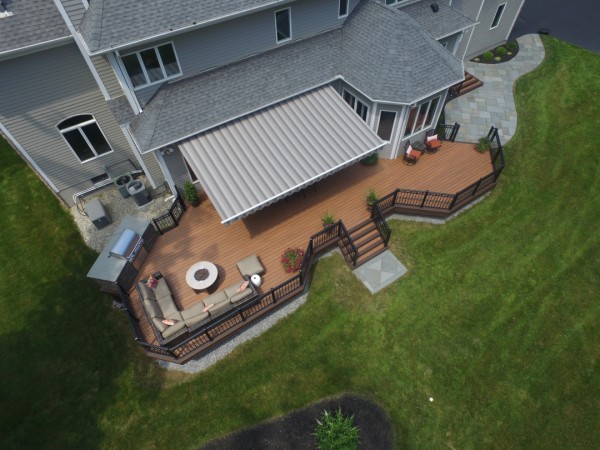 The other issue homeowners run into with refurbishing older decks is building codes that were not in place when the original deck was built.
"Refurbishing an existing deck is a roll of the dice," Oakes says. "We abide by much stronger code when it comes to building in today's world."
Still, along with measures taken to make the deck code compliant, if the frame of your deck is solid, refurbishing can be an economical and practical solution for many homeowners.
Designing the Space
Starting at the beginning of your deck design process? Well, one of the first questions you'll want to ask yourself is what you envision using your new deck for.
"Is there a large party event that you want to have space for?" says Keith Fry of Amazing Decks. "Or are you just looking for a small, quaint area for the husband and wife to go sit on?"
Fry says other questions to think about include whether you plan to add a pool or hot tub in the future and if you want a roof structure for shade or a grilling area for cooking.
How often you will use your deck is another consideration.
"Some customers have a deck [and] they rarely use their deck," Cardona says. "But they want to have one. And with that thought in mind, you don't want to make a really large investment if you rarely use it for whatever the reason."
Although sometimes not using your deck can be sign that there is something missing.
"Sometimes [people] say they don't use [their deck] because there [are] too many bugs and then maybe you can talk to them about possibly screening it in for them," Cardona says.
Add-Ons
Besides screens, there are many other add-ons that can make a deck more enjoyable.
"We do a lot of fire pits—like sunken areas, which are offset of the existing deck, which define an existing space," Kalnas says.
Other popular additions include pergolas, an outdoor sound system, bar tops and hot tubs. But one of the best ways to make a deck more pleasant is to add custom lighting, which will not only allow you to use it in the evening but can also be used to set a mood.
"LED lighting is really the only way to light up an outdoor space anymore," Kalnas says. "You can mount lighting underneath the railing as we do on a lot of our projects. ... You can do accent lighting in certain places and really create an atmosphere."
Outdoor kitchens are another feature often requested by homeowners.
"That's another item that we're beginning to see more and more people go for," Cardona says. "Rather than just a standard grill, they'll do a built-in kitchen area. So, a built-in grill, maybe a sink on the side."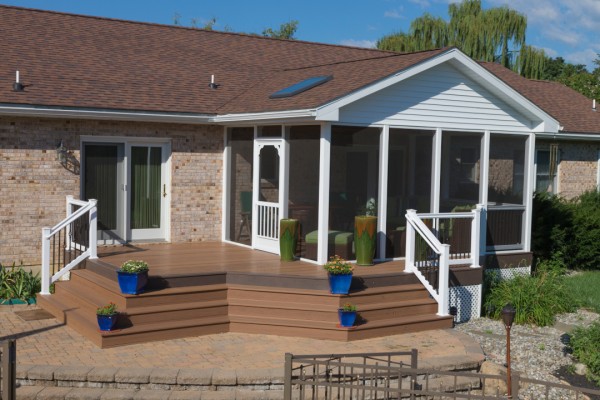 Maintenance-free Living
When it comes to choosing the materials for your deck, products that offer maintenance-free living—PVC or composite decking—are all the rage.
"Your upfront cost is more expensive but if you consider the fact that this product will last as long as you live there, unlike wood, which needs constant maintenance and may need to be replaced again in 10 to 20 years," Stoltzfus says, "it's just generally the best way to go if you can."
Cardona agrees and says about 85% of the work his company does is with composite materials.
"You don't have to stain it every couple of years and you don't have to do a water repellent on the deck every year, which is what should be done to protect a wood deck," he says. "So, there's a lot of maintenance that is done with wood that is simply not there with a composite deck."
Design
"The designs we specialize in are curves," Fry says. "We're actually bending the product so it's not the straight lines. ... It adds a flair to the deck because everything is custom-made and custom-curved around certain landscape projects."
Multi-width decking is another way to give your deck a more dynamic look. Because these boards vary in width, they can be used to create variation.
"You still kind of create a pattern," Stoltzfus says. "But it's more to break up the monotony of it."
Bordering can also be used to break up the repetitiveness of a deck design.
"Bordering in different tones [and] colors can give a real nice accent," Kalnas says. "When you're changing colors and
texture, putting it together tastefully, it makes a project come together."
And intermixing stonework and custom metal into the design can help with adding texture.
"Modern mixed with rustic style is huge for us right now," Oakes says. "Stonework mixed with natural wood is always beautiful. Custom metal work that we can incorporate into the build is a specialty that we like to do."
Railings are another area where deck builders can get creative. One of the most popular types right now is cable railing. "It's very thin, so it opens up the view quite a bit, Cardona says. "If you have a really nice view off of your deck, cable railing is a really nice option."
Cable rail can be horizontal or vertical, the latter of which is ideal for families who worry about their children climbing the railing.
A Well Thought-Out Plan
With so many design options to choose from, it can be a bit overwhelming to have to make so many decisions at once. But if you begin the design and planning process before the fall season rolls in, then trying to create your dream deck before
next summer can be a less stressful endeavor.
"It takes time," Fry says. "Don't rush into it. That way it is a well thought-out plan of what you're doing in your backyard to tie everything together."
RESOURCES
Amazing Decks
Ambler, Pa.
Flemington, N.J.
(215) 654-1886
AnotherAmazingDeck.com
Archadeck of Chester County
West Chester, Pa.
(610) 696-3340
Chester-County.Archadeck.com
Deck Craft Plus
Honey Brook, Pa.
(610) 273-3317
DeckCraftPlus.com
My Deck
Flemington, N.J.
(908) 713-1000
MyDeck.com
First State
Building & Design
Newark, Del.
(484) 303-4384
FSBD.co
Published (and copyrighted) in House & Home, Volume 21, Issue 9 (June 2021). 
For more info on House & Home magazine, click here. 
To subscribe to House & Home magazine, click here. 
To advertise in House & Home magazine, call 610-272-3120.