An Energy-Efficient Exterior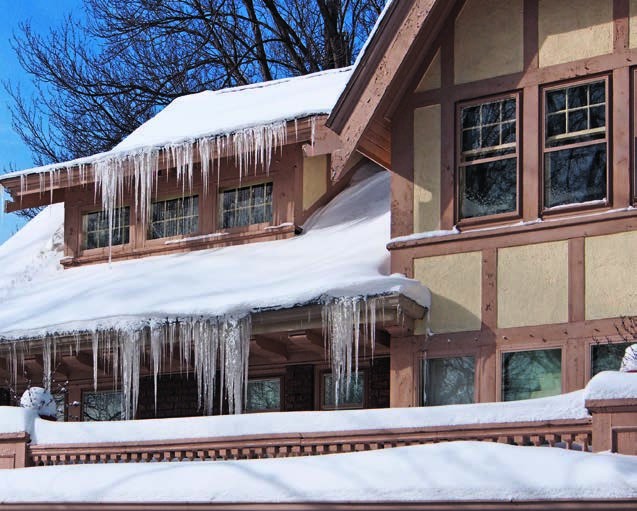 With colder months just on the horizon, now is a great time to start thinking about energy-efficient upgrades to your home's exterior. When you make these changes, you not only help reduce energy loss (which equates to dollars back in your pocket), but you also do your part in reducing your environmental impact.  
"The main culprits of energy loss are through the attic space since heat rises—but also through inefficient windows and doors," says Adam Parnes of Global Home Improvement. "The first step for an energy-efficient home is to make sure your attic is properly insulated and then tackle windows and doors. In addition, to lower energy bills, new thermal windows can really change the comfort level of a room. We recommend replacing the windows in rooms most often used such as bedrooms or family rooms."
Wayne Liss, owner  of New Look Builders, Inc., agrees that attic space is a major source of energy loss. It can also happen around poorly insulated walls, poorly sealed windows and doors, leaky roofs and poorly maintained HVAC systems and appliances.
 "With winter just around the corner, it would serve homeowners  well to replace poorly insulated windows and doors now," he says. "Look into replacing your roof if it is more than 20 years old and leaking. Also look into adding sufficient insulation to the attic and having your HVAC system serviced."
Another area of the home that is sometimes overlooked but really important in winter months is the chimney. Denise Davis, office manager for Davis Brothers Chimney Sweep & Masonry, says that cleaning your chimney ahead of those colder months when you'll be using it is a very important safety precaution.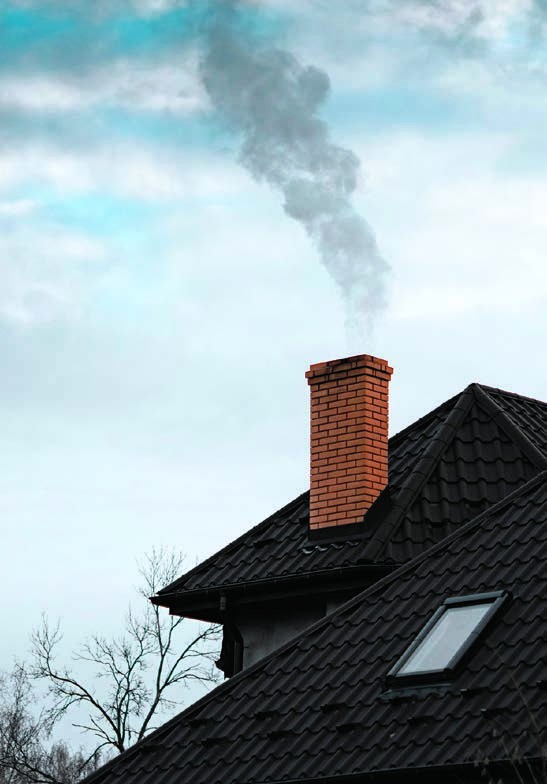 Most chimney fires are a result of neglect and a chimney that has not been cleaned regularly enough, she says. Sometimes birds  will make a nest in the chimney, unbeknownst to the homeowners. This can block up the chimney and possibly even cause carbon monoxide to leak back into the home.
A properly cared for chimney can also have positive energy ramifications—and prevent problems.
"A proper cap on top of the chimney will also limit water damage and increase efficiency by preventing heat loss," Davis adds. "Sometimes homeowners have cracks in their chimney that they don't realize. That's why ongoing inspections and chimney maintenance are so important."  
NEWER PRODUCTS ON THE MARKET
One of the benefits of upgrading various elements of your exterior is that many of the products available today are made with energy efficiency in mind. This is different from products of the past.
Parnes says that they recommend  the new fiberglass window and door options because they not only add energy efficiency and comfort to a home, but they are also aesthetic upgrades. They'll boost curb appeal and add wow factor. Parnes says that Global Home Improvement recommends Infinity Fiberglass Windows and Doors from Marvin, which he says are eight times stronger than vinyl and will outperform and outlast wood windows. Liss agrees that the products available today have also come a really long way. He says that there are new windows, doors, insulated siding, energy-efficient solar  shingles and energy-efficient appliances available—all of which are helpful in preventing energy loss.  
There are also great options for attic insulation, Liss adds. Just a little bit of extra attention to this area of your home can go a long way in boosting its overall energy efficiency.
Roofing has also evolved— including the way in which they are installed. Mike Iannelli, co-owner  of M&J Roofing, has been seeing the same problems emerge in roofs again and again.
 "We find that the older generation  of roofers didn't put a water and ice shield on the house and didn't put ventilation on the roof. That's huge right now," he explains. "Without that ventilation, the humidity builds up and  causes condensation and damages the shingles, which decreases their lifespan. We also found that  they would use 15pound  roofing felt, which is almost paper-thin and doesn't provide enough protection between the structural wood and the shingles."  
If a new roof is necessary, homeowners should know if it is being installed with all the proper protections. "Our process from start to finish includes roof deck protection with GAF Deck Armor, which is used under the shingles and provides protection from wind-driven rain and trapped moisture; leak barrier, starter strip shingles, Cobra attic ventilation and ridge cap shingles. We leave nothing overlooked," he continues.
Iannelli says that M&J also has a siding service and uses Alside vinyl siding, a brand that the company trusts.
CHOOSING THE BEST CONTRACTOR
When it comes to making any of these upgrades, choosing the right contractor for the job is important.  
 "Do your research and discuss any concerns that you may have  with an expert," Liss advises. "Lastly, be wary of high-pressure sales tactics." 
Iannelli adds that his company  only uses employees on staff—not  subcontractors.
 "I have four supervisors, all with extensive roofing experience  and they are on-site for every job and available to the homeowner at all times," he explains. "We stand by the proven materials we offer and take no shortcuts."  
MAKING A WISE INVESTMENT
While taking these proactive steps is an investment on the front end, they can also save money (plus hassles and headaches) in the long run. These additions will also increase the value of your home.
Parnes sums it up: "Rather than wait and let another season go by with your home wasting valuable energy, you can have upgrades completed that will get your home ready for the winter."
RESOURCES
Davis Brothers Chimney Sweep & Masonry
Egg Harbor Township, N.J.
(609) 241-8512
DavisBrothersMasonry.net
Global Home Improvement
Serving Pa. and N.J.
(866) 735-1121
GlobalHomeInc.com
M&J Roofing
Turnersville, N.J.
(856) 431-5244
MJRoofingLLC.com
New Look Builders, Inc.
Huntingdon Valley, Pa.
(215) 792-2068
NewLookBuilders.net

Published (and copyrighted) in House & Home, Volume 21, Issue 12 (September 2021). 
For more info on House & Home magazine, click here. 
To subscribe to House & Home magazine, click here. 
To advertise in House & Home magazine, call 610-272-3120.