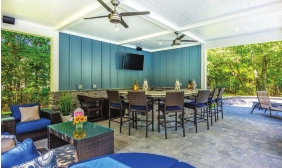 For over 30 years, Elite Landscaping has been creating and constructing well thought-out and intricate landscapes for customers in the Delaware Valley. To say their customers have been satisfied would be an understatement. As one of South Jersey's premier full-service landscape design and installation firms, it's no wonder why their phones are ringing off the hook.
When clients come to Elite wanting a new design for their outdoor space, the firm's first step is to evaluate the site. Michael Pasquarello, a degreed landscape architect at Elite Landscaping, says they want to highlight any limiting factors which may be present on the property that need to be considered in the overall plan. Drainage and water flow on the property, town building and zoning codes, soil status and the client's "wish list" for the project are all things that need to be considered.
The next step is sketching out the design to show all of the possibilities in your new landscape. "Exterior landscape/hardscape design is a very fluid, ever evolving process which should not be rushed," says Pasquarello. "Spaces will be sketched out to allow for all 'wish list' elements to be accounted for and located. This will help spatially in deciding what can be incorporated and what can't."
Finally, the sketch is converted into the final site plan. "The conceptual images are now drawn in at the exact dimensions of the proposed project. This is the plan which will be used for construction, so precision is key," says Pasquarello. "All structures, hard surfaces, bed lines, plant material, etc. are specified on these plans."
What's more, Elite goes a step further for their clients before any type of construction even begins. "For those who have trouble envisioning these overhead site plans, 3D imagery—and even virtual reality—experiences are available to create a realistic representation of what the project will look like before a shovel is even put into the ground," says Pasquarello. "Specific vantage points can be manipulated and viewed through these images."
Since the majority of outdoor entertainment spaces that Elite creates can contain many elements that fall under township regulations and state construction codes, permits are first submitted to the municipality before construction begins. But prior to any excavation, Pasquarello says Elite has a utility mark-out come in and locate any buried gas, electric, cable, phone or water lines on the property. Once these steps are finalized, excavation and construction can begin.
 "Typically any necessary footings or base materials are installed first followed by masonry elements, wood/composite structures, or segmental concrete pavers and wall systems," says Pasquarello. "When all of the hardscape elements are complete the finishing touches of landscape beds and lawn areas are added."
So how have Elite's designs and landscapes grown to the top of everyone's radar? Pasquarello says he strives for "straight F, F, Fs." These are food, fire and fluidity.
 "Grills, warmers, side burners, refrigerators, sinks, ice makers, pizza ovens and even beer meisters can all come together within your patio space," says Pasquarello. Incorporating fire into outdoor spaces has sky-rocketed over the last five years making it more and more popular in Pasquarello's designs in the form of outdoor fireplaces, fire pits or another element of fire. "Wood, natural gas or propane can all be used to fuel your inferno based upon preference," says Pasquarello.
And lastly, the sound of flowing water has a calming effect which can be a tranquil addition to any outdoor space, says Pasquarello. "Waterfalls, fountains and ponds each have their own unique attributes in providing this soothing atmosphere."
But if you think landscape design and construction is where the buck stops with Elite, think again. While their firm is definitely known for their vast designs of beautiful outdoor landscapes and constructing them effortlessly, Elite is a full-service landscape firm. Offering continued property maintenance such as cutting, pruning and cleanups, irrigation systems, fertilization, outdoor LED landscape lighting, holiday décor and more, Elite is well-equipped to handle all of your outdoor needs.
 "Elite Landscaping also has a tree division with certified arborists capable of diagnosing disease/insect problems and determining if a tree can be saved with corrective measures or if it must be taken down," says Pasquarello.  
Whether it's a complete redesign of your already existing outdoor space, some add-ons to really make your yard an extension of your home or maintenance that you are looking for, Elite Landscaping is the firm that can make it all happen.
 "Put down those mobile devices [and] take a step back from the everyday grind," says Pasquarello. "Allow Elite Landscaping to bring you back outdoors again to enjoy the possibilities your property has to offer."
Elite Landscaping
Berlin | (856) 753-1944
EliteLandscaping.com
Published (and copyrighted) in House & Home, Volume 20, Issue 3 (September 2019). 
For more info on House & Home magazine, click here. 
To subscribe to House & Home magazine, click here. 
To advertise in House & Home magazine, call 610-272-3120.