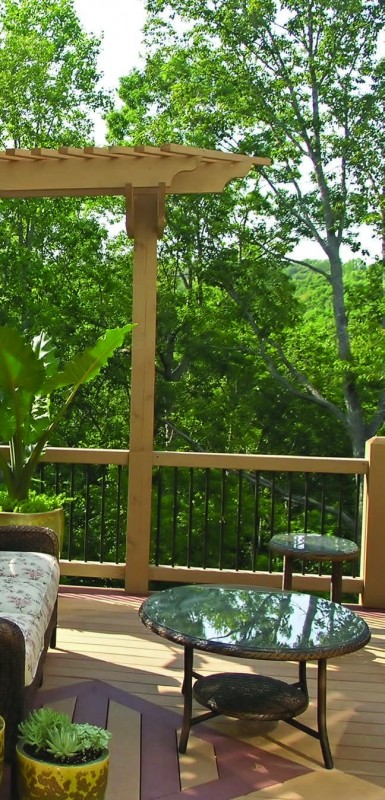 With warmer weather comes an increased desire to spend more time outdoors— and there's nowhere better to do that than on your beautiful deck. Whether you have an existing deck that you're looking to spruce up or you are interested in having one built, you already know that a deck is a great way to extend the living—and entertaining—area of your home and to create a reason to get outside.
"In general, homeowners are investing more money in their outdoor spaces, and I don't see that trend going away," says Juan Cardona, owner of Archadeck of Chester County. "They want to spend more time outside and they need the functional space to do that."
That has led to decks that are continually bigger and better. Gone are the days where a deck was a tiny space for a table and maybe a grill. Today's homeowners want amenities like entertaining areas, fire features and built-in kitchens, says Cardona.  
 "Many homeowners are interested in lighting so that they can get more use out of the space," he adds. "We're also seeing more interest in ways to differentiate the shape of the deck. Homeowners don't just want a simple square."
Joe Salvatore, president of First State Building & Design, says that they've definitely been incorporating "curvature" into their deck designs. It creates a unique and higher-end look. Salvatore says another trend has been adding a picture-frame design around the perimeter of the deck. This "border" is created using a complementary color to add some visual interest.
 "We're also doing multi-level decks for homeowners that don't want just one giant deck but want to create a lot more functional
space," Salvatore adds. While one level might include a cooking area and "entertainment spot," a few steps down might take you to another deck that has a table for dining and is a bit more intimate. You can get creative with the design and create a space that works best for you, says Salvatore.  
 "One of our most popular trends in our deck designs has been adding a section of the deck specifically built for a grill," adds Michael Jerminski, owner of Get Decked. "It's a bumpout in which the grill has its own designated area. This is safer and adds very little to the cost of the deck. We also design octagonal bumpouts for extra living space. It creates a modern railing design and adds a great option for landscaping."  
MAKING "ROOM"
For many homeowners, getting maximum use out of the deck means making it more of a "room," including covered space.
Sean McAleer, owner of Deck Remodelers, says that the Equinox louvered roof has been a very popular addition to their clients' decks as it offers the "best of both worlds."
 "If you want to let the sun in, you can have it open," he says. "That's particularly nice inside of the house—as a permanent structure might block the sunlight from shining into your home. But if you're outside and need some shade or it starts to rain, you can close it. With built-in rain sensors, it will also automatically close as soon as rain starts. It's been a big game-changer for us in terms of helping homeowners get even more enjoyment out of their space." 
Marv Esh, owner of Keystone Custom Decks, says that he's also been getting a lot of requests for adding "structures" to deck spaces in order to make them even more like an outdoor room.
 "The most popular trend in outdoor living is to put up structures that provide protection from the elements," he continues. "From open air porches to screened porches to pergolas, an overhead structure adds a lot of character, added appeal and also extends the outdoor living season. Combine a fireplace or other heating element and you have a space that you can utilize for a longer portion of the season. In addition, this adds value to your property and provides a wow factor."  
For those who have second-story decks, McAleer says that homeowners are also now making use of the space underneath. 
 "With a dry space underneath, you can add recessed lighting, a fire feature and other amenities to make it a whole other room to enjoy," he says.
A MATTER OF MATERIAL
In terms of materials, traditional pressure-treated  lumber has rapidly been replaced by low-maintenance products like PVC and composite. While this shift is nothing new, the trend shows no signs of slowing down—nor do the contractors we spoke with think it ever will.  
 "Nobody has time to do the yearly maintenance  associated with a wood deck," says Cardona. "In our region, where the weather is very hard on wood, composite decking is the way to go."
Bill Wilson, co-owner of Amazing Decks, agrees. He says that when homeowners invest in a project, they like it to be a "once and done" kind of deal.
 "These days, homeowners just want those projects completely checked off their list," he says. "They don't want maintenance tasks creeping back up on them. They want a beautiful deck that's  maintenance-free."
 "Many clients are choosing composite and vinyl decking options due to the longevity and limited maintenance of these products," adds Esh. "Decking manufactures such as TimberTech and Trex are leaders in the industry in terms of the overall quality of products. Today, with the advanced research and development that these companies have put into their products, there has never been a better time to use them."  
Omar Stoltzfus, sales and marketing specialist with Deck Craft Plus, LLC, says that many homeowners are seeing the benefits of these new materials and renovating their existing decks.
 "We call that a resurface project, when we're able to still use the substructures because they are sound," Stoltzfus says. "The entire process would begin with an inspection to ensure the original deck was built up to code and is structurally sound. If it is, then we can use that subsurface but replace the deck with composite material in order to give the homeowners the low-maintenance benefits."
Cardona says that as much as 40 percent of his deck work involves doing this—what he calls "re-decking." He says that there are many homeowners who have decks that are 20 years old but still have structurally  sound substructures which can be used in a renovation, saving them a few thousand dollars in building costs. 
In terms of cost in general, McAleer adds that homeowners often come into the process assuming that these new materials are going to cost three times or more what traditional lumber  does—and they're often pleasantly surprised that it's less expensive than they anticipated. When you factor in that you'll no longer need to perform regular maintenance like washing and staining, it's more cost effective than many realize. 
DREAMING BIG
With so many exciting options out there, Stoltzfus says that homeowners can dream big when it comes to their decks. "The possibilities are endless in terms of what you can do with your backyard and your entertaining areas," he adds. "It really comes down to how you want to use the space."
Wilson agrees.
 "A deck is no longer just a space for a table," he says. "It's an extension of the heart of the house. It's like you're adding a room to your home and anything that comes with that can be part of your space—a roof, a fireplace, a kitchen, water features—it can be whatever you want it to be."
RESOURCES
Archadeck of Chester County
West Chester, Pa.
(610) 696-3340
Chester-County.Archadeck.com
Amazing Decks
Serving Pa. and N.J.
(800) 220-3275
AnotherAmazingDeck.com
Deck Craft Plus, LLC
Honey Brook, Pa.
(610) 273-3317
DeckCraftPlus.com
Deck Remodelers
Sparta, N.J.
(973) 729-2125
DeckRemodelers.com
First State Building & Design
Newark, Del.
(484) 303-4384
FSBD.co
Get Decked
(610) 948-1625
GetDeckedInc.com
Keystone Custom Decks
East Earl, Pa.
(717) 355-0592
KeystoneCustomDecks.com
Published (and copyrighted) in House & Home, Volume 19, Issue 9 (March 2019). 
For more info on House & Home magazine, click here. 
To subscribe to House & Home magazine, click here. 
To advertise in House & Home magazine, call 610-272-3120.