Trends that Become Reality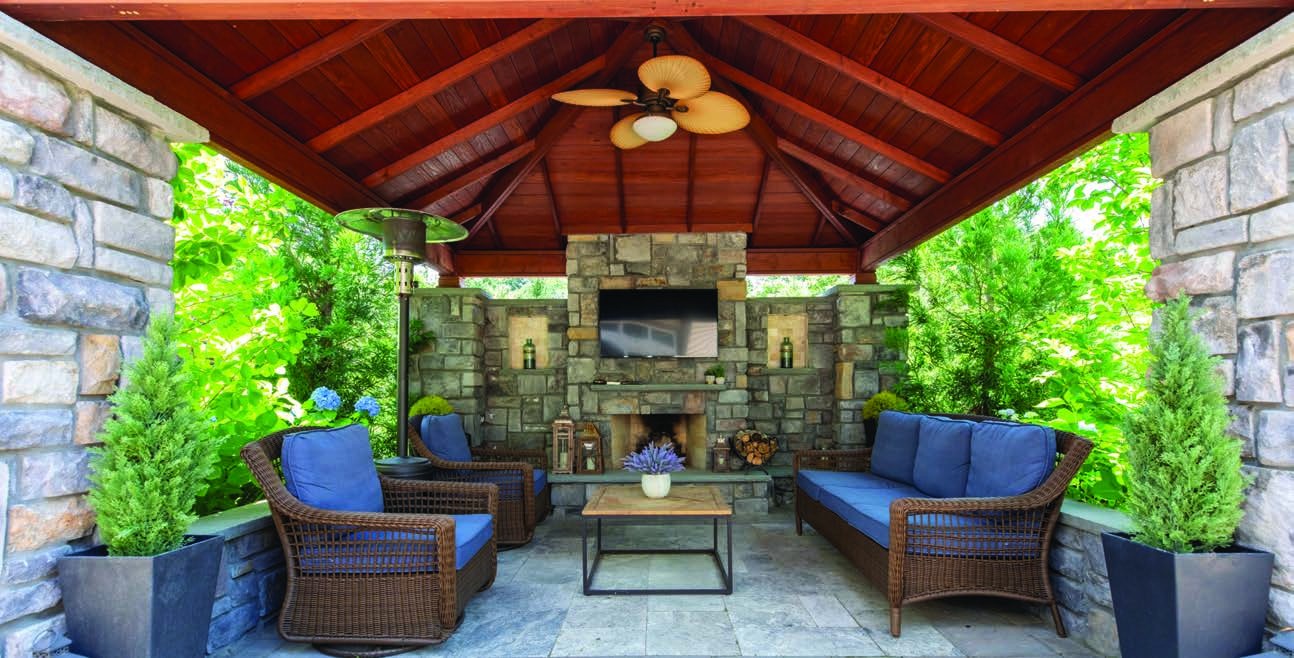 AS THE SUMMER SLOWS TO A HALT, our minds just naturally turn to next year. How will we change our landscape? What neat things can we try in the space? What should we be thinking of now so everything will be ready in the spring? This year's trends are leading to next year's realities, so House & Home wanted to find out what cool ideas the experts say will come into play for 2020.
What's hot, what's not
"The outdoor living space has continued to grow each year," says Sam Waddell, owner of SLS Landscaping. "[Homeowners want] the multi- faceted patio with a kitchen (grill, sink, refrigerator), fireplace and landscape lighting and sound. People want the complete environment where they can have family and friends come to sit and relax and enjoy all of the amenities of the indoors outside. Our designers are continually challenged to develop stunning and functional spaces and landscapes to meet our clients' visions and create the 'wow' factor in the backyard."
Dean Johnston, owner and designer of Johnston & Associates, agrees that more outdoor entertaining is the biggest trend. "We are installing more outdoor kitchens than before. After that, fire features. We try to make outside spaces usable all throughout the year, so with our kitchens we're installing roofs or retractable awnings. We're installing fireplaces or the traditional fire pits. We're also seeing more with fire and water features. These are either poolside features or worked into a pondless water feature that blends a fire ring that fits just above the water level. The effects are outstanding," he says.
For those clients who cannot afford everything at once, phase landscaping is popular. "We like to show what the space can look like and then show how we can install it in a few years as budgets allow. This gives the client the option to install their perfect space in steps," Johnston says.
 "Technology will continue to emerge, making control of landscape lighting, irrigation systems and outdoor audio easier than it has ever been," says Michael Pasquarello, a degreed landscape architect with Elite Landscaping. "Color changing/brightness- controlled LED light fixtures, irrigation systems that sync to local weather stations and are totally WiFi driven, outdoor audio systems that would make any professional DJ jealous— all of these manipulated and controlled by the smartphone we all currently have."
Nick Nykorczuk, president of Creative Pavers, adds additional outdoor elements like outdoor TVs and covered roof lounging areas, built-in heating strips around the top of a pergola or pavilion or multiple dedicated gas lines to connect to portable patio heaters, shade structures or ceiling fans and screened-in portions to create a mostly bug-free experience can all be controlled via smart device.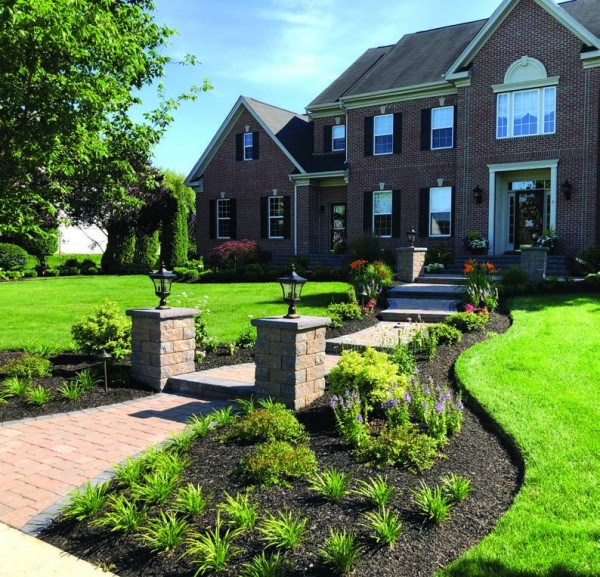 For their mood benefits, water features will continue to be a popular request. "Pondless waterfalls and fountains will continue to be popular due to their low-maintenance aspect," says Jason Turpin, owner of Turpin Landscape Design. Plus they are still able to provide the serene sounds and sights of moving water, which people really enjoy in the landscapes. "The trend seems to be moving away from formal ponds towards more natural-looking water features, including incorporating waterfalls and small streams with lots of natural stone, and winter hardy plantings," says Turpin.
West Coast trends are creeping into our area now. "Projects are getting larger and a seamless transition from indoors to outdoors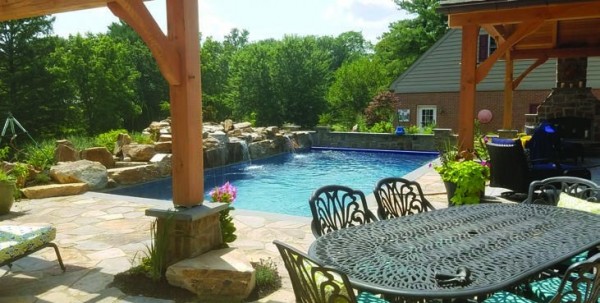 is important. It seems like the Northeast has taken these design cues from what's been going on in California for decades," says Jeffrey Woehr, natural stone division manager with NJ Gravel & Sand.
He says flagstone—both naturally irregular shaped and dimensional cut squares and rectangles— is wanted for patios, walkways, pool decks, etc., and thicker versions are being used for step treads, pool copings, fireplace hearths and mantles. Bluestone is by far the most popular stone used for these purposes, but he also keeps many alternative stones from around the world in stock. "The ability to cut natural stone at a 1½-inch thickness, rather than the traditional 4- to 8-inch thickness has allowed designers and installers to consider stone veneer for more projects," he adds. "It's now easier and less expensive to get a great looking stone façade on your house, landscape wall or outdoor fireplace. These products allow natural stone veneer to compete more effectively with artificial stone veneer—a trend I expect will continue to grow."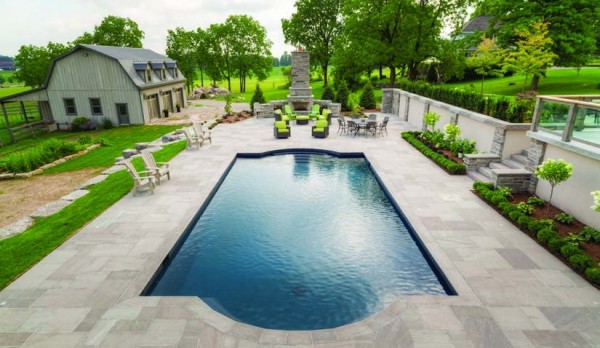 "High-end design for outdoor living is trending away from concrete paver hardscapes to natural stone materials," says Woehr. "I see porcelain taking a larger share of the concrete paver market in the future. Both concrete pavers and porcelain often try to imitate natural stone, but porcelain does a better job of it than concrete."
Homeowners are moving away from the serpentine looks of the last decade and embracing sleek, tight lines, says Nykorczuk. "Smooth products in larger sizes are more desirable, since they keep with the clean look of the space. Some manufacturers have created pre-sealed hardscape products that have a built-in protection layer for the pavers, reducing the amount of maintenance and wear and tear," he says.
Emerging trends             
In the future, there will be new ideas of how to extend the use of the space, says Nykorczuk. "With more elements being sought after, once you put all of these components together, the cost can get very high. So it becomes important in our region to plan something that can extend the number of months of use well into the cooler times of year."
He sees more indoor/outdoor rooms (or "three-season rooms") being created to serve as transitions between the home's inside and the fully open backyard. "I also see homes being designed (or modified) to have more open access points with the outdoors to create a better flow and connection to the space," he says. "We've seen larger homes have a single door leading to the backyard which creates a sort of bottleneck when going in and out. We've come up with designs that expand on the existing door and we have even added more doors along the back of the home that lead outside to give a much better connection to the outdoor space."
While travertine for patios isn't new, using it around pools will grow in popularity, says Johnston. "This is an imported stone. The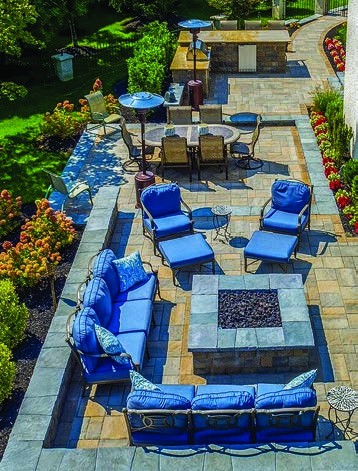 nice thing about that is there is no or little iron in the stone, allowing for a cooler touch especially around pools that have a lot of bare feet and kids," he says. "This is a non- to low-slip material that looks great. It also allows us to recommend renovations to inside flooring that will blend the inside to the outside. We install a lot of this and its cost is comparable to pavers."
 "I think we'll be seeing greater interest in swim ponds and natural recreational ponds," says Turpin. To keep pond water quality high, the simple process of repeatedly turning the water over through the mechanical and biological filters is needed in order to create a naturally balanced, low-maintenance ecosystem pond. Add the remaining components of plants, aeration, rock and gravel, and you'll find greater success in maintaining clean and clear pond water, he adds.
Waddell says more people will want the "one-stop shopping" opportunity for their total outdoor environment. "[Companies] will design the entire environment to include the swimming pool, cabana, patio/pool deck, fireplace and kitchen and landscaping," he says. "When you have the perfect pool, patio and amenities, your home becomes the place your friends want to hang out. Whether the project is completed in one season or phased over a period of time, [clients will want] to work with one company and contact to see the entire project through to completion."
RESOURCES
Creative Pavers
Gibbstown, N.J.
(856) 848-7400 | (610) 565-7680
CreativePaversInc.com
Elite Landscaping
Berlin, N.J. | (856) 753-1944
EliteLandscaping.com
Johnston & Associates
(302) 521-2984
LandAndWaterCreations.com
NJ Gravel & Sand Co., Inc.
Wall, N.J. | (732) 938-5252
NJGravelSand.com
SLS Landscaping
Lumberton, N.J. | (609) 518-5263
SLSLandscape.com
Turpin Landscape Design
Coatesville, Pa. | (610) 380-1119
TurpinLandscaping.com
Select imagery courtesy of Creative Pavers, Johnston & Associates, and New Jersey Gravel & Sand.
Published (and copyrighted) in House & Home, Volume 20, Issue 2 (Fall 2019). 
For more info on House & Home magazine, click here. 
To subscribe to House & Home magazine, click here. 
To advertise in House & Home magazine, call 610-272-3120.