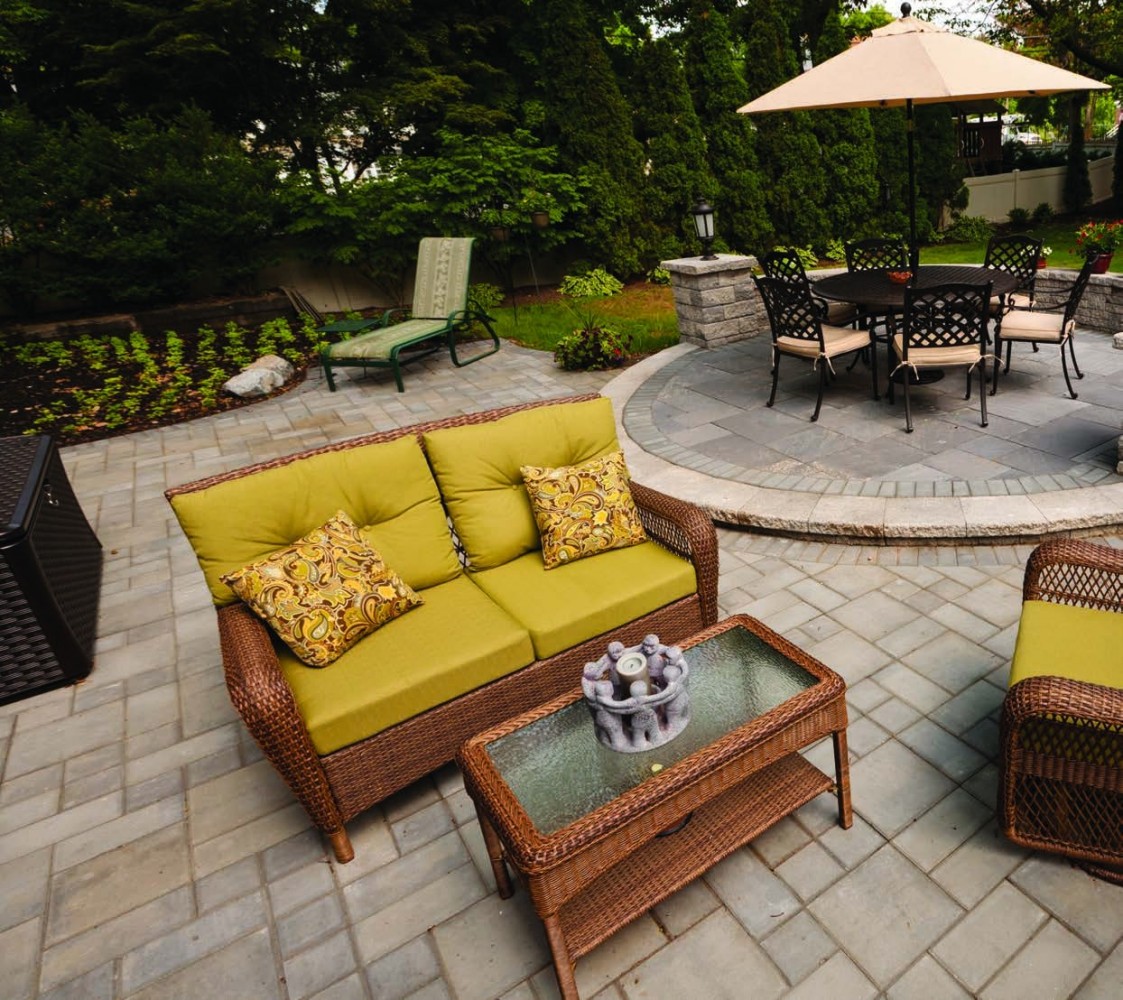 By Daniel Sean Kaye
Whether you are planning a pool deck, patio, driveway or other hardscaped area, there are various hardscaping elements at your disposal. From natural  stone to flagstone, slate to marble, concrete pavers to stamped concrete to asphalt and more, each have pros and cons for the areas and projects for which they can be used. Choosing one particular paving type to use outside of your home can be a tough decision, but luckily, the options are so versatile that homeowners rarely need to settle on just one.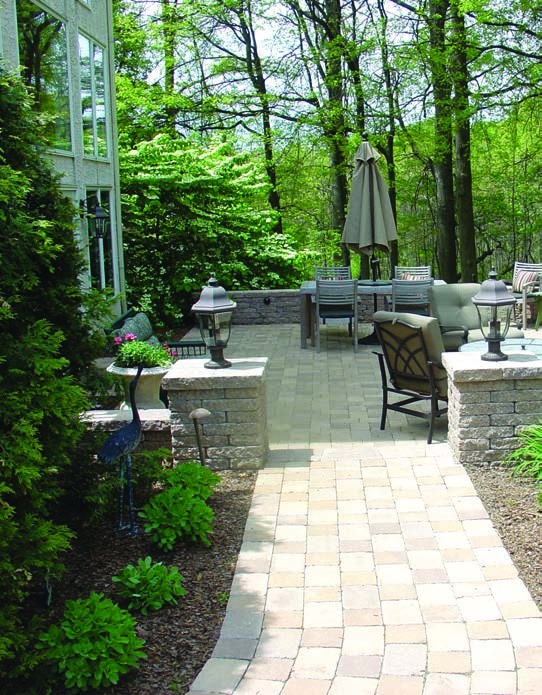 The vast majority of today's living spaces are built with one or more of a few different materials, explains Nick Nykorczuk, president of Creative Pavers. "One of our  personal preferences when designing an outdoor space is to mix a few different materials together in a way that helps define the different living spaces within a larger patio area," says Nykorczuk. "If we begin with a larger paver patio, we might recommend creating a circular cut-out made from  irregular flagstone in one corner that differentiates the firepit area. And then we might finish it off with some sitting walls around the perimeter of the circle, capped with natural bluestone."  
This offers the opportunity to break up the look of the space while using different materials that complement each other. "Just like you might have carpet, tile and hardwood flooring inside of your home, we tell clients to think of their outdoor space in the same way," he says.
House & Home asked our experts to discuss some of these products to find out how they might fit into your space.
CONCRETE
This is one option deserving of a closer look from homeowners for its wide variety of designs and applications. "Concrete pavers are a great option for a patio, walkway or driveway and they will give you the widest range of pattern and surface texture options and will offer you the most consistency across the color spectrum," says Nykorczuk.
 "All of the products we offer can be used for any driveway, walkway, pool deck, patio, basement floor or garage floor," says Chris McMahon, president of Architectural Concrete Design, a company that specializes  in decorative concrete of any kind—stamped, exposed aggregate, colored, stained and specialty finished. "[The] products don't settle, allow weeds to grow through or have ants living in between the stones, pushing  all of the sand out between the stones in little mounds."
If you have an existing concrete surface, it can be given a new look with resurfacing techniques.
 "Our process of concrete resurfacing uses a blend of cements and polymers to create a product that can be applied directly over your concrete and can be designed to mimic many standard stone looks," says Gwen Kunkel, president of New Castle Artisan. "Our resurfacing can be used on all concrete areas around the house—pool decks, patios, driveways, sidewalks, steps, etc." Kunkel says the polymers in the process are perfectly designed for all concrete areas.  
Mark Dirato, co-owner of M2 Concrete Restoration & Beautification Specialists, says— with some specialty products— the concrete can be made stronger. "We repair concrete with a modified epoxy filler. We mechanically grind or chemically clean the surface, then put our acrylic-based concrete over the old. Prior to using our product, the old  concrete can handle 2,200 pounds per square inch but after our acrylic bonds, it can be up to 5,750 pounds per square inch," he says. He offers Hallmark, which goes on patios, steps and walkways  around a pool and is resistant to stains, mold, mildew and chemicals; and Stone Classic, which has grout lines that cannot stain and enough colors and patterns to allow it to look like most any stone pattern.
Using high-quality materials means these products require no intense maintenance, but how often you choose to reseal might be a personal preference. "I personally  reseal my concrete at home every other year because I like the freshly sealed look. It's all a matter of preference," McMahon says.  For those who say not to use stamped concrete near a pool due to risk of slipping, a slip-resistant texture can be added, says Kunkel.  
NATURAL STONES AND PAVERS
Most natural products such as bluestone, flagstone and travertine stand up to weathering the elements  over time the best,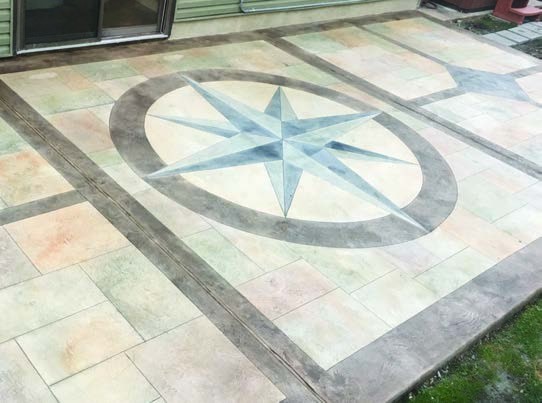 says Nykorczuk. "Natural stone such as bluestone or flagstone will give you a timeless look and the natural imperfections and striations in  color grains give the stone a look that goes with just about any type of décor."  
He says travertine would be his recommendation around a pool. "Bluestone and flagstone are not recommended around a pool since they tend to retain heat the most and will not be ideal since people will be getting in and out of the water without shoes on," he says. "Tumbled travertine slabs are best used around a pool due to the high resistance to heat that keeps the surface cooler under foot than just about any other surface on a hot summer day."
 "All these stone materials have their place," says Rob Zalokar, landscape designer for Bountiful Acres. "Flagstone offers a more naturalistic 'country' look, and is dry laid with no mortar. Manufactured pavers come in a multitude of shapes, sizes, styles and colors, and  are durable, time-tested, repairable and float with freeze and thaw," he says.  
Maintenance can be a little more intensive. "Pavers move and shift and are prone to mildew and you need to refill joints and re-set. Some fade," says Dirato.
Zalokar says not to be deterred if that's your preference though. "On the north side and in shady areas, moss grows in pavers. Usually you can do a lot of cleaning just by simply pressure-washing the stone," he says.
The central plan for the homeowner is to be sure you're going to  be happy with the look you choose, says Dirato. "We won't let you sign-on right away. We want you to see the ideas, know the pricing and more," he says.
RESOURCES
Architectural Concrete Design
Serving all of Pa., Del., and N.J.
(877) 843-4373 | ACDConcrete.com
Bountiful Acres
Bucks County, Pa.
(215) 794-3258 | BountifulAcres.com
Creative Pavers
Serving N.J. and Pa.
(856) 848-7400
CreativePaversInc.com
M2 Concrete Restoration & Beautification Specialists
Brick, N.J.
(877) 426-1421 | M2ConcreteNJ.com
New Castle Artisan
Turnersville, N.J.
(856) 725-3333
NewCastleArtisan.com
Images courtesy of Creative Pavers, New Castle Artisan & Bountiful Acres
Published (and copyrighted) in House & Home, Volume 18, Issue 10 (April 2018). 
For more info on House & Home magazine, click here. 
To subscribe to House & Home magazine, click here. 
To advertise in House & Home magazine, call 610-272-3120.