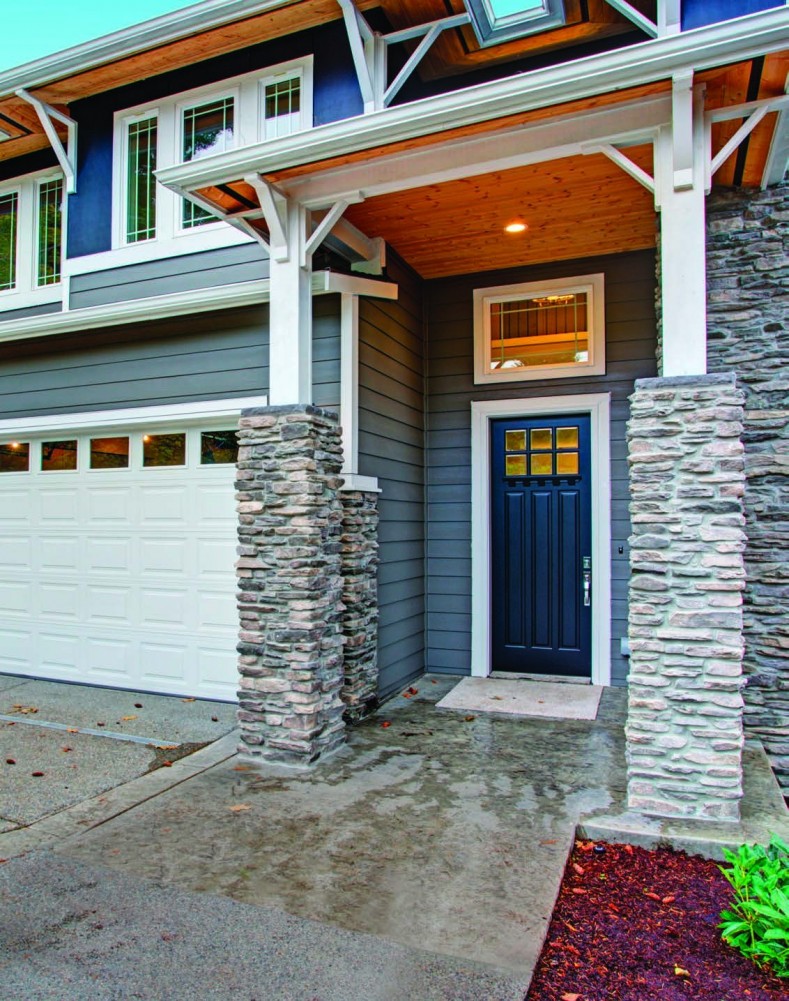 By Lindsey Getz
In life, first impressions are everything, and it's no different for your home. Everything from roofing and siding to windows and doors makes a huge difference in the curb appeal of your home. But if your home's exterior  has begun to lose its luster, you might be wondering the best way to update its look. We reached out to some of the region's experts to find out how you can give your home some brand-new interest with fresh improvements. What we found is that even simple changes can go a long way.
CURB APPEAL
When people meet for the first time, they want to make a good impression, so they take extra care in choosing clothing that makes them feel confident and of course, look good. The same can be said for your home. Think of dressing it up with elements that will make it look its best.
 "The exterior of your house is the world's first impression of your home," says Wendy Amiano, vice president of Amiano & Son Construction. "Imagine driving through a neighborhood where all of the houses look nice and well-kept. That is a neighborhood you would want to live in."
Adam Parnes of Global Home Improvement agrees, especially if your home isn't one of the newest on the block. The look can be updated through small or big changes.
 "Giving an aging home back its luster starts with curb appeal," he says. "So, walk out to the curb and look at your house and see what needs to be updated. Inexpensive fixes can start with new shutters or a fresh coat of paint on your front door. Larger investments can include a new metal roof or stone siding accents to replace outdated siding."  
Adding details for character can also add curb appeal. Amiano says that porticos can be a great character piece as well as a useable asset to your home. "For homes with no front porch, it offers protection from the elements as well as giving your home dimension," she says.  
Portico designs range from elaborate to simple. "A portico is a great idea for any front entryway," agrees Parnes. "You can go for a complex portico with Azek columns and a metal roof accent or you can simply extend your roof line to add a simple pent roof."
Amiano also suggests "accent areas" to give siding a fresh look such as cedar shakes or scalloped accent siding. In addition, she says that faux stone is a timeless look that you can add to various  parts of the exterior to update the look. Even adding faux shut- ters or painting your front door goes a long way, she adds.  
David Lyons of DNA Roofing and Siding says that making changes to elements such as trim work can make a huge difference in the aesthetics of your home. It's a small detail but it will give  your home more of a "designed look," he says, which makes your home more appealing to future buyers.  
 "Doing little 'extras' can make a big difference in how your house looks," adds Lyons. "PVC or vinyl trim on your windows when you're replacing the siding can add a small percentage to  the project but have a big impact. Another easy upgrade is to replace your exterior trim while you're replacing your roof and adding new gutters."  
AESTHETICS WORTH THE INVESTMENT
Some elements of the exterior can be a higher price tag, but usually these items will also help your home's efficiency and value.
Take roofs for instance. While getting a new roof can be a bigger investment, it's an important one. Jeff Grimley, owner of J. Cwanger Inc., says that a new roof can make a huge difference in the appearance of your home. It's important to recognize if it's time to update yours by looking for missing or curled shingles. When replacing a roof, Grimley says there's an opportunity to choose a color that would really make your home stand out from the other homes in the neighborhood.
 "One color combination that looks great is white trim with black accents—it really makes a house pop," he says. "And there's no question that adding a roof adds value. In today's market, buyers want a house that is completely  done. They want something turnkey. And if they pull up to your house and it doesn't have a  fresh-looking roof, that's a  big discouragement."
Jeff Dawson, president of Janville Roofing & Siding Company, agrees. He calls the roof the "backdrop for curb appeal" and says that it makes a tremendous  difference in the overall look of the home.  Of course, it's critical  that roofing is installed correctly. He says that many roofing products today have lifetime warranties, but it all comes down to how they're installed.
 "We've replaced roofs that haven't even totally worn out— and that certainly didn't meet their life expectancy—because they were installed improperly in the first place," Dawson says. But when done right, a new roof can be a major change that gives your home a major boost in value.
 "As the backdrop to the front of your home, your roof can enhance everything about it—your siding, your shutters, your stone work and even landscaping," Dawson says. "It can improve the overall look." 
A GOOD WASHING
If you do not want to fully redo your exterior, put some thought into upkeep and maintenance. Sometimes keeping things looking new can be accomplished with maintenance, says Amiano.  
Some people may automatically think of having their home pressure-washed, but that brings its  own risks. Chris Whiting, owner of SoftWash Platoon Roof and Exterior Cleaning, says that his company offers an effective alternative to pressure washing— soft washing—that can help make homes look new again.
 "Pressure washing is destructive  to siding, windows, decks and walkways and does not kill the organisms living on the surface—just shaves the top off so the surface looks clean," he says. "Pressure washing can also streak and damage decks, siding, slate and concrete and drives the living organisms deeper into the surface and they will grow back stronger."
He says that soft washing  is cleaning without pressure washing. It kills the organisms that are causing staining and deterioration  in the first place with a biodegradable chemical solution.  
THE BEST ON THE BLOCK
At the end of the day, making these changes and updates will contribute toward boosting your home's curb appeal and making it look like one of the best homes on the block. By doing so, you can be certain that your home will make a positive first impression.  
 "Curb appeal is more than just a catchphrase," says Parnes. "It's the feeling you get when you see a house from the curb— and that is what can really drive value. The homes in each neighborhood that  have an exterior which has been taken care of with new siding, windows, roofing and gutters are the ones that are able to create that 'home sweet home' feeling before someone ever even enters the home."   
RESOURCES
Amiano & Son Construction
Tabernacle, N.J.
(609) 268-5923 | AmianoAndSon.com 
DNA Roofing and Siding
Greenville, Del.
(443) 200-7937 | DNARoofingSiding.com 
Global Home Improvement
Morristown, N.J. | Feasterville, Pa.
(866) 735-1121 | GlobalHomeInc.com 
Janville Roofing & Siding
Lansdale, Pa.
(215) 368-5200 | JanvilleRoofing.com 
J. Cwanger, Inc.
Cherry Hill, N.J.
(856) 795-5480 | JCwanger.com 
SoftWash Platoon
Havertown, Pa.
(610) 494-8490 | SoftWashPlatoon.com
Published (and copyrighted) in House & Home, Volume 18, Issue 8 (February 2018). 
For more info on House & Home magazine, click here. 
To subscribe to House & Home magazine, click here. 
To advertise in House & Home magazine, call 610-272-3120.