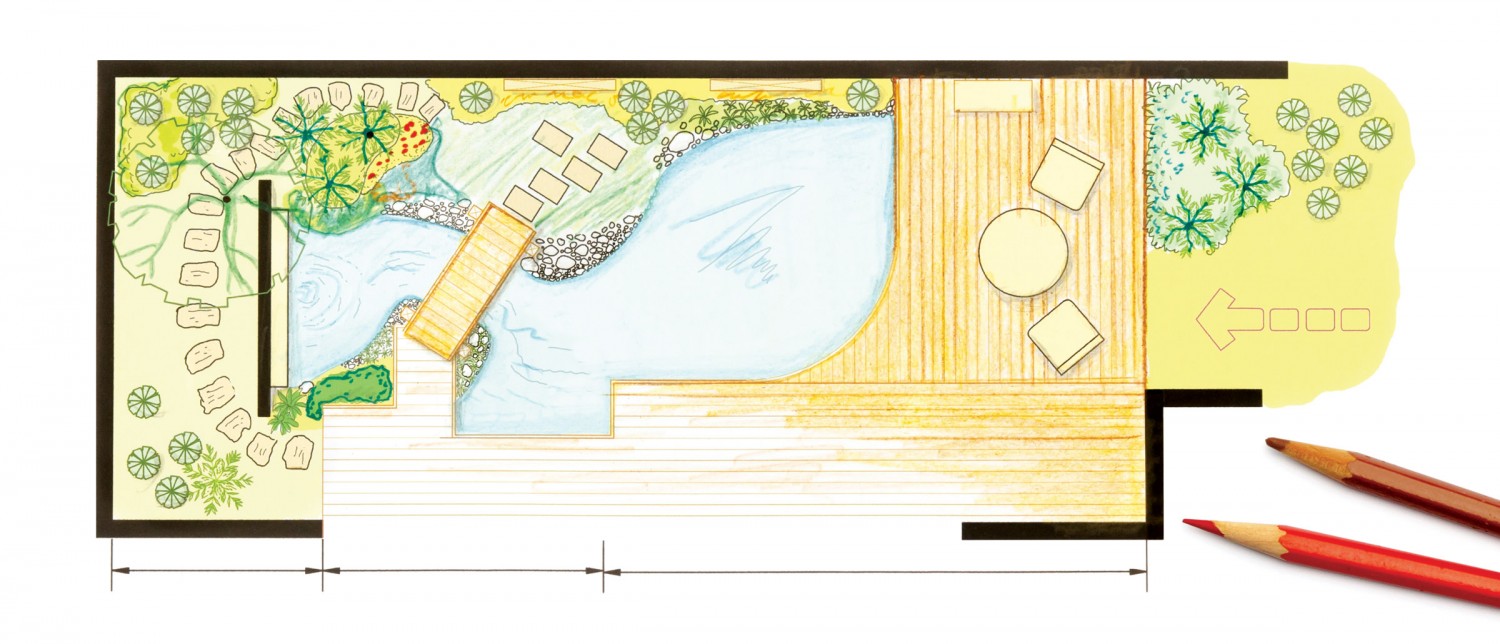 Gone are the days when decks were 10-by-10 squares attached to the back end of a home that played house to the grill and maybe some dated patio furniture that was rarely ever used. Now, decks are being constructed as additional living spaces for the entire family to enjoy past just the summer months. House & Home recently spoke with the deck experts of our area to bring you everything you need to know about deck designs; from shapes and levels to colors and material.
So how do homeowners go about starting their decking process if they want to have it complete by the time the weather is warmed up in June?
"A deck designer and knowledgeable contractor is the key to a successful deck project," says Josso Thomas Jr., owner and contractor at Josso Carpentry, LLC. "April to May is the ideal time to start the process. The earlier you start the better prepared you can be to get the job done on time."
Planned-use
Every homeowner has some type of general idea for why they want to have a deck and what they want to be able to do on it. This is where the entire project truly starts—after contacting a deck expert.
"You have to decide what the use of the spaces are and what your furniture requirements are," says Keith Frederick, owner of Environmental Landscape Associates Inc. "That all dictates the size of how big your deck needs to be."
Frederick says a homeowner's deck can have areas designated for different functions like a dining area in one section and a casual seating area in another. The size and layout of the deck depend on the number of people the homeowners plan to entertain on their deck.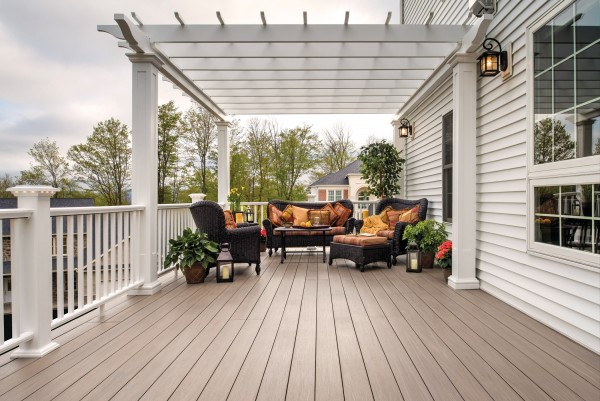 Tom Eby, marketing director of Keystone Custom Decks, says every project is different and every backyard is equally as different. "We like to recommend different options and design ideas after looking at the space and hearing what the homeowners are looking for in that space.
"The intended use of the space really shapes the space and what we recommend," says Eby. "If we know the homeowner is going to be entertaining a lot out in the space we recommend doing some sort of outdoor kitchen or fire feature. Or if we know the homeowner will be using the space later into the evenings we will recommend a larger lighting package."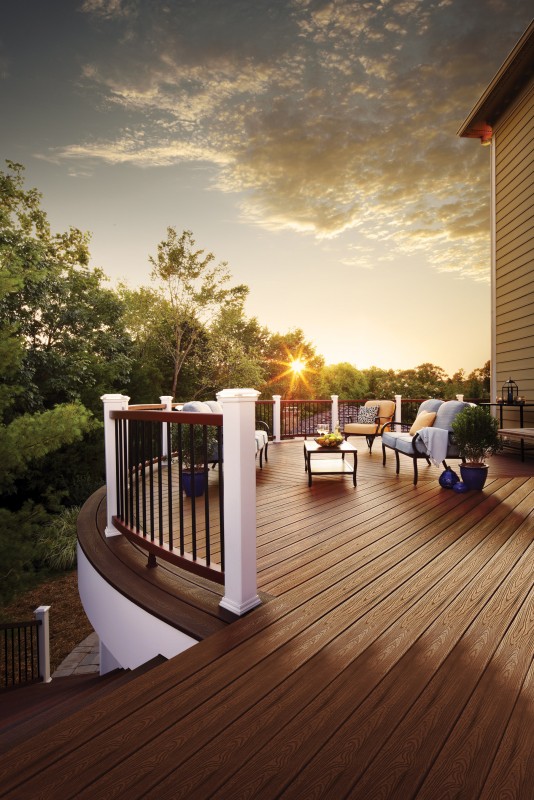 Deck style
Should your deck be multilevel? Should your deck have straight or curved edges? These questions boil down to the layout of your yard and personal preference.
"Multi-level decks are probably a best solution for a yard that is not level—a yard that drops off precipitously and you need to get down. ... Using multiple levels is the best way to get there other than having a huge set of stairs," says Juan Cardona, owner of Archadeck of Chester County.
Cardona says any deck that is a second-floor deck is a good candidate for being a multiple-level deck. He says the choice of having a multi-level deck really comes down to aesthetics. "A lot of people will just like the fact that they have a deck with different rooms or areas that are physically set apart by the different levels."
When it comes to curved decks, Cardona believes that is also a choice of preference from homeowner to homeowner. "The use of curved shapes in a deck is very much an aesthetic choice, some people hate just having a square deck so they're looking for a way to not have that," says Cardona. "That can be done through angular decks, something like an octagonal shape, or you can go to curved decks."
For Decks by Kiefer's Bob Kiefer, who specializes in curved decks, he says a homeowner who has a curved deck will set them apart from the rest.
"However, a deck has to match the architecture of the house and should look like part of the house," says Kiefer. "Sometimes a curve is not appropriate."
Material and amenities
"Choosing your deck is a big deal," says John Keller, president and CEO of Sequoia Out Back. "Customers have a lot of questions and we can answer them ...We're happy to look at their plans and help them figure out a list of materials they should use."
"Most people want to use a composite decking to reduce maintenance," says Robert Lascelle, owner of Hunterdon Builders, LLC. "Composite and PVC decking have come a long way and have very good warranties now. Steel framing is a must when installing either composite or PVC decking, it eliminates warping."
"Wood framing is no longer a viable option because the material, southern yellow pine, is genetically modified and a much younger wood," says Lascelle. "A deck will warp 100 percent of the time with a wood frame."
Sean McAleer, owner of Deck Remodelers, says ipe is the most durable decking material a homeowner can have being the second hardest wood on the planet. "It is so dense it doesn't float, it is so high in tannic acid that it is impervious to bugs and rot, and I have been told by a fire expert it has the same fire rating as concrete," says McAleer.
When it comes to choosing your deck color, there are hundreds to choose from. The most popular choice for homeowners is those that are variegated colors that look like real wood since it is a synthetic material, says McAleer.
For many, seeing the materials in person can help sway you one way or another.
"People are visual, but it's hard for them to visualize what their backyard can look like, what the products will look like next to each other," says Keller. "With just an idea you have about what you want to build for your deck or patio, come to see us first. We'll have everything for the backyard: from conception to completion." Sequoia's vast decking displays include well-known brands like Azek, Timbertech, Trex, Fiberon, Zori, Wolf and many more.
When building, Frederick says it's a good idea to think about lights so they don't become a problem of trying to install after the deck is already built. "It's a good idea to incorporate lighting into the decks because there are lots of options on the market now that have small inconspicuous fixtures that can be incorporated into the railings and into the flooring," says Frederick. "If you account for that while you are building the deck, it can be built in."
It is also important to think about having a roof over a portion of your deck.
"You can get more usability out of the deck in bad weather and if you do have a roof then that's an area that you can get away from the sun," says Frederick. "It's also an avenue to mount heaters to so you can have an outdoor space later in the fall and earlier in the spring. You could also screen-in that area if you are in an environment that has a lot of bugs."
The possibilities of your own personal deck design seem to be endless, but we know from the experts that it all comes back to knowing what you want.
RESOURCES
Archadeck of Chester County
West Chester, Pa.
(610) 696-3340
Chester-County.Archadeck.com
Decks By Kiefer
Martinsville, N.J.
(908) 303-6050
DecksByKiefer.com
Deck Remodelers
Sparta, N.J.
(973) 729-2125
DeckRemodelers.com
Environmental Landscape Associates, Inc.
Doylestown, Pa.
(215) 794-2400
ELAOutdoorLiving.com
Hunterdon Builders, LLC
Flemington, N.J.
(908) 713-1000
HunterdonBuilders.com
Josso Carpentry, LLC
South Orange, N.J.
(973) 296-6258
JossoCarpentry.com
Keystone Custom Decks
New Holland, Pa.
(717) 355-0592
http://www.KestoneCustomDecks.com
Sequoia Out Back
Hatfield, Pa.
(866) 650-DECK
DeckSupplies.com
Published (and copyrighted) in House & Home, Volume 16, Issue 9 (March, 2016).
For more info on House & Home magazine, click here.
To subscribe to House & Home magazine, click here.
To advertise in House & Home magazine, call 610-272-3120.