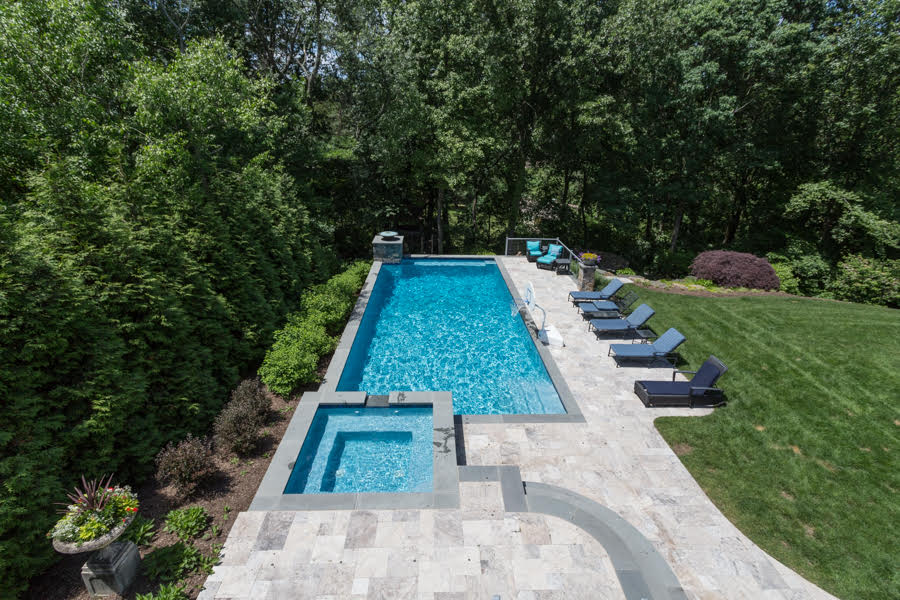 An investment such as a pool requires the homeowner to have confidence in the company completing the design and installation. Not only should the pool look and feel like a dream come true in its first year, but it should be something families can enjoy for decades.
Blue Haven Pools & Spas by Calvitti Northeast offers this peace of mind with every pool project. A family-owned business based right here in our tri-state area of Pennsylvania, New Jersey and Delaware, Blue Haven has become a name homeowners trust when it comes to their swimming pools—no matter what age.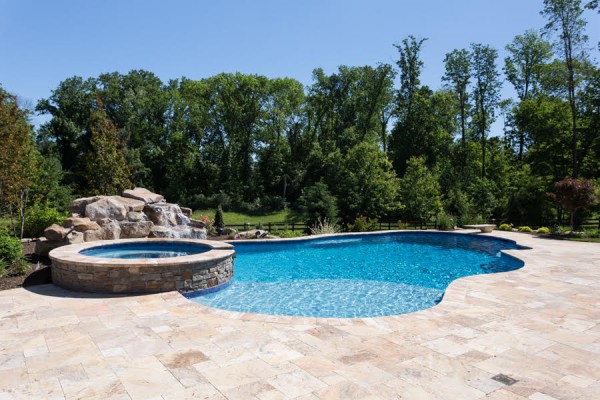 New Pool Installation
When the dream of installing a pool gets closer to reality, homeowners will find inspiration through online research, finding pool styles, shapes and features to incorporate. But the process to get that pool in the ground is more complicated than digging a hole and pouring concrete, which is why homeowners need a veteran company by their side.
Dominic DiCesare, general manager, says there are quite a few compliance-related hoops to get through first—township requirements, engineering, setback distance codes, to name a few. "We first need to come out and look at your property," he says. "Some townships have more rules than others, but we always want to complete a topographical survey and check out stormwater management to make sure there are no issues. A new pool can't just be planned and done in a month if done the right way. It can be a drawn out process."
Homeowners may also be unsure of which material is best for a pool, and they all have their place, but Blue Haven works exclusively with concrete (gunite) pools. Fiberglass pools have a finite life to them and can't be updated, says DiCesare, and vinyl pools have the thinnest barrier between the ground and the water.
"Our focus is on inground, custom gunite pools because they are a permanent structure," he says. "Over the years, renovations can be made to these pools to update the look or features or make it look brand new. It's more valuable for homeowners to invest in this type of pool."
Renovations and Features
Blue Haven takes just as much pride in renovating older pools as it does installing new. It's unique to see a company that has a division dedicated to these repairs and upgrades.
The most commonly requested or required repairs include structural cracks, broken tiles, pool coping and plumbing equipment. Blue Haven's crew can review your existing pool and fix those elements if needed, as well as modernize it with added features.
 "We can take it from a basic pool renovation to an island paradise," says DiCesare. "We have a full landscape design team that we can come in with and we can basically redo the whole backyard. This goes for pools that are 20 to 30 years old, even. We can bring it up to modern times."
DiCesare says customizations include adding a shallow end or sunshelves—a popular option for placing chairs to lounge on or for younger kids to play—a swim-up bar area, grottos with waterfalls, slides, water and fire features. Blue Haven can also change the shape of the pool or the stone, tile or brick. LED lighting is another one of their most requested updates, making the pool a true nighttime paradise as it's illuminated in a full spectrum of vibrant colors, and with the use of SmartControl™ technology, homeowners can have full automation and control over the lights.
Some of the features Blue Haven can add may not be aesthetic, but they are technologically advanced, creating a better swimming and maintenance experience. The company's SmartFeatures™ product line helps save water and energy with over 10 options to install, including the SmartPure® Ozonator, which uses a natural process of ozonation to cut down on the level of chlorine in your pool, giving the water a silky feel, and the SmartPure® Salt Sanitizer, which uses electrolytic conversion of natural salt to produce a stable, pure and efficient form of non-liquid chlorine.
"We also have SmartFilter™ with Microban® that is exclusive to our company," DiCesare says. "This filter is coated with Microban® to resist mold, mildew and bacteria. Even when your pool is not running, there's no chance for bacteria to grow." Blue Haven also offers products that can pre-filter the water to extend the life of the pool's filter, and a water softener that can reduce maintenance cost.
Blue Haven can make all of this and more possible, says DiCesare, with only one limitation—your imagination.
Blue Haven Pools & Spas by Calvitti
Serving Pa., N.J. and Del. | (800) 219-2141
BlueHaven.com
Published (and copyrighted) in House & Home, Volume 20, Issue 9 (March 2020). 
For more info on House & Home magazine, click here. 
To subscribe to House & Home magazine, click here. 
To advertise in House & Home magazine, call 610-272-3120.