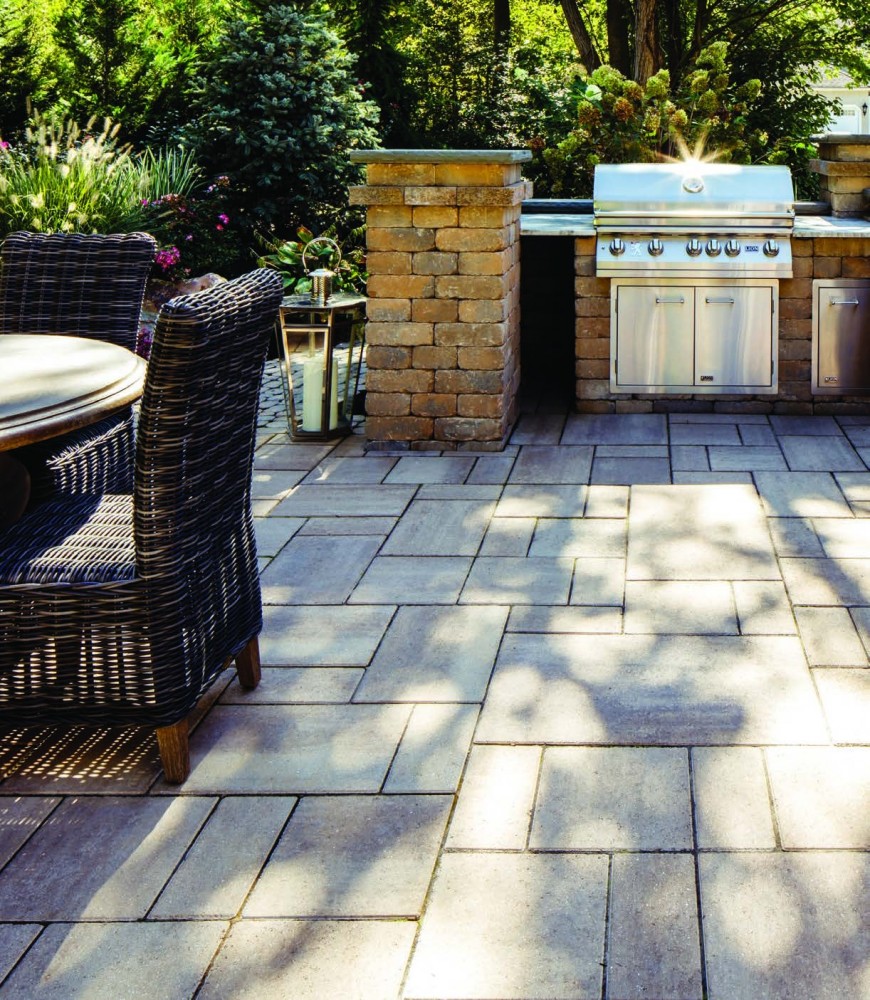 Barbecues have become more than just throwing some burgers and dogs on the grill. Now, they are full-day affairs with several courses to keep the party going, and hosts don't want to miss out on socializing with guests, which has fueled the popularity of outdoor kitchens. With countertop space, cabinets, refrigeration and accessories like pizza ovens and beer taps, outdoor kitchens have all the practical elements of an indoor kitchen, but the laid-back vibe that only grilling provides. We wanted to find out how to design the best outdoor kitchen, so we went right to the professionals. With their help, your backyard will be the neighborhood's No. 1 restaurant in no time.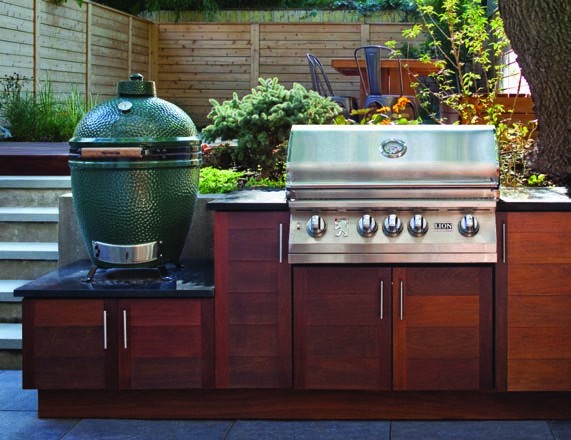 Q: What cabinet materials do you recommend for outdoor kitchens in our region?  
 "At Airy Kitchens we offer outdoor cabinets built from wood, stainless steel and composite materials. On our wood cabinets (pictured) we use ipe wood which is extremely dense and heavy. Hard woods are very durable, but need to be oiled yearly to keep their rich color. Wood cabinets are more expensive than composite, but cheaper than stainless steel. Stainless steel offers a contemporary look with no maintenance, making them the most durable option. However, steel cabinets are expensive, easier to dent than wood or composite and they get hot in full sun. Composites are essentially plastic, but good brands are built with solid material to avoid cracking or warping. Composites are offered in many colors and some have a wood grain look, so they can work with different styles. Composites are the most affordable option, but keep in mind that durable outdoor cabinets are always going to cost more than interior ones."
Sean Lewis, Senior Designer
AIRY KITCHENS
Philadelphia, Pa. | (215) 853-6060
AiryKitchens.com  
Q: Are stone veneers a good option for outdoor kitchens?
"Stone veneers are great for people who want a stone look without needing to involve a real stone mason. Natural stone is bigger, heavier and requires more effort for installation, including a mason. Veneers are thinner, lighter, easier to install—some could even DIY it. They are manmade and come in a variety of colors—every one under the rainbow—and all emulate natural stone. We see a lot of maroon and charcoal gray or light tan colors. If it's done well, you can't tell it's not real stone. It's also more economical compared to real stone."
Jarrod Nyce, Vice President
NYCE CRETE AND LANDIS BLOCK & CONCRETE
Souderton, Pa. | (215) 723-5506
LandisBC.com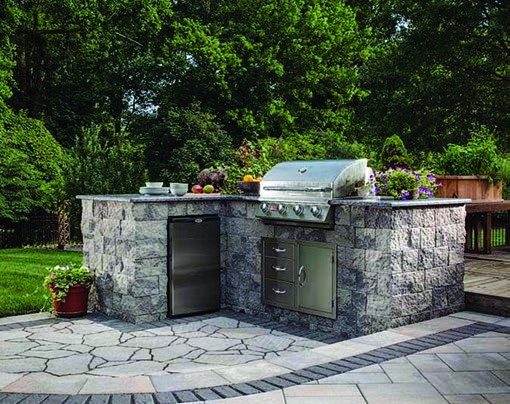 Q: What is a grill island and what makes this a reasonable alternative to a full-blown outdoor kitchen?
"Grill islands are a great addition to almost any outdoor space and might be more conceivable than you think. Some homeowners may not have the budget or the space for a full scale outdoor kitchen, or do not want the added maintenance that comes along with more amenities, like an outdoor sink that needs winterizing each year. Grill islands add value, depth and structure to your landscape, providing an outdoor cooking station that is pleasing to the eye from all angles. Unlike a standalone grill, which many times seems awkward or like it is cluttering up space, a permanent island can blend in beautifully with the landscaping around your home. We usually design grill islands in close proximity to the access points of the home, so that it's a short, convenient walk from the kitchen inside to the outdoor cooking space. There are a plethora of materials that a grill island can be constructed out of. Stone veneer probably has the most classic or timeless look, and there are many manufactured concrete products that mimic natural stone's texture and color. Islands can be framed and clad with wood or composite materials also. These kinds of grill structures require a non-combustible jacket to be built around the grill for safety."  
Cameron Kennedy, Project Manager/Lead Designer
GROUNDTEC, INC.
Colmar, Pa. | (215) 322-7669
GroundTecInc.com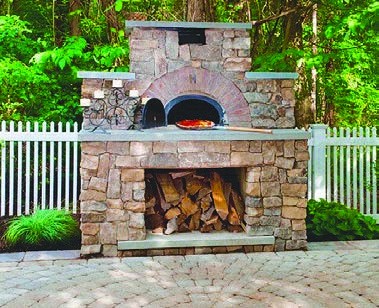 Q: Are pizza ovens worth adding to an outdoor kitchen and what are the different types available?
"Pizza ovens are great fun for parties. Kids and guests can get involved in making their own. Pizza ovens are not only for pizza, they provide a much hotter cooking method similar to restaurants. Searing steaks and chicken on cast-iron grill plates is fantastic. Seafood, steamed clams—the possibilities are endless. There are many manufacturers, but Chicago Brick Oven is a brand that I would recommend. It is delivered as a stone shell and we can set the shell on stone and surround with stone, and also incorporate your grill, wood boxes, cabinets and any other amenities you may want. We can also build custom countertops for seating as well as preparation. We have gotten great feedback from our customers about the fun and mostly about the quality of the cooking it provides."
Chris DeMato, Owner
ROCK BOTTOM LANDSCAPING & FENCING
(732) 873-6780 | RockBottomLandscaping.net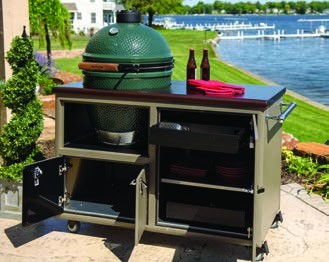 Q: What do you recommend for cooking—gas or wood-fired grills?
"It's not uncommon for us to install a wood-fired Kamado grill in the same segment as a gas grill. There are advantages to both. People prefer gas grills for convenience, but the taste of food on a wood-fired product is unmatched. There's an amazing difference with cooking on a natural wood product. A  Kamado-style grill or pizza oven can be added as an extra component to the gas grill. The Kamado Primo or Big Green Egg are two major brands, and they are flexible. You can smoke, grill and make pizzas on them.  "For gas grills, people are all about adding features. Griddles have become popular as well as charcoal baskets which allow you to drop it in and give food the flavor of wood. Another component is a power burner with a high BTU—15K to 65K—for big pots or a wok. It adds flexibility to the cooking space."
Jay Stong, Co-owner
SALTER'S FIREPLACE PATIO GRILL
Eagleville, Pa. | (215) 362-2443   
Hatfield, Pa. | (610) 631-9372
SaltersFireplace.com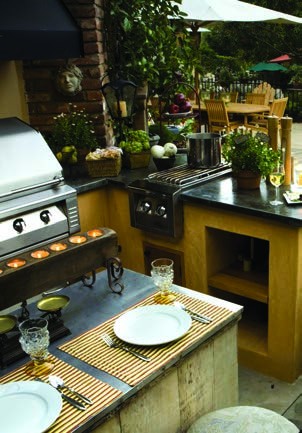 Q: What must you know about a client/homeowner in order to design the best outdoor kitchen for their lifestyle?
"Outdoor kitchens are an extension of your home. They become spots for entertaining and relaxing with friends and family and enjoying what your beautiful backyard has to offer. Finding out what a client's wants and needs are for the space is a top priority. We start by making a list of the functions they need to accommodate in the space. Outdoor kitchens can contain a multitude of appliances and accessories and choosing the right ones based on your client's needs is the best way to create their dream space."  
Gianna Sweet, Certified Designer   
AMIANO & SON CONSTRUCTION LLC
Tabernacle, N.J. | (609) 268-5923
AmianoAndSon.com
Q: What hardscaping materials do you recommend for the construction of an outdoor kitchen and what works well for the ground surface? 
 "One of the most important aspects of any outdoor project is the materials used. Using paver materials from Techo-Bloc or EP Henry will enhance your outdoor kitchen/patio while having many different interlocking patterns to choose from. Here at Gill's we will review with you a library of samples from which to model your personalized hardscaping area. With so many accent colors and shapes from which to choose, we can achieve the look that is a perfect complement to your landscaping. Your outdoor kitchen area should blend in with the rest of your home's landscaping." 
Brian Gill, Owner 
GILL'S LANDSCAPING 
Mullica Hill, N.J. | (856) 223-9770 
GillsLandscaping.com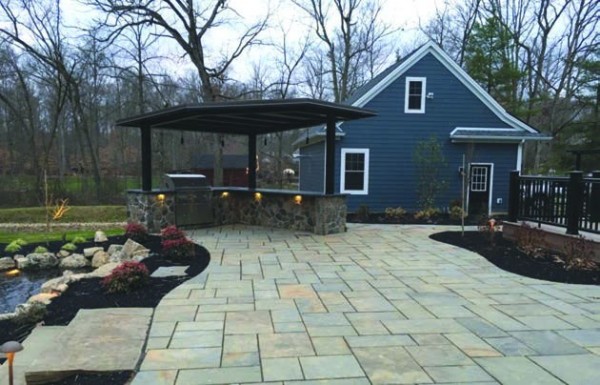 Q:   What do you recommend to provide shade and protection over an outdoor kitchen?
 "We always think about what will look better with the space. If you have a historic home with an English garden, you don't want to use a structure with shingles. A standing seam roof is forgiving and can blend into any scenario. Cedar shakes are a nice look, and a thatch roof can look a bit like a Tiki hut, but it has its place if that's the look you want. Pergolas provide shade but you're not getting waterproofing over the cooking area. There are ways to incorporate a combo pergola with a flat top green roof. The more greenery the better on a pergola. Species like kiwi vine, honeysuckle, wisteria and hydrangea climbing vine will grow up the structure and really make it feel like a true retreat."
Chad Turpin, Owner
TURPIN LANDSCAPE DESIGN/BUILD
(610) 380-1119 | TurpinLandscaping.com
Q: What factors determine the best location and layout of an outdoor kitchen?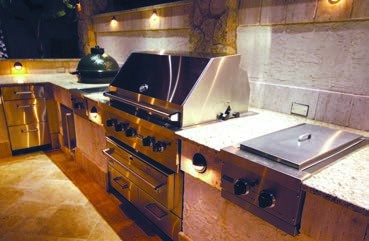 "The size depends on the number of appliances you want to include. Typically we build the straight [galley] style around 10 feet long with bar seating, or L shape with bar seating. We always try to lay them out with a cooking area and a food prep area, and include a raised section for bar stools. The most important thing is to have the outdoor kitchen placed ergonomically to the rear door of the house because you are going in and out with food, you want it close. Finally, we'd recommend covering it with a roof to get more year-round use out of it."
Keith Frederick, President and CEO
ENVIRONMENTAL LANDSCAPE ASSOCIATES
Doylestown, Pa. | (215) 794-2400
ELAOutdoorLiving.com
Published (and copyrighted) in House & Home, Volume 19, Issue 12 (June 2019). 
For more info on House & Home magazine, click here. 
To subscribe to House & Home magazine, click here. 
To advertise in House & Home magazine, call 610-272-3120.