Your Own Personal Paradise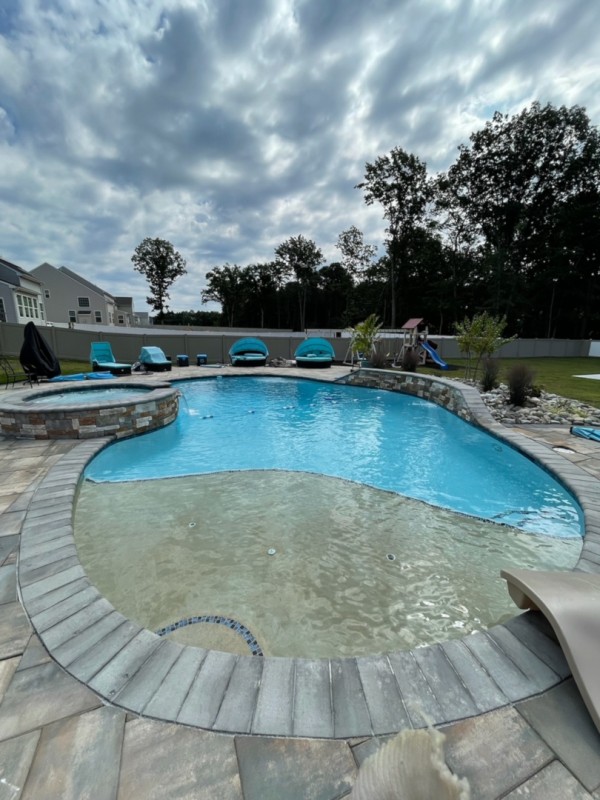 For the past two years, our homes have been our haven of comfort and safety, and even though many facets of our life feel normal again, the interest in staying home remains. However, people want their home to feel like a retreat, and nowhere is that investment better reflected than in a custom-designed pool.
Bryan Hull, partner at Del Val Pools & Spas, says demand for backyard pools continues to be sky-high.
The influence of the global health crisis that started in 2020 on the pool design/installation industry was like nothing this second-generation, family-owned and -operated business had ever seen, he says, and it has proven which companies are equipped to handle the requests.
For more than 25 years, Del Val Pools & Spas has been building pools across South Jersey and the Shore, with complete sales, installation and service. Hull says the company's reputation has been earned by its top-notch customer service. "Our customer retention rate is high because of our communication. Customers can call up and always talk to a member of our family and get to the right person. Our staff and crew return year after year, meaning customers are getting a well-trained and smart team to handle their project," he says. "The experience is here and the family feel is here."
Among the offerings from Del Val Pools & Spas is their expertise in custom gunite pools.
"Fiberglass and vinyl pools are still a great way to go, but they have standard shapes and sizes. Gunite pools have the ability to be completely customized and can be done up with all the features," Hull says.
Sundecks are the No. 1 feature in gunite pools, he continues. "We include these standard in our gunite pools. They are great for putting a couple Adirondack chairs and maybe an umbrella for some shade." Customization can go further with beautiful coping and tile, bubblers, waterfalls, raised spillover spas and exquisite color-changing lighting.
Gunite gives homeowners the freedom to form the pool around their yard, and the addition of landscaping, hardscaping and fire features surrounding the pool makes it even more enjoyable, and helps it blend into the scenery.
Unlike some other companies you might come across, Del Val Pools & Spas can handle it all, from start to finish. "We're a one-stop shop for pools, and we've invested in the equipment, including our own gunite trucks and sprayers," Hull says. "Most companies have to sub those parts out, but we've eliminated the need for a subcontractor so it's our own crews doing everything."
The biggest advantage to this is efficiency. "We control the schedule and we can give customers answers. When a company uses subcontractors, homeowners can't get answers right away because they have to go through the layers of communication. When a customer calls us, we know the schedule. Investing in this equipment has been one of the best decisions we've made," he continues.
To begin the process, Hull recommends homeowners talk to a sales team member who will determine what can fit in their backyard, taking into account township setback requirements. The company's longevity has made them very familiar with township departments, which also helps things go smoothly during the process of zoning and permitting. Once that is underway and the hole is dug in your backyard, Hull says it's four weeks for the build time.
Pools built by Del Val Pools & Spas are known for their quality, and with some regular refacing maintenance, a gunite pool can last up to 25 years. The company offers warranties on all of its pools, both in-ground and above-ground. It also has an extensive service department that can be called on to ensure heaters, filters and pumps are running properly before the season.
Hull says there's not a moment to wait if you're interested in building your own oasis.
Del Val Pools & Spas
Locations in Turnersville, Mantua and Elmer, N.J.
(856) 629-2999
DelValPoolsAndSpas.com
Published (and copyrighted) in House & Home, Volume 22, Issue 6 (March 2022). 
For more info on House & Home magazine, click here. 
To subscribe to House & Home magazine, click here. 
To advertise in House & Home magazine, call 610-272-3120.