THE GARAGE IS OFTEN A "CATCH-ALL" FOR LIFE. From tools to toys to seasonal décor—and even that stuff you haven't touched in 10 years— the garage often ends up being the place where everything is stored. And around all that, most homeowners want to fit their car in there, too. If your garage is leaving you feeling like your life is more in chaos than in order, then it just may be time for a garage makeover.
There are a number of reasons why homeowners decide to transform their garage, but Joe Fay, owner of EncoreGarage of NJ, says that storage definitely remains one of the most important.
 "With so many people moving to 55-plus communities or downsizing to smaller homes, they are more committed than ever to maximizing the space they have," Fay says. "Nothing is worse than having to pay for a storage unit just so you have enough space to keep all of the items you want to store."
Aaron Lewis, owner of Closets for Less of Bucks, agrees and says many of his clients are also downsizing or moving to senior living communities and they need more storage space for items they're just not ready to part with.
 "Downsizing often presents homeowners with the challenge of finding more space for their belongings," Lewis says. "Naturally, they turn to the garage. But since so many people also use their garage as a main entrance to their home, they don't want it to be a mess."
Garage Makeover Benefits
Of course, getting organized and creating more storage has many benefits including improved mental health to even boosted home value.
 "The garage is almost always the main point of entry and exit from the home," says Paul Greskovich, owner of Garage Craft Interiors. "It's how you see yourself in the morning and how you see yourself when you come home. You really don't want to start and end your day on bad notes because you've turned your garage into a debris field that you have to walk through whenever coming or going from the home."
A garage makeover can also be a wise investment in terms of home value, as well. It's a desired feature for homebuyers.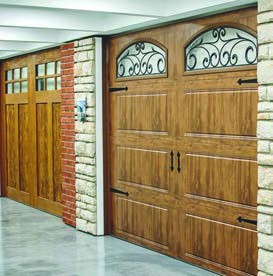 "If you're ever thinking of selling your home down the road, organizing and finishing the garage has been one of the top five ways to increase marketability and value of a home," says Les Hutton of GarageTek of North and Central New Jersey. "When potential buyers see a nice home, they also have an expectation for what they want the house to include—and a nice garage is part of that."
Hutton says that some homeowners even use the garage for purposes beyond storage or parking the car. He has had homeowners who want the garage space to double as a play area for the kids, as an art or pottery studio, as a mudroom or as a dog kennel— among other uses.
 "Sometimes these are dedicated spaces but oftentimes homeowners want the garage to be multi-purpose so that it can store a car and their items but it can also serve other purposes when they need it to," Hutton explains. "One of the hallmarks of our system is the flexibility so you can adapt and change it as needed, allowing you to create a custom space based on your needs. It's not just a bunch of closet systems bolted to the wall that are immovable and can't be adapted to your needs."
Lewis says he's even had a few clients turn their garage into a man cave where they have a bar and television—a place where they can go watch the game when friends come over.
A Place for Everything
With these feelings in mind, many homeowners are looking for solutions to their clutter challenges. The garage experts all say it's about finding a "place for everything." That includes creating a variety of storage possibilities and using the garage space to its fullest.
 "Cabinets, overhead storage, grids and slat walls with hooks for everything will give everything a place," says Fay. "And once you do that, it suddenly becomes easier to stay organized. Once you give that beach chair or that bike its own space it tends to always go back in that space so it stays organized. When you have no organization solutions, you just put stuff anywhere and you can't find it."
Lewis agrees that finding a "home" for everything is key.
 "We can add cabinetry so that items can be neatly tucked away—out of sight instead of looking cluttered," Lewis says. "We can also add slat walls to hang tools, garden equipment, ladders, and more. The idea is to get things up and off the floor. Some homeowners want bike racks that will come down from the ceiling so that their bikes are put away."
Greskovich also says that he installs quite a bit of overhead storage including a unique system that involves a platform that can be cranked up and out of the way when not needed.
 "It's about getting things up and out of the way by making use of overhead storage," Greskovich says.
 "Cabinetry and workbenches offer functional ways to stay organized and free up space," adds Christine Kazigian, marketing manager for Closets By Design Southeastern Pennsylvania and Delaware. "A slat wall is a wonderful solution to organize tight spaces and create the perfect way to organize tools, hoses, ladders, you name it. Closets By Design has accessories for your garage needs. Utilizing these garage accessories will allow for more floor space and a garage that your neighbors will envy."
A Garage Door that Wows
When you're going through a garage makeover, you don't want to overlook the door. Tom Rooney, general manager of Door Works, points out that the garage door is the largest moving item of your house—and the first thing that people see when they pull up to (or drive by) your home. Being such a large visual aspect of your home, you want to make sure it "wows."
 "The color black is popular for garage doors," says Rooney. "We're also seeing an increase in the number of full glass and aluminum doors in different styles and materials to choose from, making them a versatile choice. Carriage doors have been around for a long time but continue to be popular with homeowners. They offer many different styles and materials to choose from."
Rooney says that many homeowners also don't realize just how many finish colors they have to choose from. People can have the doors painted by the manufacturers in a wide variety of colors from a paint chart, and also match the garage door to the front entrance door style in design and glass, says Rooney.
Beneath the Feet
When it comes to renovating the garage, the floor matters, too. After all, when going to all this trouble to get the garage in order and make it a more useable space, it makes sense to complete the look with a new floor.
At EverStone Floors, the use of an epoxy stone floor surface with natural river stone epoxy overlay is a very unique look for a garage. Jason Larsen, president of EverStone Floors of NEPA, says that the best choice for your garage flooring depends upon the current condition of your floor and how you're using your garage.
 "If the floor is in really bad shape with numerous cracks and uneven concrete, then EverStone may be a great option—you can remedy the issues in most situations and the product is slip resistant," Larsen explains. "If the floor has cracks but is even, you have a few options. You can install an epoxy flake floor that is available in numerous colors, is slip resistant and is resistant to most chemicals. Epoxy flake is great for a garage that you store belongings in and park vehicles. If you're looking to use the garage to not just park your vehicles but also work on them, epoxy quartz is the way to go. Quartz is extremely durable and can withstand a car being jacked up without damaging it."
Closets By Design Southeastern Pennsylvania and Delaware also has floor options.
"Traxtile is an amazing product that sits on top of your existing garage floor," explains Shelley Steel, one of the company's senior designers. "It is antiskid and prevents water and debris build-up by allowing it to drain properly. It can also be easily cleaned or vacuumed. It expands and contracts with climate changes and is the perfect solution for a seamless and beautiful garage surface."  
Making a Wise Choice
In the end, no matter which organization solutions you choose, you want to be confident that your garage makeover is completed the way you want it. By choosing to work with a garage professional, you can ensure that you have the garage you've been dreaming of and that fully meets all of your needs.
RESOURCES
Closets By Design of Southeastern Pennsylvania and Delaware
Exton, Pa.
(866) 278-8881
ClosetsByDesign.com
Closets for Less of Bucks County
Southampton, Pa.
(215) 504-5898
Closets4LessBucks.com
Door Works, Inc.
Elmwood Park, N.J.
(201) 794-1234
DoorWorks.net
EncoreGarage of New Jersey
(732) 409-7707
EncoreGarage.com
Everstone Floors of NEPA, Inc.
(833) 243-8786
EverstoneFloorsOfNEPA.com
Garage Craft Interiors
Warminster, Pa.
(215) 443-0458
GarageCraftInteriors.com
GarageTek of North & Central New Jersey
(877) 786-0577
GarageTekNCNJ.net
Select images courtesy of Closets By Design and EncoreGarage
Published (and copyrighted) in House & Home, Volume 19, Issue 12 (June 2019). 
For more info on House & Home magazine, click here. 
To subscribe to House & Home magazine, click here. 
To advertise in House & Home magazine, call 610-272-3120.