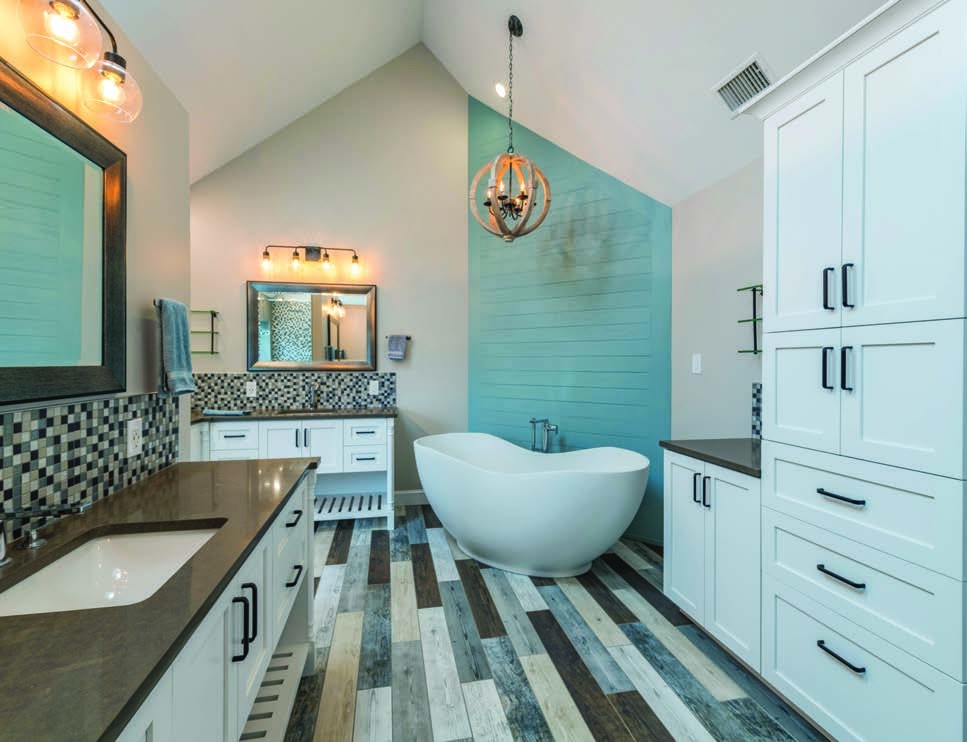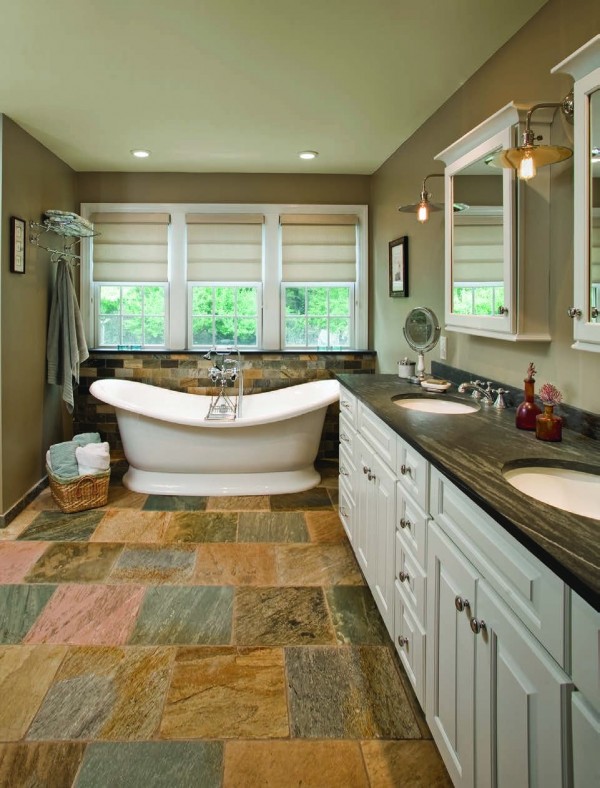 It's the one room we spend a lot of our time getting ready in whether it's work in the morning or freshening up for a night out on the town. Having an invigorating bathroom that complements your home can be the make or break from a spa-like atmosphere to an outdated eyesore. Not knowing where to start in the process, what materials to use or what the latest trends are can become overwhelming for any homeowner. That's why House & Home spoke with the professionals for a straightforward guide to bathroom remodels.
Q: What can homeowners typically expect out of the initial meeting and budget planning for a bathroom remodel?
When I receive a call for an inquiry, one of the things that I'm most interested in is learning as much as I can about what each and every individual homeowner is really looking for. A lot of it stems from understanding how long they're going to be in the home and their commitment to that home. … What I might recommend would be based on [that answer].
Generally when we do these projects, the things that influence price would be the overall scope of the alteration or the new design, the materials that go into that, then ultimately the labor. … Say someone wants to cut a budget, I just can't tell them to go in with a roll of duct tape to tape the pipes together because they wanted to pay a cheaper price. So at some point the labor is the labor relative to the design and you can't shortcut that. What it comes down to for most homeowners [is] they can alter the design to reflect a more modest cost or the materials. The labor is pretty much the constant in most of what we do in terms of the overall quality of what we represent.
Dave Cerami, Owner, President, Senior Designer
HomeTech Renovations
Lower Gwynedd, Pa. | (215) 646-7477
HTRenovations.com 
What shower systems do you advise homeowners to install? I would suggest any homeowner redoing their bathroom to use a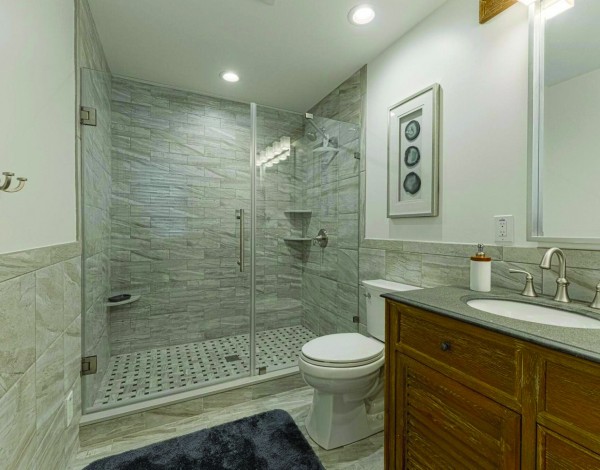 Moen product. The system that I prefer is the trol system. … It's a two-stage system. You pull the lever to activate the water and then you turn the lever to set the temperature, but it fixes itself on that position so that even if you were to push the lever back in to kill the water, it'll keep that temperature setting. One handles pressure, one handles temperature. The reason why this is a benefit to your shower is … you are getting 100 percent of whatever your house can supply you for pressure into a shower because the water is on full speed. … The trol system by itself supplies more water to the showerhead than any other system that [Moen provides].
George Nickels, Owner
Pinnacle Building & Contracting
Cape May Court House, N.J.
(609) 770-2501
PinnBuilding.com 
Q: What goes into coming up with a bathroom design for a homeowner?
We like to be in the space we will be redesigning and remodeling while we talk to our clients about the project. This helps us understand why the space isn't working for their lifestyle and start to explore changes we want to make. … We also want to know what are our clients' tastes and style preferences. When we get back to the office, we apply what was discussed onsite with the new plans and combine in our finishes and selections to match their taste. Our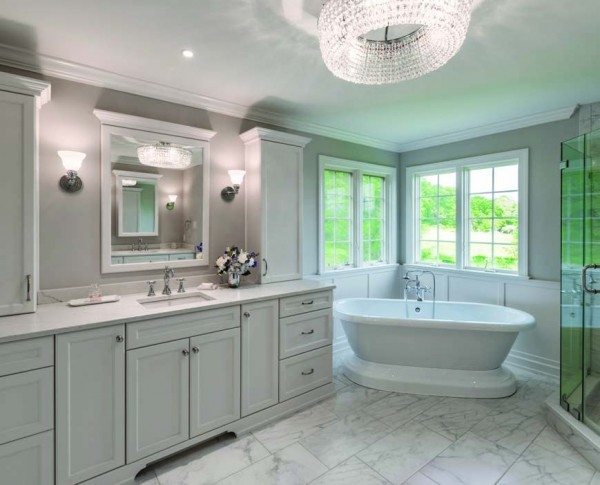 design development period can last a couple of weeks to sometimes over a month as we go through every aspect of the project in detail. We usually meet at our showroom and review both the technical plans and 3D renderings to cover any changes and review the overall look to determine if we are achieving the results our customers are seeking.
Nick Kornea, Owner
Luxury Bath & Kitchens
Horsham, Pa.
(215) 675-5000
LuxuryBathAndKitchens.com 
Q: What are the different countertop options homeowners have to choose from?
Through the years countertops have changed for both kitchens and bathrooms. [Options] for bathroom vanities [include] cultured marble; while this may be affordable, after a few years many sinks start to spider crack [making it look] unsightly. … Granite is a really good option for bathrooms and kitchens, for the bath you can have the shower seat and shelves made to match the countertop, the sink can be undermounted. … There is a wide array of colors of granite but most would be the warmer earth tones. The look of marble is really nice but for a high-use area it's generally not a great option due to staining and scratching.
Dan Dilworth, Owner
Dilworth's Custom Design
Phoenixville, Pa. | (610) 917-9119
DilworthsCustomDesign.com
Q: What advice do you have for homeowners when it comes to bathroom lighting?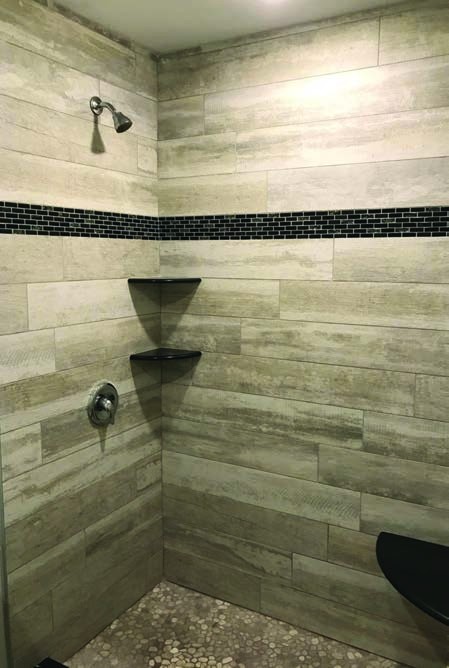 I wouldn't be afraid of how much lighting you can put into a bathroom. A lot of the lighting that you can put into the bathroom can be adjustable. There are dimmer switches that can be put on to certain lights in the bathroom. … I like smaller lights myself rather than the larger ones like a 5- or 6-inch light. I go with the smaller one not because they're weaker in strength, I just like the finished look of a smaller light versus a larger one.
George Nickels
Pinnacle Building & Contracting
Q: What are popular bathroom colors you're seeing for this upcoming season?
The popular trends that we are noticing now and that will continue into the coming seasons are porcelain tile that resemble natural stone. Color palettes that include Carrara and Calacatta variations, and even warmer tones are making a comeback such as Crema Marfil, warmer beiges and gray tones as well. Focal point elements that include accent walls and borders can introduce a splash of color to enhance the beauty and desired look.
Mike Werner, Sales Manager
AAA Hellenic Marble
West Chester, Pa.
(610) 344-7700
AAAMarble.com
Q: What are trendy bathroom designs that are coming into play for this fall and into 2020?
Keep this in mind when thinking about what size tile will best accommodate your application. Larger tiles will inevitably make a smaller area look larger, and reduce the amount of grout lines. We can trick our eyes into how an area is perceived. For example: If there is a room that is long and narrow, you can install a (12-by-24-inch) tile on a brick pattern horizontally across the narrow width of the room and it's aesthetically recognized that the area is wider than it truly is.
Mike Werner
AAA Hellenic Marble
Select imagery courtesy of HomeTech Renovations, Pinnacle Building & Contracting, Luxury Bath & Kitchens, Dilworth' s Custom Design, and AAA Hellenic Marble.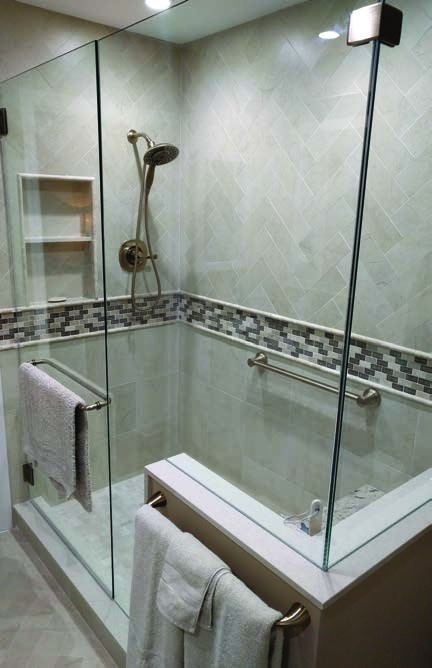 Published (and copyrighted) in House & Home, Volume 20, Issue 2 (Fall 2019). 
For more info on House & Home magazine, click here. 
To subscribe to House & Home magazine, click here. 
To advertise in House & Home magazine, call 610-272-3120.