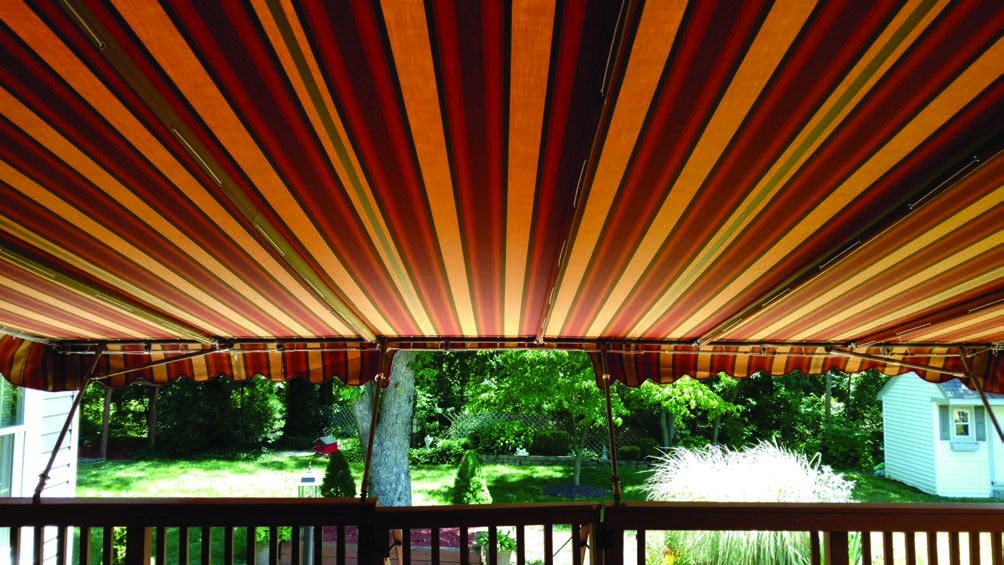 With the warmer weather now in the forecast for the next few months, that means time will be spent outdoors (if not already) for many get-togethers with family and friends on the back deck. But do you have everything you need to make the space just right for entertaining your guests—including items to protect your guests and your house from the outdoor elements? House & Home asked local experts what features homeowners should have in their outdoor living space to make their house the ideal hangout spot, what items are must-haves for entertaining and at the same time functional, and how to customize every detail to your liking.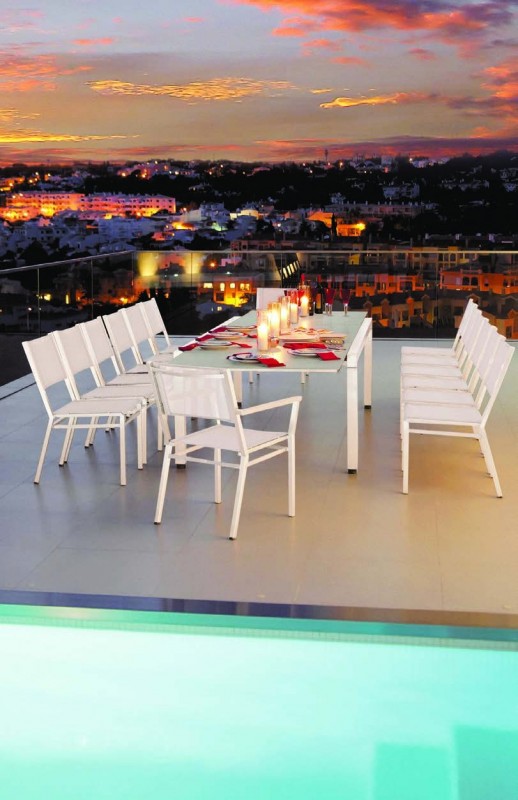 Q: I want to entertain guests this summer. What types of outdoor furniture do you recommend I have in my outdoor living space?
 "Entertaining outdoors involves comfortable chairs and sofas for relaxation and conversation. However, it also means having the correct dining furniture. The number of people you usually entertain and dine with will dictate the outdoor furniture you should choose. Dining tables that extend are very useful if space is an issue. Stacking chairs may be considered if space is a premium. Keep in mind this is dependent on the outdoor space you have. Your outdoor furniture style should be an extension of your indoor style— mid-century modern, traditional, contemporary, etc. The 'pop' can be provided by your cushion fabric choice and vibrant colored throw pillows."
Charles Hessler, executive vice president
Barlow Tyrie
Moorestown, N.J.
(800) 451-7467
Teak.com  
Q: What hardscaping   materials do you recommend for outdoor living spaces? Are there any that have little to no maintenance?
 "Most all the products that are made to be outside will work, from natural stone to Cambridge Pavers with ArmorTec. Cambridge Pavers with ArmorTec will not fade or wear over time so the color and texture will last. Flagstone is probably the lowest maintenance product. All concrete products are very low maintenance, but we do suggest protecting all your outdoor material to keep it looking new and clean. The best way to help you choose what you want is to show you ideas. We have a large display area here at Landis Block & Concrete outside. This helps show the colors in sunlight, and you can get a real feel for what it's actually going to look like. We also have plenty of product guides and photos showing completed jobs. A picture speaks a thousand words."
Jarrod Nyce, vice president
Nyce Concrete and Landis Block & Concrete
Souderton, Pa.
(215) 723-5506
LandisBC.com  
Q: What are the benefits of having an awning for entertaining purposes?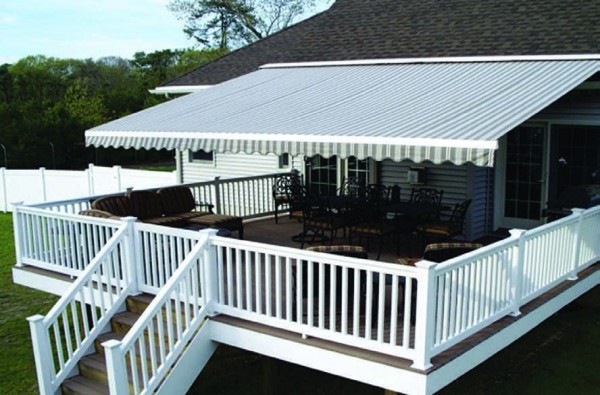 "Three words can sum up the advantages of adding a canopy to your home: protection, savings and enjoyment. Aside from protecting you and your home's interior draperies and furnishings from the sun's harmful rays, canopies can block between 55 and 77 percent of the summer sun's heat gain, which can help to reduce your home's energy cooling consumption up to 60 percent. Being able to use your deck or patio rain or shine affords you more opportunities to enjoy it and allows you to plan gatherings without concerns about limited indoor space or changes in weather. You'll no longer need to cover your nice outdoor cushions or furniture when rain is expected and you can plan outdoor parties and other get-togethers without having to consider rain dates."
Russ DiBella, owner
RJ Custom Awning Co., LLC
Sicklerville, N.J.
(888) 675-2760
RJAwning.com 
Q: How many different types of awnings are there, and what are the differences between them?
"There are two main types of awnings— retractable and fixed, with a bunch of subtypes under each. Underneath retractable, you have the self-supporting, projecting awning that most people think of when they hear 'retractable awning,' but you also have a variety  of other shade products, like pergola awnings and curtains. Within the fixed category, there is even more variety. Most people think of patio and entrance canopies in this category, but there are also window awnings, valances, porch and deck awnings, and more. Beyond differences in location and function, there are wide varieties in style, price and durability within these categories. For example, within door awnings, aluminum construction is inexpensive and incredibly durable, while a fabric awning on a custom frame offers a step up in style."
Charlie Dwyer, marketing manager
Globe Canvas Products
Philadelphia, Pa.
(610) 622-7211
GlobeCanvas.com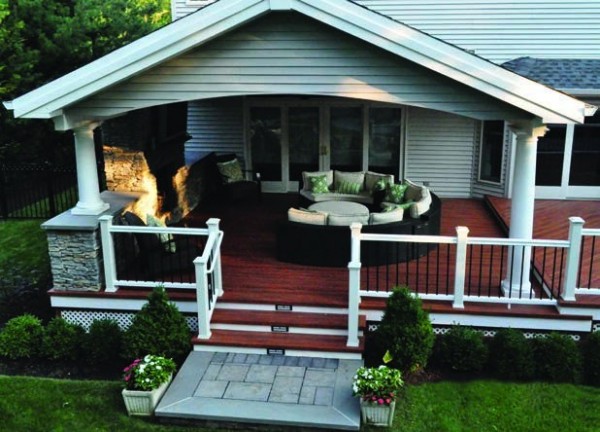 Q: Is a deck roof a must-have item for entertaining guests?
"A roof is a very functional item on a deck and is an asset to your outdoor living area. If you want to entertain, it has a lot of benefits. First, the ambient temperature under the roof on a warm day is generally about five to 10 degrees cooler than the ambient temperature on a deck without a roof because of the sun. It allows you to be on the deck when you have a partly drizzly day and still have a party. It allows you to be out on your deck on the hottest day and you'll be comfortable. It also extends the season much more into the winter. You can also customize your roof once it's installed by adding nice columns, electric and ceilings fans to name a few options."
Bill Lecorchick Sr., owner
Legends Home Improvements
East Brunswick, N.J.
(732) 955-6321
LegendsBuilt.com 
Q: I am interested in having a fire feature installed in my outdoor living space. How do I go about choosing the best one, and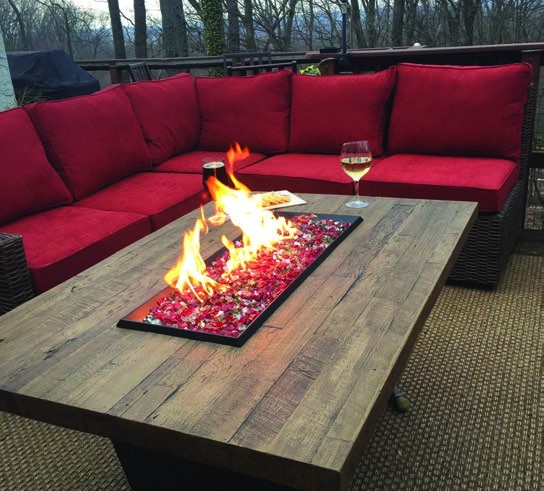 are they still a popular feature?
"Outdoor fire is hotter (no pun intended) than ever. Not only does it create a warm inviting atmosphere, but it will prolong your outdoor season as well. I think with most people, sitting in front of a fire has a very calming and sometimes nostalgic affect on you. It's a time for sharing, laughter and reflection. There is something about a fire that can wash away the day's effects and one of the more meaningful items you can add to your outdoor space. Your choices of wood, gas or electric depends on your space. For instance, you don't put a wood burning fire pit on a wood deck. You can go as big as an outdoor fireplace or smaller like a portable gas fire table or patio heater. Consider your space and how you are going to use it. If you want easy with no fuss, go with gas. The amount of space you have is always a consideration when making your choices. Map it out so you don't overcrowd or underwhelm."
Kristen Fiorito, outdoor oasis designer
Salter's Fireplace
Eagleville, Pa.
(610) 631-9372
SaltersFireplace.com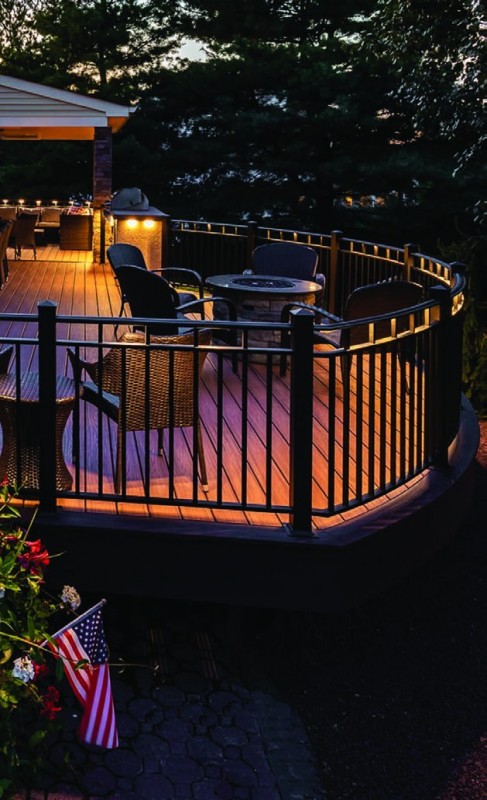 Q: What custom feature should I add to my outdoor living area to complete the space?
"Custom railings are an important part of an outdoor living space. It allows you the freedom to design and not be limited to a specific size such as custom aluminum railings, which can be made specifically for your outdoor space in almost any shape and size. They give you strength and durability with options of keeping the rail and baluster sections very thin and sleek allowing you to see better through them giving you a more open line of sight. There are all different types of railings like composite, PVC, aluminum and glass. Most of these options are kit systems which are mechanically fastened together. They come with a wide variety of infill or picket choices like round metal baluster, square, cable and even glass."
Joseph Kalnas, general manager
My Deck, LLC
Flemington, N.J.
(908) 713-1000
MyDeck.com
Published (and copyrighted) in House & Home, Volume 19, Issue 11 (May 2019). 
For more info on House & Home magazine, click here. 
To subscribe to House & Home magazine, click here. 
To advertise in House & Home magazine, call 610-272-3120.