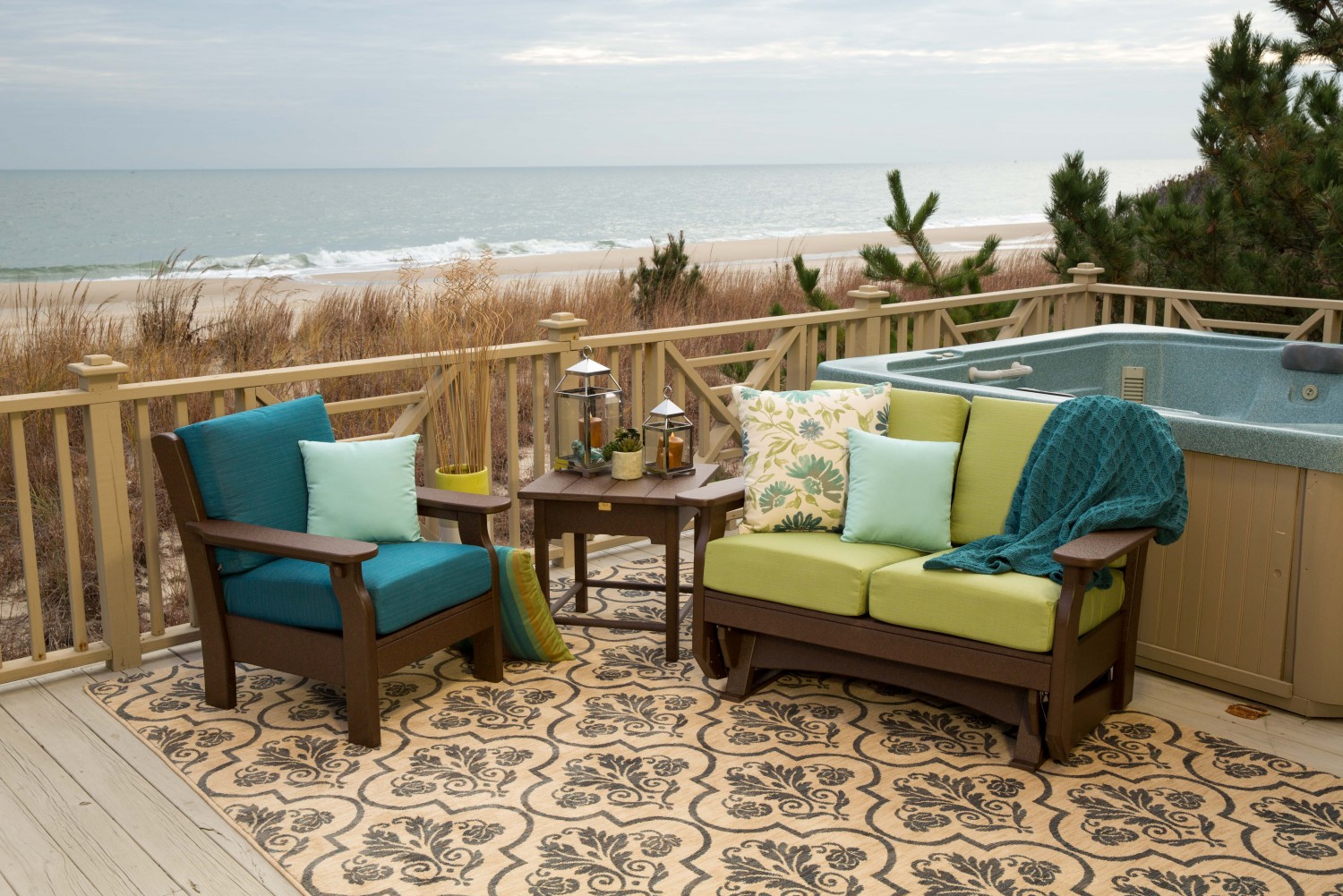 For the past two years, homeowners have been looking at their indoor and outdoor spaces with a renewed focus on making their houses feel more like a home that reflects their unique tastes and lifestyles. Rather than letting the walls close in, the pandemic has been an unexpected opportunity to assess your living spaces with a fresh perspective and clear vision of everything from simple refreshes to timely renovations and full-scale remodels.
Even as the region looks ahead to resuming long-delayed summer traditions like those much-needed getaways and sorely missed plans with loved ones, home improvement projects that extend all the comfort of the indoors to the outside are still on the agenda for many. And with all those new color schemes, new fixtures and new materials comes the accompanying new accessories that amplify their wow factor.
"The residual effects of the pandemic will be felt for some time—it is not like flipping a switch," says Craig Friedman of XO Appliances. "Since the pandemic, we have seen a higher priority given to enhancing home spaces within the home or placing a greater emphasis on enjoying our backyards with outdoor cooking appliances."
"Outdoor dining is still blowing up," agrees Kristi Reading of The Buxton Complex. "It's not your standard picnic table: It's the nice, comfortable chairs, beautiful tables, all these different colors, and coordinating all that with your patio."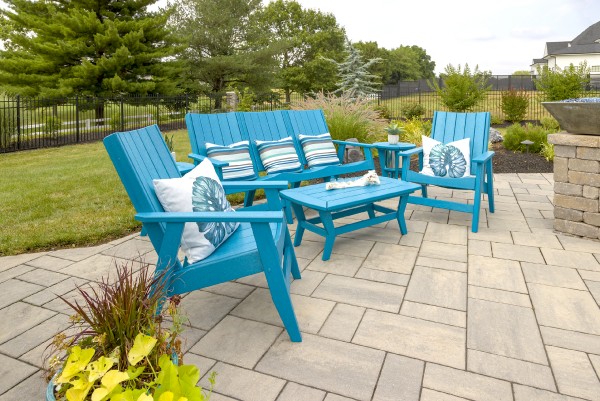 Whether you're looking for all-new items that complement your newly customized outdoor oasis or the one statement piece that will make your backyard pop, the region's experts know exactly how to help make your dreams a well-appointed reality.
Your Space, Your Taste
While some design trends of the past have erred toward the year's it-color or the must-have appointment of the seasons, personal tastes have been the real driving factor recently.
"We aren't seeing a singular specific look or product category that is outperforming another," says Bobby Huber Jr. of Oskar Huber Furniture & Design. "Each person's outdoor space is unique—be it the layout, how they want the space to function or what their design preferences/styles are."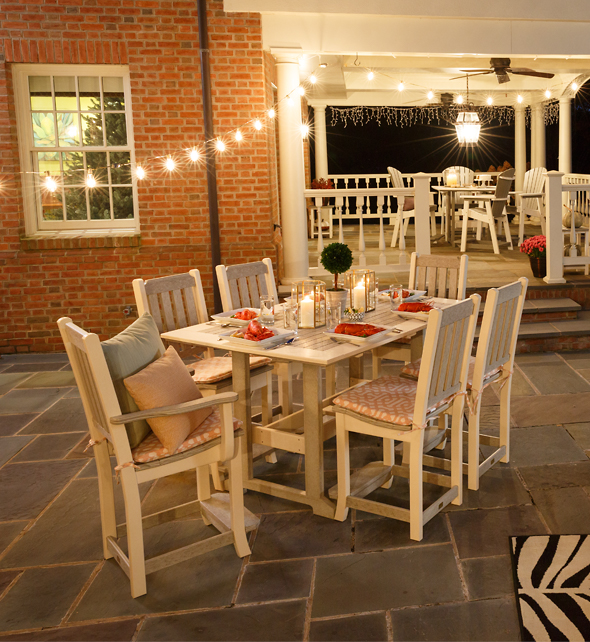 "Individual tastes and the nature of people's homes are key drivers, but in general, there is a move to expand the home by utilizing their outdoor living space more completely," adds Friedman. "With more outdoor appliance options available, backyards are becoming a home for fire pits/tables and pizza ovens, as well as full outdoor kitchens."
But there are always those items making such a splash that everyone seems to be clamoring for them.
"The hottest accessories, besides cantilever and market umbrellas, have been fire pit tables and drink coolers, and we are selling some serving carts on wheels as well," adds Bruce Halpern, owner of Tropicraft by Pavillon du Soleil. "These all add to the fun of being outside.  And keeping people outside adds to the convenience of the host."
"The most popular thing we have going on right now is landscape speaker systems, which are basically a combination of multiple little satellite speakers that almost looks like outdoor lights, then you bury an 8-inch, 10-inch or 12-inch subwoofer, and it gives you a really clear, full range of sound," adds Gregg Maina of Elite Smart Home, who says it's a product that largely gets installed at new-construction homes but is a comparatively easy retrofit for homeowners looking to upgrade their backyard's wireless sound system for the summer.
With outdoor accessories and furniture being more exposed to the elements than their indoor counterparts, experts advise looking for durable pieces that are built to withstand seasons of exposure.
"In outdoor furniture, the polycomposites are a fantastic investment," Reading says. "They're no-maintenance, they don't splinter, they last forever and you can get them in all kinds of colors." 
Huber notes that there are all kinds of sturdy, aesthetically pleasing and even environmentally friendly materials for customers to choose from as they're selecting patio furniture: recycled poly lumber looks and feels like wood, and is guaranteed not to crack, splinter, chip, peel or rot for 20 years; cast aluminum is a superior-grade, molten aluminum alloy hand-poured into detailed moldings; wrought aluminum is reinforced at the piece's stress points for extra resiliency; faux wicker is both realistic and guaranteed to not change color for at least five years; and teak, which comes in both a natural finish and one that mimics the gray patina it develops with age.
"When it comes to cushions and fabrics, not all are created equal," he continues. "It's important to know you're buying something with a top-quality cushion."
Halpern, too, notes that comfort is king.
"The No. 1 thing, in our opinion, is comfort," he emphasizes. "If it's comfortable, you will want to sit there instead of staying inside. … Don't think of your outside furniture as being any less important than your living room [since] you will use it nearly half of the year."
"What I have heard is customers coming in saying they want something that is going to last, be comfortable, look good and can have delivered ASAP," Huber agrees.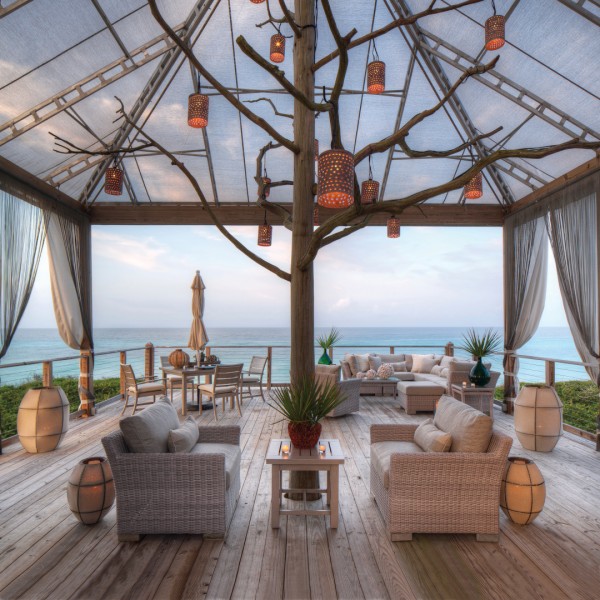 Shore-to-Please Accessories
Shore homes have been enjoying their share of upgrades and reimagined exterior appointments, too, especially as the rising popularity of working from home has encouraged many families to spend more time at their Shore houses and secondary properties.
But that salty air does do a number on certain materials, and will age your outdoor accessories faster than more inland locales will.
"At the Shore, if you don't want to spend your time doing maintenance on your furniture, stick with quality aluminum, cast or extruded, that is heavy and has a finish that's guaranteed—never buy 'metal' or 'steel' furniture, it won't hold up," Halpern points out. "The many MGP (marine grade polymer) USA-made brands like Telescope, Windward or HomeCrest will endure any weather thrown at it."
Huber agrees that MGP—"the same materials they use on boats"—is made to endure the harsh salt air. "It is a refined look that offers a wide range of colors."
As Shore homes tend to be built a little closer together than primary residences, Maina notes that the landscape speakers "stay local" since they're positioned so low, meaning that you enjoy your music without imposing on your neighbors.
"You're putting anywhere from eight to 16 speakers all around your yard, so you don't have to blast your music to hear it," he says.
With many people spending more time at their Shore houses, both for a change of scenery while working from home and to get away without going far away, people are beginning to personalize their seaside residences more like their primary ones.
"Remote is no longer remote: What was once thought of as a place to escape to has become the place we expand to, and comfort is the key regardless of the physical address," Friedman says.
Here to Help
While accessorizing your outdoor space isn't as high-stakes a project as home renovations and additions, area experts do have the insights, experience and dedicated team members to point you toward the right items, brands, colors, materials and more, plus the customer feedback they've received from previous buyers as well as their own experience with a product.
"It's really important that you work with someone who knows the product, who isn't just a salesman," Reading points out. "We all have our products in our homes, so I can tell you about a certain piece that I've had since 2006, and that it doesn't change colors or fade and how it's held up through the years."
Besides, testing out and examining accessories and pieces of furniture before you commit to them is how you avoid making potentially pricey mistakes or finding yourself saddled with an item that you're less than thrilled with.
"The only way to know if something is comfortable is to try it out—that's why we insist on having more than 100 different sets on the showroom floor," Halpern says. "Yes, it takes time to try them out, but it's worth it every day you're on your patio or deck, and it will be worth it for decades to come."
For backyard accessories that might come with a bit of a learning curve, showrooms not only offer expert demonstrations from knowledgeable staff but also can kick-start some inspiration.
"A lot of this stuff people have never heard of until they see it at someone else's house, so [a showroom] is a good place to show people all the different aspects of a product," Maina explains. "It's hard for me to explain what a smart home is, but if I demonstrate it, it starts clicking and people start realizing, 'I can do this, I can do that.' It's a great place to spur ideas."
As colors on a screen aren't always true to life and a material that seems like it would fit your outdoor décor might clash up close, visiting a showroom for an in-person, hands-on assessment of all your options is still the best way to decide what furniture and flourishes are most harmonious with your space.
"One thing that our designers can do today that they couldn't easily do five years ago is now we can continue your interior design aesthetic to the outdoor space," Huber says. "This helps create a connected look to the rest of your home that shows the cohesive design expression of the client inside and outside their home."
RESOURCES
The Buxton Complex
Ewing, N.J.
(609) 771-6840
TheBuxtonComplex.com
Elite Smart Homes
Berlin, N.J.
(856) 663-4300
EliteSmartHome.com
Oskar Huber Furniture & Design
Southampton, Pa.
(215) 355-4800
OskarHuber.com
Tropicraft by Pavillon du Soleil
Ardmore, Pa.
(610) 645-5400
TropicraftPatio.com
XO Appliances
East Hanover, N.J.
(800) 966-8300
(973) 403-8900
XOAppliance.com
Published (and copyrighted) in House & Home, Volume 22, Issue 8 (May 2022). 
For more info on House & Home magazine, click here. 
To subscribe to House & Home magazine, click here. 
To advertise in House & Home magazine, call 610-272-3120.