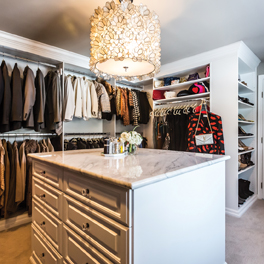 For most people, we could use more hours in the day. Between getting ready for work, sending the kids off to school and all of the activities on the calendar, a little help to make the day run smoothly would go a long way.
That's precisely what Closets by Design has been doing for decades. The company has helped clients of all style preferences and budgets transform their closets into functional spaces where clothes are neatly hung, shoes are easily found and accessories displayed. All of this sets the tone for the day and can be as simple or high-end as the customer desires.
When designers meet with clients, they take the daily routine into consideration. After all, this
is a true custom experience, where their main focus is functionality and maximizing the potential of the space. The company can install double-hang rods, shelving and deep-set drawers so everything fits neatly and is easy to access. Customized lighting makes the closet feel like a boutique, highlighting your wardrobe and accessories. Granite and quartz countertops complete the luxury feel of the space.
Charles Waterman, CEO of Closets By Design, says custom closets have more than just room for clothing. "In these rooms now we're putting in televisions and Keurigs," he says. "People get up in the morning and flip the TV on to hear the traffic report and they get their cup of coffee. It used to be they would go downstairs and rush out the door with a cup of coffee. Now they can do that while they're getting ready and they have everything at their fingertips. They can even lay out their outfits the night before with valet rods and have everything ready to go. It's a different kind of morning."
Closets by Design has been fulfilling customers' organizational needs for over 30 years whether it be in closets, garages, home offices, entertainment units, wall beds or pantries and the list continues. Whether knowing where your favorite blouse is, walking on a clean garage floor to
get to the car or using a pantry with all of the food and none of the mess, Closets by Design is the go-to guide for not only an organized lifestyle but for an appealing space.
Closets by Design offers each client a complimentary in-home consultation to determine the exact needs for each storage challenge. With regard to budget, Closets by Design will work
with each client to provide a complete portfolio of storage solutions with a wide variety
of price points.
The company is currently offering special accommodations to ensure customers can still pursue their closet dreams despite the change in normal operations. The technology of computer-generated designs can bring a vision to life, and virtual appointments are convenient and safe. Customers will especially want to take advantage of a limited time offer of zero percent down and 18-month financing.
At the end of the day, this reputable company makes the client a top priority and will leave customers with a smile and love for their new organized space. Closets by Design prides itself on first-class quality, ensuring that customers are pleased with the outcome.
Closets By Design
Malvern, Pa.
(610) 644-4143
ClosetsByDesign.com
Published (and copyrighted) in House & Home magazine. 
For more info on House & Home magazine, click here. 
To subscribe to House & Home magazine, click here. 
To advertise in House & Home magazine, call 610-272-3120.