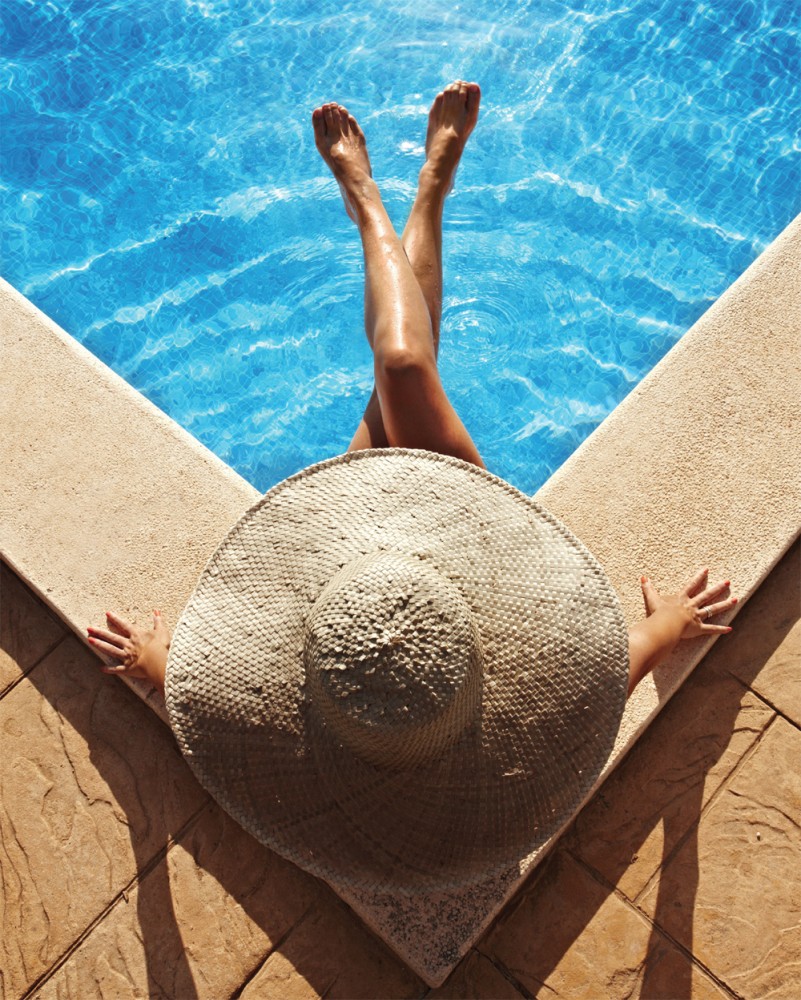 The best part about cold winter nights? Falling asleep to dreams of warm summer days, of course. If you're like us and spend your snow days planning your first big backyard barbecue, then now is the time to start designing that dream poolscape you've been budgeting for.
If you ask the experts, they'll tell you that now is the time to start planning for your dream backyard pool.
"Right now is the time that you want to start thinking about the summer," says Bryan Hull, general manager of Del Val Pools & Spas. "The farther you get into the season the longer you'll have to wait. So if you want to open up on Memorial Day you want to act now."
"For homeowners thinking about a pool, the winter is a great time to start the design process," agrees Donald Panetta, owner of D. Panetta Landscape Design & Construction. "This gives us time to design your project, work through permits the town requires and align on all components of the project before hitting the ground running in the spring. We work year-round on designs, so it's never bad timing to start the design process."
So what should you plan for when diving in to your big pool project? Experts point to a few important pieces of information and trends that can help you have the backyard pool you've always dreamed of.
CONSIDER COSTS
Pool and design experts all agree that one factor remains vital before even breaking ground: budget.
"Careful planning, budgeting and decisiveness with the selection process are the key to a successful project," says Bill Lee, general manager of the Northeast for Anthony & Sylvan Pools. "The options and additions for a concrete pool are endless and can be custom designed to fit the client's needs."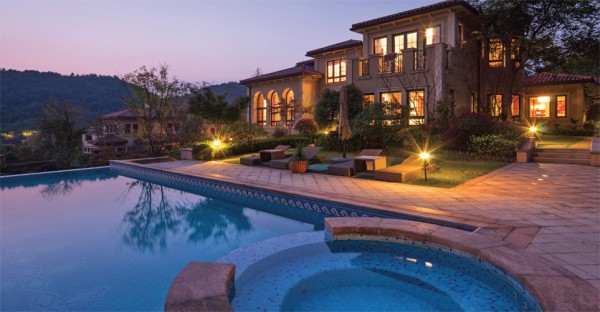 Before coming to a contractor, Panetta says it's a good idea to consider what it is you want to spend and what you are hoping for out of your pool. "The homeowner should come prepared with: a budget, a survey of their property, an idea of the use they'd like to get out of their pool and they should come with an open mind," he says. "There are endless possibilities when designing a backyard, so it's always a benefit to approach it with a little imagination."
A lower budget doesn't mean you have to sacrifice design. In fact, Keith Yatsk, partner and owner of Harbor Pools & Patios, says that adding a few extra touches can be a cost-effective way to breathe life into a design without breaking the bank.
"Things like water fountains, bubblers, those can create a bit of luxury without blowing your budget," says Yatsk. "And they look great during the day or at night."
FOCUS ON FUNCTIONALITY
Prioritizing who will be using your pool, how it will be used and who will maintain the system all summer are some of the most important things to consider when beginning the design process.
"If you consider yourself an entertainer, then you may want to consider including features that allow you to do this, such as a bar, fire pit, outdoor kitchen, surround sound capabilities, landscaping and lighting," says Panetta. "On the other hand, if perhaps you have a young family then you might want a more kid-friendly pool."
"You want to think about what you can use your pool for," says Yatsk. "If you're an older couple and want the pool to relax in at night, and then maybe the grandkids can use it on the weekends, that changes the design. If you have a lot of little kids running around, you want to invest in safety elements like auto-covers."
Saltwater pools only continue to grow in popularity, as they remain one of the easiest ways to maintain a backyard pool through the summer. "It's a great chemical and the system is easy to work with. It's almost like having a pool boy in your backyard all year long," says Hull. "And it's essentially a minimized chlorine pool that ends up feeling better on your body. In high chlorine pools you'll get out and feel like you need a shower, with salt you can get out and lounge on the couch."
With function comes individuality, and many homeowners are opting to consider their unique design aesthetic when budgeting for their pools. "We've noticed that people have been steering away from just the standard pool in the ground with stamp concrete," says Panetta. "They've even moved away from small pavers, which 15 to 20 years ago were very common. Instead, they are taking advantage of the ability to customize their pool to their taste."
While waterfalls and fountains may not seem to serve much purpose, they can be an easy way to work with an unusual elevation in your yard.
ADD IN THE PERKS
Then there are the extra elements in pool design that are quickly catching on as the hottest trends in pool design.
One of the most popular pool additions on the market right now is the sun deck, a transitional area of about six to eight inches of water for lounging and relaxing. "People will install umbrella holders, add Adirondack chairs in there and make it a space for younger children and adults alike," says Hull. "From there we'll put air blowers and bubblers in there, natural boulders and even fiber optic lighting. You can change the modes of the lights with your phone, make it more colorful or make it themed, like red white and blue for the Fourth of July."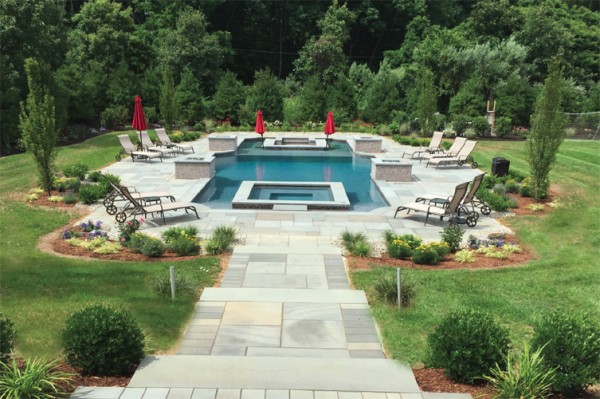 Water features like air bubblers and waterfalls remain the most popular features to add fun and flair to pools. "There is a variety of water features, from stone waterfalls to raised beams with sheer descents," says Lee. "These can add a wow factor to your backyard pool, while handling challenging elevation differences."
"People love deck jets: It's a stream of water that comes out of the pool deck and goes into the pool. It's beautiful and the kids love playing with it, but if you're just sitting on the deck enjoying a drink it creates a showpiece for your yard," says Yatsk, who notes that waterfalls can also create a beautiful scene from in the pool or on the deck.
Natural elements like stone are also beginning to emerge, as they create a long-lasting, low-maintenance finishing touch. "We've been incorporating a lot of natural rock into designs and into waterfalls and features," says Yatsk. "Travertine decking, in particular, adds a nice, natural finish and keeps your feet cool in the heat."
No matter what you're hoping to accomplish, experts agree that the possibilities are truly limitless. "Many people don't realize that features like glass fire pits, swim up bars and grottos are actually attainable elements that can be incorporated into their design," says Panetta. "When implemented the right way, these elements can really add to the experience and make outdoor living spaces feel like mini-vacation spots."
RESOURCES
Anthony & Sylvan Pools
Doylestown, Pa.
(877) 729-7946
AnthonySylvan.com
D. Panetta Landscape Design & Construction
Randolph, N.J.
(973) 659-9374
DPanettaContracting.com
Del Val Pools & Spas
Turnersville, Mantua and Elmer, N.J.
DelValPoolsAndSpas.com
Harbor Pools & Patios
Stone Harbor, N.J.
(609) 796-5585
HarborPoolsAndPavers.com
Second photo is courtesy of D. Panetta Landscape Design and Construction.
Published (and copyrighted) in House & Home, Volume 17, Issue 7 (Special Edition Spring 2017).
For more info on House & Home magazine, click here.
To subscribe to House & Home magazine, click here.
To advertise in House & Home magazine, call 610-272-3120.