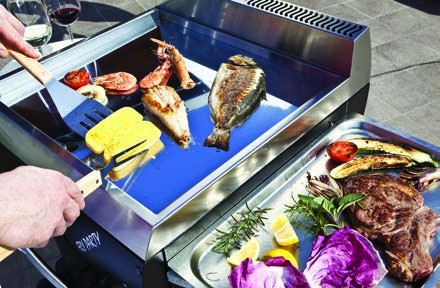 There's no doubt that outdoor kitchens continue to be one of landscaping's hottest trends. Homeowners want outdoor living spaces that they can use to the fullest and outdoor kitchens make that possible. Whether you incorporate a small built-in grill area or a full-blown kitchen with all the bells and whistles, by adding a space to prep and cook food, you up the ante on time spent with family and friends.  
 "Outdoor kitchens are a big trend in New Jersey," adds Wendy Amiano, vice president for Amiano & Son Construction. "A lot of homeowners are incorporating outdoor kitchens into their outdoor space planning."
The trend extends throughout our area and the country. "The popularity for outdoor kitchens only continues to grow," says Steve Compton,  general manager of CKC Landscaping. "It's not like it's even plateaued. We keep getting more and more requests to either add a brand-new space or to add an outdoor kitchen to an existing living space. I think what it ultimately comes down to is the fact that we're social creatures."  ˙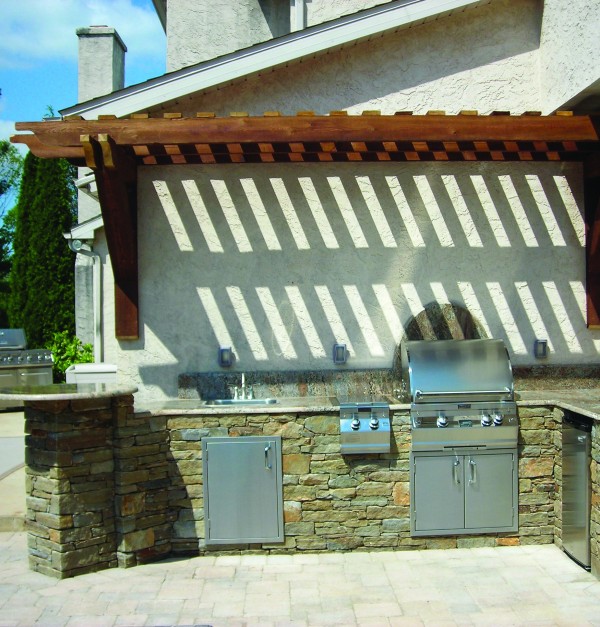 Outdoor kitchens absolutely make it easier to socialize and spend time with friends and family since everyone can be immersed in conversation during food prep and cook time. It's all about convenience, says Dominic Varallo, owner of Rolling Green Landscape & Design.
 "One of the best things about adding an outdoor kitchen is that you don't have to constantly run in and out of the house to prepare and serve food," he continues. "That's a big  convenience. And if you live in a home where you already have gas, running it from the house to the outside is another huge convenience  rather than having to constantly change a tank."  
Jarrod Nyce, vice president of Nyce Crete and Landis Block & Concrete, agrees that convenience is a huge factor in the continuing p opularity of outdoor kitchens.  
 "Anybody who has grilled outside knows that it can be great," he says. "But if you have a complete outdoor kitchen, that means you have less trips back into the house and more time outside with friends and family. Imagine doing all of your prep and cooking outside—without ever having to go back in the house."  
Bill Lecorchick Sr., founder of Legends Home Improvements, says that outdoor kitchens take the "work" out of hosting a party by making even the prep time fun and interactive with guests.
 "Unless you are having a catered party, you are busy cooking—going in and out of the house for food and drinks," Lecorchick says. "You are working instead of enjoying your guests. But with an outdoor kitchen, everything you need is always  within arm's reach, while you get to enjoy your guests and the activities. Even while you are cooking, you are still part of the fun."  
All the Amenities
The possibilities for your outdoor kitchen can truly run the gamut. It could be as simple as a built-in grill that offers you some countertop  space for prepping and serving food, to something elaborate that includes a variety of options. Nyce says that some of the popular add-ons include smokers, pizza ovens, small refrigerators, sinks and entertainment centers. In the end, he says it all comes down to personal preference and budget.  
Another consideration is whether or not you want a covered area. If you have an outdoor  kitchen with a lot of amenities, you may want to be able to use  it rain or shine. Amiano says to consider extending the roofline of your house in order to create a cover for the outdoor kitchen area.
 "This is a great way to make the outdoor kitchen feel like its own unique space," she says.  
Lecorchick says that a kegerator is also a nice option if you like to keep beer on tap.
 "It's not only functional, but a nice conversational  piece," he adds. "While an ice machine is a little costly, that is another nice addition if you entertain often. And, if possible, a sink really increases the convenience of your outdoor space. Finally, be  sure to add electrical outlets— they're a must."  
Jay Stong, owner of Salter's Fireplace, Patio & Grill, says that fire features can also really enhance the  outdoor kitchen by adding light, heat and ambiance. At Salter's, Stong says they've also been getting a lot of interest in gas-powered tiki torches that really enhance the aesthetics of the space. Salter's specifically carries Tempest Torches, which are also popular in area restaurants. Putting a couple around your kitchen area is a nice touch that can bring your space to a whole new level of enjoyment. 
 "People often think about the light and the ambiance of these features, but another thing we're selling more of is an electric infrared heater that can be installed above  your grill," Stong adds. "This is incredibly functional in that it heats up the space and may allow you to grill year-round."  
Choosing Materials
There's no question that the materials you choose for your outdoor kitchen are important. In terms of what material to use for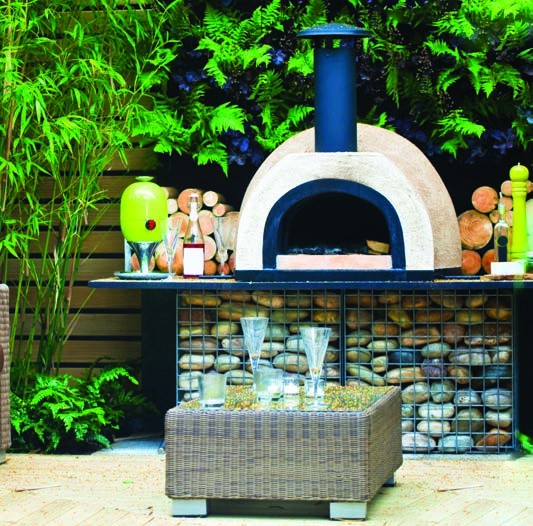 your outdoor countertop, Lecorchick says the most cost-effective is tile. Other material  choices include granite, bluestone, cement or soapstone.  
Compton says that in most cases, a low to mid-level granite is going to give you the most bang for your buck as it's also going to be the most durable and therefore probably the lowest maintenance.  
 "Opt for a lighter color of granite as a dark color will absorb heat and can get hot to the touch," he advises.  
In general, when choosing materials and appliances, Compton  says to follow the same rules of thumb that you would for an indoor kitchen.
 "If you go cheap, it's not going to last as long," he says. "In fact, outdoors, your space is dealing with even more wear and tear—such as the weather—so it's worth investing in something  that is going to last. Make a checklist and work with a professional who has experience designing and building outdoor kitchens. They'll help you to make sure all of your wants and needs are met." 
A grill to last
Choosing the right grill is an essential piece of your overall outdoor kitchen design. After all, most kitchens are built around the grill, making it a focal point of the entire outdoor space. That makes it a feature that you do not want to skimp on.
 "If you're building a grill into a countertop, the last thing you want to worry about is having to replace it," says Sam Stoltzfus, owner of LanChester Grill & Hearth. "It may cost you more, but you have to consider the fact that you're getting a lot of extra life out of it than a cheap grill."  
Stoltzfus says that grills today have come a long way and have a lot of exciting bells and whistles. Homeowners have a lot of choice when it comes to selecting the grill that is right for their space.  
Jay Stong, owner of Salter's Fireplace, Patio & Grill adds that one of the more popular features they're seeing interest in is a griddle. He says that adjacent power burners are also a popular add-on, allowing homeowners to cook big pots of corn, crabs or lobster outside rather than heat up—or stink up—the house!  
Of course, not every homeowner is going to need lots of add-ons. Stoltzfus advises to talk to a grill expert who will be able to help you choose which grill features you'd use the most.   
Resources
Amiano & Son Construction, LLC
Tabernacle, N.J.
(609) 268-5923
AmianoAndSon.com 
CKC Landscaping
West Chester, Pa.
(610) 436-1810
CKCLandscapingInc.com
LanChester Grill & Hearth 
Gap, Pa.
(717) 442-8794
LanchesterGH.com 
Legends Home Improvements
East Brunswick, N.J.
(732) 955-6321
LegendsBuilt.com 
Nyce Crete and Landis Block & Concrete
Souderton, Pa.
(215) 723-5506
LandisBC.com
Rolling Green Landscape & Design 
Bucks County, Pa.
(215) 794-1600
RollingGreenLandscapeAndDesign.com 
Salter's Fireplace, Patio & Grill
Eagleville and Hatfield, Pa.
(610) 631-9372
SaltersFireplace.com 
Select photography courtesy of LanChester Grill & Hearth
Published (and copyrighted) in House & Home, Volume 18, Issue 12 (June 2018). 
For more info on House & Home magazine, click here. 
To subscribe to House & Home magazine, click here. 
To advertise in House & Home magazine, call 610-272-3120.