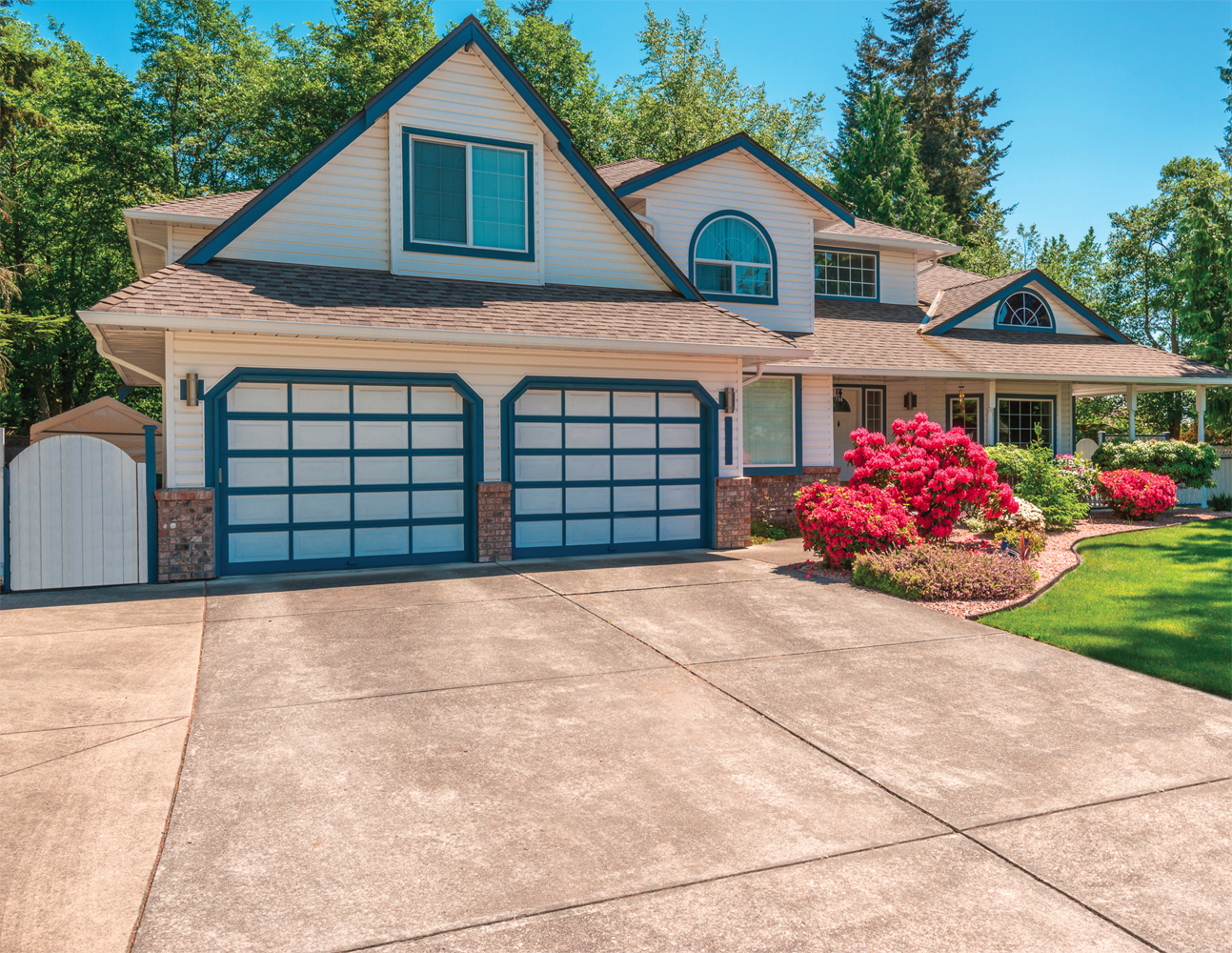 Whether it's your driveway, walkway, patio or even your pool deck, the hard surfaces around your home help to define your spaces. Because these are high-traffic areas, it's important that the material used for your hard surfaces not only be attractive but also highly functional and durable.
Two common options for paving include concrete and asphalt. Both can be great options but like anything, they come with their own set of pros and cons. We've taken a closer look at paving with concrete and asphalt to help you decide what's best for your next project.
WEIGHING YOUR OPTIONS
If you're looking at doing a driveway, chances are you're looking at either asphalt or concrete. While driveways can be done with gravel for less expense or brick pavers for more, asphalt and concrete tend to be the two choices that most homeowners narrow it down to in their research. That's because these materials are a bit more affordable while also being highly durable and able to withstand frequent vehicle traffic.
One of the nice benefits of concrete is that it offers so many decorative options. It can be colored or even used in patterns or designs, says Chris McMahon, president and CEO of Architectural Concrete Design (ACD). With a product called stamped concrete, your driveway can be made to look like brick or cobblestone—without paying the high price of the real thing. It's definitely unique. But it's so important that it's installed properly or it's not going to hold up.
"Concrete is the most durable product you can put in your yard—if it's constructed properly," McMahon says. "That's a big 'if' because the person putting it in must know what they're doing. With a background of 35 years of commercial experience, we've been doing this a long time. Concrete done at the residential level should still be held to the high standards of commercial work."
On the other hand, asphalt is probably the most common driveway material in this region and there are a lot of reasons why. For one, it's relatively inexpensive (less than concrete). It's also easier to maintain and has a nice, clean look. While asphalt will eventually crack, a seal coat typically does the trick of making it look nice and new again.
There's a reason why all of our roadways are done in asphalt, says Michael Harris, owner of Harris Paving Industries (HPI).
"It's a very durable material that can also withstand the harsh winters we have," Harris says. "Salt will not corrode it the way it will concrete—where specialty salt must be used."
Harris' grandfather started HPI almost 70 years ago, and Harris says they do both residential and commercial work. The company does both paving and sealcoating.
"One thing that is unique about us is the fact that we're big enough to handle commercial jobs but not so big that you aren't dealing with the owner on your residential jobs," Harris says. "We're still a hands-on company and I deal with our residential clients as well."
OTHER PAVING PROJECTS
While your driveway is probably your biggest paving project, you might also be considering a material for your walkways, patio or pool deck. While asphalt is an option for high-traffic walkways, chances are you're probably looking for something a bit more aesthetically appealing. Walkways play a big role in curb appeal and the overall appearance of your home.
Stamped concrete makes an excellent option for walkways, as well as patios and pool decks, says Lauren Goodwin, sales manager and designer for Finishing Edge, because it is often a seamless installation process.
"In most cases, it can be put in all in one day—though each project is a site to site determination of necessity of elevations and other factors," Goodwin says. "Stamped concrete is often more cost effective than other products. When done in enough quantity, and with a variety of stamp options, it can have the look of a natural product at a better cost."
McMahon points out that the color options for stamped concrete are virtually limitless. He's even had customers combine four or five colors in the same job to blend together for a natural stone look. Again, he emphasizes that getting the right "look" comes down to working with someone who knows what they're doing.
Goodwin says that homeowners get the best of both worlds with this product. It can be made to look like various types of natural stone but with the durability of manmade concrete.
"One of the best design concepts in stamped concrete is utilizing textures found in nature and creating inventive ways to 'hide' our relief cuts in these textures so that they do not look like cuts," says Goodwin. "This again allows for a beautiful finish and look of a natural product for the customer, but with the ease of mind that the concrete will not suffer an unwanted random crack later in its lifetime."
FINDING THE RIGHT CONTRACTOR
While there are a lot of choices out there when it comes to paving, seek out a professional that you feel has the experience and the know-how to get your project done right. Look for a company that has good reviews and has been around long enough to really know what they're doing. This will help ensure that you get the end result you desire.
RESOURCES
Architectural Concrete Design
Levittown, Pa.
(215) 946-5039
ACDConcrete.com
Finishing Edge, Inc.
East Greenville, Pa.
(215) 337-4900
Finishing-Edge.com
Harris Paving Industries, LLC
Harleysville, Pa.
(215) 513-1977
(610) 490-1977
HarrisPavingIndustries.com
Published (and copyrighted) in House & Home, Volume 17, Issue 9 (April, 2017).
For more info on House & Home magazine, click here.
To subscribe to House & Home magazine, click here.
To advertise in House & Home magazine, call 610-272-3120.