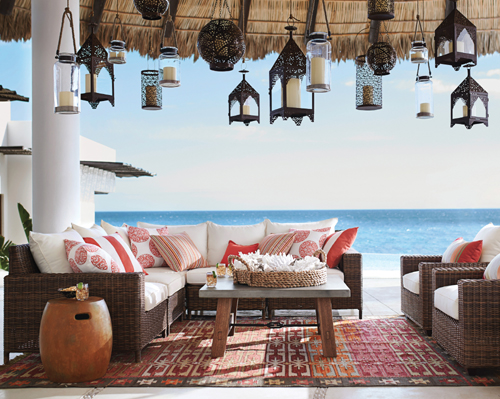 Now that the warm weather has finally arrived, many of us look forward to weeknights and weekends spent on our patio or deck. But real relaxation can't happen without the right furniture and accessories outfitting the space, making it truly feel like a part of your home. Whether it's a comfortable conversation set, a dining table for entertaining or fire features for ambience, there are so many ways to make the space yours. House & Home spoke with some of the area's experts about the industry trends homeowners are responding to.
FURNITURE
Outdoor furniture has continued to evolve to look more like what you'd see inside a home. Years ago people were content with a simple five-piece patio set, with a table and four chairs, maybe even an umbrella. But if you step into any outdoor furniture store today, the selection looks a lot different.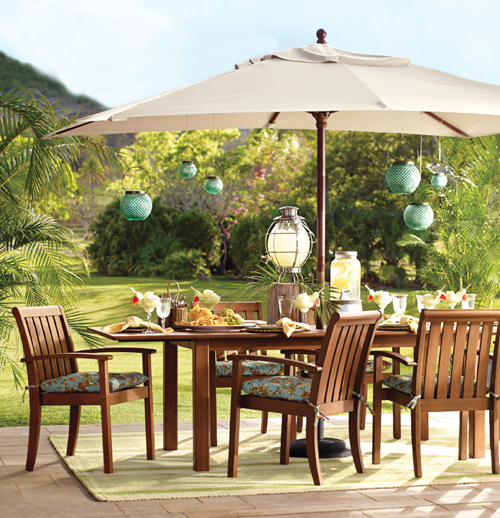 "The patio and deck of yesterday are morphing into space not unlike those we have indoors," says Jay Stong, owner of Salter's Fireplace Patio Grill. "People are creating these outdoor spaces as an extension of their homes, becoming a personal oasis to relax and unwind."
With that in mind, the trend taking hold is conversational deep seating, meaning big chairs and couches with cushions. "People love curved sofas and sectionals," says Gail Marinaro, owner of Ultimate Patios. "I see more people moving away from a traditional dining table and into this deep seating arrangement, which I like to complement with a chat-height table where they can sit and enjoy appetizers and a few drinks without being so formal."
But for those who do like to entertain with large meals for family and friends, dining tables will remain a staple of outdoor living spaces. Will Evertz of Eastern Outdoor Furnishings says he's noticed dining tables are getting larger. "Previously our bestsellers were six to eight seat tables," he says. "Now, our customers want the ability to seat between eight and 12 people."
Laura Bush, patio furniture buyer with Pelican Sport Center, echoes this trend and says manufacturers are responding by offering extension dining tables. "Customers love the idea of using the same table whether they have six or 10 guests at a meal," she says. "We carry extension tables from Hanamint, Telescope Casual and Jensen Leisure and all three have been popular this season."
Beyond these sets, one outdoor seating staple that continues to make an appearance in homes around the country is the Adirondack chair. "Adirondacks are still huge," says Jonathan Weisman, general manager of Absecon Hardware and The Shed and Carport Center. "The resin chairs are durable and they come in so many colors. It seems every year there is a hot new color and everyone has to have it. If they fade or damage, people aren't spending a lot to replace them, and chances are they want to buy them in a new color the following year anyway. It's a good way to add color to your yard."
Weisman touches on an important factor in selecting outdoor furniture: the material it's made of. He says people have moved away from wood furniture, choosing resin or polymer instead. "Polymer is more expensive, but they see it as an investment. It will hold up from year to year," Weisman says.
At Pelican Sport Center, Bush says polymer furniture is one of their best-selling categories. "Polymer furniture is heavy in weight, maintenance-free, recycled, carries warranties ranging from 10 to 20 years and is manufactured in the U.S.," she says. "Customers have been willing to pay slightly more for a better quality product that will last with little work involved."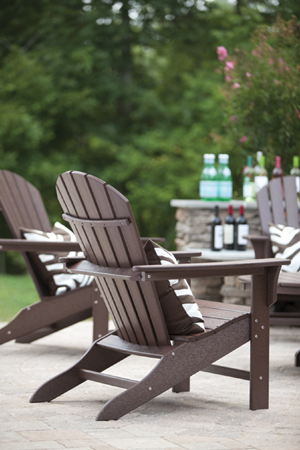 She adds that polymer is also particularly good to use for Shore homes as the salty air will do the least damage to it.
Cast aluminum is another material that will hold up. "I feel this is the best outdoor 
furniture material for the Northeast," says Evertz. "It comes with the longest warranties and can handle the harsh climates."
If your outdoor space is not covered, Stong says that is to be taken into consideration as well. "For an outdoor space that has no cover and is exposed to the sun, aluminum may be a better choice because it is strong and rust proof. Woven or wood furniture would do better under cover. Recycled plastic furniture is the best bet if you're in a windy area," he says.
In the end, the material should suit the space and your taste.
FIRE AND FINISHING TOUCHES
Summer nights can still have a chill in the air and one surefire (pun intended) way to keep comfortable outdoors is with a fire feature. Fire pits have been the most popular for years thanks to their portability, but people want the warming elements truly incorporated into their outdoors, and manufacturers have responded.
Dave Rettinger, founder and president of Rettinger Fireplace Systems, says he is seeing more linear outdoor fireplace designs with a seamless, clean look that provides a contemporary focal point in an outdoor setting. "One model in particular, the Palazzo by Heatilator, offers an eye-catching singlesided or see-through unit that is built with rust-resistant, marine-grade stainless steel that can withstand even the harshest conditions," Rettinger says. "It also includes a tempered glass wind guard that keeps the flames full and lively, along with an industry-first power screen to ensure safety and prevent debris from entering the fireplace."
Another popular choice among homeowners is a chat-height table with a built-in fire pit. "This table measures 24 inches in height, and customers can pair it with dining chairs or their conversational furniture," says Bush.
These tables feature an edge where people can rest their drinks or small plates, and Evertz says he offers an option that can function as a fire pit, ice bucket or flat dining table once a cover is fitted over.
As for wood versus propane or natural gas burning options, Rettinger says wood is still the centerpiece. "Burning wood is a lifestyle. If you grew up with it, the smell and warmth evokes childhood memories, and those people don't mind the mess or hassle associated with wood," he says. "But newer electronic ignition fire pits are much more user-friendly and nice because they'll re-light themselves if they're blown out, unlike the match-lit fire pits."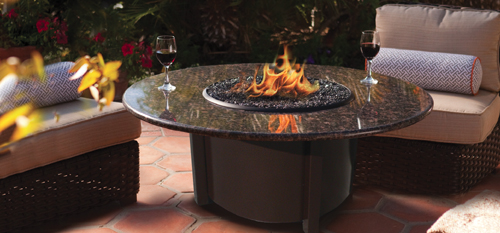 With these major pieces taken care of, the experts we spoke with say homeowners can't neglect the finishing touches to bring real personality to the space.
Evertz names bright, decorative throw pillows, saying, "These are the most popular accessories and nice accents to bring color into the backyard."
For added ambience at night, Marinaro says lanterns do the trick. "These can be battery operated or solar, and hung from tree branches or under umbrellas," she says.
Coverage from the sun is also important. John Keller, owner of Sequoia Out Back says, "Adding a pergola or roof for some coverage from the sun is a way to really complete the space, or even a cantilever umbrella for shade as well as color."
No matter what, our experts agree this outdoor living is not going away.
"The future will continue to bring a lot of emphasis on creating backyard living spaces," Keller says. "With an outdoor living area you can significantly expand the footprint of your house without having to add on. That's a concept that is always going to be popular."
RESOURCES
Absecon Hardware/The Shed and Carport Center
Absecon, N.J.
(609) 665-2894
TheShedAndCarportCenter.Webs.com
Eastern Outdoor Furnishings
Totowa, N.J.
(973) 339-9519
EasternOutdoorFurnishings.com
Pelican Sport Center
Morris Plains, N.J.
(973) 267-0964
PelicanSportCenter.com
Rettinger Fireplace Systems
Voorhees, N.J.
(856) 213-9998
RettingerFireplace.com
Salter's Fireplace Patio Grill
Eagleville, Pa.
(610) 631-9372
SaltersFireplace.com
Sequoia Out Back
Hatfield, Pa.
(866) 650-DECK
DeckSupplies.com
Ultimate Patios
West Chester, Pa.
(610) 430-2171
UltimatePatios.com
Lead in photo, first photo courtesy of Pottery Barn.
Second photo courtesy of Trex.
Third photo courtesy of California Outdoor Company.
Published (and copyrighted) in House & Home, Volume 16, Issue 11 (May, 2016).
For more info on House & Home magazine, click here.
To subscribe to House & Home magazine, click here.
To advertise in House & Home magazine, call 610-272-3120.