Out With the Old, in With the New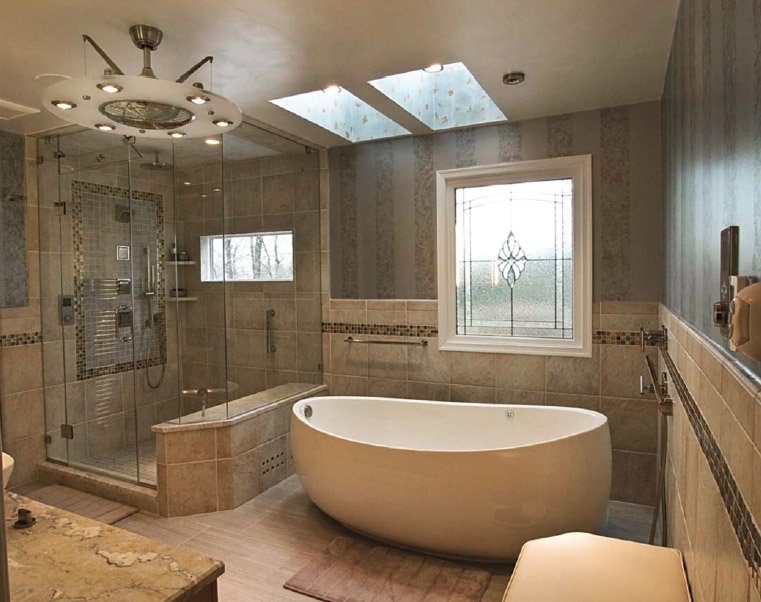 Let's set the scene: You wake up in the morning and hit the shower, brush your teeth and get ready for the day. Fact of the matter is, you're probably not taking a good, hard look at your bathroom's age.
It's not until you have the time to unwind that you come to realize: your shower tile is chipping, your tub is no place for a long bath and yes, your decor is still stuck in the '80s. So what's the best way to freshen up your bathroom so you can actually blow off steam?
Enter House & Home. We've sought out the area's experts in all things bathroom design and remodeling to seek out the best ways—both lavish and budget-friendly—to give your bathroom a new look, whether it's a master, hallway or partial space.
What to consider
When embarking on a bathroom remodeling project, experts advise homeowners to consider several factors: a budget, the projected length of time they plan on living in the home, their preferred aesthetic—whether it be traditional, minimal, contemporary or transitional design—the age of the home and lastly, choosing the right, experienced professional for the job.
"Trying to mix all of these elements together is really key. All of these have to come together," advises David Cerami, Certified Kitchen and Bath Remodeler (CKBR), president and owner of Home-Tech Renovations Inc. "Looking at every project, experience counts. All these different factors come into play and there's no 'one way.'"
In fact, there's a simple way to decide what part of your bathroom to focus on when it comes down to budget limitations. As Tim Pesce, president of Beco Kitchens and Baths explains, you can go either expensive or inexpensive when you divide your space into two major areas.
"The bathtub/shower area as one and then the vanity area as one. Some of it really depends on what it looks like and what materials were used in terms of can they afford to or do they wish to do one or both of those areas," he says. "That's not necessarily the toilet or the floor in the bathroom, but those are the much simpler, easier areas to do than when you're doing a complete bathroom change."
If you're gearing up for a big change, Weinstein Supply & Bath & Kitchen's profit center manager, Deborah Spinosa suggests homeowners consider their desired completion date and set a realistic deadline, as some projects' anticipated end dates are subject to change depending on unforeseeable issues.
"Projects often take longer than anticipated due to weather, scheduling conflicts with the tradespeople and subcontractors, extended lead time for delivery of products chosen and products that do not meet their expectations whether in appearance or in function," she warns, adding, "Should changes be necessary mid-project, the cost of the project can be increased."
Another aspect to keep in mind is how long homeowners intend to stay in their property. Experts like Michael Reisbord, vice president and owner of Diamond Kitchen & Bath advises his customers to consider their return on investment before undergoing an expensive transformation.
"If they moved into a house for five years or longer, they can renovate it in a very nice way. If they intend to sell in the next five years, they can do a moderately priced remodel because they will residualize it within a certain amount of time and how much they spend, of course."
Quick face-lift tips
If you're in the market for a quick change to breathe new life into your common space, experts suggest to focus on the walls and accessories. For starters, a new paint job or artwork can give your bathroom an entirely new look. What's more, added flourishes including new shelving, a shower curtain, rugs, towels and any other decorative pieces will go a long way in terms of aesthetics.
Spinosa also advises homeowners to choose a style that won't get stale with time. "[Choose] a muted color scheme that can transcend many years of changes in home-decorating style. When choosing a style for a faucet and accessories, a safe choice is a transitional style, rather than a modern or traditional.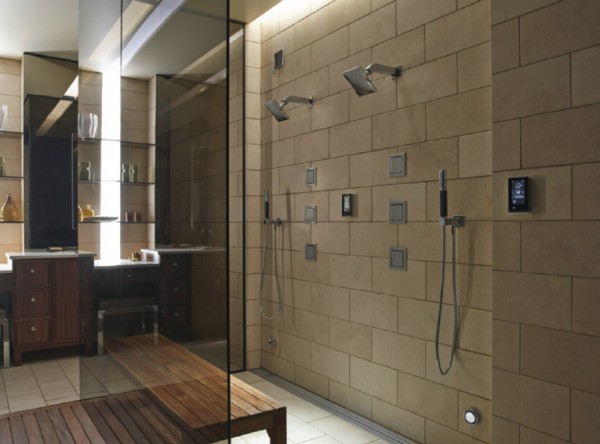 "More homeowners choose transitional than the other two styles combined, often to protect their investment and to make resale easier," she adds. "[They] can also avoid dating a remodel by choosing a brushed nickel or polished chrome finish for faucets and accessories. Both of these finishes are virtually timeless and will not date a remodel to a specific period."
The vanity area is another area homeowners can change and is less intrusive in terms of remodeling. That could include new mirrors, updated medicine cabinets, faucets, light fixtures or plates and, of course, the countertop.
"Normally [the vanity] sits on top of the tile floor so you can remove it without snowballing into something much larger," explains McHales' Certified Kitchen and Bath Designer, Doug Mottershead. "Plus you can put a new toilet in, a boutique cabinet over the toilet, which adds more storage and a certain amount of beauty to it. Sometimes people will have a tub with a shower on it and they'll switch [the curtain] to a shower door. All of these things can happen without changing the tile."
When it comes to countertops, the latest trend is quartz—marble's new competitor.
"We do a lot of quartz in the bathrooms instead of natural stones because quartz is really durable in the bathroom and much less in the kitchen," Reisbord explains. "[Quartz has] a consistent product line and their prices have now come to the point where they're competitive."
When choosing a countertop, you can keep costs down by opting for an off-cut slab from local manufacturers. "Ask them for a remnant piece of slab so that you're not buying a brand new piece out of a major slab," suggests Pesce.
Lastly, updating a shower can also be a budget-friendly solution. "A quick facelift can [also] be achieved with a new shower enclosure," says Ben Weaver, auto and retail general manager of Alderfer Glass Company. "It can really transform a bath while keeping expenses limited [and] you can avoid costly plumbing and general contractor expenses if you don't alter the footprint of the bathroom."
Big change for a big budget
When it comes to a full-scale bathroom remodeling job, there are some obstacles homeowners should consider.
For instance, if you're looking to replace floor tiling, keep in mind it might lead to the removal of anything that rests on the floor, which could include the bath, shower, toilet and/or vanity area—depending on the home's age. Another thing to remember is if a tub or shower is being pulled out, you run the risk of compromising the abutting floor tile, which would require replacements of either the same tile or completely different ones.
"Everything is interconnected," warns Cerami. "A lot of this kind of leads into full remodels. Sometimes it's difficult to do partial remodels because there's fallout, there's cause and effect. ...When you start talking about tile, you're into it because there's no quick way to do that."
With that, experts reveal the one popular change amongst homeowners is replacing a soaking tub—much like a Whirlpool—in favor of a spa-like shower space. "Those giant tubs, which are a thing of the '80s and '90s, are a big space waster and they end up being planters because no one ends up using them," says Reisbord. "We'll put a freestanding tub in there—not the claw ones—but more sleek looking."
One option is a freestanding tub with an accompanying floor-mounted tub filler. "This allows a homeowner to place the tub virtually anywhere in the room because the water supply to the tub filler is installed up through the floor," explains Spinosa. "If a homeowner is not willing or able to take up their flooring to access the plumbing, they install the tub filler on the wall above the tub."
If you're worried about removing a bath, experts reassure customers that as long as there's one tub in a home, it won't hurt the resale value. "[Homeowners will] shrink the tub, keep the tub in the room for resale value and use the space to enlarge the shower and get a luxury shower, [which] includes some kind of seating and a frameless glass," adds Mottershead.
What's on trend
When homeowners go with "luxury," that's where trends come into play. Most experts have seen an uptick in spa-like features when it comes to updating a shower. As Mottershead reveals, "I always find, the higher the pressure of the job somebody has, the more they seem to want luxuries to try to blow off steam—pun intended."
Those luxuries include heated floors, steam showers or enlarged shower space—which include frameless enclosures with no threshold—body sprays or a rain shower head. "We see a lot of things happening that's key to making the room comfortable and enjoyable," says Cerami. "First we see a movement toward a more minimal, contemporary, transitional design even in very traditional homes."
Yet, with all of these luxuries at a homeowner's fingertips, experts are quick to add they require a lot more work to install. That could include tile replacements, water pressure adjustments, new piping and/or ramifications on the space's construction. "[If] you're making much more elaborate changes, it takes much longer to do and it drives the cost up," says Mottershead. "But it gives you the most bang for your buck as far as visually."
As for a room's aesthetic, there's also been a movement toward larger floor tiles of varying material. "Tile is not your square 6 by 6 or 12 by 12 anymore," Reisbord explains. "People are doing everything from planked wood-like tile and the average now is a 12 by 24 with an offset pattern. Again it doesn't look necessarily contemporary, it's just nicer than having little squares."
In the end, a bathroom remodel comes down to a homeowner's needs, budget and of course, what's showing the most age. Experts suggest doing preliminary research for the best products and tradesperson or company to do the job, along with narrowing down must-haves, but as long as you can blow off steam in your happy place, that's what matters.
RESOURCES
Alderfer Glass Company
Telford, Pa.
(215) 723-1192
AlderferGlass.com
Beco Kitchens and Baths
Morrisville, Pa.
(215) 240-4850
Beco-Designs.com
Diamond Kitchen & Bath
Huntingdon Valley, Pa.
(215) 752-4400
DiamondKB.com
Hometech Renovations Inc.
Fort Washington, Pa.
(215) 646-7477
HTRenovations.com
McHales Inc.
Levittown, Pa.
(215) 493-3399
McHales.Net
Weinstein Supply & Bath & Kitchen
Collegeville, Pa.
(610) 409-2800
BetterBath-Kitchens.com
Published (and copyrighted) in House & Home, Volume 16, Issue 8 (February, 2016).
For more info on House & Home magazine, click here.
To subscribe to House & Home magazine, click here.
To advertise in House & Home magazine, call 610-272-3120.