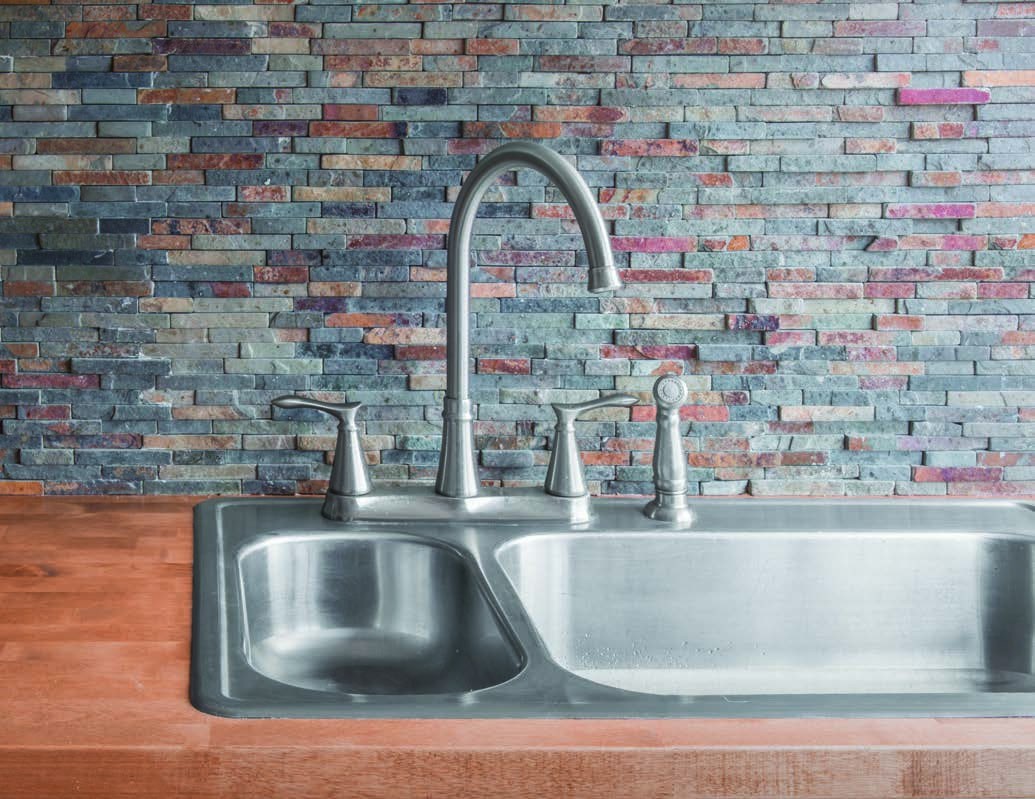 If you were to take a minute to think about the most utilized room in your home, which would it be? Your initial reaction would probably be your living room, and while that space does get plenty of love, it's likely there's a place that is even more utilized. Think about it. Where do you put together your snacks when you're getting ready for a nice Netflix night in? And when the family is over, where does everyone seem to congregate?
The kitchen, of course.
And no doubt at least once you've been standing at the sink day- dreaming about what you'd do differently in there if you were ever to upgrade the space or shop for a new home.
Better lighting? A wine fridge? How about an island with a builtin sink? The options are endless, and to tie it all together, a unique— or more contemporary—backsplash could really help you enjoy the time you spend in this room.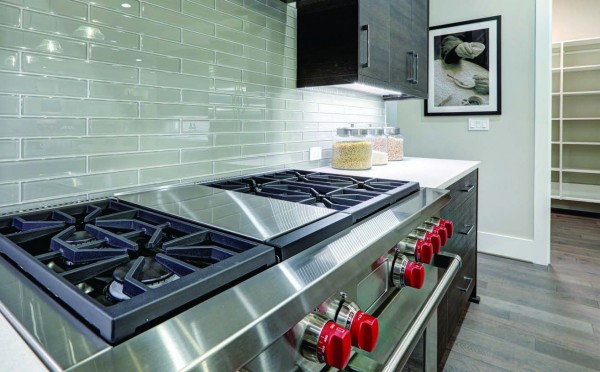 "Oftentimes the backsplash is what defines the style of your space," says Marina Chekanov, a designer with HomeTech Renovations. "For example, a kitchen with a plain slab door style—add a simple 2-by8-inch tile in stacked bond pattern, and your kitchen is more contemporary. Add an ornate jewel glass mosaic tile and your kitchen is more traditional or Mediterranean."
With so many options and variables that can go into creating the perfect backsplash, it's important to familiarize yourself with all that is available and choose the design that is right for you.
WHERE TO START
If you were to find yourself in a position to add or update the backsplash in your home, experts suggest to find what fits your style and the style of your kitchen—not necessarily what's the most popular at the time.
 "What I've found is that when someone is trying to keep up with the trends—like a glass backsplash or some of the other things that seem to be in style—they get tired of it very quickly," says Mike Werner, a sales account manager for AAA Hellenic Marble.
The goal of the backsplash is to tie the kitchen together and make it look finished. In some cases, this may mean the backsplash acts as a more dramatic piece to a subtle kitchen. In others, it is the standout piece in an otherwise conservative setting.
 "What do you care more about being the focal point?" Werner asks. "Figure that out and tie it all together."
Eldi Gjoci, owner of Stone House Marble Granite Tiles, agrees. "A backsplash is the bow on a package," he says. "Tastefully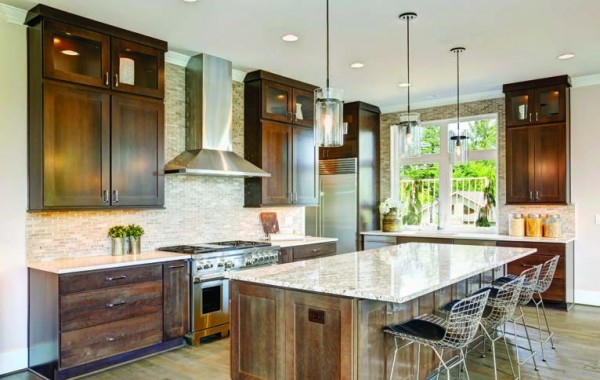 done, it enhances and ties together all of the other materials which ensures the final style of the room.
 "When you walk into the space, you should go, 'Ahhhh,'" he continues. "Not having any one thing stand out too much where you cannot see or envision the original concept of your project. "Whether going bold in color, textures, and pattern, or more monochromatic, be sure to put your personality, your mark, into it, especially for the one-and-doners," Gjoci concludes.
CONSIDERING OPTIONS
The sky is the limit, really, when it comes to options for backsplashes. It truly all depends on the look and style you're going for.
 "Subway tile is currently the leader when it comes to popularity because it's universal when it comes to style," says Chekanov. "It can complement a traditional style as well as have a sleek and modern look. While white, 3-by-6-inch subway tile is a classic choice these days, there are so many sizes and material combinations to choose from."
Honed marble, handmade tile and glass are a few options Chekanov suggests, though she says ceramic and porcelain tiles are more common and budget-friendly.
You're also not relegated to straight lines with tile, she adds.
 "Different tile shapes correlate to different styles," she says. "Your basic rectangle works with any style. Aside from your running bond pattern, some more popular patterns are the stack bond for more modern designs and herringbone or chevron patterns in your traditional designs."
Of course, there is the option to step completely out of the box and away from tile all together, says James Freeman, chief operating officer of Colonial Marble & Granite.
 "We're seeing more full backsplashes where the countertops and the backsplashes match," he says. "[Homeowners are] moving away from the tile because they want a seamless, full body look."
For the more full-bodied look, Aubrey Foster, a sales representative with Bridgewater Marble & Granite Works, says people have started to use a number of materials.
 "Granite, marble, travertine, engineered quartz," she lists, noting, "Quartz is generally OK unless you have high heat near it. Engineered quartz doesn't do well in high heat because it can re-melt."

Foster says most of the time what customers will do is put a solid piece of stone behind the stove and then install very simple tile everywhere else. That's not always the case, though.
 "We recently did a job that had an all-marble slab wall covering," she says. "It was from the floor to the ceiling, even behind the cabinets, which had clear windows."
When it comes to utilizing less-traditional options, Werner says to keep maintenance and your budget in mind.
 "Not only is ceramic and porcelain moderately priced, but it's very easy to clean," he says. "Natural stone tends to be more porous; but to wipe a sealer  on the backsplash twice a year really is not a huge concern in the grand scheme of things."
Gjoci adds that as with most options homeowners have, there are always reasons to select or veto certain possibilities.
 "Unique tiles such as metal,  bead board, chalkboard, natural stones and sticky tiles have pluses and minuses," he says. "Metal tiles are much more expensive along with additional installation problems that could arise, such as scratching of the metal finish and end/finish of the run.
 "Some of the aforementioned  options, such as bead board and chalkboard," he continues, "should be used as accents in areas that do not get splashed on in everyday use of a kitchen."
BRINGING IT ALL TOGETHER
Admittedly, a backsplash is not on the top of the to-do list when it comes to updating or building a new kitchen. But it can be an important piece that finishes the space and makes it a great place to spend time and entertain.
 "I think the backsplash is a complicated choice for people,"  Freeman says. "We all want to rush forward to a completed  kitchen, but you don't have to pressure yourself."
Instead, Freeman suggests to go ahead and complete the project and spend some time in it, so you can get a feel for what you really want your backsplash to represent.
 "Take in what you have and then make a decision," he says. "A kitchen is a big project for a lot of people. Take pause and live in the environment and come back and put in what you really want."   
RESOURCES
AAA Hellenic Marble
West Chester, Pa.
(610) 344-7700
AAAMarble.com 
Bridgewater Marble & Granite Works
Bridgewater, N.J.
(732) 560-1717
BridgewaterMarble.com 
Colonial Marble & Granite
King of Prussia, Pa., Philadelphia, Pa., and New Castle, Del.
(610) 994-2222
ColonialMarble.net 
Home Tech Renovations
Fort Washington, Pa.
(215) 987-4092
HTRenovations.com 
Stone House Marble
Granite Tiles
Bucks County, Pa.
(215) 750-5000
StoneHouseMarble.com 
Published (and copyrighted) in House & Home, Volume 18, Issue 12 (June 2018). 
For more info on House & Home magazine, click here. 
To subscribe to House & Home magazine, click here. 
To advertise in House & Home magazine, call 610-272-3120.