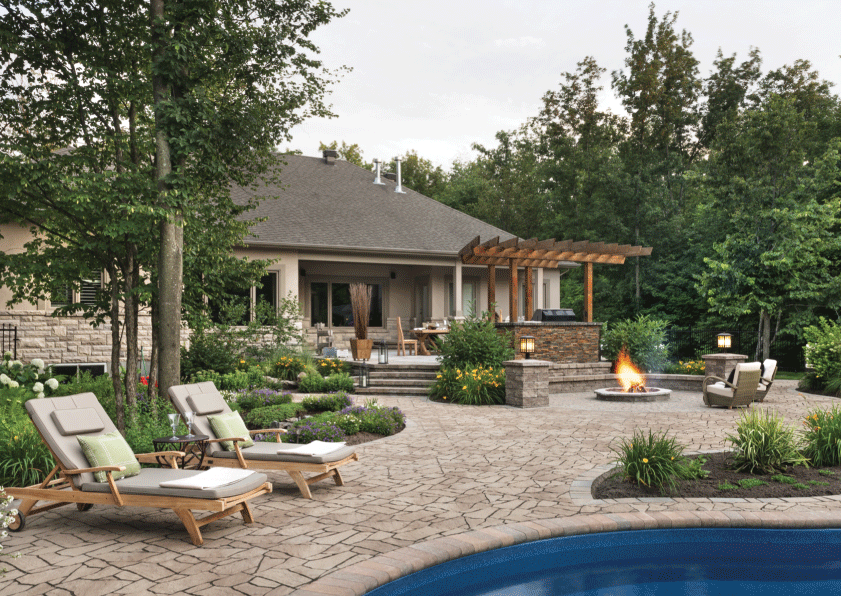 A beautiful property is king. It makes homes more desirable and homeowners more proud of their investment. It also is an area ripe for creativity and self-expression, with materials, colors, amenities and vegetation working in harmony for the greater good. Your outdoor area is more important now than ever before.
Most-wanted list
As their daily lives become busier, homeowners don't want products or plants that need constant care.
"By carefully selecting plants that will thrive in a particular location, the designer can cut down on the pruning and watering necessary to maintain the landscape," says Mike Borsello, owner/CEO of Borsello Landscaping. "Landscapes that are designed as a part of the surrounding ecosystem tend to be more sustainable and offer greater variety of experience than your average foundation plantings."
Lowering water consumption has become popular so ultra-low water consuming landscapes, known as Xeriscapes, have increased as well. In addition, by choosing a landscaper with horticultural expertise, you better ensure a garden that will thrive without fertilizers, herbicides and other environmentally detrimental maintenance techniques, he says.
Experts say homeowners today have done their research on trends and added amenities.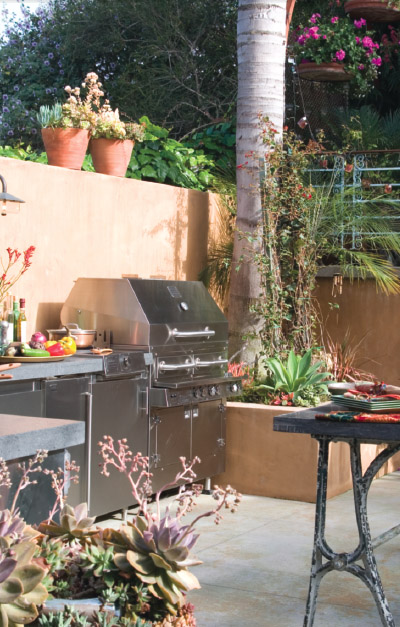 "People are looking for an all-inclusive landscape job," says Rory McCloskey, general manager, EP Henry Roxbury. "Gone are the days of a simple patio with a little walkway." This could mean adding a simple fire pit, a custom outdoor kitchen, raised patios, outdoor fireplaces and more, thereby adding value to your home and your quality of life. "After the recession, we saw a shift toward a more mature and educated marketplace. People who are looking to purchase are people who have done their homework and plan on spending their money wisely," he says.
Homeowners also want to maximize the use of the space.
"Whether the client has an early 20th-century farmhouse or lives in a major housing development, they want amenities," says Dean Stafford, owner of Dean's Landscaping, LLC. "They want outdoor spots that will be more useful and more akin to their lifestyle. They want a space to enjoy, gardens that surround it, maybe where they can grow vegetables and herbs, or a butterfly garden. They want it to be an integrated part of the home."
Having the ability to use the space throughout the year is also essential.
"[Homeowners] enjoy family and entertaining, and want to be able to have all sort of functions in these spaces," says Steve Compton Jr., of CKC Landscaping. "Even more so, there is a level of involvement people want with their outside. They're recapturing the space. They might want covered areas and extended roofs so they can use spaces in different weather. Or use the space under a second-story deck. Or a nice and cozy outside room. But they don't want bare bones. They're investing in homes and properties and they want to knock it out with bells and whistles." And they want to use it at night and off-season, he says.
Introducing texture and color
Incorporating hardscaping is also essential in many projects.
"Hardscaping is a luxurious way to enjoy the outdoors," says Borsello. "Simple stone walkways can be wound through the gardens, and stone-sitting walls can be nestled in for the perfect view," he says. Permeable hardscapes can be built to allow for infiltration of rainwater. "This creates less of a strain on the surrounding environment and the local water management systems."
While it used to be very common to use one style of paver for a job and use the same color for walls, variety is the choice now, says McCloskey. "As the hardscape industry advances and the market matures, we are finding more homeowners looking for something unique. This trend is taking hardscape designs to new heights, incorporating different colors and styles into one job. Gone are the days of simple, uniform jobs."
When it comes to variety, Stafford is all for it. "We talk about it from the first consultation—bringing in diverse, complementary textures, colors and smells," he says. "You can have something quiet next to something bold. People are open to new materials and patterns. And that goes with larger items, like having a space with a raised island and a kitchen near where they have gardens and plant life. This creates not only a destination backyard but also allows them to build a connection with nature."
Blooming plant life for the duration of spring, summer and fall is another aspect of a successful landscape design.
"If people like a color, they want to be able to see that color year round. They don't want 10 months of green and only two months of color," says Compton. "I suggest they have those colors in areas they see the most, spots where they'll be able to enjoy them. What I don't like are landscapes that look like they've been installed five years apart. They need flow, items and materials that work together."
Experts also mention incorporating lighting, music, pergolas, pools and water features into the space. More than ever before, the outside world can be more of what you want it to be. From technology to variety to ways to use it, the only thing that limits you is your imagination.
(Header photo courtesy of TechoBloc. In-story photo courtesy of Kalamazoo Outdoor Gourmet.)
RESOURCES
Borsello Landscaping
Hockessin, Del.
(302) 472-2600
BorselloLandscaping.com
CKC Landscaping
West Chester, Pa.
(610) 436-1810
CKCLandscapingInc.com
Dean's Landscaping, LLC
West Chester, Pa.
(610) 793-2386
Deans-Landscaping.com
EP Henry Roxbury
Ledgewood, N.J.
(973) 970-9964
EPHenryRoxbury.com
Published (and copyrighted) in House & Home, Volume 16, Issue 9 (March, 2016).
For more info on House & Home magazine, click here.
To subscribe to House & Home magazine, click here.
To advertise in House & Home magazine, call 610-272-3120.