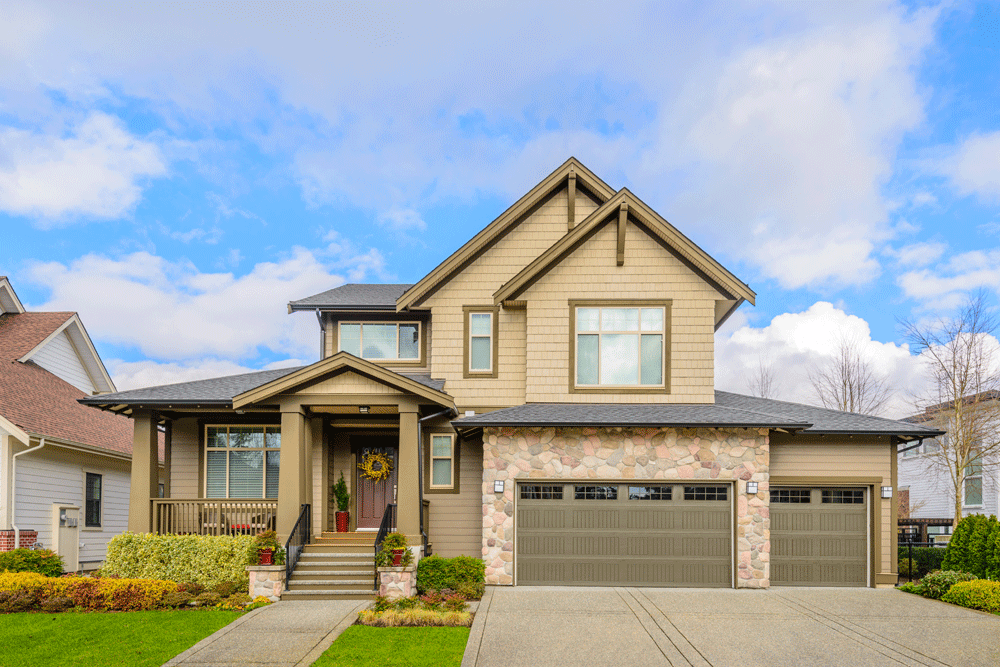 The driveway is one of the first elements of a home that people see. In the real estate world, they've often been nicknamed the "welcome mat to the home." A well-maintained and beautiful driveway can give a major boost to the overall curb appeal of your property. There are several options when it comes to paving your drive and each has different pros and cons to consider. We've explored four of the most popular.
Gravel
The least expensive of the options, gravel is one way to do a driveway. Because it's available in different colors, you can customize the right look to your home. Some also like the feel of a country lifestyle that gravel adds, including the sound of crunching rocks as a car pulls up.
"The biggest pros to gravel are that it's inexpensive and it provides somewhat of a rustic, country look, which some might find complements the look of their home," says Drewe Schoenholtz, owner and president of The Green Scene. "But a big disadvantage is the maintenance. You can get a ton of grass and weeds growing through and of all the driveway options, gravel has the highest degree of maintenance. In our region, where we get a lot of snow, it can also be a pain to shovel."
Though gravel might initially be a big cost savings, the maintenance factor definitely needs to be weighed. It's also important to note that gravel has to be replenished fairly often.
Asphalt
Probably the most common driveway material, asphalt has a lot of benefits. It's relatively inexpensive, it's easy to maintain, and it has a nice, clean look.
"Asphalt doesn't stain like concrete or paver blocks," says Bill Williams, owner of United Paving Contractors. "You have to remember that a car does drip fluids like oil and that can easily leave stains behind on other materials. People like asphalt because it's low maintenance. A seal coat every so often helps it look better and seals up cracks. It's easy to plow in the winter and it holds up well in our region."
Low maintenance may seem like a plus, but there are caveats.
"You can basically ignore asphalt and it holds up fairly well," adds Schoenholtz. "With that being said, nothing lasts forever and it will eventually crack. Sealing it every so often will help. Another downside might be the originality factor. As the most popular driveway option, it's certainly not the most original."
Concrete
A basic concrete driveway is similar in price to asphalt. It's relatively durable and easy to plow but, like asphalt, can crack—particularly during the freezing and thawing cycles we have in this part of the country. As mentioned before, it can also stain. However, for the most part, it doesn't require a ton of maintenance and it also has the option to be customized. While that will raise the cost, it will also raise the curb appeal and originality.
With a product called stamped concrete, homeowners can get creative, says Chris McMahon, president and CEO of Architectural Concrete Design (ACD). Stamped concrete—also known as "imprinted concrete"—can basically be made to look like other materials such as slate, flagstone, cobblestone or brick. As a replica of a more expensive material, you can still have the look of a unique brick or cobblestone driveway without paying the high price of the real thing.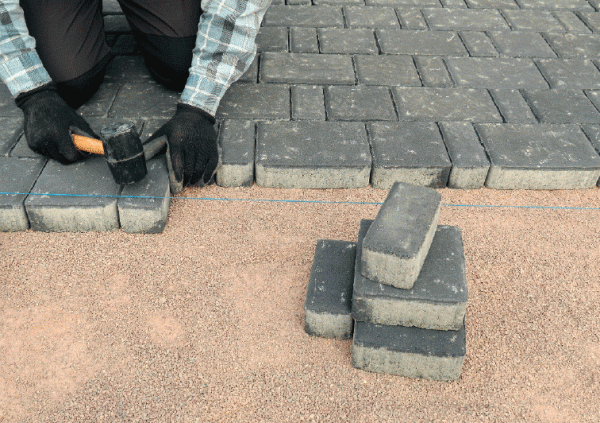 ACD also has its own line of stamps and homeowners can choose from a wide array of stamp designs as well as a large palette of colors that can be mixed and combined to create customized looks. Color selection is key in creating a natural and authentic appearance that can complement the home.
Pavers
At the highest end of the four options discussed are pavers, which also give you a ton of options to make a driveway truly your own. From a range of materials, colors and designs, pavers can make your house stand out from the rest. With this option it's also incredibly important that they're installed properly so that the long-term maintenance is kept at a minimum.
"The top-of-the-line for driveways is pavers, which are far and away the most beautiful option," Schoenholtz says. "Of course, it's also the most expensive, which is why not everyone does it. While pavers can stain, the nice thing is that they're easy to replace. If you do get a stain on a few pavers, we can throw them away and install new ones rather than having to rip everything up."
Schoenholtz says that homeowners can also get extremely creative and do custom-oriented designs using pavers.
"For example, I've done a basketball court on a driveway using pavers," he says. "And you can create other designs or lay the pavers in a certain pattern. They're also highly durable. The lifespan of pavers could easily be 20 or 30 years—maybe more—if not terribly abused in some way. They're a very durable option."
RESOURCES
Architectural Concrete Design
Levittown, Pa.
(877) 843-4373
ACDConcrete.com
The Green Scene
West Windsor, N.J.
(609) 333-8540
TheGreenSceneNJ.com
United Paving Contractors, LLC
Deptford Township, N.J.
(856) 302-5212
INeedPaving.com
Published (and copyrighted) in House & Home, Volume 16, Issue 10 (April, 2016).
For more info on House & Home magazine, click here.
To subscribe to House & Home magazine, click here.
To advertise in House & Home magazine, call 610-272-3120.