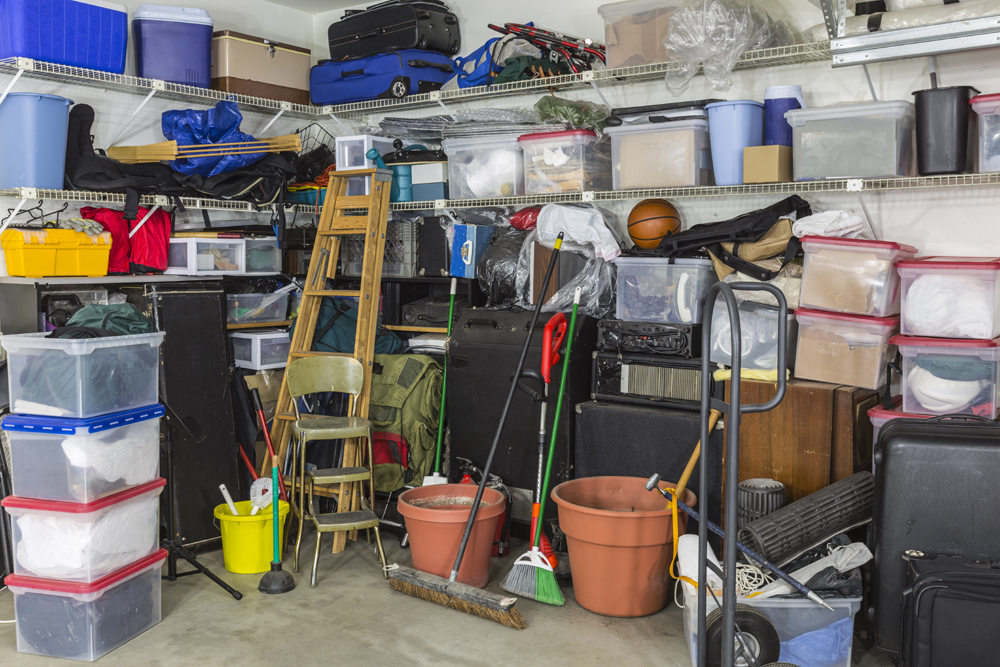 Let's face it —in hectic everyday lives filled with late nights at the office, painfully long commutes and whisking the kids to baseball practices or dance lessons, it's not always easy to run an organized household.
That especially rings true in the garage, usually the first area in a home to suffer from the chaos. The garage becomes a hodgepodge of snow shovels, tools, beach toys and those skis you haven't found time to use in years. It's always a tight squeeze to pull the cars in, if they fit at all.
The good news is that a solution to the clutter is not as daunting as it may seem. Utilizing cabinetry, hooks, shelving, overhead storage systems and perhaps even a new floor, a garage makeover can be completed in a matter of days and make all the difference. House & Home spoke with local experts to get tips on the important areas to focus on in a garage makeover.
A good first impression
One of the reasons a tidy garage is so important is that many people use it as the main entrance to their homes, for themselves or guests.
"People don't use their front door anymore," says Aaron Lewis of Closets for Less of Bucks County. "They pull their car into the garage and just go in from there. Even when they have friends and relatives over, they open up the garage and let them come in that way. So you don't want people coming in and the first thing they see is a messy garage, because then they'll think your whole house is like that."
Along those same lines, Les Hutton of GarageTek of North and Central New Jersey points out that an organized garage is a key element when selling a home.
"Sometimes people want to sell their house and they've fixed up everything else in the house, but the garage is an eyesore," he says. "You're trying to increase the marketability of your home and there's literally a subtle, psychological impact when people walk in and see your garage is fin- ished extremely well and the clutter is gone. They'll think you really care about your house and not worry about other sur- prises in the home."
Of course, most of the time a garage makeover is for the peace of mind of the home- owners themselves and not for resale purposes. Finishing the space can help make it flow with the rest of the home.
"Usually it's the one part of the house they haven't taken care of," Paul Greskovich of Garage Craft Interiors says. "Right now it's a non sequitur and we help make it belong, so that it's another room in the house. It's where they park cars and keep their stuff, but it's in order and it fits with their lifestyle."
Clearing the clutter
One of the first steps in a garage makeover is determining which items you want to keep, assessing the space and finding the best way to store everything.
"People just want everything off the floor," says Nadine Holtz of Closets by Design of Northern New Jersey. "You want to be organized and have a place for all of your stuff. There's a way to store everything, from your golf clubs to your skis to your gardening tools." Cabinetry has become a popular option in many homes to store items in the garage, both for appearance and functionality.
"Cabinetry is really starting to take off because people want their stuff put away," says Mark Bakley of Garage Concepts of New Jersey. "They don't want it exposed. You can use cabinetry for beach chairs, garden tools, paint, stuff like that."
"Tall, deep cabinetry is a great place to store items that you want to keep dust- and dirt- free, like sports equipment and lawn cushions," agrees Carolyn Francis of Bella Systems. "Cabinetry is also great to store poisonous lawn care items, to keep them away from small children. We have also designed cabinetry for the overflow pantry items like water bottles, paper products, soda, etc."
Garage cabinetry is available in many sizes and mate- rials, including metal, engineered wood, PVC and laminate. "Cabinetry comes in a vast array of materials now," Eric Wheary of Closet City says. "Virtually anything is attainable. As in much of every- thing in life, you get what you pay for."
When cabinetry isn't an option because of space limitations, there are various wall sys- tems available that are both capable of holding various items and add a finished look to the garage.
"People are not putting pegboard on their garage walls anymore, they're putting [up] what's called slatwall," Lewis says. "It's made out of heavy plastic and it gives a better look than the pegboard. It's more functional, too. You can hang bikes on there, garden tools, ladders and hoses."
"Often there is not enough room for cabinets and the client's car, so we use one of several wall-hanging systems," Wheary says. "Hanging hand tools, garden tools, etc., gives you an instant visual of what you're looking for versus opening doors and drawers. You can also get items off the floor during the offseason like kids' bikes."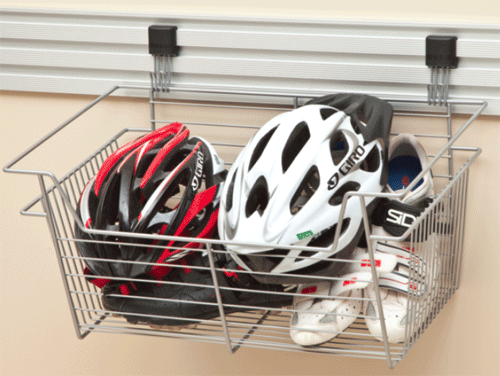 For seasonal items that aren't being used often—think Christmas lights or beach umbrellas—it makes sense to utilize the vertical space in a garage.
"I use an item called the Heavy Lift, which is a 4-by-4 platform on an awning crank that allows you to bring it down to waist level," Greskovich says. "You can pile on your big plastic bins or cushions from your lawn chairs, so you can get them up and out of the way."
"We install many over- head storage racks in garages with high ceilings," Francis adds. "They are perfect for storing holiday decorations and [pool] toys for the kids. They come in many sizes and weight limits."
Finishing touches
Once everything is off the floor and safely tucked away in cabinets or hanging on the walls, it's time to add any finishing touches to the garage, and that often includes a new floor.
"The floor is where the sizzle is," Greskovich says. "That completes the room and ties it all together, and it allows you to keep the room much cleaner. On a finished floor, you can see where the dirt is and get rid of it, and it doesn't just migrate all over the place. So you get much less dirt in your home."
"Everybody wants their floors done," Bakley says. "I would say about 70 percent of our customers ask for that. We get calls from people who just want their floors done, just to make it look nicer."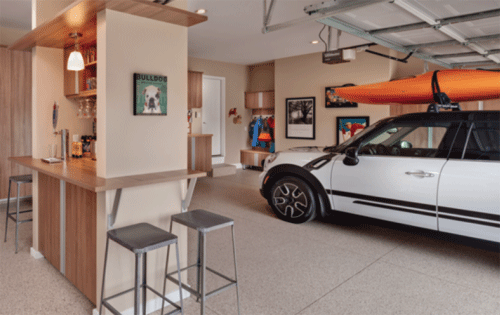 One option, Greskovich says, is RaceDeck flooring, an interlocking system often found in showrooms into which fun designs can be incorporated. He just included a Harley Davidson logo in a garage floor he installed for a bike enthusiast.
Epoxy floors are also widely used, although Hutton prefers installing a polyurea floor. "To someone who is not familiar with it, it would look like an epoxy floor, it's just a much better chemistry," he explains. "Epoxy floors are prone to cracking and chipping and they're not UV stable if you have the garage doors open. Our coating can be done indoors or outdoors, like for pools or patios or steps.
"That's a finishing touch. Most people who do that have an ugly, nasty floor, and everything else they've tried has failed. You can never guarantee that the concrete won't continue to settle, but you can seal it and protect it from dirt, grime and automotive chemicals. It's stain resistant to gas, oil, road salt and transmission fluid—all the stuff you would find in a garage."
Other features that can be added are workbenches, gardening stations, play areas for children or designated workout spaces.
"We can also do a shoe closet, because a lot of people like to take their shoes off before going into the house," Holtz says. "It just depends on the family and what's going on in the house."
*Lead photo courtesy of Premier Garage
*First and second photos courtesy of ©ORG Home

RESOURCES
Bella Systems
Medford, N.J.
(856) 286-1011
BellaSystemsPhilly.com
Closets By Design of Northern New Jersey
Carlstadt, N.J.
(201) 964-9600
NorthNewJersey.ClosetsByDesign.com
Closet City
Montgomeryville, Pa.
(215) 855-4400
ClosetCity.com
Closets For Less of Bucks County
Southampton, Pa.
(215) 660-3080
Closets4LessBucks.com
Garage Concepts of New Jersey
Cape May Courthouse, N.J.
(609) 643-4838
Garage Craft Interiors
Warminster, Pa.
(800) 997-9769
GarageCraftInteriors.com
GarageTek of North and Central New Jersey
Stirling, N.J.
(877) 786-0577
GarageTekNCNJ.net
Tailored Living featuring PremierGarage
(866) 675-8819
TailoredLiving.com
Published (and copyrighted) in House & Home, Volume 16, Issue 12 (June, 2016).
For more info on House & Home magazine, click here.
To subscribe to House & Home magazine, click here.
To advertise in House & Home magazine, call 610-272-3120.