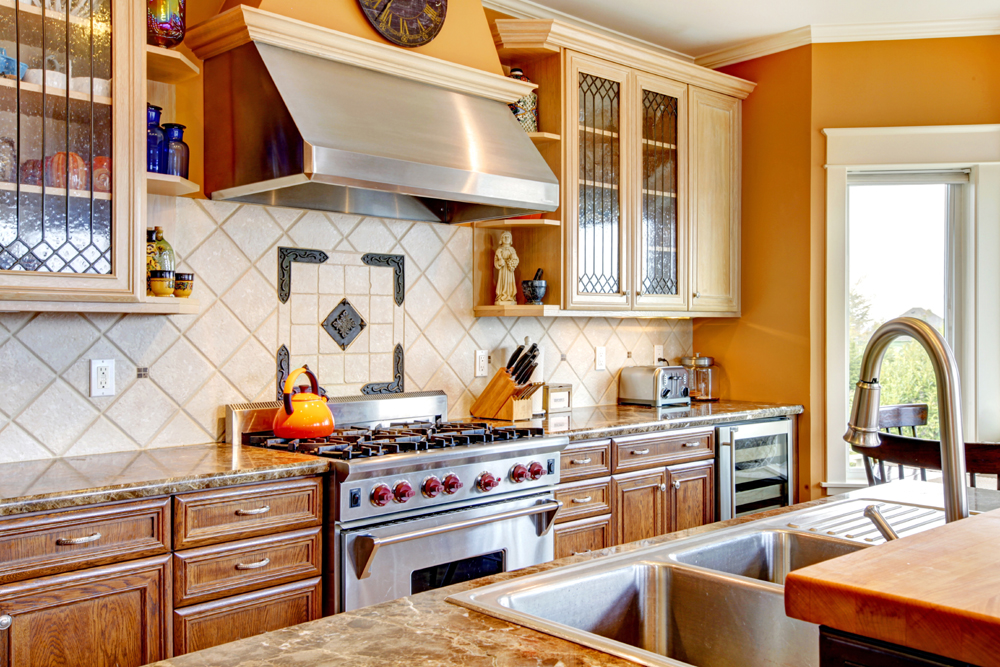 There might be no bigger inducer of the surprise gasp than a beautiful kitchen backsplash. After admiring the room's flooring and countertops, and looking longingly at the high-end appliances, it's then that you notice the impeccable personality of the kitchen's backsplash. Sometimes the unsung hero of a kitchen's design, the right backsplash—whether it has dimension or displays a fancy design— gives your kitchen that final touch you'll appreciate for years.
Why you need a backsplash
Many people appreciate the aesthetic value of a backsplash without realizing the functional purpose it serves in a kitchen.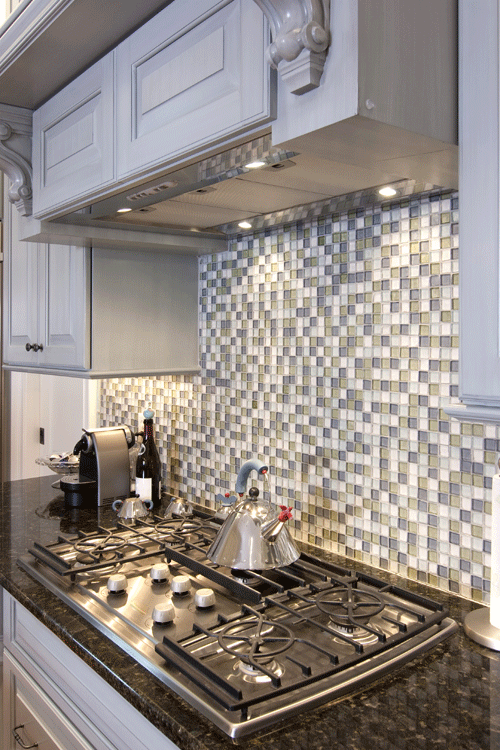 "From a functionality stand- point, the backsplash is used to protect your walls," says Nicole E. Cummings, staff designer for HomeTech Renovations. Spaghetti sauce splashes are much easier to clean up on a tile backsplash than on a painted drywall surface, for example. "The backsplash area generally gets a lot of wear and tear behind the range and behind the sink area. The backsplash is used as a protective surface. Tile and stone can withstand the heat, grease and water," she says, "so your backsplash area is going to look fresh and new for a longer period of time."
Prolonged exposure to water on a wall without a backsplash could trigger mold formation or begin warping the painted wall. Backsplashes also close the gap between the countertop and wall, preventing water from dripping behind and doing unseen damage.
But just because something is utilitarian, doesn't mean it can't be attractive.
"[Backsplashes] make the kitchen look nicer while protecting the walls from water, stains and food," says Lucie Kzelian, manager of Imperial Marble & Granite. "Nearly 99 percent of our clients think adding a tile backsplash adds so much to the kitchen."
Industry professionals say kitchens without a backsplash seem almost incomplete.
"To me, the purpose of the backsplash is to give a finished look to the kitchen," explains James Freeman of Colonial Marble & Granite. "A blank wall makes it look incomplete. The backsplash is the final piece to bring it all together. Yes, ultimately, having a solid back- splash protects from water, etc. But mainly it is an element of décor."
It's also an opportunity to be creative and let your personality show through.
"The backsplash is typically a small portion to a kitchen renovation but it [usually] becomes a major focal point," says Cummings. "A kitchen without a finished backsplash is like an outfit without the accessories. I see the backsplash as the finishing touch to your kitchen area that brings everything together."
Popular design trends
Many different materials and layouts are used for back- splashes.
"It really depends on your personal style preference," says Cummings. "We are seeing more transitional to contemporary kitchen designs so the backsplashes are leaning to a clean and simple look." For this she uses a simple tile or stone that will work with the established color palette. "I like to use a subway style look in a variety of different sizes and as a featured accent behind a cooktop or sink area. We are using a lot of open shelving instead of wall cabinets so we are seeing a lot of backsplash material moving past just the typical 18 inches and extending up the full wall to create a feature wall with the backsplash tile," she says.
Working for a company where she does free design consultation, Kzelian knows the diversity available in every back- splash. "If you like granite, you would most likely want a backsplash that is the same as the counter. In fact, the best is one solid piece of granite," she says. "But tiles are completely different. There are so many sizes, colors and materials for all preferences of tile."
She talks of glass and stone mixes, standard and random sizes and a seemingly endless array of colors. "Typically people want the backsplash to be a lighter color than the countertop. But maybe you want something that adds flair, like ivory or beige with glass accents to complement the counter and go with the cabinet doors," Kzelian says, adding her one rule of thumb, "If stone has a lot of movement, I suggest keeping the backsplash fairly solid. If you have a solid countertop, though, a busy back- splash draws a lot of attention."
Devinn Bua, owner of The Kitchen Shop, agrees that there are many materials being used today. "You have ceramic, porcelain tile, tumbled marble, stainless steel and many others. Quartz or granite are sometimes used but can be very expensive. I'd say about nine out of 10 are tile backsplash, but we are seeing glass used with the tile as well as more copper and stainless steel," says Bua.
Freeman says a tremendous number of clients have been drawn to travertine backsplashes. "That is our most popular material. People like natural stone, and stacked stone adds dimension," he says. There is also a buzz around glass inserts, diamond onyx, copper mosaics or copper accent pieces, as well as Carrara or Calacatta marble. Freeman adds that ideas like using a bullnose or step piece instead of the usual two-inch piece adds a lot, as does having a beveled edge or using a pebble and ledger panel.
"The countertop is the centerpiece of the room," says Freeman. "So look for an option that complements and does not compete with it." For example, if you have a mosaic—which is dominant and busy—you might want to look for a decorative element. You have to consider movement and color variation, says Freeman.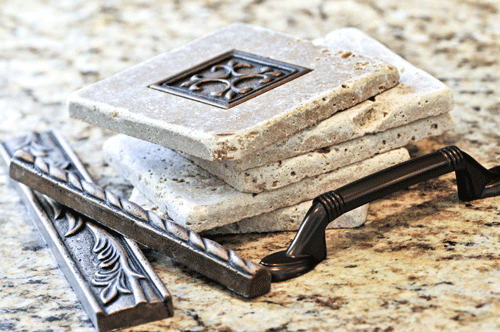 Cummings is seeing new patterned mosaics and more three-dimensional tile coming out, rather than the typical flat look.
"[Y]ou can use a slab mate- rial for your backsplash to create a less fussy-looking backsplash. If you have a really beautiful slab with a lot of movement, continuing it up the backsplash will give you a very clean and con- temporary look," she says. "You can mix and match so many different tiles with the same countertop; there isn't one good backsplash material for each countertop. It all comes down to personal preference and what the client is looking for."
RESOURCES
Colonial Marble & Granite
Locations in King of Prussia, Philadelphia, New Cumberland, Pa., and New Castle, Del.
(610) 994-2222
ColonialMarble.net
HomeTech Renovations
Fort Washington, Pa.
(215) 646-7477
HTRenovations.com
Imperial Marble & Granite
Essington, Pa.
(610) 521-0130
IMGStone.net
The Kitchen Shop
Pequannock, N.J.
(973) 633-5556
TheKtichenShopNJ.com
Published (and copyrighted) in House & Home, Volume 16, Issue 12 (June, 2016).
For more info on House & Home magazine, click here.
To subscribe to House & Home magazine, click here.
To advertise in House & Home magazine, call 610-272-3120.