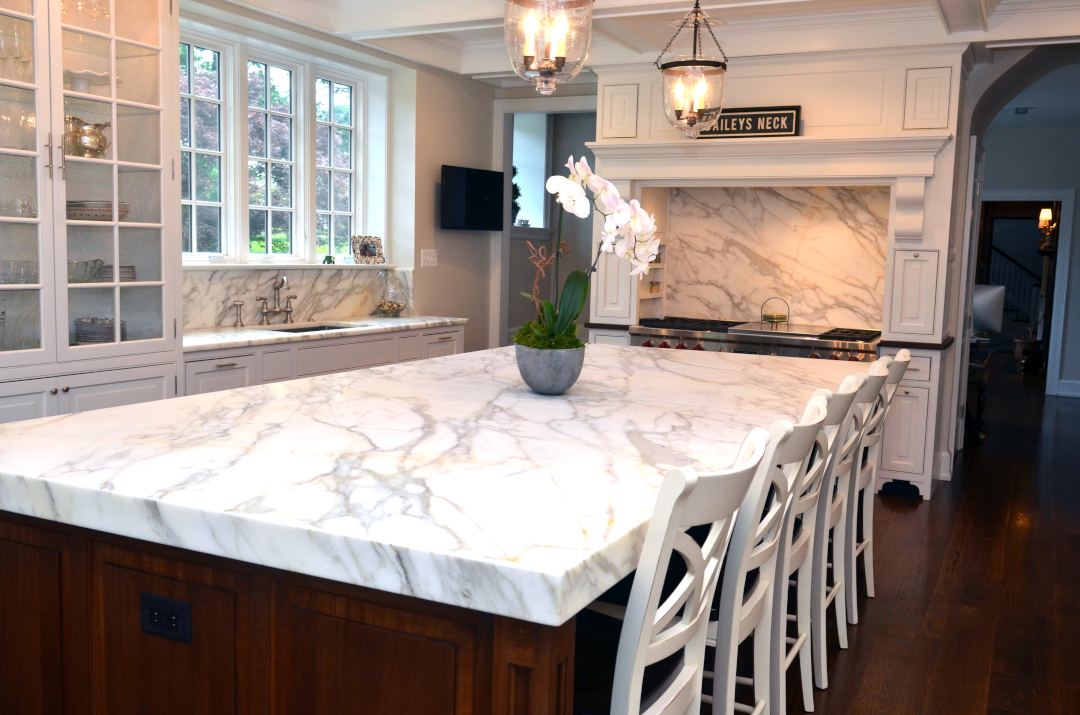 The tile and stone features in your kitchen and baths can set the tone. Classic, farmhouse or modern? Porcelain, ceramic, glass, marble, granite, quartz or luxury vinyl? And what about size and color? It's enough to make one dizzy.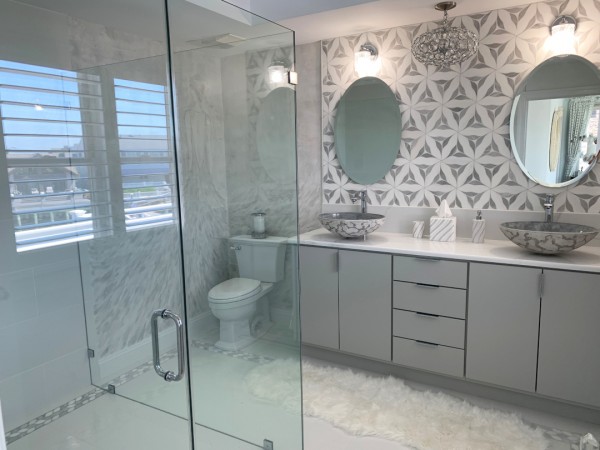 Luckily, there are experts to rely on. "Tile can transform a space. We believe it should be one of the first design decisions made when remodeling a kitchen or bathroom. There are so many colors, shapes and styles available to work with your home," says Julie Ward, showroom manager/design consultant at Renaissance Tile & Floor.
Stone is not like any other element of home design. "Working with stone has many challenges since each stone has unique characteristics that come in different sizes and densities," says Nikos Papadopoulos, president of Colonial Marble & Granite. "Some stones are brittle, others solid and very hard. From engineered stone to marble, each type of stone needs to be handled differently depending on the quality of that specific stone. Working with a company that understands the differences and has an experienced and knowledgeable staff makes all the difference and can save you time and money."
Kyle Eisele of Coast Tile & Marble Supply, says consumer education is an important aspect. "People may get upset when a slab comes in and it has color variation or if it needs maintenance. If consumers go where there's no knowledge, they'll be blindsided. Stone is expensive and it's fickle. It's important to talk to someone who can adequately explain what you're spending money on," he says.
Natural or Man-Made Stones
Using these experts as a guide, homeowners can rest assured they are being steered in the right direction when it comes to choosing a product of the moment.
Dave Cerami, CKBR, design/build specialist and owner of HomeTech Renovations, has been in the industry for 38 years. He has seen shifts throughout his career. "I can't remember the last time I used polished granite in a design. Most stone now is brushed or sandblasted for a weathered finish. The reflective, shiny surfaces are not being done so much," he says.
An ongoing trend he sees is more people seeking a transitional to contemporary look. Quartz, which is a man-made stone, is a good product for this. "The process of making quartz creates more consistency in coloring, with simpler patterns. There are no less than a dozen companies we deal with for quartz: Cambria, Silestone, Pentel, and more," Cerami says.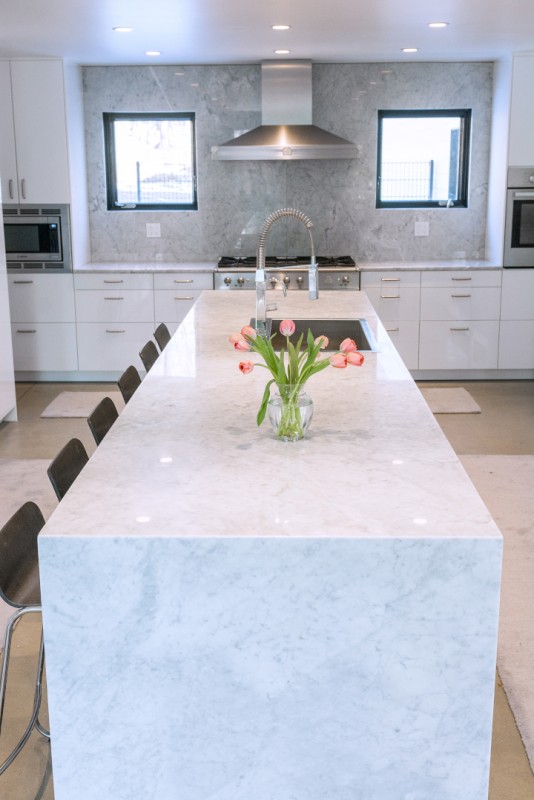 "Quartz is definitely trending for good reason," says Sandra Phillips, director of new business development at Colonial Marble & Granite. "Quartz is an engineered stone that is non-porous and durable which makes it low maintenance. Quartz manufacturers such as MSI and Cosentino consistently introduce new designs that embody the current trends, strikes of color and gold paired with warmer tones."
There is a control element that people like about natural stone, says Eisele. "If you saw something you liked at a friend's house, you can get something close to it, unlike with natural stone," he says. "On the other side of it, there is not much maintenance to worry about with quartz. It's a good investment in Shore homes because people don't want to worry about sealing it or if something will stain it when renting out the property."
However, says Papadopoulos, although quartz is lower in maintenance there is nothing that compares to the look and feel of natural stone. "From exotic marble to the unique patterns and colors that can only be found in nature, natural stone will always be in fashion."
"There are some marbles and granites out there that are unbelievable," says Eisele. "There are some out there that have beautiful colors. I've seen some bar tops with a black and gold combo that will blow you away. These are natural things coming out of a mountain—some that have little specks, or natural veining or exotic colors. You could spend an hour going through the slabs we have from Italy."
Eisele highlights Calcutta Carera, which has a heavy variation and is a popular choice, or Dolomite, which has a more subtle pattern.
"With natural stone, just remember that you're rolling the dice on what stone will show up. No stone is like the past," he adds.
Color and Unique Trends
"It's an exciting time to design a kitchen with trends focused on color, color and more color," says Papadopoulos. "Coming out of the all-white kitchen trend, everyone is hungry for something different—bluish greens, warm tones with gold streaks are showing up everywhere with metallic accents. Warm, moody dark kitchens are making a comeback with rich walnut cabinetry paired with dark textured countertops."
"Maybe because of COVID, people are finally getting bolder. They want flair," says Eisele. "It's interesting. The U.S. is behind Europe in terms of trends in bolder colors, and we're finally seeing the pops of blue and cool greens find their way into tiles and stones."
Ward says handmade tiles have been huge this year. "We have been getting so many new colors/finishes/shapes coming in and our customers are loving them. They pair so well with a marble vein or a colorful pattern tile. Depending on how the tile is set, it can go with contemporary design or more traditional feel," she says.
Don't forget the other applications for stone and tile outside of countertops or backsplashes.
Ward says porcelain tile and luxury vinyl tile (LVT) are worth considering for kitchen and bathroom floors. "They will not stain and are very easy to maintain. Design does not have to be sacrificed when not choosing a natural stone, and we have many porcelains that resemble real stone," she says. "Wood-look porcelain tile has become very popular over the years. Because of its durability and ease of cleaning, it is being used all over the home in bathrooms and kitchens to entire first floors. The high-definition image that is printed is very realistic and has become a popular choice for homeowners."
In the end, a quality remodel is some of the best money you'll ever spend, he says. "It makes sense to work with an experienced design professional because you have one chance to get it right. Good results start with a good plan and it pays to work with a design professional."
RESOURCES
Coast Tile & Marble Supply
Egg Harbor Township, N.J.
(609) 646-9346
CoastTile.net
Colonial Marble & Granite
King of Prussia, Pa.
Philadelphia, Pa.
New Castle, Del.
Edison, N.J.
(610) 994-2222
ColonialMarble.net
HomeTech Renovations
Fort Washington, Pa.
(215) 646-7477
HTRenovations.com
Renaissance Ceramic Tile & Floor
Horsham, Pa.
(267) 580-9582
CeramicTileAndMarble.com
Published (and copyrighted) in House & Home, Volume 21, Issue 9 (June 2021). 
For more info on House & Home magazine, click here. 
To subscribe to House & Home magazine, click here. 
To advertise in House & Home magazine, call 610-272-3120.