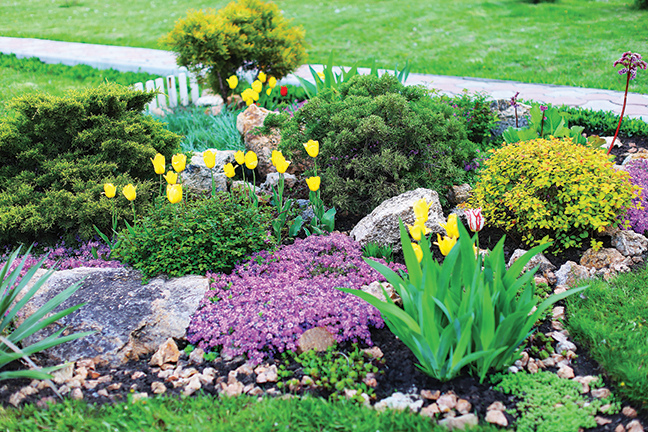 We've been fortunate this winter weatherwise, with only a few snowfalls and some unseasonably warm days. Though relatively insignificant to us, fluctuating conditions take a considerable toll on our outdoor spaces, which haven't been adequately tended to since the fall. House & Home spoke with local experts to find out what proactive homeowners should be doing to get a jumpstart on spring cleaning.
According to Keith Frederick, owner of ELA Outdoor Living, one of the biggest landscaping mistakes that homeowners make is not performing a proper fall cleanup.
"If you have a heavy buildup of leaves on your lawn and you let it sit there all winter and it gets snowed on and matted down, it'll effectively choke out your turf," Frederick explains.
As the owner of Rock Bottom Landscaping & Fencing, Chris DeMato sees people overlook the importance of fall cleanups often and says that this mistake could end up taking a huge toll on your wallet.
"If leaves are left to linger and sit on the lawn, they do more damage and therefore you'll need more repair work. If you don't address those leaves until April, it could end up costing a lot more in expenses," DeMato says.
An autumn cleanup is equally important for water features like ponds and their inhabitants. George Mihalchick, owner of Ponds By George, says that the decomposition of debris sitting in a pond throughout the colder months leads to excessive algae, which can decrease oxygen in a pond and block the sunlight aquatic plants need to undergo photosynthesis.
Even if you do tidy up your yard in the fall, leaves and debris inevitably build up over the winter, leaving you with plenty of work to do once the weather gets nicer.
Local experts agree that now is the best time to start fixing up your outdoor space, and the first step is going out and assessing the condition of your property.
"I would recommend that customers walk their property and make a list of any issues that may need to be addressed,"
DeMato says. This includes hardscape repairs, fencing repairs, dead plant materials and dead growth on trees, which could be dangerous if not addressed.
After surveying your property, DeMato recommends calling your landscaper as soon as possible, as it's never too early to get on their schedule for things like lawn repairs and tree removals.
It's best to leave these larger jobs to the professionals, but there's plenty you can do right now to prepare for the spring. For one, the piles of leaves wreaking havoc on your once-lush green lawn and manicured flower beds should be removed to avoid further damage.
Secondly, perennials are in the beginning stages of revitalization. These plants can be cleaned up this time of year, but Frederick warns homeowners to be careful what they remove.
"If they prune off flowering plants, they're going to prune off all the flower buds for spring," he explains. Homeowners should only remove things like dead branches and dead plants, which take up space that could otherwise be room for the growth of healthy plants.
While flowering plants should mostly be left alone, besides a few small haircuts, now is a good time to remove any tree branches that snapped during the winter, as they could be extremely hazardous if not handled promptly and properly.
At this point in the year, there isn't much to be done about the hardscaping aspects of your yard. While it's important to note the state of your hardscape and fencing, experts advise homeowners to wait until the temperature remains steadily warm to address these issues. This includes the readjustment of rocks around water features, which Mihalchick says "could slightly shift" due to ice formation over the winter.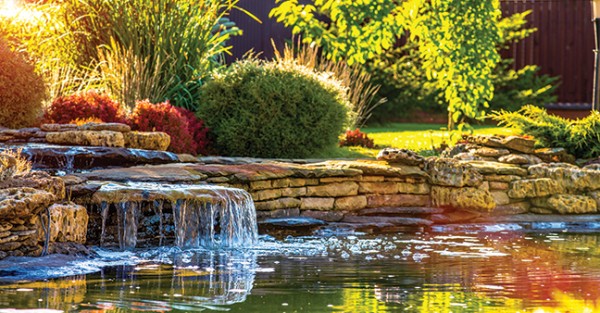 Whether you're thinking about making a subtle change or redesigning your entire backyard, now is a good time to start thinking about fresh ideas you want to bring to your space to ensure that it's ready to enjoy for the spring and summer.
There are so many different options for outdoor entertainment spaces today, from standard decks and patios to grand pools with flowing water features and outdoor kitchens with accompanying fireplaces.
No two yards are the same, and the same goes for households and their personal preferences. This has a huge impact on how to lay out a yard.
"Everybody's different, depending on the land and the size of your family," Don Panetta, co-owner of D. Panetta Contracting with his wife Tammy, says.
According to Mihalchick, the best way to get the most out of a space, regardless of its size, is to be mindful of location during the design process.
"Allow yourself to walk two paces away from any door before steps start. When installing a water feature, keep it close to your living space to be able to see it, hear it, and interact with it," Mihalchick says. These simple layout strategies ensure that a homeowner maximizes both the potential and experience they can get from their yard.
Along with creating a functional entertainment area with the space you have, it's critical that you find a balance between hardscape and landscape to create a cohesive and aesthetic environment that you'll want to spend time in.
People typically love installing hardscapes like porches and patios because they are easy to maintain, but DeMato says that too much stone and concrete can result in a "stark, cold feeling."
"It is very important that you allow space for landscaping to soften up the hardscaping. This will give you more of the garden-like feel that you want to create in your own yard," DeMato explains.
Creating thoughtful pockets of greenery breaks up the harshness of hardscaping, allowing color and life to complement and soften the space. Tammy Panetta echoes the importance of landscaping, calling it the "icing on the cake."
There are likely still a few more cold days ahead of us and maybe even a snowstorm, but before we know it, we'll be putting the winter coats away and breaking out the tank tops. It's time to stop dreaming about the warmer months ahead and start preparing for them instead.
RESOURCES
D. Panetta Contracting
Randolph, N.J.
(973) 659-9374
DPanettaContracting.com
ELA Outdoor Living
Doylestown, Pa.
(215) 794-2400
ELAOutdoorLiving.com
Ponds By George
Southampton, Pa.
(215) 396-7500
PondsByGeorge.com
Rock Bottom
Landscaping & Fencing
Serving N.J. and
Bucks County, Pa.
(732) 873-6780
RockBottomLandscaping.net
Published (and copyrighted) in House & Home, Volume 23, Issue 4 (January/February 2023). 
For more info on House & Home magazine, click here. 
To subscribe to House & Home magazine, click here. 
To advertise in House & Home magazine, call 610-272-3120.