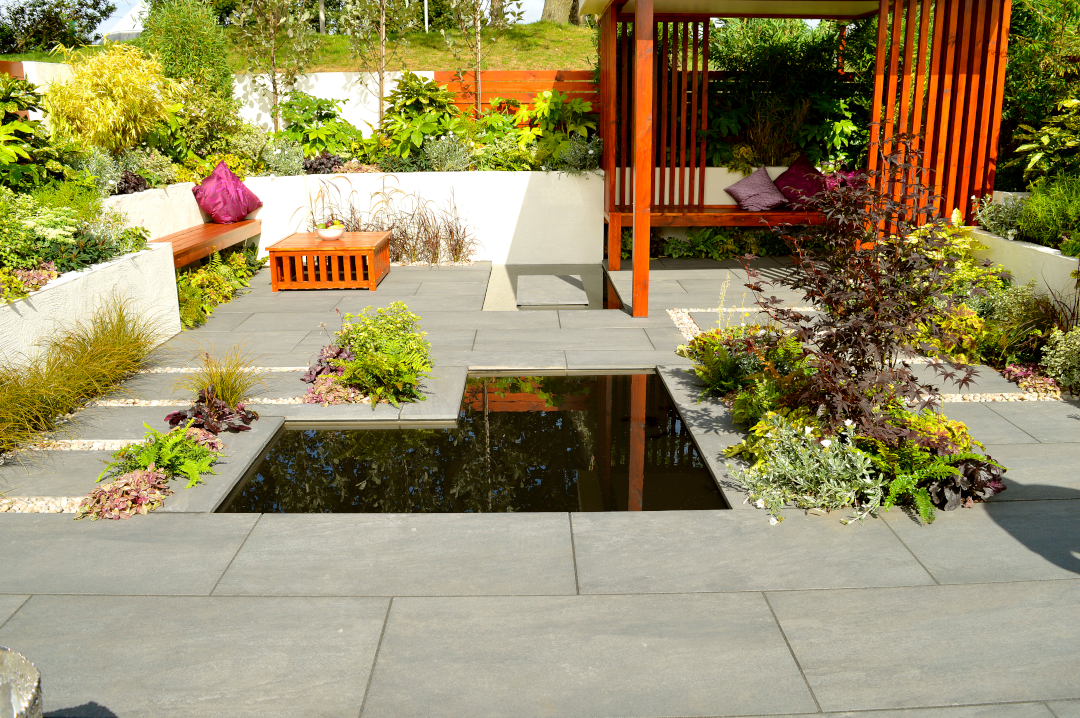 When it's time to add some life to your yard, you may immediately think of blooming flowers and shrubs, but some of the best elements are of the non-living variety: hardscaping. Walkways, patios, retaining walls, fire pits, outdoor kitchens and countless other accents can bring the ideal balance to the landscaping of a home. But choosing the right material requires professional insight.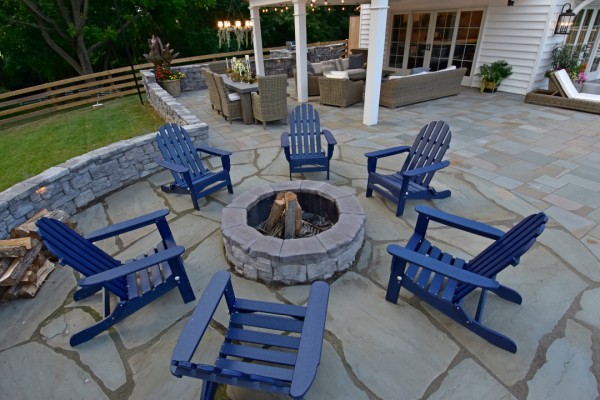 "Hardscaping is an essential element to the overall look of a property because it can cohesively bring together your home with the outside environment," says Reuben Stoltzfus, owner of EWBN. "Without hardscaping, landscaping falls short because it lacks structure. Flowers, plants and trees can soften hardscaping. Outdoor living is vital to the overall function of your home. A combination of hardscaping and landscaping can most definitely define the vitality of your outdoor living area and the overall look and feel of your property."
Trust it to the Pros
Although some homeowners may think they can tackle a hardscaping project on their own over the course of a couple of weekends, there are some things only a professional can address.
"With outdoor living projects one of the most important aspects of the overall project is having a proper foundation. Without it you could see water build up, or even your patio becoming uneven over the years," Stoltzfus continues. "Water management often has its own permit aside from other permits required by townships. Of course, each township has specific requirements, but without professional water management it's a big area [of concern] with even getting the project started and then passing final inspection. It is best for the homeowner and the property to go with a professional."
When meeting with potential contractors, Michael Tarleton, owner of TLC Landscaping, says it can be easy to spot the inexperienced. "You'll know if someone knows what they are talking about, whether or not they are well-versed in natural stone walls and different types of materials. It's simple to figure out if they've done it before," he says.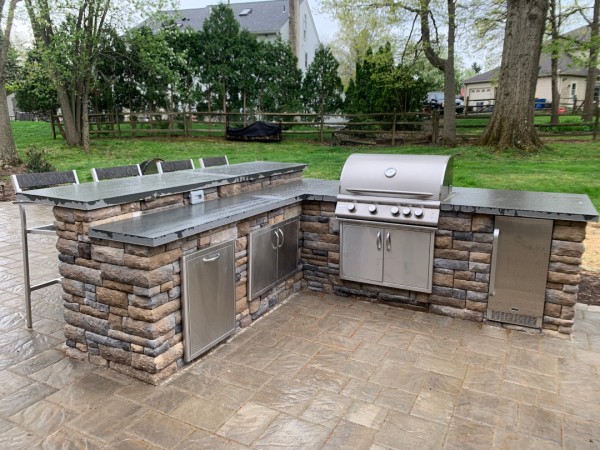 John DiJiosia Jr., owner and president of Plymouth Landscape & Nursery Co., says working with natural stone is a lost art. "It's rare to find people in this business who are skilled in the art of natural stone. Stonemasonry as a trade originated in Italy, which is where my family is from. My father learned it from his father," he says. "They've passed down the art of dressing a stone—shaping it by hand, chiseling it to create the desired shape—and then setting it individually. It's a lot more time-consuming."
Natural or Not
All materials have their place in outdoor living, and while some are best used in certain projects, it ultimately comes down to client preference and budget.
"I think natural stone can be used in a variety of circumstances, whether the home is 300 years old or new," says DiJiosia. "Aesthetically, some people like a modern look and in some cases, manufactured stones have a modern feel as opposed to old world, natural stone. However, with that said, flagstone can be used successfully in a modern design."
Budget comes into play, he continues. "On average, a project with natural stone will be at least 30% more than using manufactured stone, and that's not because of material costs, it's the time and labor to install it."
In terms of style, Tarleton confirms that trends are leaning modern. "People want a smoother, classic look and are moving away from rustic looks."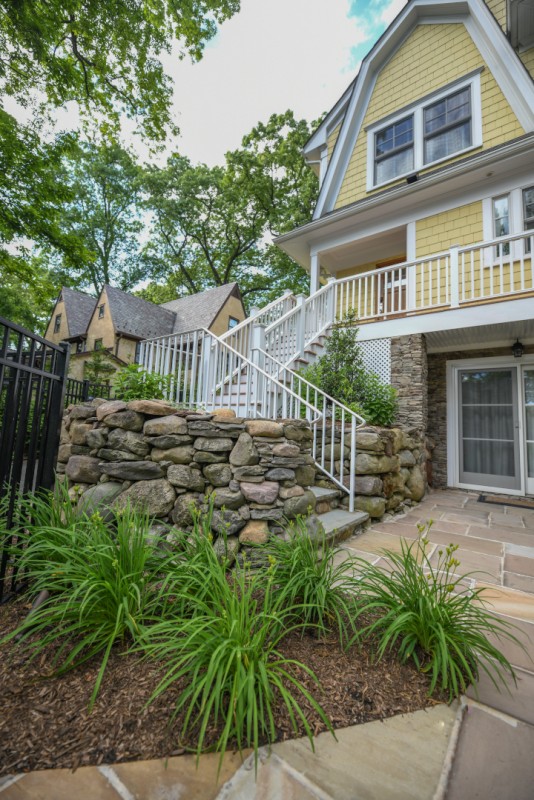 And while Tarleton "can make something beautiful with whatever material a client wants, whether it's pavers or bluestone," he does have some advice and preferences of his own to recommend. One being not to use bluestone around a pool. "Bluestone is going to get very hot, so you may not want to be walking on it barefoot in the summer. For that I would recommend pavers or a different natural stone. Pavers do fade over time, but natural stone stays consistent over time," he says.
He recommends natural stone for walkways, and for driveways he likes asphalt. "We can finish off the driveway with a paver border that adds beauty and polishes it off," Tarleton says.
If a homeowner does go with pavers on their project, Stoltzfus says, "There are many different paver design patterns to choose from when it comes to the layout of pavers, like herringbone, running bond, and basketweave. EWBN works with Newline Hardscapes, a division of York Building Products. Anything from Newline has a lifetime warranty, which is another reason we love the line."
DiJiosia says homeowners may also want to consider thermal flagstone. These are cut into uniform thickness and treated with a thermal method that leaves a smooth surface on the stone. It also creates a more uniform color and texture of the stone if the naturally quarried variegation of the stone isn't preferred by the homeowner.
As the popularity of stone sitting walls and fire pits and fireplaces shows no signs of waning, hardscaping companies continue to invest in innovative products to bring these to life.
"People continue to look for ways to create gathering areas in their backyards for entertaining in small groups," Tarleton says. "In the realm of fire pits, outdoor kitchens and fireplaces, we're seeing a lot more things happening."
DiJiosia says EP Henry offers fire pit kits that come in a few standard varieties of round or square, and several colors.
"Retaining walls, patios and fire pits are products we create using Newline Hardscapes," says Stoltzfus. "A popular choice from our customers is a curved sitting wall that borders part of a fire pit and large stepper steps. Both make a statement, but also are a functional part of the overall design."
For sitting walls, DiJiosia says there are a couple of ways they can be constructed. One is building the wall entirely out of stones, or with the use of stone veneer over a cinder block structure.
"The entire interior would be cinder block and then stone veneer would stick onto that to create the look you want. It's not necessarily less expensive to do it that way because the application of stone veneer has more steps, but it can sometimes be easier to work with," he says. "It comes down to the availability of the stone you may want."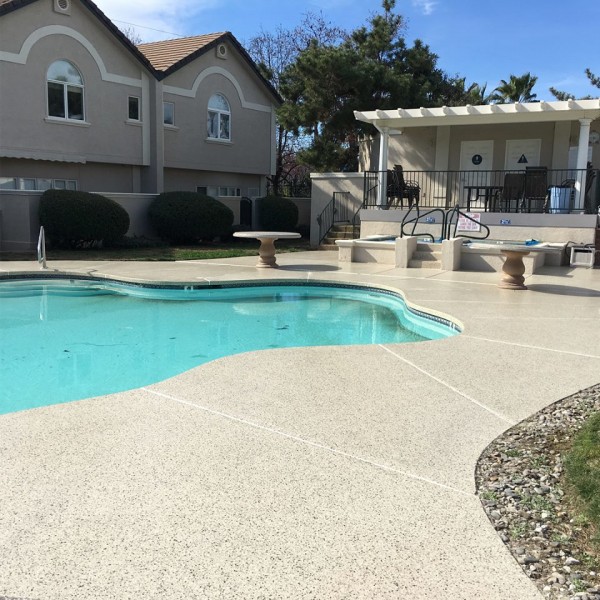 Updating Concrete
For properties with concrete on exterior spaces, there are ways to bring new life to those surfaces with a polyurea coating.
Bogdan Pop, principal of Transylvania Concrete Coatings, says concrete is susceptible to the freeze-thaw cycles which cause it to crack and deteriorate over time. With a coating, Pop says they first prep the slab by filling the cracks and then pour the polyurea coating over, which has elasticity to move with the expansion in spring and summer and contraction in the winter.
"This coating is especially good for pool decks," says Pop. "It reflects UV rays so the coating does not get hot on feet as concrete would and we can put in an additive to make it more slip resistant. It's also good for patios, front porches and driveways."
The product is available in a wide variety of colors and textures and can be customized to clients' requests. Not only that, Pop says there is minimal disruption to a customer's life during installation. "In most cases we can complete the project in one day and the surface is typically ready for foot traffic within three to five hours after installation," he says.
RESOURCES
EWBN
New Holland, Pa.
(717) 355-0741
EWBN.net
Plymouth Nursery & Landscape Co.
Plymouth Meeting, Pa.
(610) 277-4120
PlymouthNursery.com
TLC Landscaping
Midland Park, N.J.
(201) 321-2421
Tarleton-Landscaping.com
Transylvania Concrete Coatings
Blackwood, N.J.
(856) 212-1109
HouseAndHome.OneDayFloors.com
Published (and copyrighted) in House & Home, Volume 22, Issue 7 (April 2022). 
For more info on House & Home magazine, click here. 
To subscribe to House & Home magazine, click here. 
To advertise in House & Home magazine, call 610-272-3120.