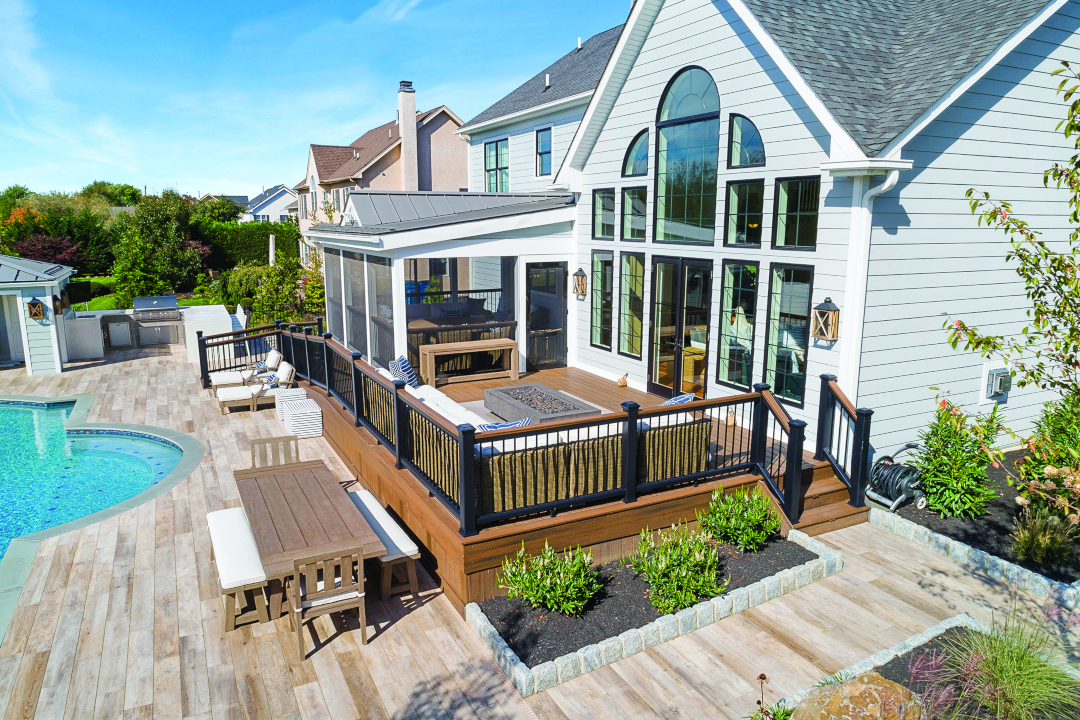 As issues around the supply chain and inflation continue to dominate the news, many homeowners might think there's no hope when it comes to improvement projects, especially a new deck. However, they shouldn't be discouraged, according to local industry professionals who say their outlook is positive, especially when customers prepare properly. We asked a few local companies to chime in on the state of their industry and how homeowners can help move a project along. With the right professional by your side, you'll be relaxing on your new deck in no time.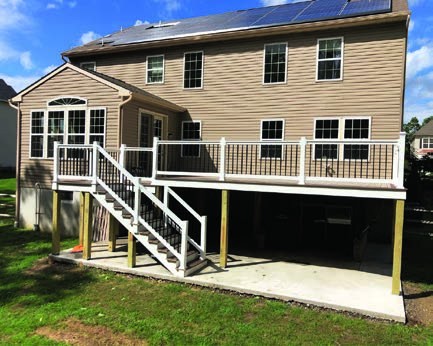 For anyone who is ready to embark on a deck project, what should they know about where things stand in terms of supply chain for this industry?
"As far as I can see right now, supply chain for decking and other finishes is pretty good. Costs are up for sure, but vendor inventory of in-stock products seems to be mostly back to normal. Some of the special-order space is still experiencing longer than desired lead times but at least availability for these items seems to have mostly resumed. Our customers have been very understanding of how things are right now since literally everyone is experiencing the same situation; and we've all now become accustomed to the new ways we've had to operate." - Brian Iwano, founder/project manager, Blue Tree Builders
"All items that we use on our projects are made in the USA and so while there are some material shortages, we have adjusted on our end and ordered materials sooner in the process than normal to ensure there are no delays. We also now stock many items in our warehouse to ensure the clients' projects are not delayed when it comes time to build." - Marv Esh, owner, Keystone Custom Decks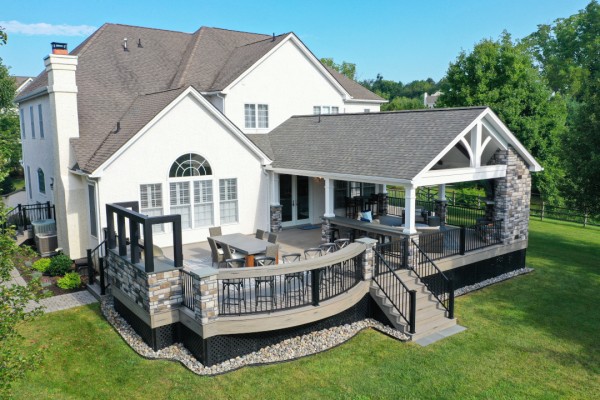 How can homeowners make good use of their time and get on a builder's schedule? What kinds of things need to be handled in the early stages of planning and design?
"We are currently booking our summer 2022 schedule. The best way to get the process started is for one of our team to come to your house to start the initial conversations about what you as a client wants to accomplish with your space. From there we can recommend different designs, features, and overall layout based on our experience and we take all of that and our design team designs your dream outdoor living space! If you move ahead with Keystone, we will take care of all permitting to make this a turnkey process for our clients." - Marv Esh
"Homeowners should plan six months to a year in advance as they look to explore adding an outdoor space. Go and visit their potential contractors' showroom; they will assist with design ideas. ... Timelines and budgets should be discussed up front ... to set reasonable expectations." - Joe Kalnas, general manager, My Deck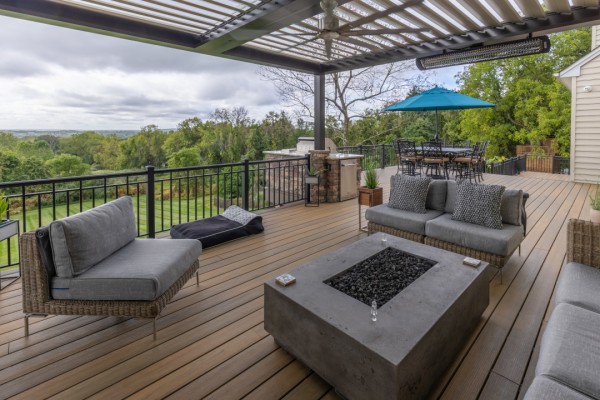 "A township zoning application with your plot plan or lot survey is the absolute first step in any project that alters the permanent exterior footprint of your home. Zoning approvals, unlike construction permits, are the responsibility of the property owner. Most contractors are happy to help with this step but it's the homeowner's name that goes on the application. Some towns even charge contractors more money to submit zoning applications on the homeowner's behalf. Zoning simply gives you the permission for the footprint of the project. Construction permits cover the actual building of the project and are handled by the builder. Construction office staff can also help guide you through the requirements and help with the form. Sometimes a zoning variance may be required for approval, and that always falls on the homeowners to get through. Townhouse or other association approvals needed? Then there's all that goes along with that too." - Brian Iwano
When a homeowner meets with a deck builder, what kinds of things should they have prepared to show/discuss?
"Collect a bunch of pictures that show various features or design elements you're looking to incorporate in your project. There's no such thing as 'too many pictures.' You don't have to have it all figured out. Just a little direction will help us run with it and design something awesome for you. ... It's also important to be serious about completing the project, communicate your budget and have some ideas about what you're looking to accomplish and how you want it to look." - Brian Iwano
What kind of design expertise can a deck industry professional specifically provide to help the overall project?
"Building an outside/inside room takes a lot of experience. You have to know about gas appliances, fireplaces, water features, plants, landscape design, hardscaping, patios, different materials and textures, and find a way to put it in someone's budget. Most people limit looking at materials at [places like] Home Depot. Wouldn't you rather call someone who knows every material available?
"When I design backyards, I ask them if they want a pool. They may say no, but you don't want to shut your backyard off. You cannot build something now that will preclude them from having a pool someday; you don't want to limit your property." - Bill Wilson, co-owner, Amazing Decks
"Every home is unique to its own property, topography, setbacks and restrictions. I recommend getting a licensed deck builder to visit your home. Hire a professional, someone you are comfortable with. They will usually do the right thing." - Joe Kalnas
What features continue to be valuable additions to a deck project?
"When it comes to outdoor living spaces, we are a turnkey design/build firm. Most of our projects will have a deck and porch. From there we incorporate fireplaces, kitchens, patios, water features, hot tubs, pergolas and many features like that. We also have recently launched our pool division so we can now add a pool to complete your one-of-a-kind dream outdoor living space." - Marv Esh
"There are more options for finish materials out there now than ever before. Finish selections are purely driven by personal preference and budget. From exotic hardwoods to stained composites, lattice, covered or half-covered decks, motorized screens and privacy walls, to benches, custom fabricated stone accents, fireplace—gas or wood burning—and audio and electrical. ... There's a lot, and we've installed a lot!" - Brian Iwano
RESOURCES
Amazing Decks
Ambler, Pa.
Flemington, N.J.
(215) 654-1886
AnotherAmazingDeck.com
Blue Tree Builders
Cherry Hill, N.J.
(609) 240-3231
ExperienceBlueTree.com
Keystone Custom Decks
East Earl, Pa.
(717) 355-0592
KeystoneCustomDecks.com
My Deck
Serving Eastern Pa. and N.J.
(908) 713-1000
MyDeck.com
Published (and copyrighted) in House & Home, Volume 22, Issue 6 (March 2022). 
For more info on House & Home magazine, click here. 
To subscribe to House & Home magazine, click here. 
To advertise in House & Home magazine, call 610-272-3120.