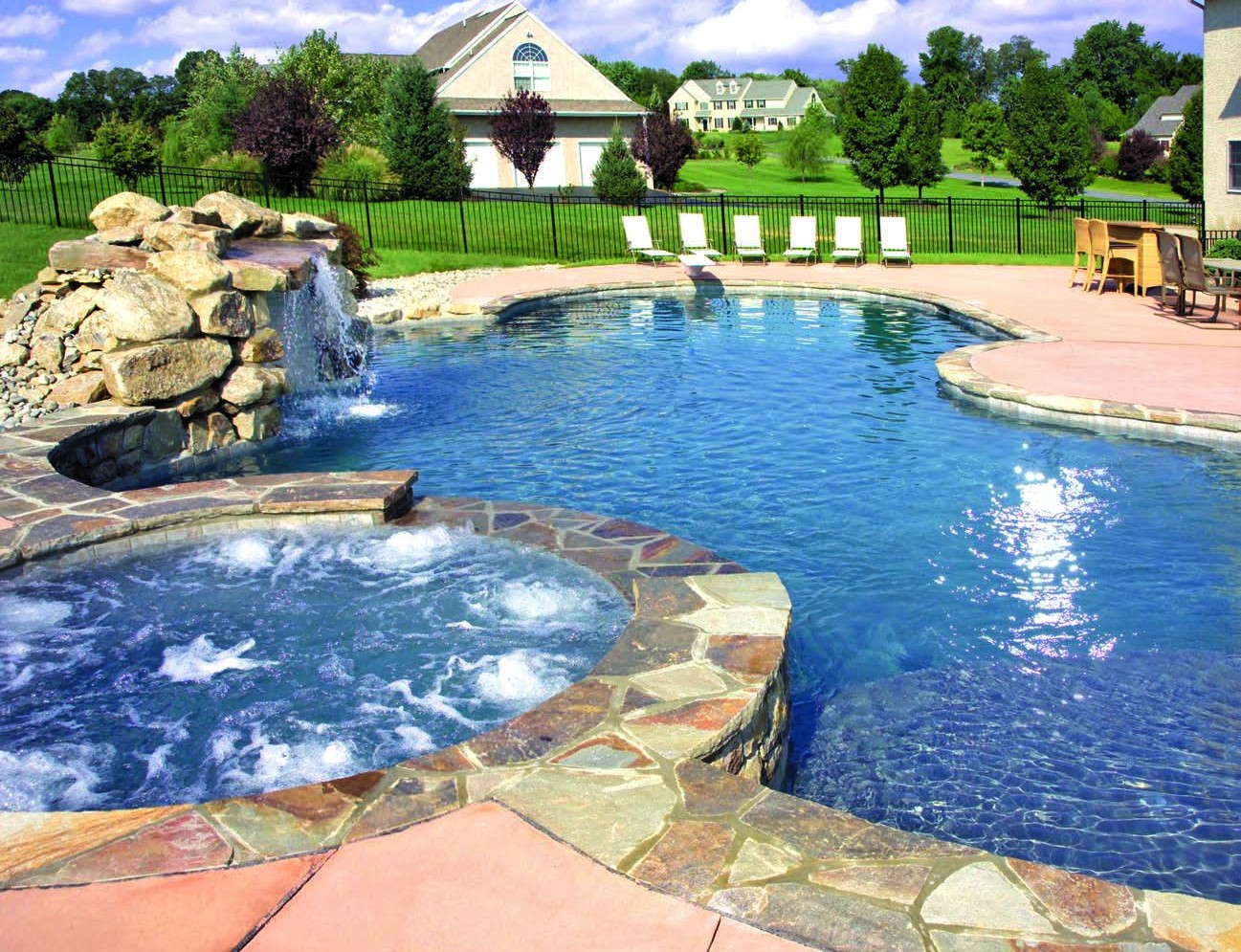 A swimming pool can add so much to any home. From exercise to fun to relaxation, your pool is transformative, bringing facets of joy to your life you may not have known you were missing. There is much to know about the process, and you want to have the most positive experience possible, so here are thoughts of which you should be aware.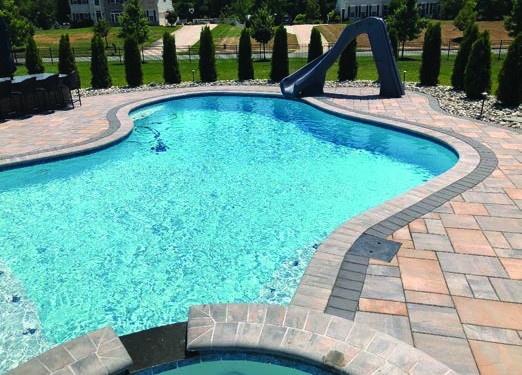 Replacing a pool
"Replacing an existing pool is pretty common," says Sam Waddell,  president/owner of SLS Landscaping. "There are many old pools that don't meet today's pool code and are just outdated in design and function for today's lifestyles." He says it's important for companies to offer creative and functional designs that meet modern vision and lifestyles.  
 "Just like a new homeowner who is looking for a pool, you would need to pick a shape and size. It's really up to personal preference on style," says Chuck  Ordini, owner of Joe Ordini's Best Fiberglass Pools.  "Just make sure you understand what is needed to pay for a full removal of the old pool because you will have to excavate the old hole to accommodate the new pool installation." 
If you want to replace a concrete pool, you'd need to renovate it to make it new again, unless there are major structural issues, says Dominic DiCesare, general manager  of Blue Haven Pools & Spas by Calvitti. "For liner or fiberglass, you're removing it and starting over. And any replacement would require a design consultation to look at the pool and yard." He adds that knowing township requirements, understanding  the property and presenting a design plan are important.
 "You need to fully renovate what's already there. You need a clean slate," says Bryan Hull, one of the partners of Del Val Pools & Spas. "But you also have to know that the code is the code. Fences have to be 48 inches high. They need setbacks. They'll have to rip out and replace the existing pool. There's a lot to know."
Installing a new pool
Start this process with a licensed landscape  architect and designer (LLAD), says Rich Cording Sr., owner of CLC Landscape Design. "An LLAD can really  see your whole property and can tell you what works, what doesn't, what can cause problems, etc. When I get calls to come help with a situation, it's often too late to make major changes without a real big cost. Maybe it's after the pool was put in and it was set too low and now there's a drainage problem. If you contact a landscape architect first, before having the pool put in, they can show multiple elevations, ordinances,  rules of the township, and can add in extra things you need to know like regulations  and conditions. They can help create an area that works pragmatically and aesthetically," he says.
 "What ends up being there depends a lot on the size of the property," says Hull. "What would fit? What's better—gunite or vinyl? Gunite is more custom, allowing for sundecks and benches. You can have a premier pool. You can put steps anywhere, add hardscape/landscape  backyards. The options are endless. Vinyl pools are not as fancy and are less expensive.  It offers fun in the sun, and a pool on a budget," he says.
Waddell agrees that good landscape  architects and designers will meet with a client to discuss how the pool/landscape will be used—if it'll be mainly used for children or for adults. "The pool is just one element of the total outdoor space and commonly in- corporates a pavilion with a kitchen and fireplace with seating and entertaining space," he says. Other design elements include pool terraces, pavilions and landscaping.
DiCesare adds that homeowners  must be focused on what is going to meet their needs and work best in their yard.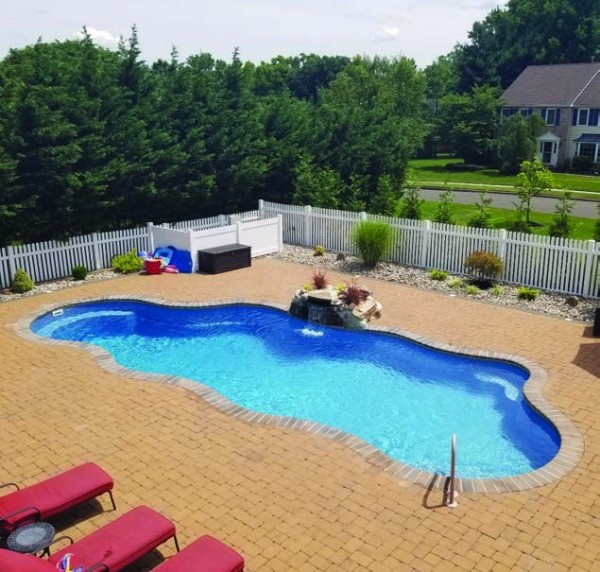 The right company  
Knowing which company will get you what works right for you is important. "I always suggest word of mouth and referrals from friends and family," says Ordini. "Checking  the Better Business Bureau (BBB) for ratings and comments is always a good idea when purchasing a large dollar item." 
 "You want to make sure you're dealing with a professional company, and if it's a right fit for you because  it is major construction and you have to live with the outcome of the job," says DiCesare.  "You have a lot of small builders and landscapers that start pool projects that go upside-down real quick."  
 "For choosing a company, consider referrals and length of business," says Hull. "For example, we're a family business, so we focus on making sure that what you're promised, you're given. We don't believe in high-pressure salesmen. We're selling fun."
Hull believes the pool you get has to be based on your life, interests and plans. "What are you trying to do? Most people have basic ideas—shape, size and usage."
 "Pool styles are typically decided by the intended use of the environment," says Waddell. "Do the children want a water resort or is this a formal landscape where the pool be enjoyed more visually? All of these aspects [will] be discussed with the client at a design meeting."
 "It's important that a client can ask the company everything and have a good relationship with them. The client needs to understand what's involved in the cost," adds  Cording. "Since we are a design/build company, we oversee everything, every company that does the work. We are able to know what will be needed at every step." He says to create a "wish list" for the company, including how many people you're going to be entertaining. This assists the LLAD in coming up with creative ways to make the property work,  to utilize lawn areas and better integrate the pool into the backyard. "You don't want just the easiest place to drop in a pool. You want to consider traffic patterns, views from inside the house and the patio. You want to know how the whole area will be seen."
Special features  
"Today's trend is for salt pools. They reduce the need for the added chemicals during the season  and leave the skin feeling softer and smoother than that itchy dry feeling with a traditional chlorine pool," says Waddell. "There are a lot of features that  can be designed and built with the pool such as spas, waterfalls, sun decks and luminaries, to name a few."
And if money is an issue, "salt systems and most special features can all be added at a later date, for an extra cost of course," says Ordini.  
There are many options, says DiCesare. "You have salt, UV/ Ozone systems, water-fire features, waterfalls/grottos.If they can think of it and have the budget, a good builder can build it."  
 "Saltwater is incredible," says Hull. "It takes maintenance down to zero. It stops the pool from turning green and offers benefits across the board. There are also auto vacuums now that do everything.  They work great. There's also lighting that offers mood changing, adds style and elegance, and spillover spas which are very popular."
Cording agrees that saltwater and various amenities are important aspects of today's pools. "All we do is saltwater, and most pools have sunshelves since they allow people to sit in the pool or lay in it," he says. "Today's pools have less  to do with diving, so there are larger shallow areas. All have LED lighting and are controlled by their phones. There are plenty of square or irregular shaped pools, many with bars, grottos, even caves. The ideas seem endless and they help create a leisure location  that adds to so much to people's lives."
RESOURCES
Blue Haven Pools & Spas by Calvitti
Six offices serving Pa., N.J., and Del.
(800) 219-2141
BlueHavenPoolsNE.com
CLC Landscape Design
Ringwood, N.J.
(973) 839-6026
CLCDesign.com
Del Val Pools & Spas
Turnersville, N.J.
(856) 629-2999
DelValPoolsAndSpas.com
Joe Ordini's Best Fiberglass Pools
Bristol, Pa.
(215) 788-5532
Swim1Day.com
SLS Landscaping
Lumberton, N.J.
(609) 518-5263
SLSLandscape.com
Select imagery courtesy of Blue Haven Pools, Del Val Pools & Spas, and Joe Ordini's Best Fiberglass Pools
Published (and copyrighted) in House & Home, Volume 21, Issue 5 (Spring 2021). 
For more info on House & Home magazine, click here. 
To subscribe to House & Home magazine, click here. 
To advertise in House & Home magazine, call 610-272-3120.