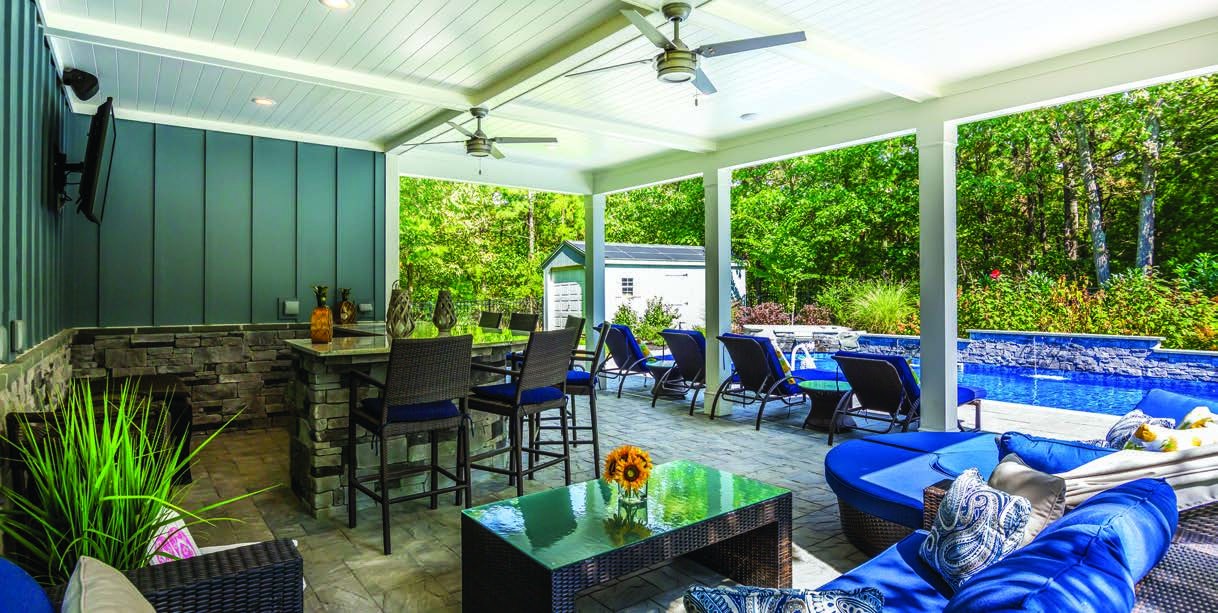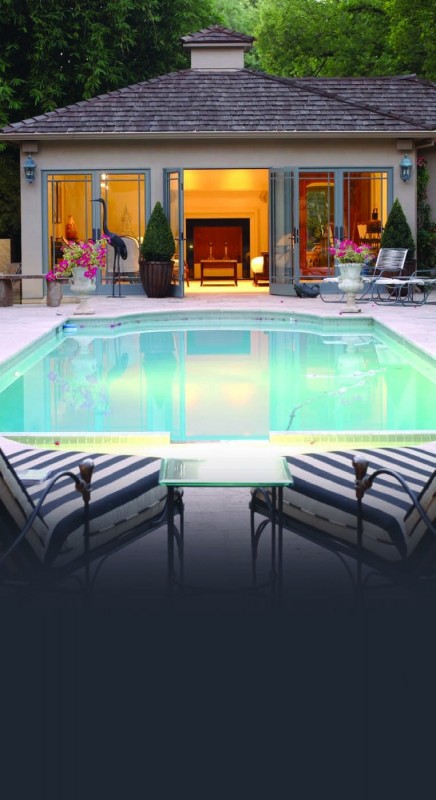 For years, homeowners have been building up their outdoor spaces into backyard retreats that feel like a destination getaway, and in 2020, that industry saw a surge like never before. Hunkered down at home for safety reasons, they invested money otherwise saved for vacations on pools, decks, hardscaping and more. This year is proving to be another record year for these projects as well, meaning homeowners have to act fast.
"As protocols and mandates were put in place and individuals became comfortable with [people coming into their home], demand  skyrocketed, mainly for outdoor entertainment spaces which included pools, patios, roof structures, walkways, firepits, outdoor kitchens, etc.," says Michael Pasquarello, degreed landscape architect at Elite Landscaping. "As we are in the beginning of 2021 the residential home improvement  wave  has still not crested and continues to build. I foresee it lasting clear into the middle of 2022."
Sam Waddell, owner of SLS Landscaping, says it wasn't just requests for new installations of pools, outdoor kitchens and patios he was receiving. "We have also been building add-ons to prior completed landscape and patio projects, including fireplaces and pavilions," he says.
The pandemic has also contributed to material shortages, making them more expensive and delaying projects. "The one downside of this high demand is the availability of materials.  Manufacturers cannot keep up and most items are on back order," Pasquarello says.
 "Good contractors are backlogged several months for work that requires permits," adds Keith Frederick, owner of Environmental Landscape Associates. "Bigger builds are being booked out six to eight months, but smaller non-permit work is about two to three months."
We asked these professionals and more to chime in on project planning as the spring and summer approach. Whether interested in something small or a full-scale oasis, the consensus is not to wait to make the call.
Decks
One of the most requested elements of an outdoor living space, decks have come a long way from the standard square shape. And companies that specialize in decks have also evolved to incorporate more features into their design.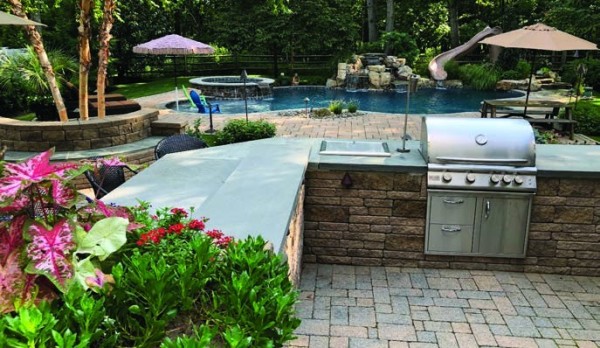 "We here at Keystone Custom Decks have evolved into an outdoor living company. We no longer strictly  focus on just decks but really customize each  design and project to what fits our clients' needs the most," says Marv Esh, manager/owner of Keystone Custom Decks. "For most projects that means combining a deck, porch and patio as part of their outdoor living space as well as features such as fireplaces, kitchens and stone features."
Bill Wilson, co-owner of Amazing Decks, says the modern farmhouse is the dominant style for decks. "No one wants to have the '80s McMansion cookie-cutter look. The farmhouse trend features black railings, darker decking—it's more rustic," he says. "I really like the way it looks."
One piece that should be considered for any deck is coverage. "Our signature project is a deck with a porch structure. We hear feedback all the time from our clients that they use the covered areas so much more than they ever thought they would. A roof structure provides you protection from the elements and really just becomes an extension of the home in an outdoor setting," says Esh.
"From there a majority of our projects get some type of fire feature which increases the outdoor living season. Another very popular item is ways to close off the porch. For that we implement a lot of  motorized retractable features that when not in use are not seen but with the push of button your porch can be enclosed. When those are in use and we combine the fire feature and heating elements, you can really end up using your outdoor space almost all year."
Wilson says he is also seeing a shift toward homeowners designing just for themselves. "It seems the designs are less for massive amounts of people and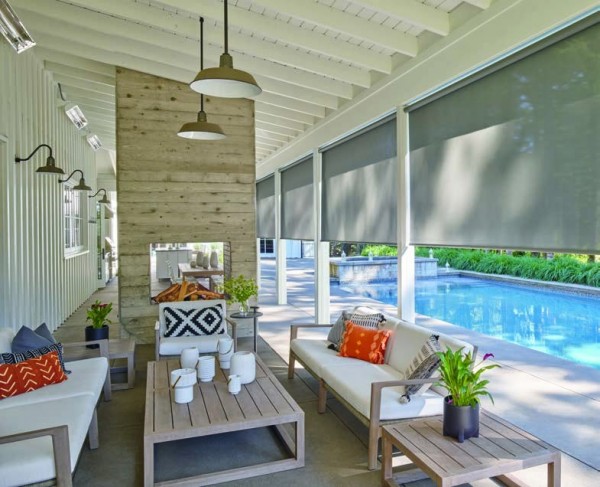 more   for a smaller number of guests—cozier," he says. "In the past people wanted a design that would accommodate others. Now they are doing it for themselves so at the end of the day or the week, they have a place to sit and recharge. With so many working from home, getting through the day is difficult so you need an outdoor environment for your sanity."
Pools
Frederick says pools are on the uptick. "With kids being home, not going on vacations, pools are a great activity for them," he says. However, there are some considerations if a pool is on your wishlist. 
The first is budget. To put it bluntly, Frederick says a full-scale custom pool design and installation requires at least $150,000 to start the process. "There is permitting, plus stormwater control, grading, the pool and its decking, fencing for safety—before you know it you're at that range," he says. "I believe in openly discussing budgets with new customers. If you want the stars and the moon but you can only afford the moon, then you have to modify your wishlist or add more money to the budget."
Frederick's company is booking into 2022 for  these types of projects, but there are options for a quicker turnaround and better price point.
Fiberglass or gunite pools are a great alternative to concrete. "Gunite pools can be custom designed to virtually any shape, size, depth and include many features such as spas, waterfalls and beach entries. The possibilities are endless," says Waddell.
 "These feel like a big hot tub and come in all shapes and sizes, and actually have a better longevity than a concrete pool which will one day need to be replastered and retiled through the freeze and thaw cycle," says Frederick. "Fiberglass has no plaster or tile. We've sold a handful of them in the last six to 12 months."
Additional enhancements
An outdoor living space is more than just decks and pools. There are a bunch of details that add up to a completed environment, some of which can be incorporated in time for this summer.
First is giving some TLC to your hardscaping and landscaping. "We have enhanced a lot of outdoor spaces, such as paver patios that may have been dirty and neglected. A power wash, re-sand and a sealer can work wonders on that old, faded paver. Also, adding a nice colorful border to your old patio can bring it to life," says Chris DeMato, owner of Rock Bottom Landscaping & Fencing. "Naturally edged planting beds can be re-sculpted and re-mulched, adding some contrasting colorful plants to your planting beds can add a lot of interest. Hanging lights can make those summer evenings very comfortable, and fencing may give you the privacy you   need or simply block an undesirable view. These are just a few additions or changes that you can make to bring that dull landscape to life."
At-home entertaining can go up a notch too, he says, with the addition of a bocce ball court or horseshoe pit.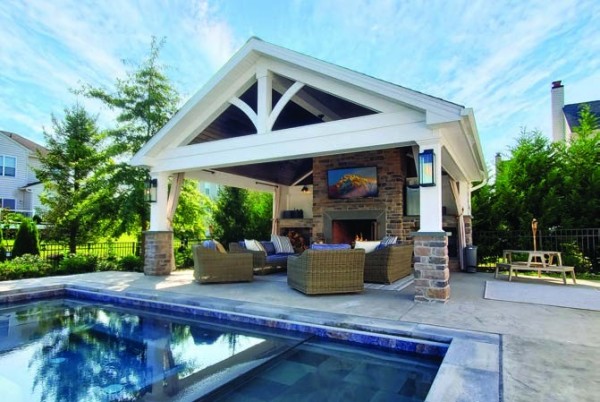 Of course, every outdoor space needs fabrics, says Natalie  Weeks Rossitto, owner of M.C. Weeks Window Fashions. "Outdoor draperies are a beautiful way to define space, adding style, design and color as well as privacy  and shade. … Our Hunter Douglas patio screen shades with designer screen fabrics can create drama or add a layer of light control to any covered outdoor space," she says.
Outdoor fabrics also need to withstand the elements. "We represent thousands of quality outdoor fabric styles and patterns  available through our showroom samples and resources, including lines by David Sutherland. Our Perennials fabric line is fade resistant, mildew and mold resistant and bleach cleanable  for furnishings you can actually live on. Additionally we offer renowned fabric name brands such as Thibaut, Crypton, Sunbrella, Pindler and Stout Brothers to name a few." 
Tying it all together is technology. "There definitely is 'an app for that' when it comes to multiple  elements which compose these outdoor spaces," says Pasquarello. "The main thing to remember is to allow this technology to add to the convenience of a space and to still enjoy the outdoors and what Mother Nature has to offer."
He says most features can be controlled via smartphone. "LED landscape lighting, outdoor audio, irrigation systems, infrared heaters can all be manipulated right from the palm of your  hand. Unique Lighting offers LED Bluetooth color-changing  bulbs which can be used to upgrade existing fixtures as well. Sonance manufactures outdoor audio systems with multiple speaker types and configurations to deliver rich sound. Hunter Industries has irrigation controls which sync to local weather stations to only allow the system to operate when water is needed," he continues.
No matter what your dream outdoor living space includes, the pandemic has driven demand for these projects. But rushing into it won't serve homeowners we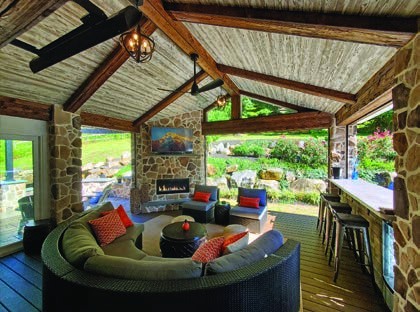 ll. "People should spend more time making sure the design fits their lifestyle and take the time to get it right," Wilson says. "There is nothing worse than having to do it again and paying twice."
RESOURCES
Amazing Decks
Serving Pa. and N.J.
(800) 220-3275
AmazingDecks.com
Elite Landscaping
Berlin, N.J.
(856) 753-1944
EliteLandscaping.com
Environmental Landscape Associates
Doylestown, Pa.
(215) 794-2400
ELAOutdoorLiving.com
Keystone Custom Decks
East Earl, Pa.
(717) 355-0592
KeystoneCustomDecks.com
M.C. Weeks, Inc. Window Fashions
Trappe, Pa.
(610) 489-7231
MCWeeksInc.com
Rock Bottom Landscaping & Fencing
Belle Mead, N.J.
(732) 873-6780
RockBottomLandscaping.net 
SLS Landscaping
Lumberton, N.J.
(609) 518-5263
SLSLandscape.com
Select imagery courtesy of Elite Landscaping, SLS Landscaping, M.C. Weeks, Inc. Window Fashions, and Keystone Custom Decks.
Published (and copyrighted) in House & Home, Volume 21, Issue 6 (January/February 2021). 
For more info on House & Home magazine, click here. 
To subscribe to House & Home magazine, click here. 
To advertise in House & Home magazine, call 610-272-3120.