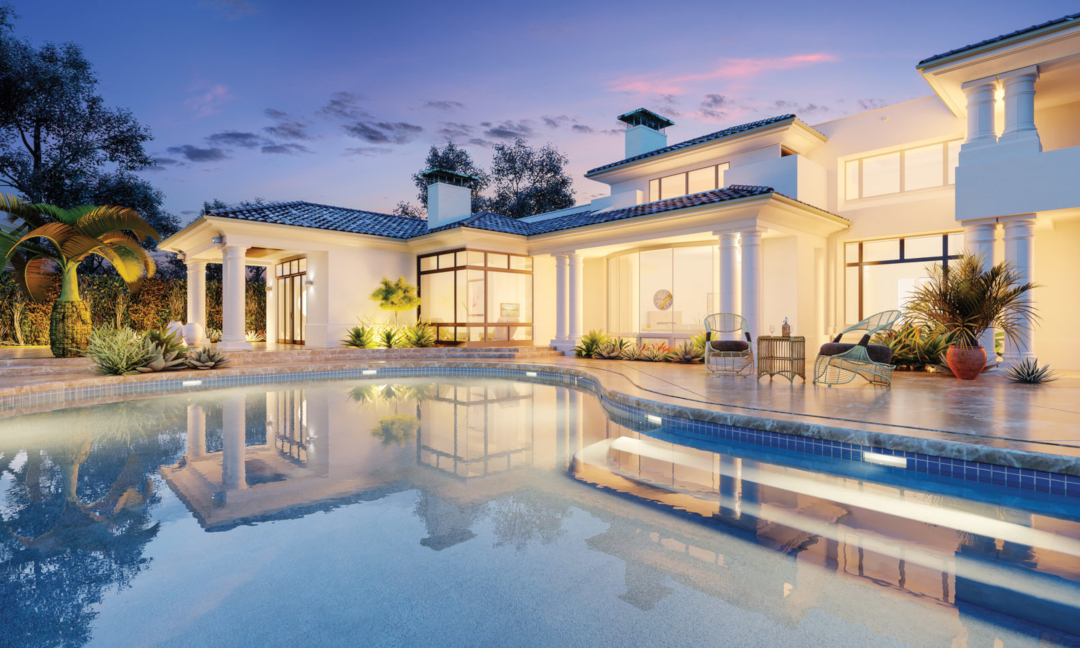 In many ways COVID-19 forced countless folks to fall in love with their house all over again. The increased amount of time spent indoors during the early stages of the pandemic caused a major spike in home renovation projects as homeowners looked to adapt their living quarters for work purposes or perhaps simply felt it was time for an upgrade.
And while kitchens, bathrooms, basements and other remodeling projects were in high demand, the installation of new pools also saw a meteoric rise. As families decided to trade in their vacations for staycations, they began to envision their outdoor living space in a new light. Even those who may not have otherwise considered adding a pool to their backyard prior to the pandemic began to gravitate toward the idea of creating their own oasis at home.
Along with his brothers Thomas and David, Stephen Fahs co-owns Country Club Pools, a company established by their late father in 1965. As part of a second generation of pool builders, Fahs has seen a lot during his time spent working in the industry and acknowledges modern-day pool owners are thinking bigger than just a prototypical rectangular pool where they can cool off during the dog days of summer.
Instead, installers are being tasked with using added design elements to create truly one-of-a-kind and distinctive pools that seamlessly blend aesthetics with functionality. Popular choices of late include the additions of a sun shelf, a long ledge which allows owners to place chairs, and in some cases even umbrellas, directly in the pool so they can lounge comfortably in the water. Stone perimeters around the pool have also become more commonplace and the inclusion of various water features can give an otherwise ordinary pool the look and feel of one you may find at a 5-star resort.
As homeowners get more creative with their wish lists, installers are in turn finding themselves working on some very unique projects.
"We are under construction of a 20-by-40-foot mountain pond shaped pool that has a hidden swim-out area under a grotto waterfall," Fahs says of one of his current jobs.
Derek Blasker, owner of Pool Designs Inc., has also noticed folks wanting show-stopping bells and whistles for their pools, citing an increased interest in rock waterfalls and the popularity of LED deck jets with laminars which can provide added tranquility and ambiance.
"We just did a project where it was a pool/spa combination and they put a giant rock waterfall on the one side, with like 5,000 pounds of rock. Then we added a full paver job going around it with a beautiful border; it was really quite the project," Blasker says.
But because owners would rather be enjoying their pool that constantly tending to it, the thing that nearly every customer wants is to make ownership as maintenance free as possible. Robotic vacuums and automated technology systems have certainly made that much more obtainable as has the growing presence of salt chlorination systems. "Everyone is looking for salt," Blasker affirms.
A saltwater system works to only produce chlorine as its needed, resulting in much less upkeep than traditional chlorinated swimming pools, not to mention eliminating the need to keep and store lots of chemicals to help balance your water. And the salt systems produce water that is gentler on your eyes and skin. As a result, Fahs agrees with Blasker that salt is the preferred method for most customers.
"A salt system is the best way to sanitize a pool, period," Fahs says. "It makes the water soft, it has no negative effects on vinyl [liners] and saves a lot of money due to the fact that chlorine prices have increased substantially due to the pandemic—if you can even find it."
For those who may be allergic to a salt system, Blasker says they are likely also to have a reaction with a chlorine system as well, and so they may want to consider UV or mineral systems instead.
And though the pools in this area don't get the year-round use they do in other parts of the country, having the ability to heat the pool is also a desired amenity. Natural gas heaters are the most popular, followed by heat pumps and then propane heaters. But choosing which one is right boils down to how each person likes to use their pool.
"I ask the person what kind of individual they are. If you need instant gratification, you'll want a gas heater. If you are more patient and thrifty, then the heat pump is the way to go. It takes longer to heat up, but once it raises the temperature, it will keep it there," Blasker says, adding that you also have to factor in how early you open or how late you close your pool as the temperature outside will play an obvious role in any heater's effectiveness.
D. Panetta Contracting is a landscape design and construction firm that specializes in helping pool owners bring the area surrounding their pool to life. The company's Tammy Panetta says current clients are upgrading their backyard because they know the money is being well spent and that they will undoubtedly enjoy it more while getting a lot of return on that investment. "They feel it's a safe haven for their family," she says.
And it's not just new pool owners looking to transform their backyards, many existing pool owners are eagerly giving their pool decks and gathering areas outside of the water a facelift.
"The bells and whistles are not only in the pool, but around the pool. A lot of people like to add features like an outdoor kitchen area, TVs to watch the ball games or outdoor lighting which can be used year round," says Panetta. "But what's most popular is a fire pit; there's nothing better than family and friends sitting around a fire and enjoying life."
While things like better filtration systems and heaters will allow you to keep your pool up and running longer, there will come a time when you will have to close it down for the season. In recent years, there's been a lot of discussion on whether a mesh or a solid safety cover is best in keeping your water in prime shape during the offseason. The pool experts we spoke with say there are benefits to both, but they prefer the mesh option in the long run.
"Some companies offer a tightly-woven mesh that allows for water to get through, but not light. It's the light and debris that cause problems [to the water]," Blasker notes. "With a solid cover, you need a pump on top of it [to filter off the excess water]. And if it snows and everything gets frozen, the pump is submerged in ice and will need to thaw out before anything can be done. The mesh cover will allow the snow melt to seep through and you don't have to worry about the pump getting frozen and locked."
"I prefer the ultra-mesh," echoes Fahs. "It keeps the pool relatively clean and is easy come springtime to remove and store. A solid cover needs to be monitored closely over the winter season due to the snow or ice build-up and it's very heavy."
Regardless of what options one considers for their pool, it's become quite clear that what was once considered a luxury has now become a necessity for many homeowners. And with seemingly no limits to how one can customize their pool to their liking, the trend of new pools being installed in backyards across the region doesn't appear as it will be slowing down anytime soon.
RESOURCES
Country Club Pools Inc.
Feasterville, Pa.
(215) 675-7550
CountryClubPools.com
D. Panetta Contracting, LLC
Randolph, N.J.
(973) 659-9374
DPanettaContracting.com
Pool Designs Inc.
Yardville, N.J.
(609) 257-2279
PoolDesignsInc.com
Published (and copyrighted) in House & Home, Volume 22, Issue 10 (July/August 2022). 
For more info on House & Home magazine, click here. 
To subscribe to House & Home magazine, click here. 
To advertise in House & Home magazine, call 610-272-3120.