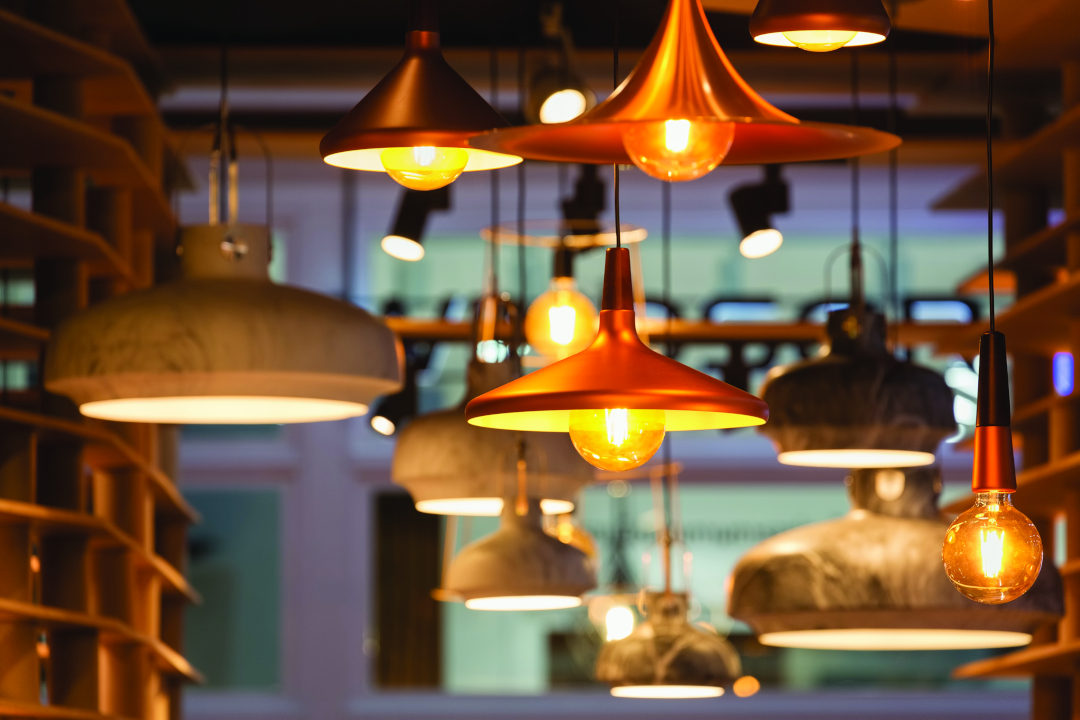 Nothing can create depth, moods and accents quite like some expertly arranged and selected lighting options do, and nothing can tie a room together quite like a light source that marries form and function by doubling as a statement piece, focal point or conversational element that lights up a room—both literally and figuratively.
With HGTV, social media and even others' homes all being sources of infinite inspiration to homeowners looking to freshen up their living spaces, to say nothing of all the ways lighting options have evolved in just the past decade alone, there's a veritable array of options available to those looking to make their interiors pop with some new or updated bulbs, lamps, overhead lights, recessed fixtures, sconces, chandeliers, pendant lights, track lighting and more. But all those possibilities can be a little daunting to take in, which is why House & Home turned to the professionals to shine some light on the topic.
Designing Around Variables
Like every successful interior redesign or refresh, it's crucial to take into account all the individual elements at play, like how a space is used, the overall design theme of a home, a room's spatial and technical limitations, and the client's budget and goals, just to name a few. These aren't just considerations that exist in a bubble, however, and need to be examined both on their own and as complementary aspects either playing off or impacting one another.
And while the experts are here to help, they emphasize that every project is informed by the homeowner's vision and space, as they're the ones who'll have to live with the end result.
"It all comes down to the project," explains Mike Noon, showroom manager for Billows Electric Supply Company. "If it's a new build or a complete remodel, we're seeing more of that recessed lighting plus the focal point: The recessed lighting will get you your everyday lighting and then that focal point will be the artwork, per se, of the room. If it's somebody that's just replacing a regular light, we don't really talk about recessed lighting because recessed lighting is an undertaking, it's not something that you can just add to a room without doing some major work."
Knowing all the options and having the pros offer their guidance on how to best mix and match for the desired effect is one way lighting experts are helping their clients stay true to their tastes while dabbling in contemporary trends. With the popularity and flexibility of layered lighting utilizing various sources to achieve a well-lit and visually balanced space, there are plenty of ways to bring that trend to life at any price point and with a variety of illumination configurations.
"It all depends on the individual," agrees Scott Fenton, Denney Electric Supply's regional showroom manager. "Price is a big thing, and so is their style. You might see a dining-room chandelier—or two, since some people who have long farmhouse tables like to put two chandeliers over them—and they also will put some recessed lighting around the perimeter, and then there's also cove lighting involved in that, so that's considered your layered lighting."
Relying on a combination of fixtures helps to ensure that a room's dimensionality, mood and degree of illumination can be endlessly adjusted and personalized for all manners of household needs.
"With layered lighting, it is all about the different lightning," Fenton says. "You can get dinner lighting out of it, you can get mood lighting out of it, you can get clean-up lighting out of. It's all there."
Today's Trends
While layered lighting remains an in-demand end result, the design aspect that elegantly appointed light fixtures can bring to any project means they should not be overlooked as either accent pieces or as objects with the potential to become a focal point themselves.
"Right now, we're seeing a lot of mixed metals, not just everything brushed nickel," Noon observes. "That's a really big trend we've been seeing come out of last year and going into this year."
And while contemporary eclecticism is certainly an easy way for a homeowner to bring all of their tastes to one room without overwhelming it, the grand statement that a chandelier can make is having something of a renaissance these days.
"As far as chandeliers go, people are going back to that focal point," continues Noon. "People are looking for that piece that's really going to bring the eye right to that lighting."
Brightening up areas that once suffered from insufficient lighting is the name of the game for many, and has yielded a trend that the Denney team incorporated into their showroom displays.
"Under-cabinet lighting is one of the hottest things out there right now—everybody wants it," adds Fenton. "We have displays in all of our showrooms that show the differences in it. You can dim it all the way down, or you can raise it all the way up to get that bright, white-blueish light."
To further prove that trends can be tweaked to match every taste, Fenton says that "everything is LED right now," thanks to tremendous strides in the variety and intensity of LED colors and lumens.
He continues: "In the past 10 years, it's really changed big-time. Some people still think of LED as that blue light it was when it first came out, but now you can get all kinds of lighting levels from it."
Indeed, gone are the days of "cold, harsh" LED lighting, as Noon has also seen the energy-efficient lighting undergo a revolution of sorts in recent years.
"LED is very popular right now," he affirms. "What's nice about LED is that it's less energy, so the bulbs last a lot longer. You're not replacing bulbs every six, eight months: They last for several thousand hours of lighting, and there's all kind of color tones available."
And, of course, luxury pieces are always in style and bring with them a timelessness that matches their master-craftsman durability.
"I've been bringing in higher-end pieces, which is what our owners want—they want our showrooms to have that higher-end look," says Fenton. "Hubbardton Forge is a company that we deal with, and they basically hand-forge everything they make, it's all done in Vermont. They're an amazing company: People can go online and watch them work their magic with chandeliers, with ball sconces, with everything."
Illuminating Expert Insights
While both client taste and the type of lighting a room can sustain remain the primary drivers of where a lighting project goes, making time to not only educate but also have a conversation with customers is paramount for successful communication from concept to completion.
"Most people come in and know what they're looking for, whether it's a dining room chandelier, a kitchen light or table lamps with floor lamps to match, and it's up to use to help them find that item," Fenton notes. "Between talking with them about the overall design they want to accomplish and dealing with a good 100 manufacturers, we can find anybody almost anything they're looking for."
Working one-on-one with each client to deliver a final result that reflects their individual taste while tailoring a light-design element to a room's size, aesthetic and purpose is a surefire way to ensure a harmonious home-lighting design that the customer loves.
"The trends are what's getting them in the door, and then it really comes down to their personal taste," says Noon. "We do this every day, and we use our expertise to build client trust as we help them balance that functional versus decorative part of lighting."
Resources
Billlows Electric Supply Company
(856) 751-2200
Billows.com
Denney Electric Supply
Ambler, Pa.
(215) 628-8880
DenneyElectricSupply.com
Published (and copyrighted) in House & Home, Volume 23, Issue 3 (Spring 2023). 
For more info on House & Home magazine, click here. 
To subscribe to House & Home magazine, click here. 
To advertise in House & Home magazine, call 610-272-3120.