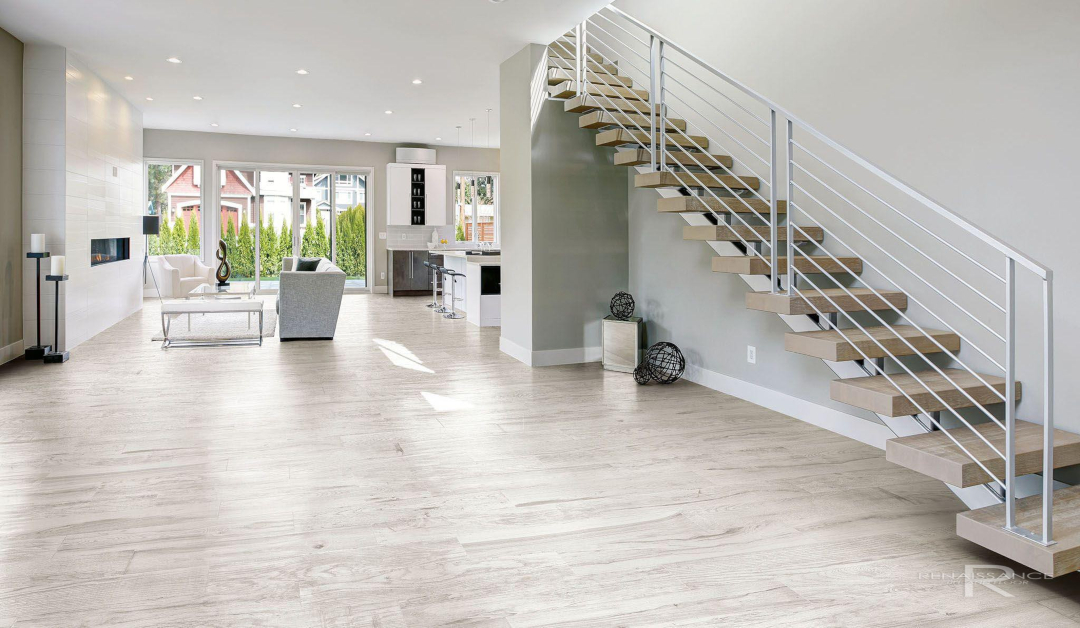 When most people dream about renovating their homes, their minds automatically drift to the exciting aspects of the project, whether it's the cabinetry and countertops in a kitchen, the vanity and enlarged shower in a master bathroom or the bold new paint colors in a living room. One piece of the remodel that might get overlooked at first—but is of critical importance, no matter what the space—is the type of flooring to choose.
Flooring options have advanced dramatically over the years, and a wide variety of selections are now available to fit varying budgets and lifestyles. An update to one room or an entire level of a home can make a world of difference, even on its own without an accompanying renovation.
"People are definitely home more [since the pandemic started in 2020] and it's been very busy with projects," says Julie Ward, showroom manager and design consultant at Renaissance Ceramic Tile & Floor. "Updating the flooring, whether it's the whole floor or just a bathroom floor, brings your house back to life. With many different flooring options and colors it has a big impact."
House & Home spoke to local experts to learn more about the different options and the pros and cons to each.
Finding the best fit
To help customers determine the type of flooring that will best suit their needs, industry professionals first try to find out as much about their lifestyle as possible.
"The first question we ask is how active is their household? Do they have children or pets? Do they entertain a lot?" says John Schwendiman, flooring general manager at Bucks County Wholesale. "Once we get those answers, then we can steer them in the right direction."
Yasu Yamauchi, owner of Yasu Floors LLC, offers several different types of flooring and will make recommendations based on his experience.
"It depends on the situation in the house," he says. "Last week we did a house where I proposed vinyl because the [homeowner] had a pool and he comes into the house wet. When water comes into play, hardwood is not a good option. It all depends on the client. I try to see what the client likes and sell them whatever they want."
Dennis Gehman, president of Gehman Design Remodeling, first asks if the flooring is for one particular space or multiple rooms. Before making his suggestions, he also needs to understand the budget the homeowner is working with.
"Most people would love to do real hardwood everywhere and/or real tile," he says, "but that can be crazy expensive."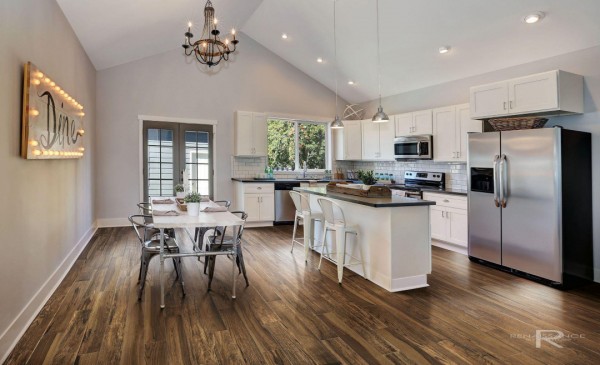 Options upon options
As Gehman notes, hardwood is still a popular choice for those who can afford it. Yamauchi is often tasked with reviving hardwood floors, perhaps if a customer has purchased an older home where the original flooring had faded.
"A lot of people are looking for sanding and refinishing their floors," he says. "This week I already did a 60-year-old hardwood that was under carpet and we brought it back to life. But sometimes it can just be two or three years old and the client doesn't like the color anymore and wants to change it."
Gilmar Marcelino, co-owner of Victorian Floor Finishing, says homeowners can customize the color of their hardwoods. While grays are popular now, the classics are still around: walnut, dark walnut, ebony. "We can mix and blend colors to create any color the customer is looking to do," he says.
Refinishing a hardwood floor is a days-long process, however. Marcelino says homeowners usually opt to do this when they first move into a home and before the furniture is in, or when they are undergoing other renovations and things have already been moved out of the space.
For a 4,000-square-foot home, Marcelino says to expect refinishing to take three to four days. "The first day, the crew sands the floor and applies the first coat of stain. On the second day, we buff the floor to make it very clean and apply the next coat," he says. The number of coats is dependent upon the homeowner's choice of water- or oil-based stain. Oil only allows one coat per day; water can be two coats, one in the morning and one in the afternoon.
"Oil-based lasts longer, which is good for families with children or pets, but it leaves a smell on the house that can take a few days to dissipate. In New York state, oil-based is not allowed," he continues. "Water-based stains are free of smell and are the most popular choice these days. Nine out of 10 jobs the customer is choosing water-based."
Once the floor is finished, Marcelino highly recommends putting felt padding on all furniture legs before moving it back into the room.
In homes where young children and pets are present, however, hardwood might not be the best selection, regardless of price. Those clients need something that is easier to clean and maintain.
"A strong material these days is luxury vinyl, whether that's luxury vinyl plank, which looks like a wood board, or luxury vinyl tile, which obviously looks like tile," Gehman says. "That will be a fraction of the cost of real hardwood or real tile and the durability is definitely there for general wear and tear as well as with animals."
"A lot of people now are going with the luxury vinyl products just because it's cleanable, water-resistant and scratch-resistant," Schwendiman agrees. "For families with pets and kids and active lives, it holds up a lot better than the hardwood. With hardwood, you get a better return on your investment than vinyl, but it's not as durable as the vinyl."
Manufacturers continue to take the luxury vinyl planks to a new level, mimicking the look of wood without the hassles. Even the pros sometimes have a hard time noting the difference between vinyl and real hardwood.
"The image that they're printing on these tiles is incredible," Ward says. "Every time something new comes in, it almost feels like wood grain or like you could get a splinter from it even. It's hard to tell what's real and what's fake anymore."
Yamauchi opines that laminate flooring resembles real hardwood even more than vinyl, although there are drawbacks.
"The vinyl is waterproof on top, waterproof at the bottom, it is slip-proof and it doesn't scratch," he says. "If you drop water on top, it just stays there and doesn't go under, so you can just wipe it off. Laminate consists of recyclable wood pretty much, so it absorbs water. Water goes in and the laminate expands. I don't do a lot of laminate, unless the client is going to take care of it and really likes the way it looks. It looks way more like wood than vinyl, but when it comes to water it's not good."
Schwendiman believes that laminate manufacturers are addressing the water issues recently, and it does have the advantage of being much more affordable than vinyl.
Ward's company sells a lot of porcelain tile as well, which is also a strong option for cleaning purposes. Natural stone requires more maintenance but is popular for kitchens or master baths.
Carpet is still used, mainly in bedrooms, offices or a finished basement, but Schwendiman says homeowners with allergies are getting away from it since it traps dust and hard surfaces are easier to clean. Gehman also points out that carpet can be a tripping hazard for seniors.
"For aging in place or ADA compliance, smooth, hard flooring is the best," he says. "People talk about slipperiness and that's a consideration, but by code and actually by law, flooring materials need to meet a certain slip resistance qualification before they can go out to market. The most common [falls] are in a bathroom where it's a little wet or just inside a door where you're coming in from outside. There are some that are better than others but all must meet a minimum qualification."
Trends and popular colors
One major theme in recent years is to keep the same flooring throughout an entire level of the home, rather than, for example, using carpet in the living room, hardwood in the kitchen and tile in the bathroom.
"People don't want to break up the rooms, they want that open feel," Schwendiman says. "So they'll continue the flooring throughout the whole first floor or second floor instead of breaking it up. Some people still opt to put ceramic in the wet areas like kitchens, bathrooms and laundry rooms in case there is a leak. But the luxury vinyl can withstand all of that wetness."
"Consistency is a big thing with a house," Ward adds. "If you can run your floors all the same, it's going to make it feel bigger and more consistent versus having all these different floors throughout the home."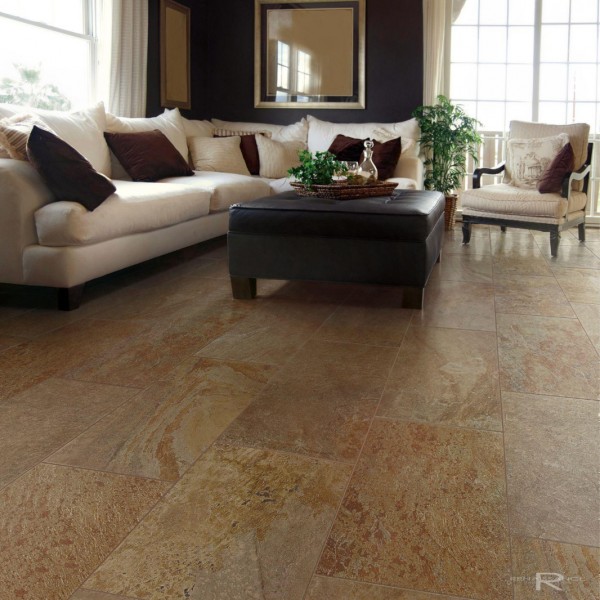 As for color, Ward says neutrals are always a big request, such as whites, grays and taupe. Gehman sees the wood tones coming on strong, but the trends always seem to change quickly.
"Gray is still in high demand with beige coming in second," Schwendiman says. "In the hardwood arena, it's the white oak natural or real light colors and wide planks. Next year it will probably be dark again. Very few manufacturers have actual colors like blue or red or green, they're all one form or another of gray or beige."
No matter what colors or styles customers think they want, Schwendiman advises them to visit a showroom and get a feel for the options in person as opposed to on a website. He has been in the business for 30 years now and even he is constantly amazed at what is out there.
"It was all carpet and hardwood when I started," he says. "Sheet vinyl was on its way out when I started, then laminate came into play, and now luxury vinyl has taken over a big chunk of the market share. But laminate and carpet are making their way back. You have to keep the ratio of what people want in the store. People don't use sheet vinyl anymore, so we only have one display of that compared to 15 or 20 displays of luxury vinyl. People should definitely come in and see the samples."
RESOURCES
Bucks County Wholesale
Langhorne, Pa.
(267) 358-5247
BucksCountyWholesale.com
Gehman Design Remodeling
Harleysville, Pa.
(215) 513-0300
GehmanRemodeling.com
Renaissance Ceramic Tile & Floor
Horsham, Pa.
(215) 674-4848
CeramicTileAndMarble.com
Victorian Flooring Finishing, Inc.
Collingswood, N.J.
(856) 858-6465
VictorianFloorFinishing.com
Yasu Floors LLC
Kearny, N.J.
(862) 371-2200
YasuFloorsLLC.com
Published (and copyrighted) in House & Home, Volume 22, Issue 11 (Fall 2022). 
For more info on House & Home magazine, click here. 
To subscribe to House & Home magazine, click here. 
To advertise in House & Home magazine, call 610-272-3120.