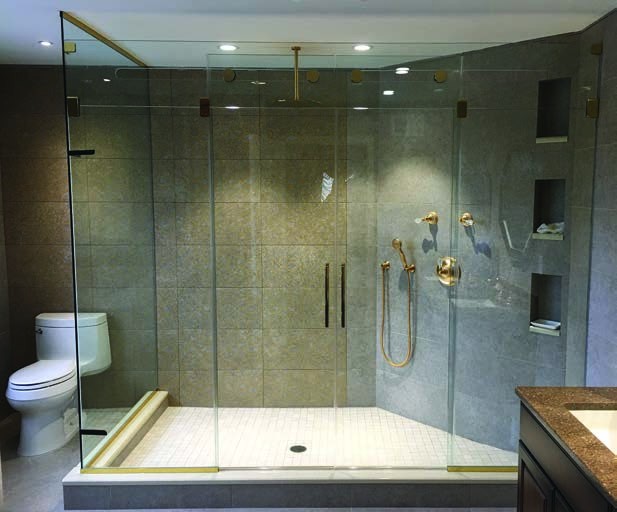 A shower enclosure is the embodiment of the phrase "form and function." In utilitarian terms, the enclosure prevents water from slicking the bathroom floor. In aesthetic terms, the enclosure serves as the figurative "icing on the cake" to beautify a new or remodeled bathroom. In order for form and function to coexist, however, the enclosure must be designed and installed by a true artisan. 
That's where the team of professionals from Glass Castle comes in.  
Glass Castle has been a full-service provider of frameless, semi-frameless and framed shower enclosures since 1990. With two showroom locations—one in Neshanic Station, one in Lawrenceville—the company services the needs of homeowners throughout New Jersey, as well as across the river in Bucks County, Pa.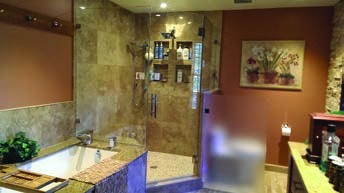 "On the residential side, we tend to have three kinds of customers," says Scott Kingsland, president of Glass Castle. "First is the ground-up contractor who's building a new home  or an apartment complex and needs someone to design and install enclosures for the complex; it could be 20 units, or it could be 100 units. Second is the contractor who's remodeling a homeowner's bathroom but doesn't deal with glass because he doesn't have the expertise. Third is the residential customer who has redone their bathroom by themselves but needs us to come in and put on the final finishing touch."
Glass is a highly specialized trade, with a limited number of "experts" in the field. At Glass Castle, Kingsland employs a team of experienced individuals, assisted by cuttingedge technology.  "Glass has its own challenges and its own rewards," says Kingsland, who joined the company in an entry-level position and learned the industry from the ground up; he purchased the company five years ago. "More than 60 percent of our employees have been with the company for 10 years or more. We bring someone on and teach them the right way. If they're good at what they do, we do our best to keep them here."
On the technology front, Glass Castle technicians use precise laser technology when measuring for each enclosure. It also utilizes specialized software to guide the design, as well as to produce a virtual rendering of the enclosure so homeowners can gain a sense of how the enclosure will complement their bathroom.
 "We keep the process as simple as possible," Kingsland says. "When a customer calls and says they need their shower measured for an enclosure, we'll come out to take measurements  and go through their options. We always encourage them to come into one of our showrooms so they can see what's possible.
 "If they choose to go forward with us, we'll ask for a 50 percent deposit and we're usually installing within two weeks," he adds. "On a typical job, the installation will take two to four hours. Then it's just a matter of waiting for the silicone to set."  
Perhaps the most popular  trend in shower design is the frameless shower door; Glass Castle installs as many as 100 frameless shower doors per month, according to Kingsland. Other trends include bigger and taller enclosures, featuring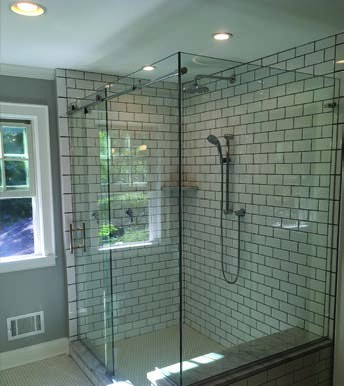 thicker glass that has been coated with specialized protectants to ensure years of unblemished use.  
 "We have hard water in this area, and those mineral deposits can bond to the glass," Kingsland says. "We use ShowerGuard,  which is applied during the manufacturing and production process.  There are a number of aftermarket coatings, and those tend to have a five- to 10-year warranty. ShowerGuard has a lifetime warranty." 
In addition to shower enclosures, clients turn to Glass Castle for other glass furnishings, including custom mirrors and glass tabletops. Another growing trend: custom frameless doors for residential wine rooms.
 "The frameless doors do a great job of showing off people's collections," Kingsland says. "Wine rooms tend to be fairly complex, so they have their own set of challenges, including the fact that most wine rooms are temperature controlled. Just like a shower enclosure, a wine room is typically not a DIY project. We've acquired that expertise over the years, so now people are coming to us." 
Glass Castle
(609) 325-2131 | GlassCastle.com
VISIT GLASS CASTLE AT ONE OF ITS TWO SHOWROOM LOCATIONS: 843 Route 202 South in Neshanic Station; and 1811 Princeton Ave. in Lawrenceville.
Published (and copyrighted) in House & Home, Volume 19, Issue 4 (October 2018). 
For more info on House & Home magazine, click here. 
To subscribe to House & Home magazine, click here. 
To advertise in House & Home magazine, call 610-272-3120.