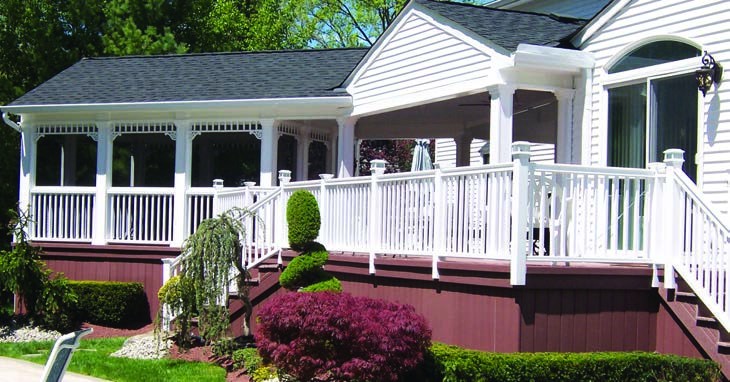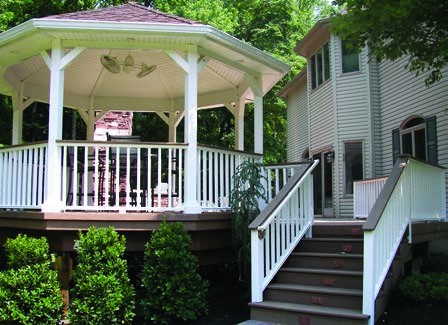 With summer ending, that means fewer barbecues and family get-togethers on your patio and deck,  and more time indoors getting ready for the fall season. Whether you already have a deck or patio or are making plans to have one built, now is the time to start planning  and building so it's ready before next spring and summer roll around, according to Bill Lecorchick, owner of Legends Home Improvement who specializes in building custom decks, porches, screen rooms, Florida rooms and gazebos.
 "Offseason is generally considered around Labor Day through the beginning of March," he says. "After that, people start to think of spring right away. And if you have a pool in your backyard, we strongly suggest doing it in the wintertime. This is the best time to do it because we're in your yard [working] when you're not [enjoying that space]."
They handle everything from the inspections  to the design process since they are a design-build company—with no need to hire an architect. "We ask every question to make sure we are going to deliver what you want," Lecorchick says.
In his 43 years of business, Lecorchick and his team have the expertise and knowledge to build your dream space and are on the  cutting-edge of the deck industry with new products, ideas and installation methods. With seven major manufacturers, 60 different decking board choices and many railing options to choose from in their showroom  in East Brunswick, they cater to all budgets and style preferences.
For low-maintenance options that still look pleasing to the eye, Lecorchick suggests going with cellular PVC, "although other low-maintenance products are comparable and excellent choices,  and come in a lot of patterns and designs. Basically the only maintenance is power washing," he explains.
One of the trends he's seen this past year is roofs being placed over decks. They give the space a completely different look, offer shade and comfort on a hot and sunny day and overall make the deck or patio more efficient.
"More and more people are asking for roofs over existing decks or patios," he says. "I always felt if you are going to use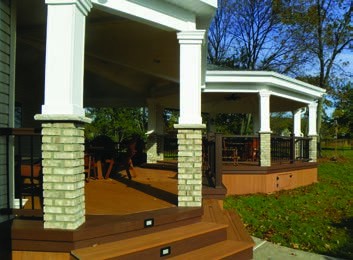 your deck, even if you have a patio, you need a roof. It gives you far more options, especially on summer  days when it's threatening to rain and you're having a party—you can set up under the roof. And if it's attached to the house, it gives you the option to extend the season by adding a fireplace, screens and windows." It's not just roofs he's getting more requests for—similar overhangs such as pergolas are becoming popular options for homeowners and not particularly for the shade they offer, but for their aesthetic look. "Pergolas look sharp and nice, and square and rectangle shaped ones are far more efficient," he says.
Having a roof over your deck also means an opportunity to add screens and windows to make the space into a sunroom. "You may find you want to extend the season much further into the year," Lecorchick says. "The screens and windows make it far more functional and give you more availability. It also keeps insects out and allows you to use that area into the wee hours in the morning. It's an important feature that should seriously be considered."
What should also be seriously considered is having a reputable company like Legends Home Improvement be at the helm of your project, who never adds any surprise charges or makes any changes to the project unless you ask.
"The biggest thing we do is we do what we promise and we do it in a timely fashion," Lecorchick says. "We do what we promise in a detailed contract, we never ask for more money and they know exactly what they are going to get. That is exactly what we deliver."
Legends Home Improvement, LLC
43 Brunswick Woods Drive | East Brunswick, N.J.
(732) 607-4130 | LegendsBuilt.com
Published (and copyrighted) in House & Home, Volume 19, Issue 3 (September 2018). 
For more info on House & Home magazine, click here. 
To subscribe to House & Home magazine, click here. 
To advertise in House & Home magazine, call 610-272-3120.