A Legacy of Leading With Ethics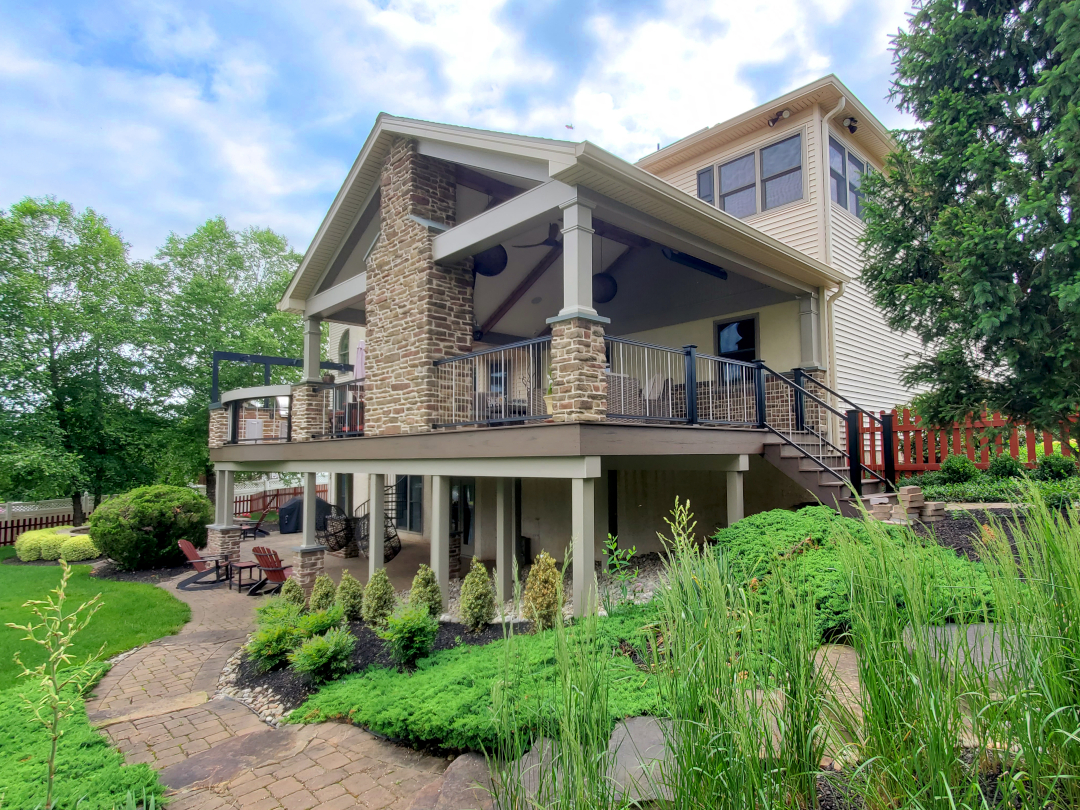 Since Amos Esh founded Keystone Custom Decks in 1983, the company has operated under one prevailing philosophy: Treat customers well, fairly and like family.
"The company was built on making sure that every customer is well taken care of," says Michael Esh, one of Amos' sons who grew up in the family business. "There were even times when my father took a loss on a job to make sure that his customers were satisfied. That is who we are and what we do."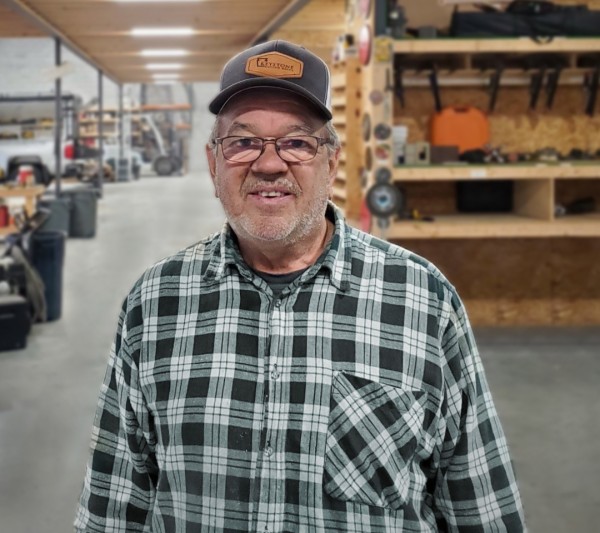 While Amos unfortunately and unexpectedly passed away earlier this year, his legacy lives on in the four sons who are building on that reputation of strong ethics and ideals their father established.
"It's all about customer service: treating our customers well and providing a good customer experience," Esh explains. "That's very much a foundational part of our company … Overall, contractors kind of have a bad rap, so we strive to be the opposite of that. We look at the pain points people have with contractors and we try to address those head on to make sure we avoid those issues."
Growing up in construction has ensured that the practical skills and know-how the Esh brothers inherited are just as deep-seated as the strong moral principles their father embraced as Keystone's guiding directive.
"We've been surrounded by this industry," says Esh. "I think the biggest benefit for me was watching the work ethic my dad had. He did a very good job of teaching us to work hard and treat people well. So not only being told that that'     s the right thing to do, but also seeing that lived out every day, I think is one of the great parts of growing up in a family business like this."
Befitting a team that's grown to include more than 100 employees, the company does a lot more than decks these days. Keystone's areas of expertise have expanded, making it a one-stop shop that also offers patios, porches, outdoor kitchens, masonry and, soon, pool installation, reflecting how homeowners have come to regard their backyards.
"Even though our name is still Keystone Custom Decks, that doesn't really describe what we do anymore," he notes. "We design and build outdoor living spaces. The backyard has become an extension of the home. When my dad started the company, the deck was something you stuck on the back of your house for a picnic table or a grill; now, it's almost like we're adding an addition onto the home. The concept around designing these kinds of spaces has changed. There's a lot more thought put into it and there's a lot more options."
And working with one contractor, especially one that focuses on all-encompassing projects rather than one-off standalones, ensures consistency and an intimate understanding of how every feature influences and affects the others.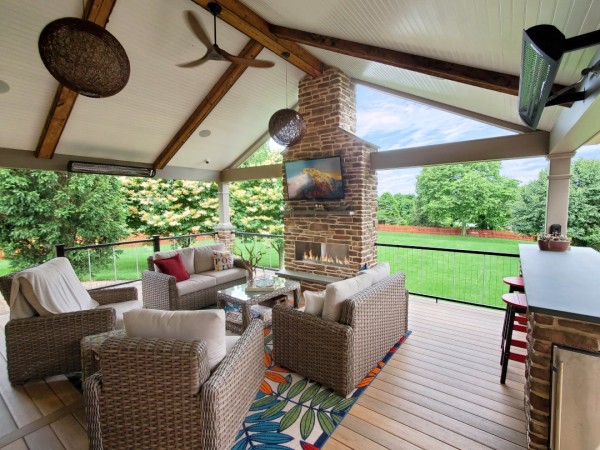 "We are looking to focus on entire projects: a deck, patio, pool, pool house, the whole thing," says Esh. "The advantage of doing it all together is, for one, it's seamless in how it all fits together—and you know all the pieces will fit together. The other is that you're working with one company and one point of contact who knows your property."
As Keystone diversifies its offerings, its showroom has reflected that growth. Giving customers a place where they can experience a hands-on interaction with the fixtures they're selecting for their outdoor spaces "has been a game-changer," Esh observes, as has the coziness of its café.
"If you're looking at things like colors and textures, a web page or a catalog won't give you as true of an idea as coming into a showroom to touch it and see it in person," he points out. "The showroom has just really helped people visualize what a project will look like, as well as inspire them. It's all part of creating a good customer experience: We also have a coffee shop on-site so it's an educational, practical and fun trip for people."
The range of high-quality work Keystone is able to deliver by offering a range of services all under one roof is further supplemented by in-house experts being hands-on from the very beginning, starting with an on-site survey of the property that yields 3D models of the proposed project. Because while the company has evolved quite a bit in nearly 40 years, the things that matter most will always remain the same.
"Forty percent of our leads are word-of-mouth referrals, and it's because we listen to our customers," Esh says. "The best compliment we get is when clients tell us we visualized what they want better than they could. The business has grown tremendously but we're still very much a family business that just wants to treat people well. That's the legacy my father left behind."
Keystone Custom Decks
Serving Del., Md., N.Y. and Pa.
Pa. office: (717) 355-0592
N.Y. office: (315) 227-2288
KeystoneCustomDecks.com

Published (and copyrighted) in House & Home, Volume 22, Issue 2 (November/December 2021). 
For more info on House & Home magazine, click here. 
To subscribe to House & Home magazine, click here. 
To advertise in House & Home magazine, call 610-272-3120.