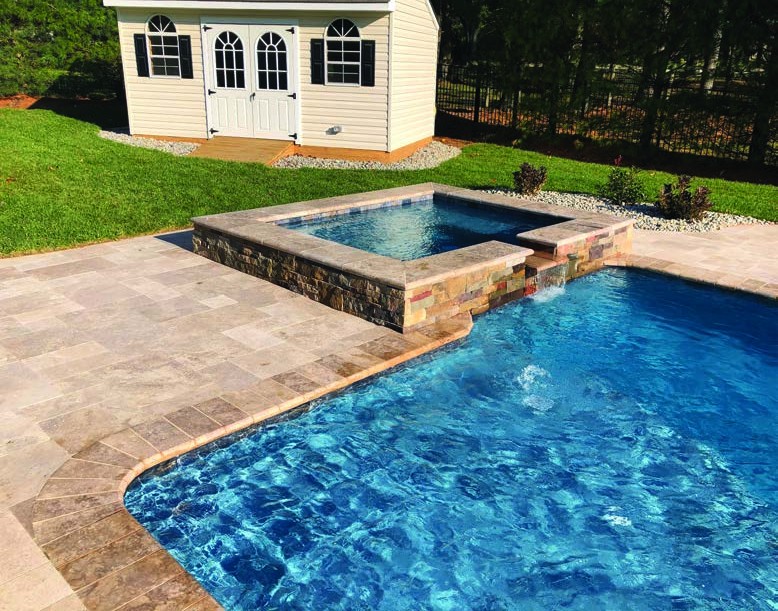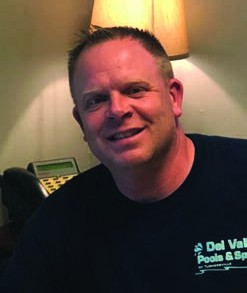 Jump into the summertime fun with a beautiful new pool perfect for the entire family. Splashing in the water, playing games and creating memories that will last a lifetime is the focus of Del Val Pools & Spas. With over 35 years of experience, they are the perfect match to bring amazing family memories this summer season.  
Bryan Hull, partner at Del Val Pools & Spas, has created a team of efficient, hard-working employees consisting mostly of his family and friends to bring dependability and incredible service to the South Jersey area.  
House & Home spoke with Hull about how family oriented his business is, the latest pool trends, and what to expect when it comes to budgets.
How is Del Val Pools & Spas family-oriented?
Something that makes us very unique in our line of work is the family aspect that we bring. My mother worked in the business and when I was in high school I would work every summer for the business and I stayed with it from there on. My brother and I eventually took over, retiring our mother and we have been operating it ever since then. Our wives work with us, our sons, cousins, nephews and friends, the list goes on and on. We have a great family feel here.
What are the latest trends in pools?
Saltwater pools are trending a lot recently; everyone is going toward it over chlorine pools. They are actually one of the best things that you can do for the pool,  especially if you put in an automation series of chemicals, it makes it not too harsh to endure. You are basically having a computer run your pool and there is an automatic vacuum which is one of the best things to have because vacuuming the pool is not fun. Watching a robot do it is a lot better. We also have been doing a lot of sundecks for gunite pools which is the little lounge area where you can put Adirondacks and have a nice lounging wading area. People like the color-changing lights; the very vibrant pool colors glowing are a really pretty addition.
What is the best option when it comes to purchasing a pool?
We  do above ground pools and inground pools—custom gunite and custom vinyl liner pools. Our above ground  pools are made of a steel wall with a polyresin frame; the frame is made out of plastic but the wall is steel so that it doesn't rot. Then it has a vinyl liner that holds the water. When you are choosing an inground pool, gunite is going to be your top product because you can get the most creative there and it's by far the strongest. Gunite pools allow for more freedom, you're going to be able to add the sundeck feature, a custom swimout into the deep end, and all kinds of other unique features. While vinyl liner pools are more custom, they are great for fun in the sun family pools if someone is on a budget and looking to be all in.
What should a buyer expect from the budget?
The  upfront charge for a saltwater generator pool is going to be more expensive than a chlorine pool, at least by a couple thousand dollars on top of the pool but your annual cost drops significantly. It really pays you back within two to three years. Gunite pools are going to be more expensive as well because they require more work but they are more durable. We offer warranties as well on all of our pools. The steel construction for the inground pool is going to have a double lifetime warranty and the gunite construction is going to have a lifetime warranty on  the bowl. A lot of our above ground pools will have a 50-year warranty with them.
How is your customer service center?
We service everything that we sell like all kinds  of makes and models of heaters, filters, pumps, etc. We have 17 trucks on the road and all of our workers are very experienced and we have a pretty extensive service department. All of our employees are always continuing  their knowledge, we send each person out for training. 
Del Val Pools & Spas
Serving Turnersville, Mantua and Elmer
(856) 629-2999 | (856) 468-7665 | (856) 358-3333
DelValPoolsAndSpas.com
Published (and copyrighted) in House & Home, Volume 20, Issue 10 (April/May 2020). 
For more info on House & Home magazine, click here. 
To subscribe to House & Home magazine, click here. 
To advertise in House & Home magazine, call 610-272-3120.