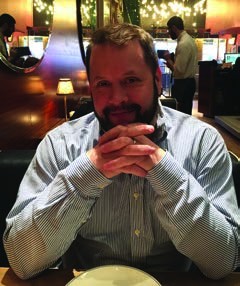 Losing power in your home can be scary; especially when you have a family. As Mother Nature produces more frequent storms, power lines fall due to high winds and electrical grids grow older year after year; you don't want your family to be without power.
Insert: Colonial Generators. Selling generators across our region—and the U.S.—Colonial Generators has installed thousands of standby generators while simultaneously making the process easy and affordable for homeowners. House & Home spoke with Chief Operating Officer James Freeman about what homeowners can expect from their generators, the different brands, the installation process and why choosing Colonial Generators means you will never lose power again.
How will a generator work when a homeowner loses power?
When a homeowner loses power, they have what is called an automatic transfer switch. That switch is set to automatically switch over to the standby generator when a power source is lost. It is seconds between the power going off and it kicking back on. It's almost like your lights go off with a surge and then back on like magic.
What options does a homeowner have when choosing a generator that is right for them?
Ultimately there are four major brands that are out there. Generac is the one that has the most equity in the market from a branding perspective. They've done a great job putting their name out there via their own marketing strategies, as well as being connected with national partners. There's also Kohler and Briggs & Stratton which are common names, and then there is Cummins. Cummins has the best engines and is the best machine, but they do not have the brand awareness. Between those four major brands, you can really cover any type of solution that a customer needs.
The size is based upon the homeowner's actual needs. We have made a decision as a business that we come out and present a whole-home solution. This is a solution that—if their power is lost—homeowners don't have to decide which appliances they want running, they can have their entire home running. You can either have a whole-home solution or a load-shedding solution where we make decisions on what they want to have running at that moment of power loss. In a load-shedding scenario, we have the ability to program the machine to feed energy to the areas that will be powered by generator.
What is the installation process like?
After a customer decides that they want to move forward with Colonial Generators and place an order for a standby generator, we have to go through the permitting and licensing process to make sure that they have all of the necessary approvals (this can take 3045 days). Once we get to the point of installation, we've already done an assessment of the site prior to obtaining permits to determine  where we are going to put the unit, where we are going to run any electrical gas wiring and  even if there is a propane tank involved, how we are going to make the connection to that. Ultimately, it is typically a one-day installation for a residential home.
With the purchase of a generator, what else will a homeowner receive?
We come in and we give them a one-stop price as opposed to purchasing the generator by itself and then additionally purchasing necessary add-ons. We line it up with what that rate could be if they wanted to finance it. When they purchase with us, they get the actual generator unit, the automatic transfer switch, 24/7 monitoring, a five-year warranty, the concrete pad the generator sits on, 25 feet of electric, batteries and our labor. All of those are inclusions in our package price.
Why should a homeowner choose Colonial Generators over another company?
There are businesses out there that are doing a variety of electrical services. They are not actively in the market selling generators exclusively. The problems you run into a lot of times are when people don't have a natural sales inclination, they sell with their own pockets instead of the customers and they sell down  into load-shedding scenarios. Then when a customer loses power they are not covered throughout their whole home.
We as a business focus solely on generators. We sell generators, we install generators and we provide service to our customers on the generators that we have installed. In turn, we are hyper-focused on one part of the business and we are experts at it.
Are generators expensive?
I want it to be known to people that generators are an affordable option. We offer whole-home solutions for as low as $99 a month on our financing plans. In that situation, we have a lot of really nice options that we can provide for homeowners who are looking for an affordable price point.
Colonial Generators
473 S. Henderson Road  | King of Prussia, Pa.
(844) 376-9374  | ColonialGenerators.com
Published (and copyrighted) in House & Home, Volume 19, Issue 7 (January 2019). 
For more info on House & Home magazine, click here. 
To subscribe to House & Home magazine, click here. 
To advertise in House & Home magazine, call 610-272-3120.