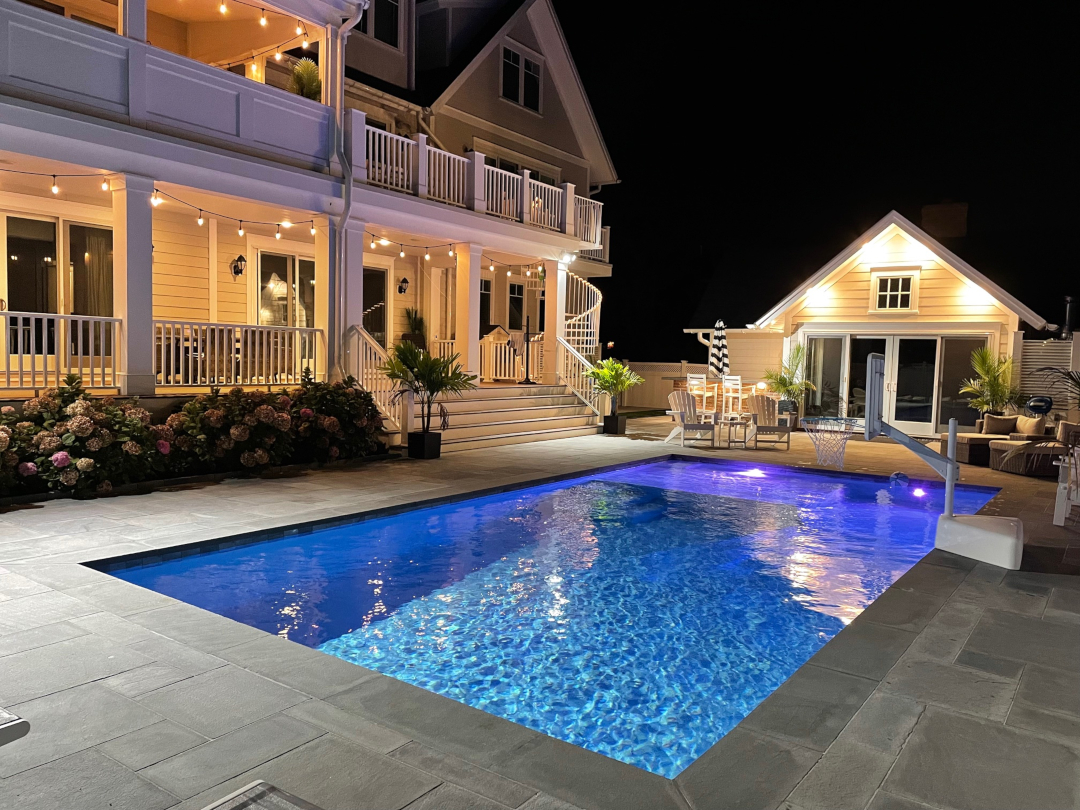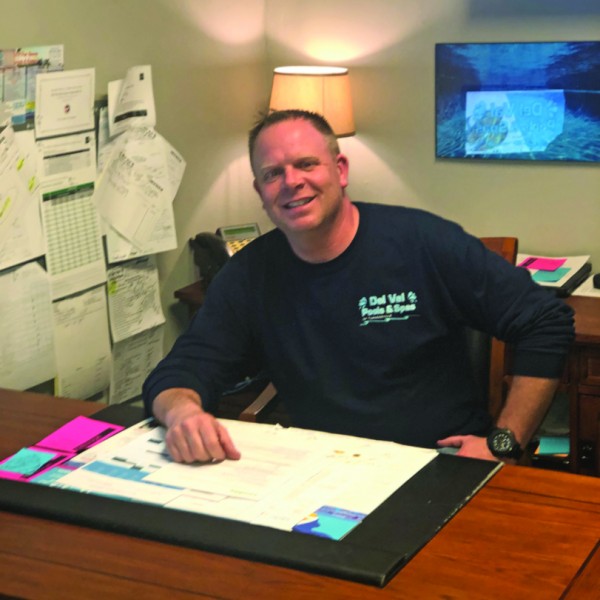 Expertise: Gunite pools
Bryan Hull, Partner
With more than three decades of experience and three locations, the family-owned and -operated Del Val Pools & Spas has been a trusted name in South Jersey for custom designs and installation, consistent service and seasonal pool openings and closings.
As the second generation at Del Val, partner Bryan Hull thought he had seen it all—until the pandemic completely transformed the industry and created a surge of new construction never seen before.
"We are in the biggest pool boom in history," Hull says. "Everyone is staying home; no one wants to travel, and they're building paradise in their own backyards. It's become quite busy over the past two years, but we're handling the demand and the equipment shortages well and still giving our customers the service they expect and deserve."
Del Val Pools & Spas continues to rise to the occasion for homeowners, many of whom are embracing the advantages of custom gunite pools. They have created a niche with unusual pool construction at the Jersey Shore and are well-known for creative engineering in small spaces.
House & Home spoke to Hull to learn more about their custom pool capabilities and how his company brings client's dreams to fruition.
What are the benefits to having a gunite pool installed rather than a vinyl or fiberglass pool?
Most people choose gunite because it's a custom pool and there is more freedom with design. With a vinyl or fiberglass pool, the shape and style are fixed. With a gunite pool, you can freehand a drawing and we can build it. We can customize the steps and add a sundeck—which everyone is loving right now—and add custom benches in the deep end. The answer is always "yes" if you want to add to a gunite pool.
Is gunite a more durable option?
Absolutely. It's a premier pool. You don't have a liner to worry about or fiberglass splitting or degrading over time. We frame the pool with steel rebar rods in 12-inch squares. The more steel one uses and the thicker the gunite, the stronger the pool. We are well-known for our superior construction techniques.
How does the cost compare to other styles of pools?
It's a few thousand more than a fiberglass pool and about $10,000 more than a vinyl pool, but it's hard to compare dollar to dollar because you're receiving a lot more with a gunite pool. If you're looking for an affordable pool with some options, vinyl is a great way to go. But if you're looking for the full custom pool with all of the features you desire, gunite is the best choice.
What are some of the other popular amenities requested by your gunite pool customers?
There are many unique features that can be added to a custom pool. If you want to put Adirondack chairs on the sundeck or have a custom shaded area with an umbrella, we can do that. People are asking for saltwater generators, umbrella holders, color-changing lights and bubblers, waterfalls, and raised spillover spas. Each year technology advances and brings new ideas to the industry. You add tremendous home value with a gunite pool, and it's creating an oasis in your backyard.
Why is a gunite pool better for homeowners with dogs or other pets?
Many of our customers love their dogs and gunite is better because there are no liner tear risks. Liners have definitely become thicker over the years, but if you have a bigger dog or live in an area where other animals can gain access to the pool, it will tear. Having a dog step on a sundeck in a vinyl pool is a big no-no.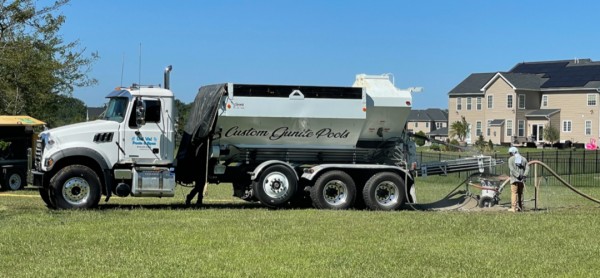 Does your company have a lot of experience with gunite pools?
We've worked with gunite for many years. Most companies don't own gunite trucks or spray equipment. We do. We also do our own plaster finishing. We can control things better than when relying on subcontractors. For example, if a customer calls and wants to know when the pool is being plastered, we have an immediate answer.
Del Val Pools is a proven name in South Jersey. What do you think makes you stand out in this industry?
We are a multi-generational, family-run business and have been building pools for 35 years. We've crafted pools for the same customers three times over—whether they moved or bought a house at the Shore. The same Del Val staff returns year after year permitting us to have a family feel at all three of our locations. When you call, you speak with someone who can make a decision rather than go through the channels to find someone. Simply put, we excel at what we do and with the third generation rising through the ranks, we are a firmly established business with a wide range of capabilities and rapid turnaround time on services.
Del Val Pools & Spas
Locations in Turnersville, Mantua and Elmer, N.J.
(888) 223-1327
DelValPoolsAndSpas.com
Published (and copyrighted) in House & Home, Volume 22, Issue 1 (October 2021). 
For more info on House & Home magazine, click here. 
To subscribe to House & Home magazine, click here. 
To advertise in House & Home magazine, call 610-272-3120.