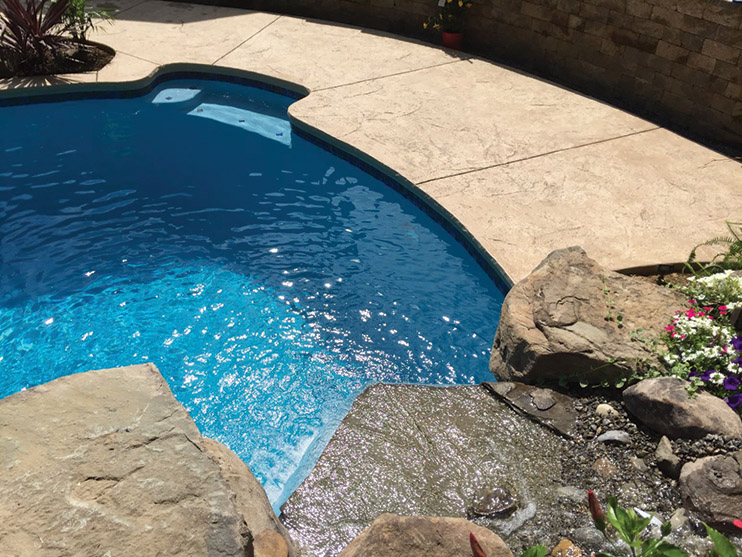 Crafting the perfect outdoor space is a careful orchestration combining function with aesthetics. How the space will be used determines every material installed, especially for hardscaping, and it takes an experienced industry veteran to make the best recommendations and to ensure every detail is considered.
One such consideration homeowners should make in the planning stages is the beauty and durability of decorative concrete. The product checks more boxes than you can imagine, including being low-maintenance, cost-effective and able to withstand the elements of the Mid-Atlantic. Not only does it make sense from a functional standpoint, concrete is incredibly versatile, and can mimic nearly any material, such as flagstone, brick, tile, slate, fieldstone, cobblestone and granite pavers—at a much better price.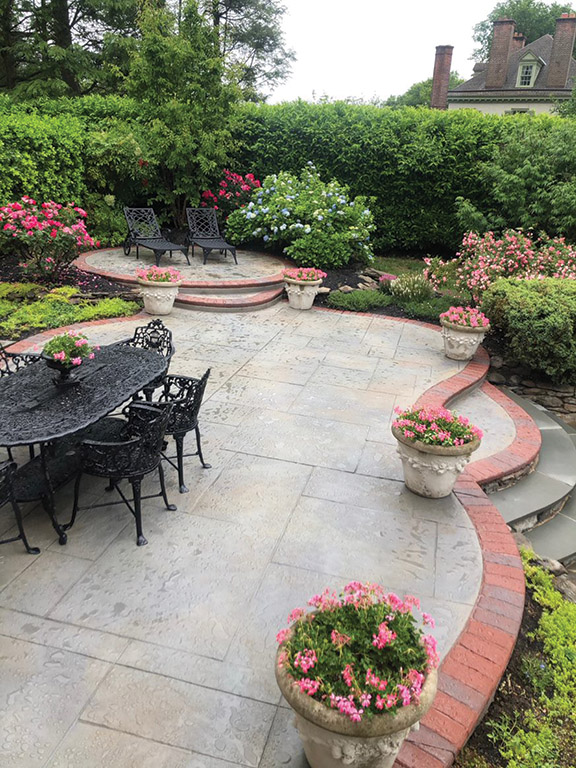 Working with a product like this and achieving a client's desired results comes down to expertise and technique. It's not as simple as showing up with a concrete truck and pouring a slab. There's a finesse to it, and one company in particular has built its reputation on exceeding expectations in the industry of decorative concrete: Architectural Concrete Design (ACD).
Founded in 1993 by Christopher McMahon, ACD has been the go-to company for major projects, from the Pennsylvania Turnpike, Philadelphia casinos and Longwood Gardens, to malls, schools, multi-family housing developments and more. Their ability to handle projects of this size and scale truly sets ACD apart in the residential space. 
Clients have access to a comprehensive team that includes designers, foremen with over 100 years of collective experience and office staff dedicated to the process. Steve Abel recently joined the company as vice president of business operations and says the diverse backgrounds of the team members contribute to the customer experience.
"We have an eclectic team like myself who comes from a commercial banking background. We have designers with experience in interior architectural design and landscape architecture. We all bring a unique approach to the industry and our customers," Abel says. "We are obsessing about the customer experience. When customers call us, they can reach the right people on the phone.
"That has contributed to our high referral rate. Our installers are the best in the business and if and when an issue arises, we're there to handle it."  
From the initial design to installation, there are quality checks in place to ensure a customer has the most functional design for the space, he continues. "Not only are our designers looking out for any potential concerns in the process, but the installers have 25 years' experience and have seen nearly every imaginable circumstance. They are the final layer to make sure nothing was missed," Abel says.
Concrete is unique in the sense that it can truly go as far as an installer can take it. "There is a wide range of approaches to making concrete look decorative, from applying stains and dyes, to using color hardeners, or coloring the concrete integrally. When done correctly, these various techniques can allow for concrete to stand out as a showpiece or incorporate surrounding colors and textures into the slab to complement existing stone, stucco or siding. The materials have certainly advanced over the years which makes the design possibilities even more expansive," says Abel.
"However, we truly believe the real secret sauce is the expertise of the installers," he continues. 
It's something clients notice as well, including Bob Nonemaker, founder of OuterSpaces Inc., a high-end landscape architect. "Concrete is one of those things where if everything doesn't go right, it can end up really wrong, but with ACD, it's like a ballet for them," he says. "They know exactly what they're doing and they have tremendous productivity. It's pretty much impossible to find a flaw. They're just really good at what they do." 
Abel says, in the residential space, the appeal and practicality of decorative concrete comes down to quality, value and maintenance. "It's the perfect low-maintenance complement to a well-manicured home. Time is scarcer than ever, and our customers continuously find the maintenance of natural stone to be either cost prohibitive or time consuming. This makes decorative concrete the perfect material for them." 
With summer approaching, another benefit to using ACD is that their product is readily available. "Unfortunately, due to global supply chain issues you will find pavers and natural stone difficult to come by these days. Prices change monthly and the availability of the product seems to change by the minute. We have found ourselves insulated from most of these issues," Abel says. "We work with several suppliers in our service area who have moved mountains to keep their product available. This enables us to be there for our clients, which in today's market is very appealing."
Architectural Concrete Design 
(866) 956-2818
ACDConcrete.com
Published (and copyrighted) in House & Home, Volume 22, Issue 8 (May 2022). 
For more info on House & Home magazine, click here. 
To subscribe to House & Home magazine, click here. 
To advertise in House & Home magazine, call 610-272-3120.