Amiano & Son Design-Build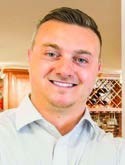 One of the keys to having longevity in business is to always embrace one's roots while simultaneously remaining forward-thinking, and Amiano & Son Design-Build seems to strike a perfect balance in that regard. The company continues to adhere to the cornerstones on which it was founded in 1968, yet also welcomes in younger voices and a fresh perspective, and that approach has led to sustained success for more than 50 years.
With the millennial generation becoming more active in home-buying and remodeling, Amiano & Son is well positioned to suit their needs when it comes to kitchen and bathroom renovations, additions and more thanks to company leaders like Joseph Clymer. He joined the family business at age 15 as a laborer and ascended to the role of director of sales and design before his 30th birthday.
Clymer is a member of the prestigious National Kitchen & Bath Association Thirty Under 30 program and has been recognized locally by being inducted into the SNJ Millennials 30 Under 30. He and his team have quickly become known for their unique, original designs that are appreciated by homeowners of any age.
Amiano & Son seems to have a nice blend of different generations on its staff, including a strong representation of millennials. Do you think that's important?
As a company, more than half of our staff in the office as well as in the field are millennials and we've been trying to emphasize the importance of having younger people within the industry. I am the director of sales and design and I'm 27. We have two other designers in their 20s as well. We bring a fresh, new look to all aspects of remodeling, including kitchens and baths. We all do extended learning to keep up with current trends and also what's traditional. It makes for a good balance, because our owner, Lou Amiano Jr., has been doing this for 25-plus years now, so we get a lot of guidance from him and he brings a whole different outlook on styles and the approach to a renovation.
Are millennials starting to become a larger piece of your customer base?
Yes. We're working with a lot of younger families and younger couples who are looking for our expertise about what's current and for us to guide them to what will work for them and their family. For example, if it's a younger couple and they're planning on growing their family, then we're going to design the kitchen around growth for them. We keep different things like that in mind because we're at a similar point in life ourselves so we know what to look out for.
Have you found millennials to be more open to buying fixer-uppers and undergoing remodeling projects so they can get the space they desire?
We've definitely seen that. This is the first generation to have technology at their disposal from a very early age. A lot of people we work with within that age group are utilizing things like Houzz and Pinterest, idea books or mood boards and sharing Instagram photos with us and using that as an inspiration for their project. They can say they really like this cabinet color or this cabinet style or the way the backsplash flows with the countertop. When the design team sits down and goes through these pictures with them, we can pick and choose which components from these inspiration pictures we want to pull into their remodel. The younger generation is definitely more proactive when diving into a project and doing a lot more legwork, sometimes before they even make the call to a contractor.
This generation seems to be interested in rooms that are rich in character and have unique features to them. Does that make it fun for you as a designer?
Yes. Trending materials are definitely a hot commodity right now. What I mean by that is, instead of doing something more traditional like a raised panel door or a natural stone backsplash, we're doing something like an exotic wood floor or white shaker cabinets with quartz countertops and a blingy backsplash. That's a whole different clientele and a whole different style than what we were doing even five or 10 years ago.
Along with your cousin Sophia Amiano, who is a designer at Amiano & Son, what does it mean to be ushering in the next generation of the family business?
It's very important to us. We've seen the blood, sweat and tears that went into it from our grandfather to my uncle and her father. We don't take that lightly. We want to make sure that the hard work and dedication to our clients over the years gets handed down. We want to bring a new approach, bringing different design ideas in and bringing in new materials to our showrooms in Southampton and Barnegat Light. We're trying to keep everything going but also keep adapting to the times as well.
Amiano & Son Design-Build
1637 Route 206 | Tabernacle, N.J.
(609) 268-5923
AmianoAndSon.Com
Published (and copyrighted) in House & Home, Volume 21, Issue 7 (March 2021). 
For more info on House & Home magazine, click here. 
To subscribe to House & Home magazine, click here. 
To advertise in House & Home magazine, call 610-272-3120.